Being innovative isn't always easy, it takes a lot of determination and faith to endure numerous challenges. When you put yachting and sustainability in that equation, facing mission impossible becomes reality. But we had a great pleasure to talk with entrepreneur Carl Rand who is stronger than obstacles on his way
Carl Rand has spent last ten years developing the future of boating industry as he sees it, that in a simple way can be described as developing better way to be on the sea. He started from zero, on his own, without help from anybody, and with time has become one of the world's leading entrepreneurs in the field of sustainable yachting. What is very interesting is that he sees Croatia as a 'nest' for his company with the possibility to grow to unimaginable size.
For the beginning, we asked what exactly is his company, Rand doing.
What we are trying to do is much bigger than producing a boat. It is about defining what the future of boating is and what we are doing here at Rand is to actually build that future, as maritime innovation center and production facility. We also need to innovate how we produce in sustainable and efficient way. And we do it in Croatia, mostly.
For me, the history and connection to the ocean that this area presents, has real DNA that really connects with what we are doing in Rand. We have more than 85% of our employees here, everything from purchasers to engineers, extremely good carpenters and boatbuilders…
It is an attempt to take it to the whole different level, both in terms of production and the product. We are planning to have 1000 employees by 2025 here in Kaštela, we are hoping for permits and we are in the mercy of government and rules, but a big part of our journey will be to create a very special place right here.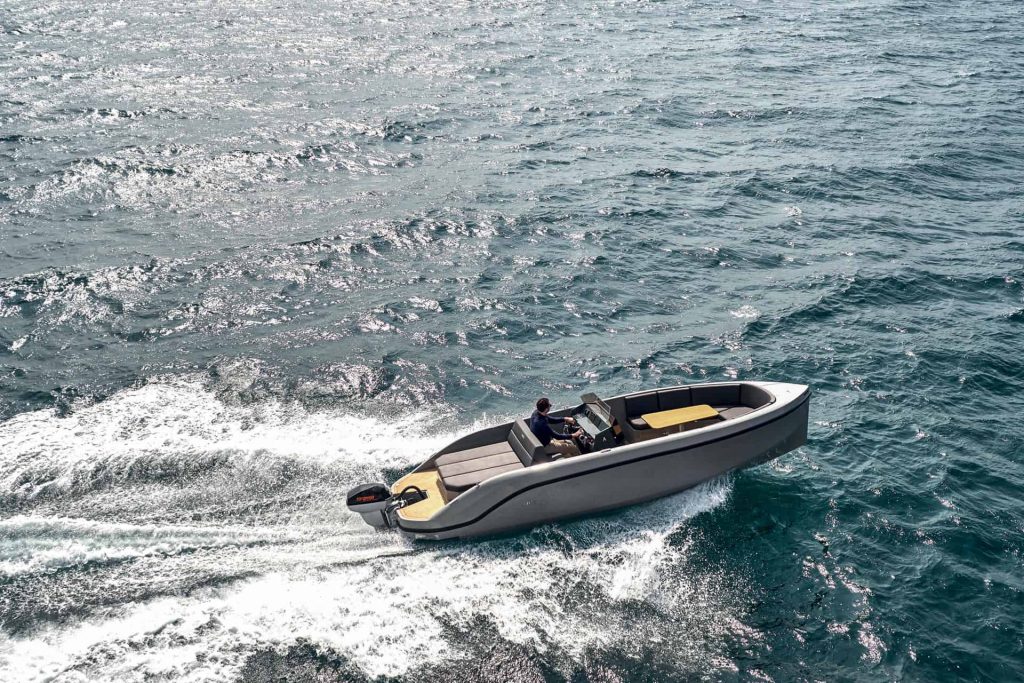 It must fit somewhere in the market?
It will fit in a way, but the marine industry as we know it today will change, just as all current industries which are being interrupted by anything from AI to CRISPR gene manipulation to sustainable energy based on batteries and electric mobility. We are in a fantastic position as the world's number one biggest innovative electric boat company, and we have a full circle view on what that means…
Just like Tesla, as the world leading electric cars manufacturer that already knows that robot taxis will change the picture of car mobility completely. Something similar will happen in the boating industry. But cars are more transport based and boating is passion driven, and people want easy access to something that is sustainable. And beautiful.
There are so many aspects of work and it is actually quite complex. We have a big head start as everybody else will be years behind, just like Tesla. We will offer leisure boating in a sustainable way, from a daily sail to beautiful solar electric week and probably become leading Europe's boat manufacturer within next ten years.
'Rand is to actually build (nautical) future, as maritime innovation center and production facility'
Can we speak about future products?
Right now, we are finishing Escape 30 that is a beautiful T-top mini yacht, with it we are moving into the territory of very small motor yacht feeling. It will present functionality of bigger yacht in a sustainable design and you can do it in electric mode. The biggest range enables two-hour cruise speed at 23 knots. It is not an offshore fishing vessel, but that is not our purpose.
We look at what the specific experience on the water is and how we can make a perfect product for that. For matching different experiences, we launch a new model every three months – for the next five years through which we will cover any experience on the water. We actually have an ambition to be The Market. And we want to do it here, in Kaštela.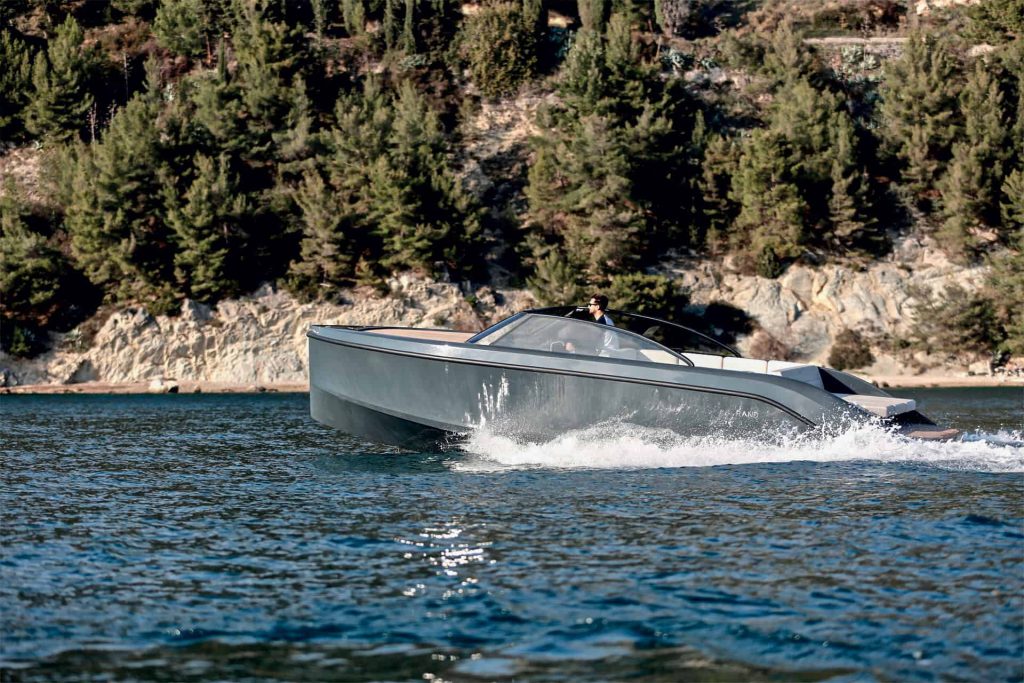 What differs Rand from other boats?
If you design electric crafts, you need to design for the purpose. Many of the boats we see today are designed for big 'macho' outboards going fast in all types of sea. When we go into the design, you can make a very big difference if we custom design the hull, for specific electric efficiency at 21.5 knots. Then it becomes a whole different boat.
Everything from the way the structures are laid out, as we can do much more light-weight, more efficiently and can use materials that are more suitable. Then electric propulsion comes to play, and if you asked me six months ago I would still tell you that we are two years away from feasible battery technology that works on the long range. We can see already now that this year we will get down to 4 kilos per KWH, that is an extreme improvement as it was 7 kilos last year.
That is a big difference from a normal motor boat, and that is why others are not succeeding as they are just converting gasoline powered boats and hope that is going to work. If you want to do something that really works you have to tweak all those parameters. We are the only ones to have the volume to invest and do that.
Rand is not only focused on electric propulsion?
Material science and chemistry is something we have not yet taken in-house and we may do it at some point, at the moment we are working with sustainable fibers, basalt and flax, we are building as much as we can from green fibers. Flax is almost more expensive than carbon because nobody's using it in large scales.
At the moment we do everything we can to convert as much of it to sustainable, currently the best resin we can get our hands on is 40% organic material which is better than nothing and we are not just there yet. If we can provide demand, solution will come. We also use wood from renewable sources…
What do you see on the frontier of technology for your boats?
We are doing a very big thing this year, we are creating what we think is the first intelligent connected boat. It is the full IOT hub that lets you connect with a boat and provide necessary information in convenient and easy way. Maybe it will be self-learning one day, but now it is about the way it communicates to you, so you know you don't have a problem before you go to the boat, while you are out if there is a problem it will either tell to you or to somebody else.
A problem keeping people from boating is actually maintenance and complexity, and we are trying to eliminate it, but we also have to make sure that technology doesn't disturb or creates barriers, but if it is very discrete, if it is at service of the user, it improves the experience of boating and owning a vessel.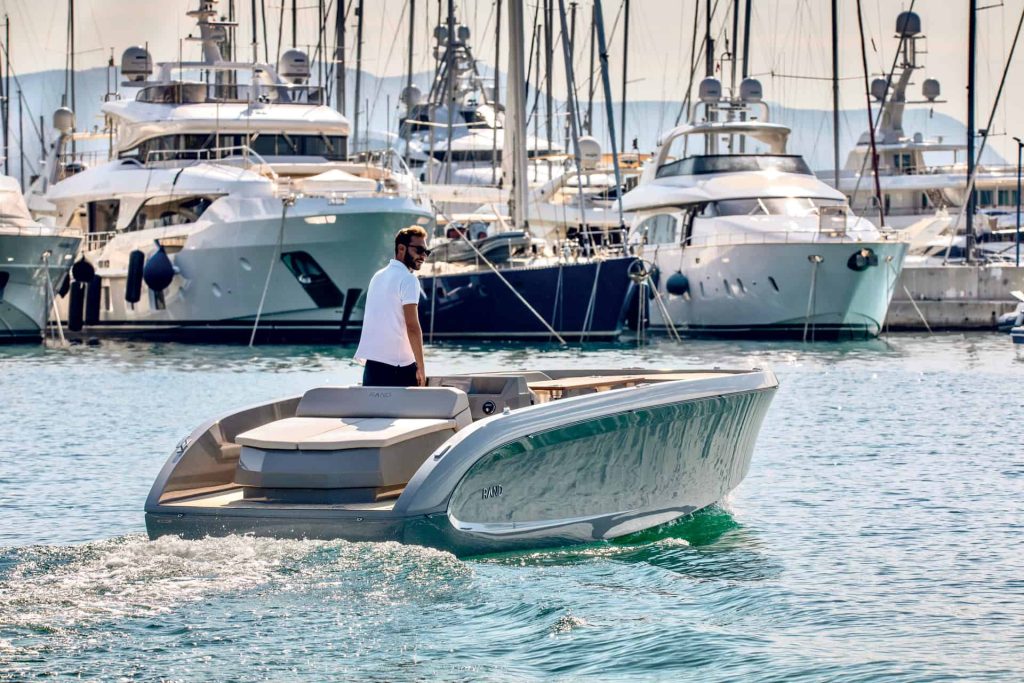 You don't only produce boats?
As I mentioned, we look at the boating industry in much more holistic way as it is changing. People will just want access; a membership and they would just want ease of doing. What you saw on the production line is the new concept of modular building system on the water which allows an owner to have private boat house which he can enter and keep the boat raised out of the water with electro magnets – clean, ready, go.
It is trying to simplify the private boat owner's situation up to working with infrastructure and experience on the water. We are doing floating houses, floating hotel room, floating beach clubs and SPAs etc. What you saw is floating sauna for Copenhagen which will be floating in connection to the building.
You are working with your partners?
I work with my partners in Croatia, and some in Denmark. The thing that we are very protective about is that we have zero investors and zero debts. We are not on the stock exchange and nobody is telling us what to do. We are dictating the future which we believe in, not some investors.
Maybe we don't make any money in the next couple of years because everything has been reinvested. We can grow in that way and protect what we are doing in much more efficient way.
Future Rand is also going to be a catamaran?
The catamaran we are going to do presents one of experiences on the water. Dozens of charter cats offer beautiful experiences with families etc., and this is one of the experiences we have to handle as they are driver for the whole industry.
In our opinion solar electric catamaran presents a perfect foundation for living on the water and going to places. We are already more than half way into development and showing it can be done in extremely stylish and green way.
Text Darko Šupuk
Photos Carl Rand Archives