At sixty years of age, Mr. Head has spent thirty years working with Sunseeker, developing the company, which is today known as Sunseeker London Group, the largest Sunseeker distributor in the world with strong Croatian branch
In the 1960's, Managing Director of Sunseeker London, David Lewis began working for his father's marine company based in Wanstead, London. A few years later, Christopher Head, now Group Sales Director, joined David at Lewis Marine as an apprentice engineer at age 16 and learned the ins and outs of this unique industry through the various departments in which he worked.
We can say that they created a piece of yachting history working closely with ingenious Robert Brathwaite, the late founder of Sunseeker. Together, they have formed the largest distributor network of Sunseeker boats and products worldwide. This journey started exactly 30 years ago and today it stands with over 30 offices in 20 countries throughout Europe and Northern Africa, year on year the Sunseeker London Group sells over half of the Sunseeker production.
The group currently employs over 200 members of staff that collectively can communicate in 14 different languages to best serve the multi-lingual clientele. One of the important languages is Croatian, with strong regional office of Sunseeker Adriatic Group led by Marko Torić.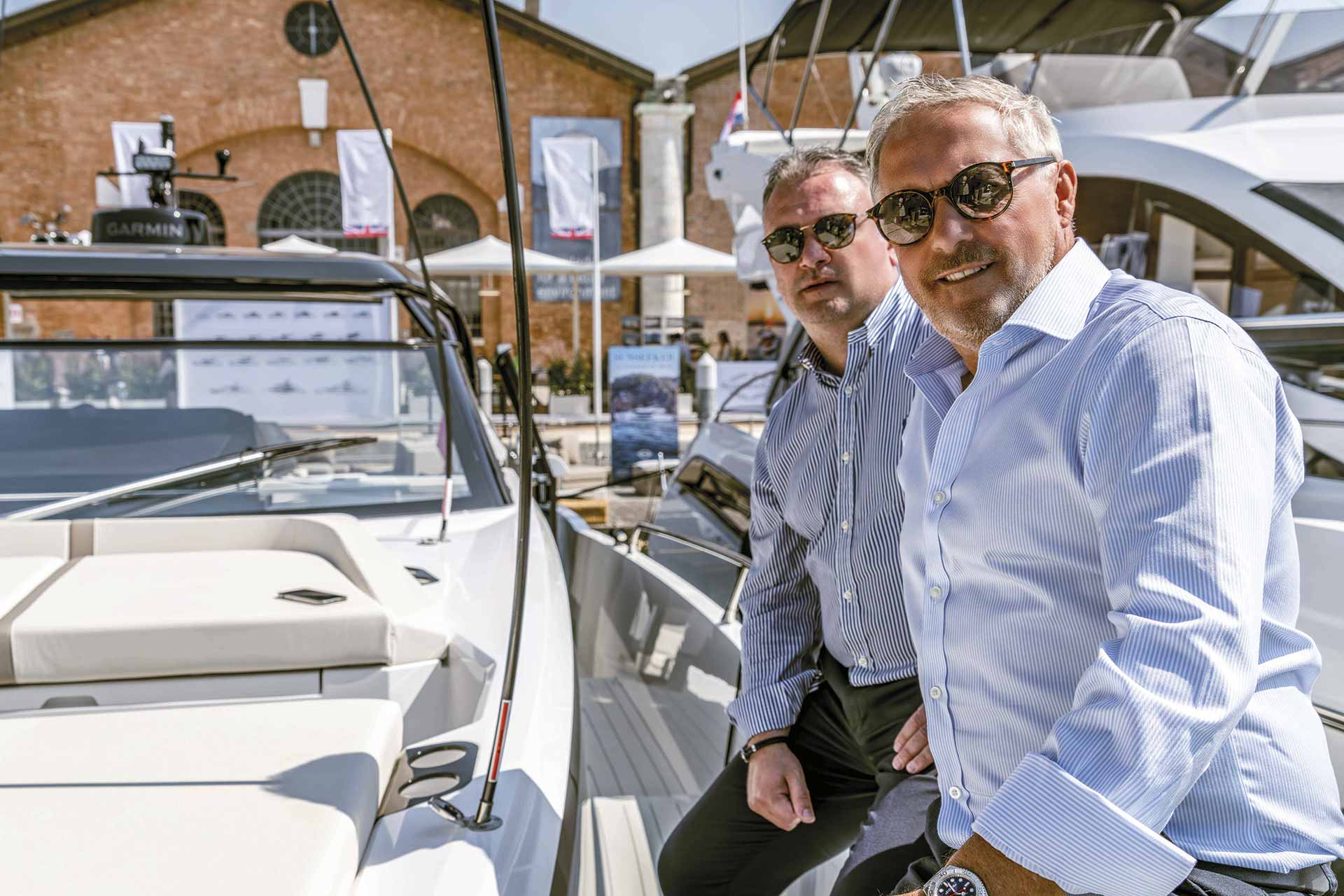 WE ASKED MR. HEAD BIT MORE DETAILS ABOUT HIS BEGINNINGS.
I was born in the East end of London and there was a boat shop in the middle of the High Street. When I was at school, during lunch break I used to look through the window of this shop and thought, one day I will work here, and one day I would like to be a marine engineer – I was just 11. In those days they were selling Riva, American and British boats and a massive number of outboard engines, the company was called Lewis Marine. It was owned by the father of my current business partner, Bernard Lewis. When I left school, I asked him for a job there and I started and I began my apprenticeship in marine engineering. I was in the workshops until I was 21, then I left the company to go to Australia. I became homesick and came back to England, but there was no position for me to return to. This was in November and in December David called me to ask if I could set up Riva Super America which was arriving by road transport from Italy and make it ready for the London Boat Show. After setting this up, I came back as a temporary employee and David asked me if I would help at the stand for technical advice, so I did and that was real start of my sales career. I was 21 years of age, and I sold more boats than his sales team of five people. David's father was alive at the time and after the success of the Boat Show, he invited me to the house which was in very nice area in the outskirts of London and Bernie Lewis told me to stay by Lewis as was very impressed what I did. I worked my way through the company up to Sales Director, and a few years later, Sunseeker boats, Sunseeker London was born.
SO, YOU HAVE TWO BIG BIRTHDAYS THIS YEAR?
I was sixty in February and it was thirty years ago that we started with one show room and expanded from East to West London where we opened an office at 21 Grosvenor street, Mayfair. There was David, a secretary, myself and Gary Cleaverly who still works as one of our most senior brokers. We worked for some time as a sub dealer for the main concessionaire and one of their directors once told me that I will never sell as many Sunseeker boats as he does. When somebody says something like that to me, I just have to prove that wrong!
HOW DID YOU DEVELOP IN STRONGEST EUROPEAN DEALERSHIP?
After five years, we were advised by Robert Braithwaite as the founder of Sunseeker and driving force behind the brand, to take over Sunseeker Turkey and then France and Robert would guide us as he would know if a dealer had any problems. Robert would ask us to promote the brand heavily and in turn, we would take the territory. Now we have over 30 throughout Europe. This is unique in this business because with other brands and dealers, when a customer buys a boat and moves from the country he bought it, it's a different dealership which will not give the service to the person, and the nice thing about Sunseeker London is that it is like a private members club. I can send the boat to Croatia, Montenegro or Mallorca and they would get the same service and seamless support as in the country it was purchased.
WHAT SERVICES DO YOU OFFER?
We are really a one stop shop for buying a boat, setting up companies, support with handover, engineering… We employ nearly every skill in marine industry including cabinet makers, carpenters, satellite engineers. For example, as spare parts in last two years had short supply, we would fly not only parts but also the technician together. We have big support from the countries, for example Sunseeker Adriatic Group has the great team led by Mario Dragičević. We also have Sunseeker Charters as the in-house approved charter division, as well as Sunseeker Brokerage which is the most successful website in the world for selling Sunseekers, with numbers down this year only because of shortage of boats on the market.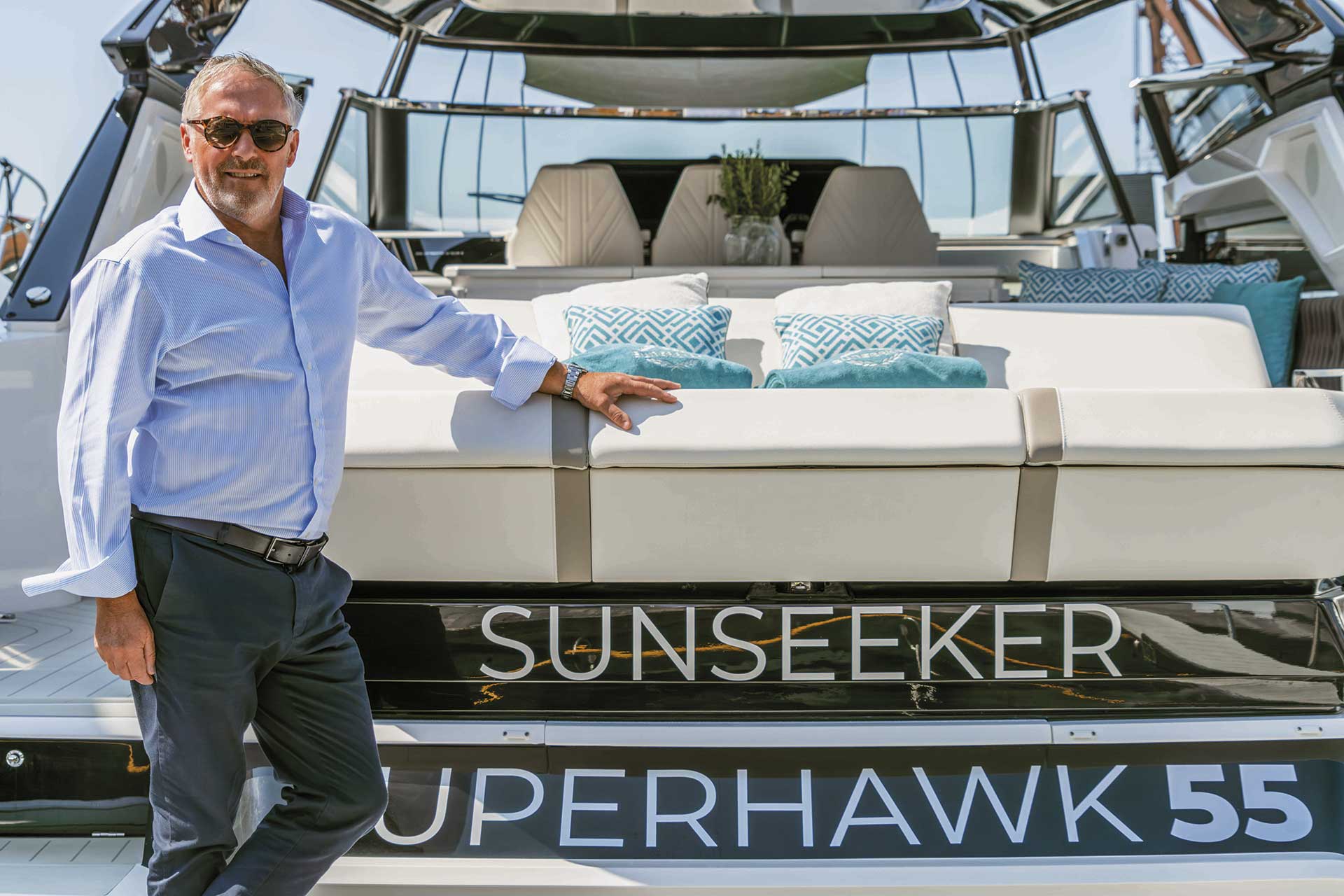 SUNSEEKER AND CROATIA HAVE STRONG BOND?
Croatia has always been close to me with successful sales for more than 15 years. It was again Robert Braithwaite's advice to go to Croatia in 2015 and it was a simple transaction because we already had team there. Today Marko Torić is more like a friend, but at the time we were competitors. Our service team led by Mario Dragičević is incredible, as he is one of our top engineers. Sunseeker Adriatic works very, very well and we also own Sunseeker Germany with many clients coming down to do their boating in Croatia too.
WHAT IS YOUR SECRET FOR SELLING BOATS?
Most boats are good today, but the Sunseeker brand is special with a big range of boats that suit most requirements. Also, England is trusted as a serious manufacturer, we don't play games, we do it properly. Being financially strong also helps when we have to buy 150 million euro of the boats every two years. We commit, we buy, we build and have available stock being able to do part exchanges… Being creative may be the key, we are creative with the client's needs. Very rarely we don't come to the agreement, being very flexible and accessible. Believe it or not, we can do cabin or flybridge conversions all in-house, using the same materials as the manufacturer. Nobody would know it wasn't from the day one, we are serious what we do.
WHAT IS YOUR VISION OF THE MARKET AT THE MOMENT?
After the start of the Covid I was sitting on the 70 million euros of stock boats and David told me to be careful. After two months we had so many inquiries, as people during Covid were buying boats, everybody knows that. But what is happening now? At the Düsseldorf Boat Show, people were slow to make decisions, but it has gone back to normal pre-Covid times. My clients are still doing well in business but there is a bit of uncertainty, so it is hard to quickly decide and sign the contract. But in the last four weeks three 100 Yacht's have been sold and even this weekend before the show three 55 Manhattan's, a 76 Yacht and an 88 Yacht. Deals are going on throughout the company and the nice thing being part of the group is as one door closes, another one opens. Sunseeker Egypt and Malta are on fire now, which is incredible, so Sunseeker London is in good profit for this year even today. I don't think market is quiet, just it takes longer for people to sign.
Text Darko Šupuk
Photos Mirko Tonini