CRN M/Y Ciao is the latest fully custom work of art from the CRN shipyard.
The all-aluminium superyacht has been designed and built by CRN in close collaboration with architecture and design studio Omega Architects, who conceived the external lines, and architects Massari Design, who created the outdoor guest areas and interiors.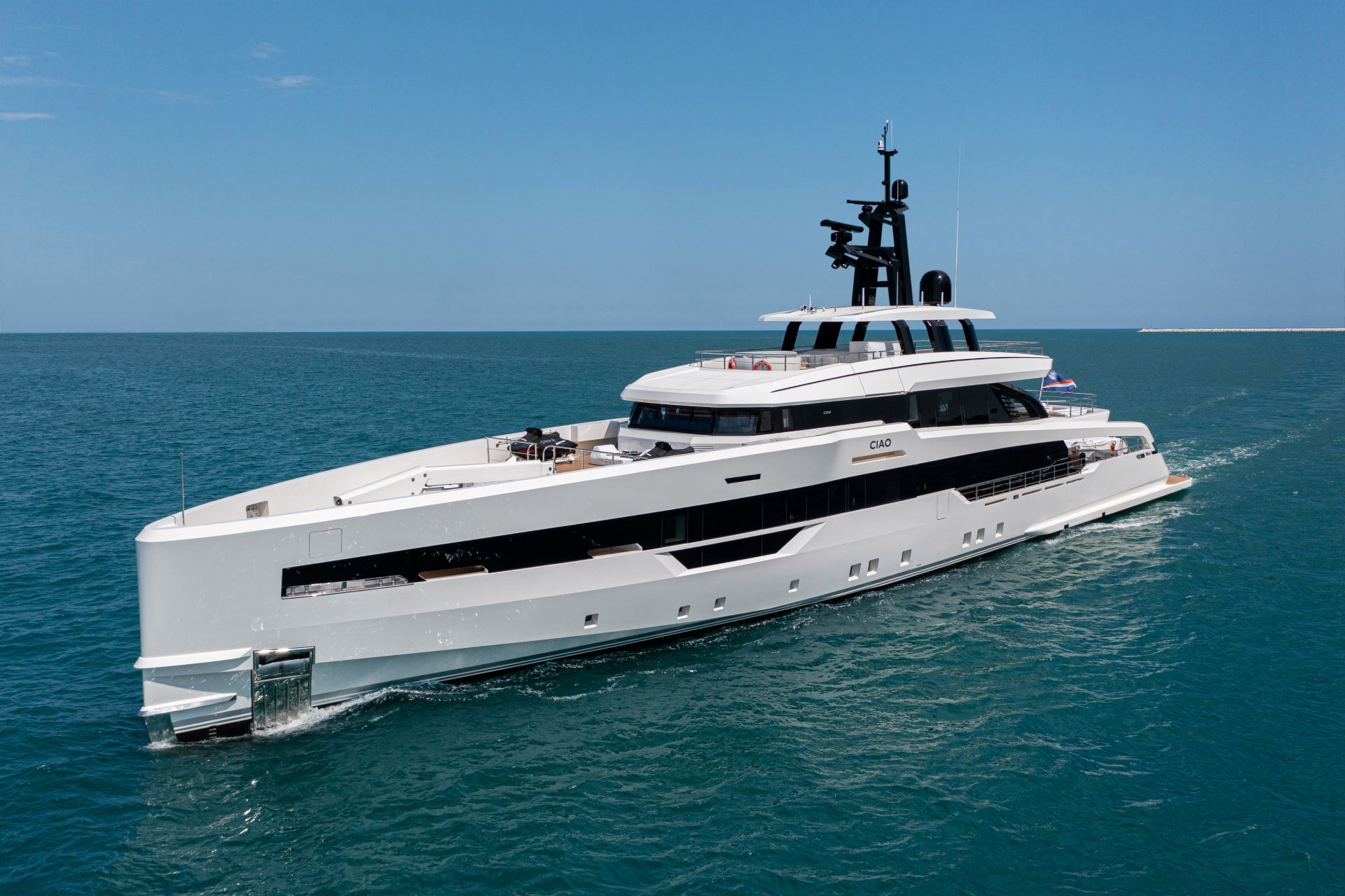 At 52 metres in length, 9 metres in the beam and with a gross tonnage of 499, M/Y Ciao spans 4 decks and accommodates up to 10 guests in the comfort of the main-deck owner suite and 4 VIP cabins below.
The expanse of full-height tinted glazing on the Main and Upper decks blends into a visual and spatial continuum that accentuates the hull lines, offering uninterrupted sea views in the utmost on-board privacy.
CRN M/Y Ciao is a unique oeuvre inspired by a perfect harmony among the spaces. She reflects the vision of a knowledgeable owner with a passion for the on-board life, who specifically wanted comfortable spaces in the open air, setting great store by the design of the social zones.
The result is a pleasure vessel with a strong relationship between the large, luminous indoor and outdoor spaces, cleverly interconnected for a perceptual and functional unity between inside and out.
The spacious outdoor areas – from the 2 sizeable lounges with sunbathing area and spa pool, one on the Sun Deck and one on the Main Deck, to the ample al fresco dining area on the Upper Deck and the superb leisure and wellness zone at the beach club – are conceived as versatile convivial spaces for enjoying the open-air living to the full.
Fluid flexibility is the order of the day in the generous indoor areas too, like the luminous Main and Upper Deck saloons, which become versatile living spaces for relaxation and fun.
CRN M/Y Ciao is a masterpiece of nautical art that marries the finest Italian craftsmanship and savoir-faire with unrivalled in-depth design and build quality and know-how.
Photos & video CRN