In the first blog for Yachts Croatia, Ivica Kostelić is writing about his new boat – mighty Class 40 Optimus Prime
Path to my new boat has been zigzagging since February. I was super excited to finally go to La Rochelle and get the boat when the situation took an unexpected turn with France announcing another national lockdown due to COVID-19 pandemic. Since everything was planned well ahead the departure date, I had to react quickly. My co-skipper Nicolas Jossier was at his home in Normandy and would pick us up as me and the rest of the crew fly to Nantes.
Operation Optimus Prime
We would need some kind of paper to pass through possible police checks in France so we got one through Croatian Sailing Federation which stated that me and my friend Damir Čargo were coming to train on a Class 40 boat in the Biscay and La Manche, which was basically true. Third crewmember, photographer Miroslav Zadravec, was already accredited as a journalist for Vendée Globe, race that was due to start in a few days, so he got himself covered. And off we went.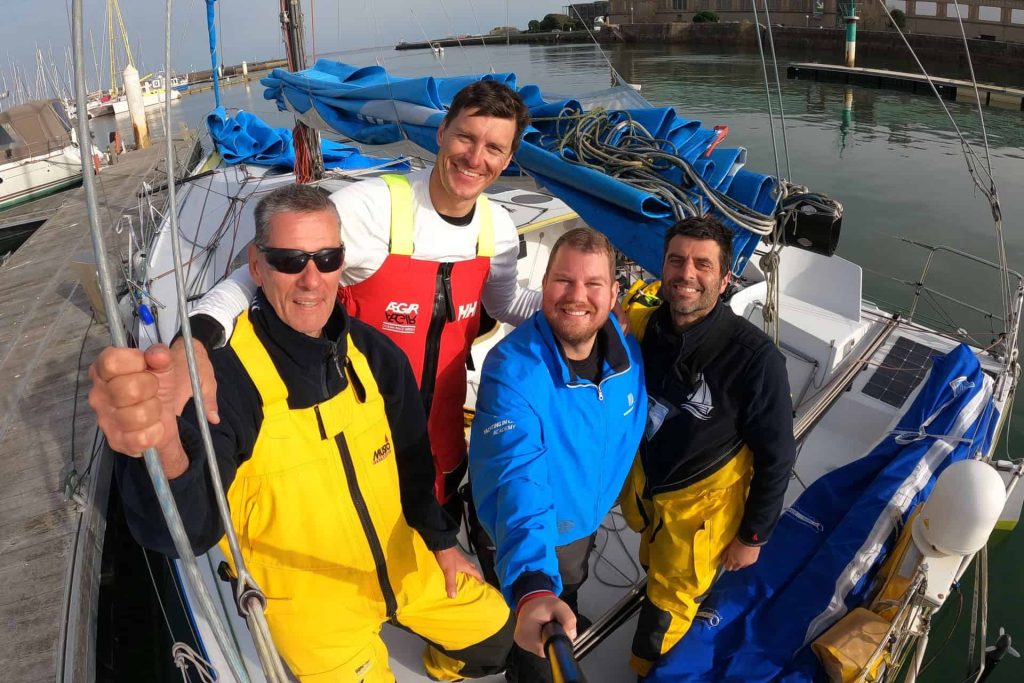 Lockdown rules were somewhat more relaxed this time in comparison to those during the first lockdown in spring so we met no police as we drove from Nantes to La Rochelle. Finally, I was there, face to face with the famous 'Optimus Prime', boat that has won three Class 40 championships and now she was mine.
Nice to meet you, Phil Sharp
First encounter with long desired toy brings out a boy in all of us- when I used to get my new skis when I was a kid, I would take them to bed the first night after I got them. I can't take a 40-foot boat to bed with me but I feel an incredible urge to stay on the boat and never leave, as if we were new best companions for life.
Optimus Prime is a beauty. There isn't anything about her that I don't like. No wonder that, in the greatest seagoing culture in the world, boats are referred to as a female.
Nico and I slept on the boat. In comparison to my previous Class 40s, 'Optimus Prime' is optimised to be a racer to the smallest detail. This of course means less comfort under the deck but it still felt like home as soon as I stepped in. Cockpit is quite small; it's designed for a single- and double handed racing after all, but it is well sheltered and helmsman position has a high water breaker that serves as a comfortable back rest at the same time.
Every boat's deck layout mirrors the philosophy of her skipper and it was arranged by one of the most successful Class 40 skippers and previous owner, Phil Sharp. We met him on the morning of the next day.
Phil is known for his tenacity in racing. I love his approach- always pushing the boat and himself as hard as possible. This earned him a formidable reputation inside the Class. Now he has moved on to Figaro class and aims for Vendée Globe. It was a pleasure to meet him and enjoy the benefit of his advice and philosophy.
Mighty Atlantic here we come
During the next two days we stayed in La Rochelle, worked very hard to get all the systems going after the boat has been stored on land for ten months. We took an opportunity to measure the boat to Class standards, which has to be done each time a boat changes hands or has had a major upgrade of some sort. Class rules are very strict. No wonder- these boats are bound for high seas, oceangoing machines expected to endure worst weather conditions imaginable- all while racing.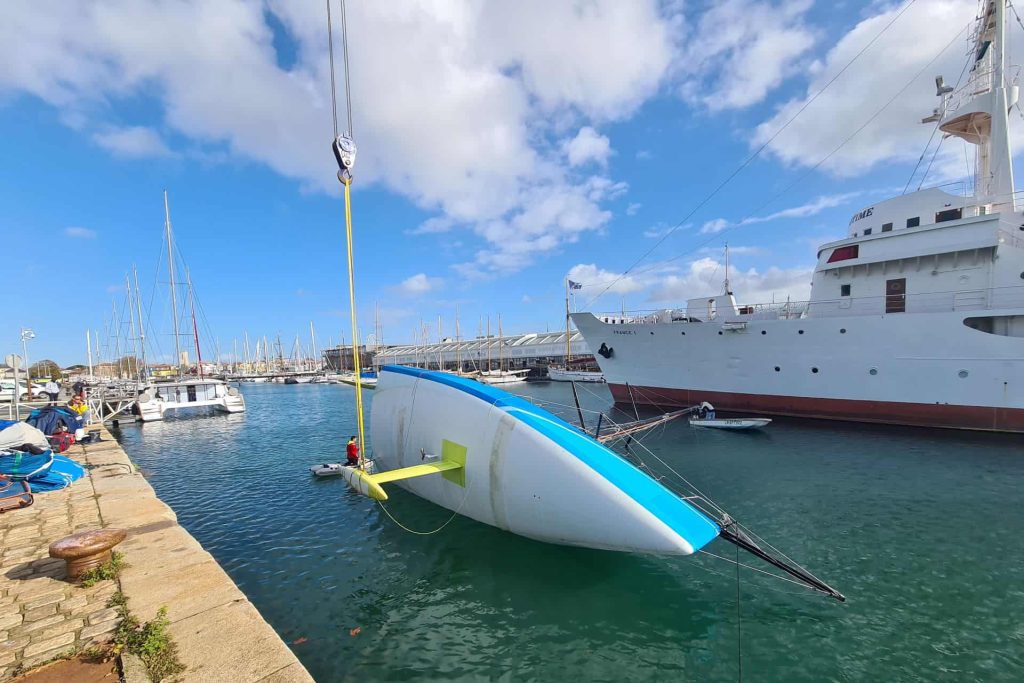 Measurer is an elderly French gentleman and he knows all the class rules without reading the book. Procedure is quite complex and takes many details in account. Most spectacular is the 180 degree test: boat is heeled with a help of the crane to a position where the mast is horizontal to the sea surface. Measurer then attaches a tool which measures the righting momentum in kilograms. Boat must right herself to normal position even if more than 320 kilograms are attached to the top of the mast in horizontal position. Then we can say that her 'righting moment' is 310 kilos or 315 kilos or 320 kilos etc.
Watching a boat being heeled to a horizontal position made me wonder if so many stories about masts touching the water while sailing are actually true
We left La Rochelle inner port at high tide at dawn. It was pretty cold with 5 degrees centigrade but the weather was nice. Phil took us for a test sail. He has been a good chap and helped us a lot during the boat preparation. After an hour or so of sail changing and lessons about the specifics, we disembarked Phil and headed north. We were stopped by the police patrol on a RIB as soon as we were out of the harbour. Paper from Croatian Sailing Federation was enough for the suspecting policeman and we were soon on the mighty Atlantic.
We were supposed to make a stop in Lorient where professionals would fix some autopilot problems. It was a wonderful day with cold NE wind rising from 10 to 25 knots and reaching under Code 0 and J1. Spray on deck, we were wet but excited. What amazed me was the boat's ability to hold her nose up and surf endlessly and effortlessly. Miroslav was able to show off his drone flying skills and we got some extraordinary footage during a long winter sunset.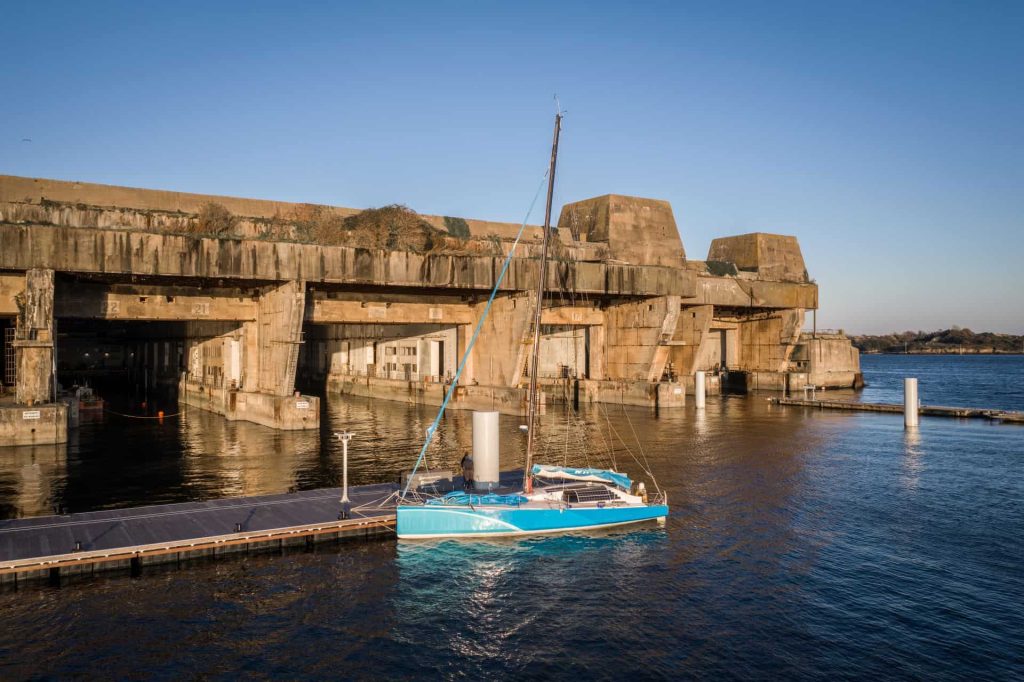 After sailing 130 miles in 12 hours, averaging more than 10 knots without any effort whatsoever, we were in front of Lorient- mecca of offshore sailing. We were wet from surf, it was a cold night and I was looking forward to tucking myself into a warm sleeping bag. Lorient 'La Base', marina for racing boats is known for her monumental surrounding, nested in front of huge WW2 German submarine shelters. One would expect such a building to be illuminated during the night, but it just stood there, as a dark monument of dark times.
My name is Bowman. Ivica Bowman
What was supposed to be a few hours of work turned into a whole day of different repairmen promenading through our boat, while me and the rest of the crew drooled over all the trimarans, Class 40s, Figaros, Minis…
All of the Imocas were now in Les Sables, with Vendée Globe start just a few days away, and we were moored on 'Charal's pontoon. Thomas Coville was getting ready for 'Jules Verne Trophy', aiming for around the world record. There is always something going on in 'La Base'!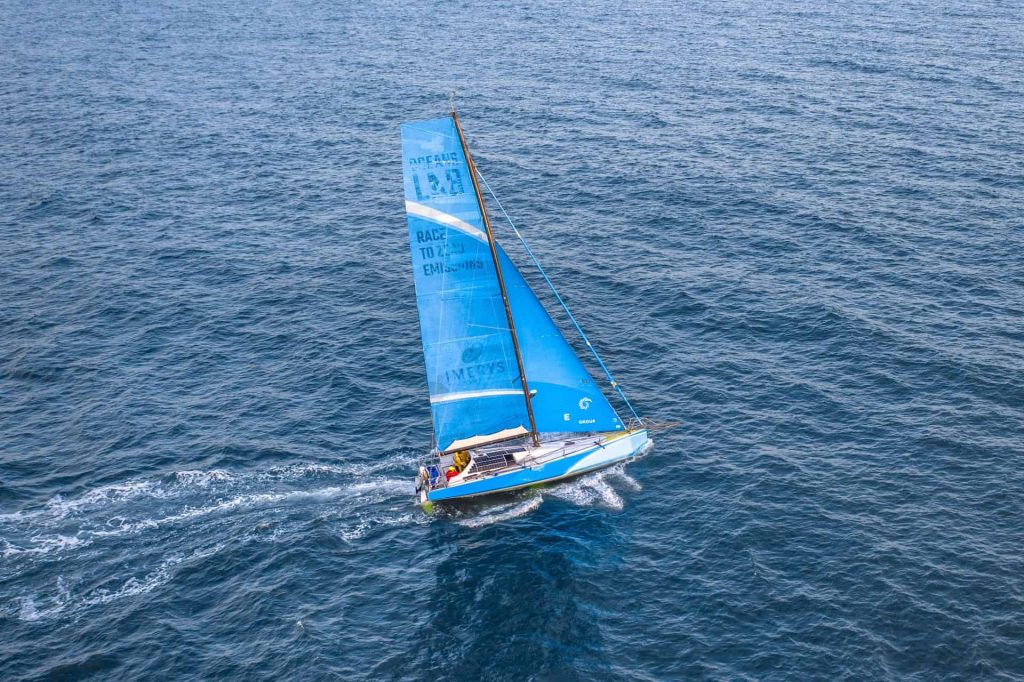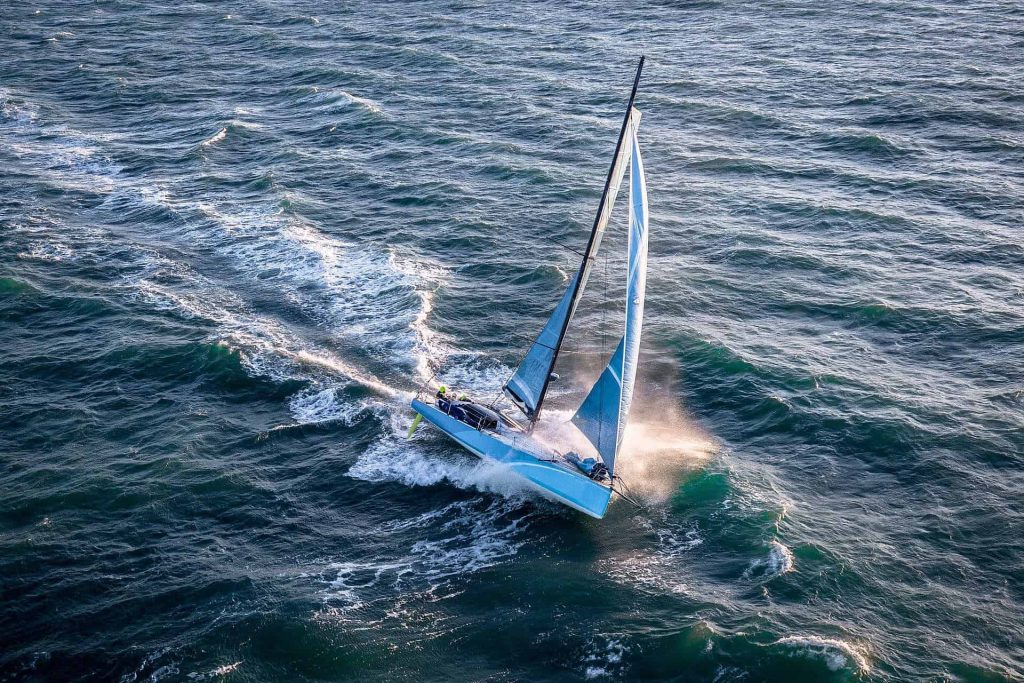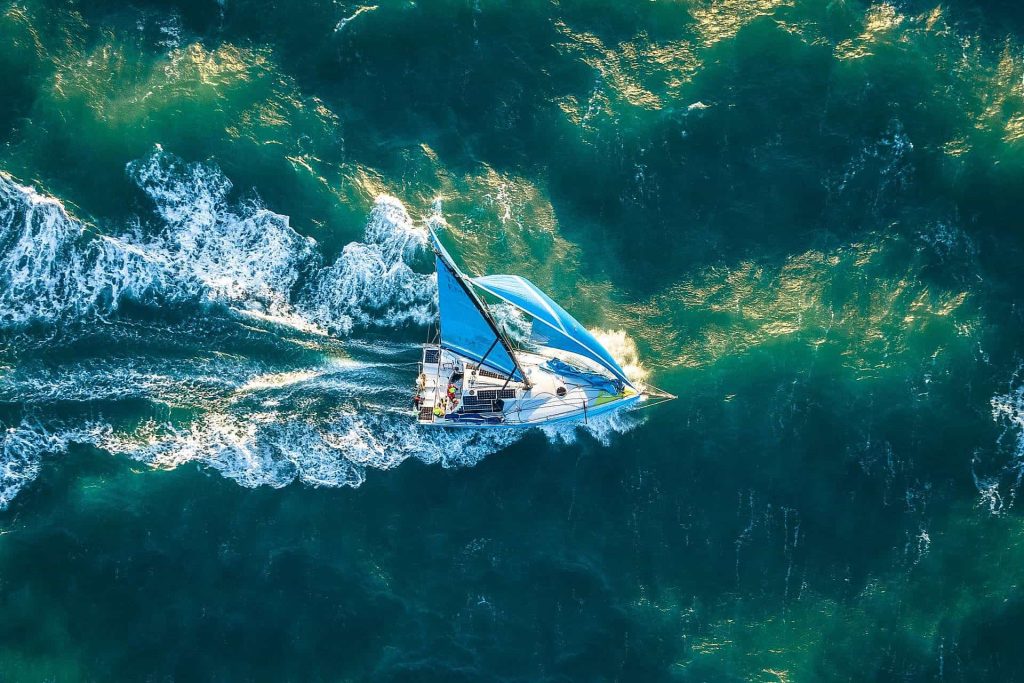 We left Lorient before dawn and headed north, towards Cherbourg. It was a cold night again. As soon as we were out of the harbour and adjacent channels, we hoisted a small kite in 20-25 knots of breeze and put a reef in the main. Damir was at the helm when the boat suddenly hit something underwater, lost speed and broached. We tried steering the boat back to the course downwind but it was soon clear that we were stuck and were barely moving although our kite was full.
As usual, I was the bowman and most of the work on the bow fell upon my back. Socking the kite was quite a challenge as we couldn't properly bear down and wind wasn't making it any easier. Nico let go the leeward sheet and I put down the sock after a herculean effort. Soon we found out what happened – we caught a fishing buoy with its 10 mm thick cord, which eventually snapped. Luckily, we were able to untangle the cord from our keel and we took a nice, round pink buoy on board as a souvenir.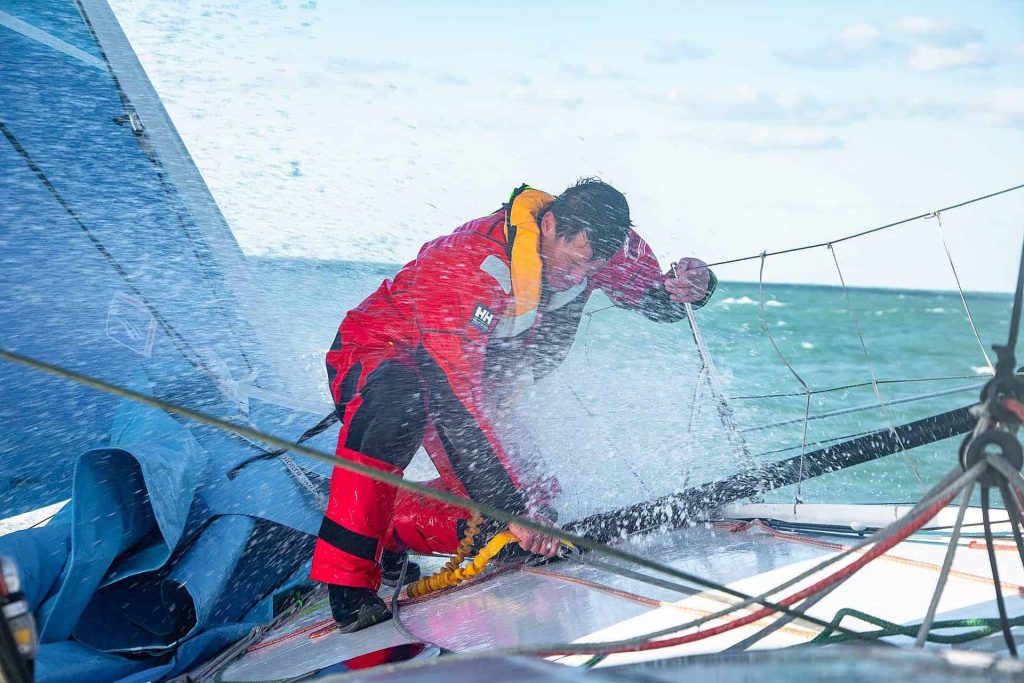 We hoisted the kite again and surfed at 20 knots, sometimes even faster. Waves were steep so steering was a challenge. It was a wild ride. We broached, followed by another broach…We should have put the 2nd reef in the main as the wind increased over 25 knots but I suppose everyone was hypnotized by sights of fast surfing and tons of water pouring over our deck. Finally, we decided to felt the kite. Back to my wet workplace on the bow, I socked the kite but halyard wouldn't come down. It was obviously stuck and wouldn't move an inch. I tied the socked kite onto the mast. We eventually resolved the situation after some brainstorming and without having to climb the mast.
Final night of our trip took us from Ouessant to Raz Blanchard and it was one long, bumpy, uncomfortable tack at 20 knots of wind and waves coming against us from La Manche. I spent almost entire night in the cockpit. Occasionally I'd have an interesting talk with Nico, listening to his stories of his La Solitaire du Figaro adventures. Damir, a passionate smoker, would peak out of the cabin, his cigarette glowing red in the darkness. Miroslav, quite unimpressed, slept like a baby in his bunk.
We sailed 230 nautical miles in the last 24 hours.
Raz Blanchard is allegedly a cape with strongest tidal currents in Europe. We are sailors from the Mediterranean and currents are a whole new parameter in our sailing knowledge. Strong currents are interesting but awe inspiring at the same time. This time Raz Blanchard was generous. Only 3 knots of current…
Finally, we reached the port of Cherbourg. Impressive 3,5 kilometre long wave breaker closes the outer perimeter of the port. Building such a massive wall from 10 meters of depth in 19th century must have been a monstrous endeavour. Port is well sheltered and open 24/7 regardless of tides. Port Chantereyne is Cherbourg's marina and this will be home for 'Optimus Prime' until Route du Rhum 2022.
Unlike in the Adriatic, ports and marinas on the Atlantic coast of France are keen on inviting and supporting racing sailboats and especially offshore racing projects. Port Chantereyne is proud of its small fleet of Class 40s and Figaros. I am happy to be here and to feel welcomed.
Sweet dreams, 'Optimus Prime'
Upon our arrival, I had enough time to train and prepare the boat for a few days on the northern tip of the rainy Normandy peninsula. Damir and Miroslav have returned home and it was 'mission accomplished'. Nico and I were joined by Marijan, Slovenian-Montenegrin who chose to earn his wings as a race-preparateur for Imocas in Lorient.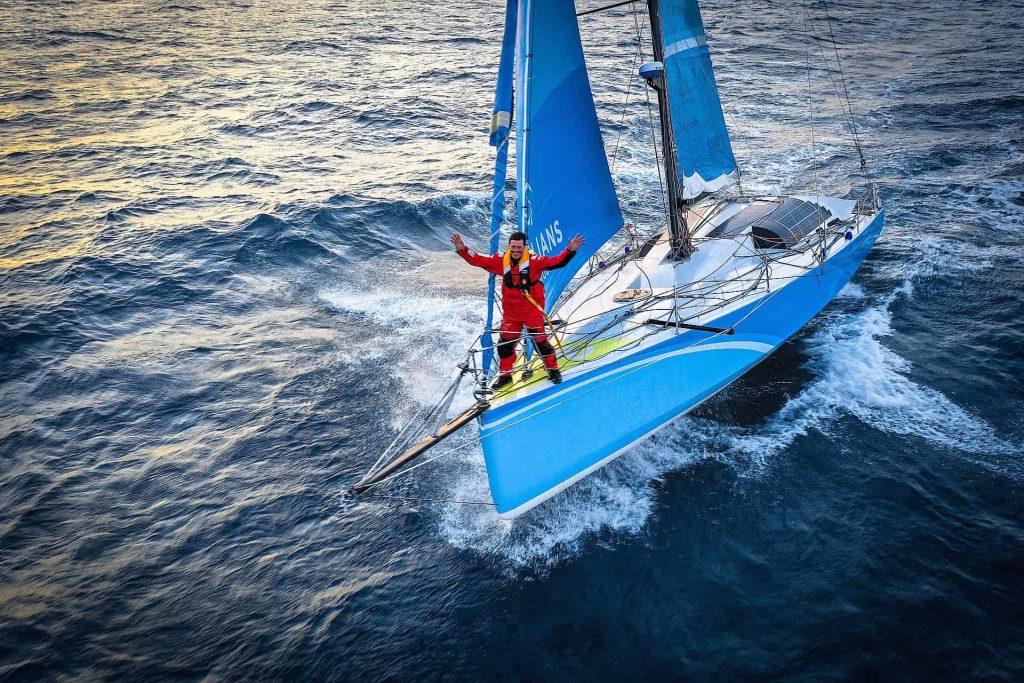 He will help us get the mast down- its carbon will need some repainting this winter. After that I'll be heading home. 'Optimus Prime' will hibernate for the winter and I will soon be back in the mountains.
And dreaming of a boat named 'Optimus Prime'.
P.S. Fun fact: favourite toy of my younger son (4 years old) is Optimus Prime. I guess it's true what they say: the only difference between men and boys is the price of their toys.
Check out interview with Ivica Kostelić
Photos Miroslav Zadravec
Text & video Ivica Kostelić (other materials can be viewed here on Ivica's You tube channel)