Leopard 46 Powercat is a complex model available in several versions, also optimized for charter configuration. She is one of the fastest, most elegant and most comfortable vessels in her category
Leopard 46 Powercat has reached high level of function and comfort that can usually be found on significantly larger vessels. The second model in Leopard's fourth generation of catamarans made in Capetown has two robust hulls with large salons boasting a smart layout.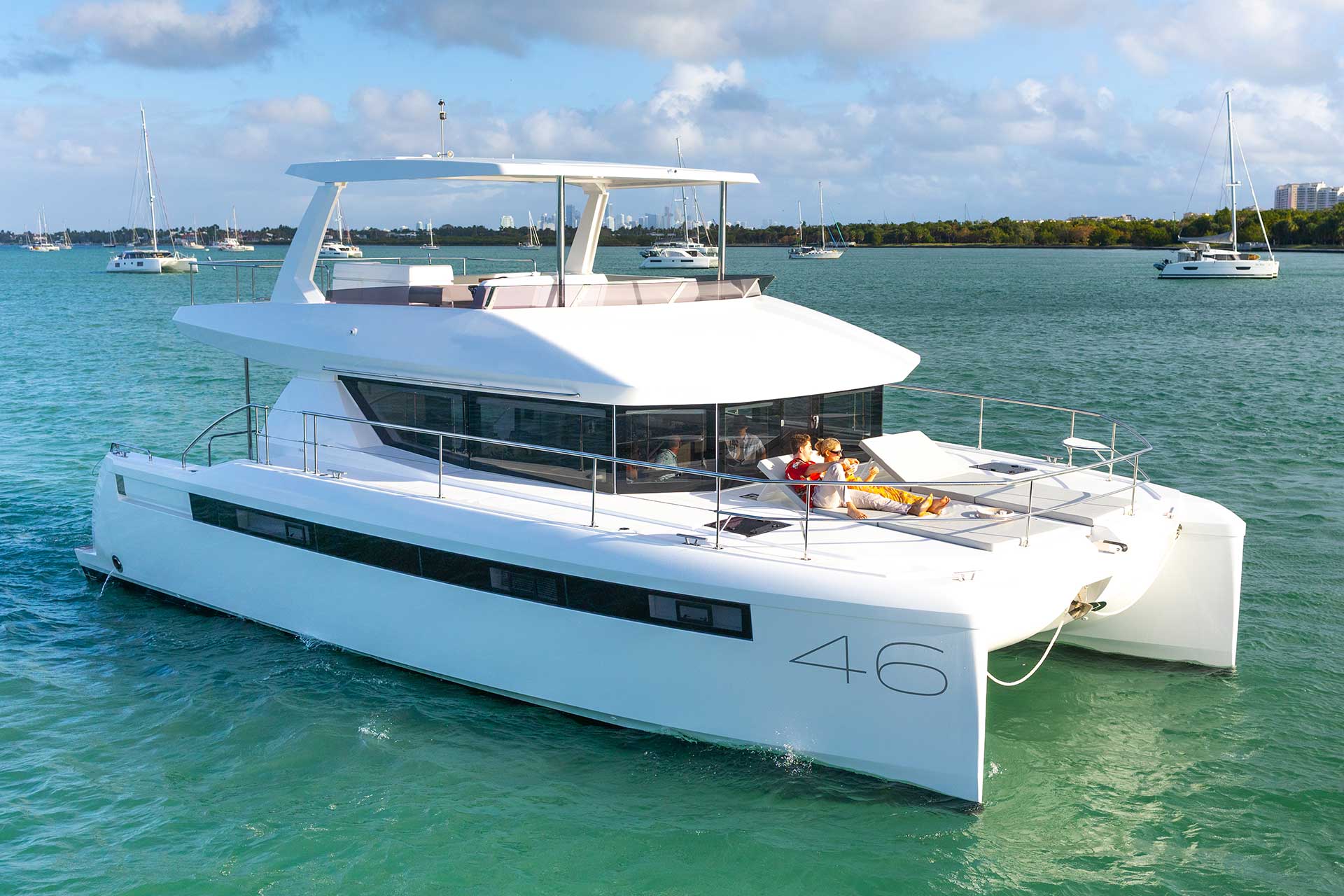 PC stands for Power Catamaran, and this one easily reaches 20 knots of speed due to its smartly designed hulls. All Leopard cats are built in the Robertson and Caine shipyard in South Africa; the world's third largest catamaran builder, who have since their foundation in 1991 built more than 2000 vessels.
Leopard catamarans
Leopard brand is owned by Travelopia, also owner of Sunsail and The Moorings, who play an important role in development of every new model.
Travelopia is owner of the world's largest bareboat charter yacht fleet, purchasing around 190 vessels every year from Roberson and Caine – roughly half of those vessels are immediately available for charter, while the other half is sold under the Leopard brand name for private owners with more distinguished and qualitative features.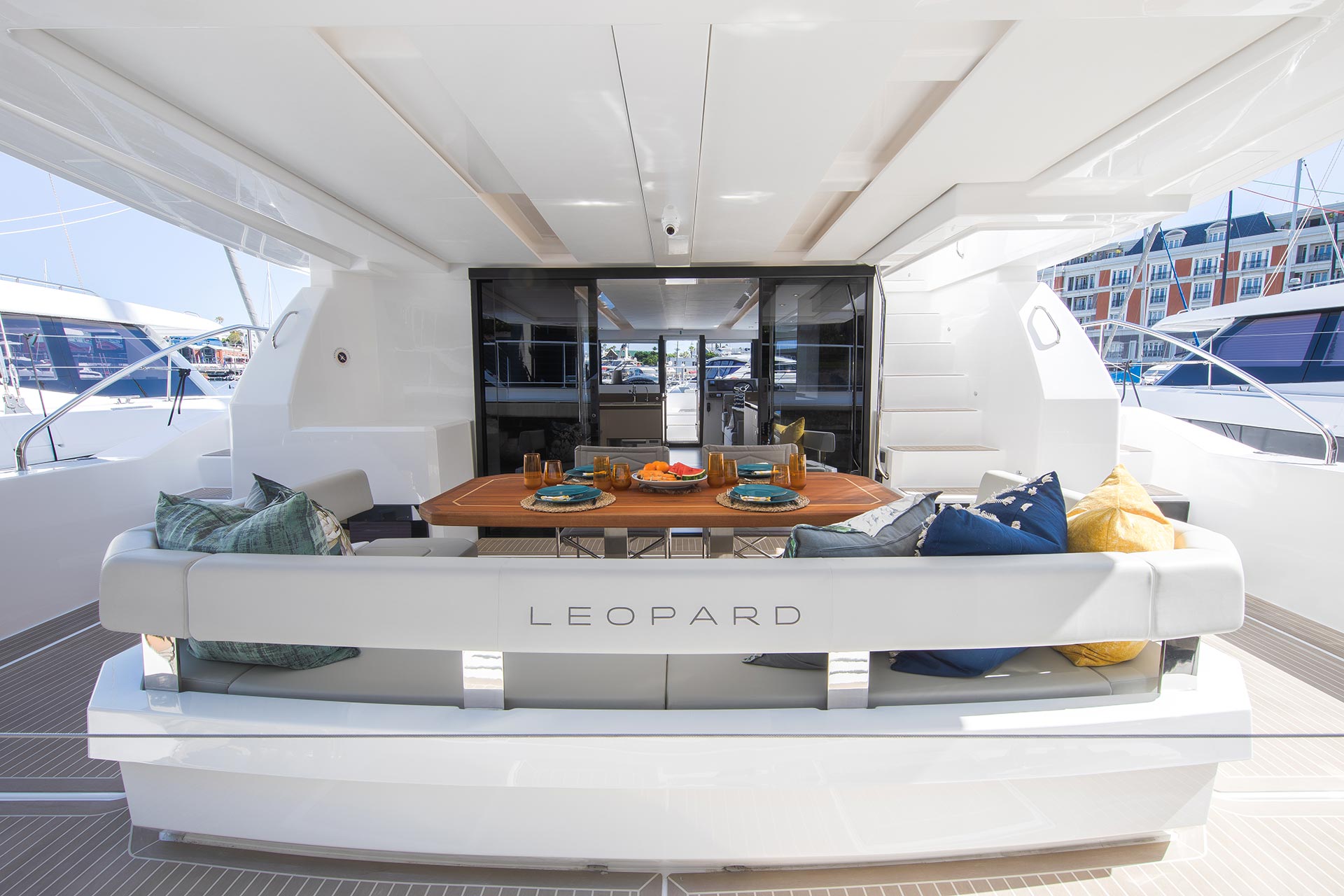 The bridge of the new Leopard 46 Powercat boasts a very large command console with equally impressively large navigation screens, engine controls and bow thruster controls. The seat is long enough for one additional person, and the fly bridge is designed for entertaining, with a C-shaped sofa and a wood table.
Right across the way, the galley has an electric grill and a dishwasher, with plenty of storage space underneath. There is a large recliner hiding another storage space, large enough for several rafts. The entire bridge is protected from sunrays by a large hard top.
Leopard 46 layout
Below deck (via side stairs next to the galley) there is a cockpit with a large U-shaped sofa and a table, both combining into an additional bed. There are passages on both sides, as well as behind the bench, and only a railing separates this space from the large hydraulic platform that hosts a tender (option).
Easily accessible from the cockpit are both technical spaces housing the engines. Leopard 46 PC is available with 250hp or 320hp Yanmar engines, or 370hp Yanmar 8LV370 engines.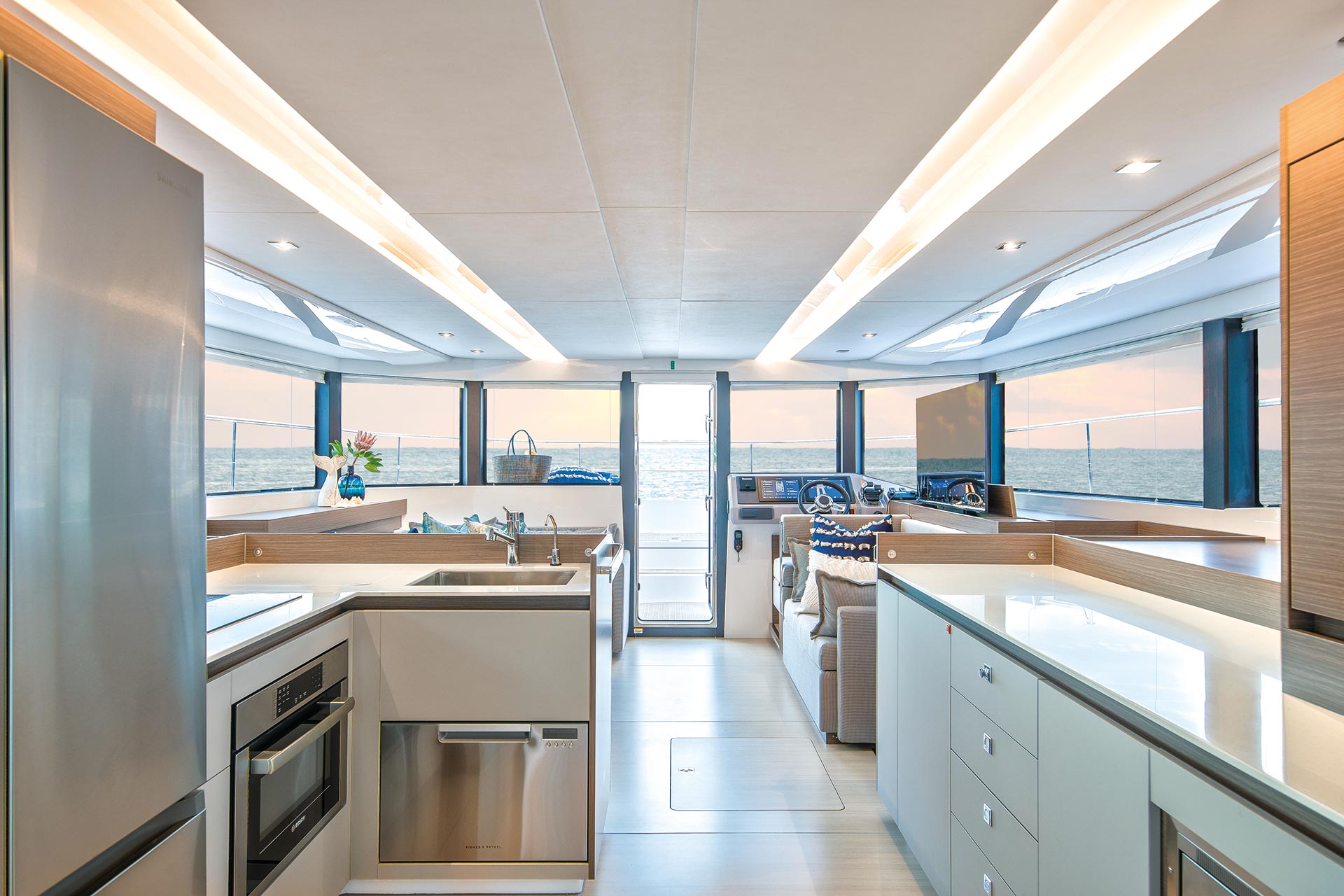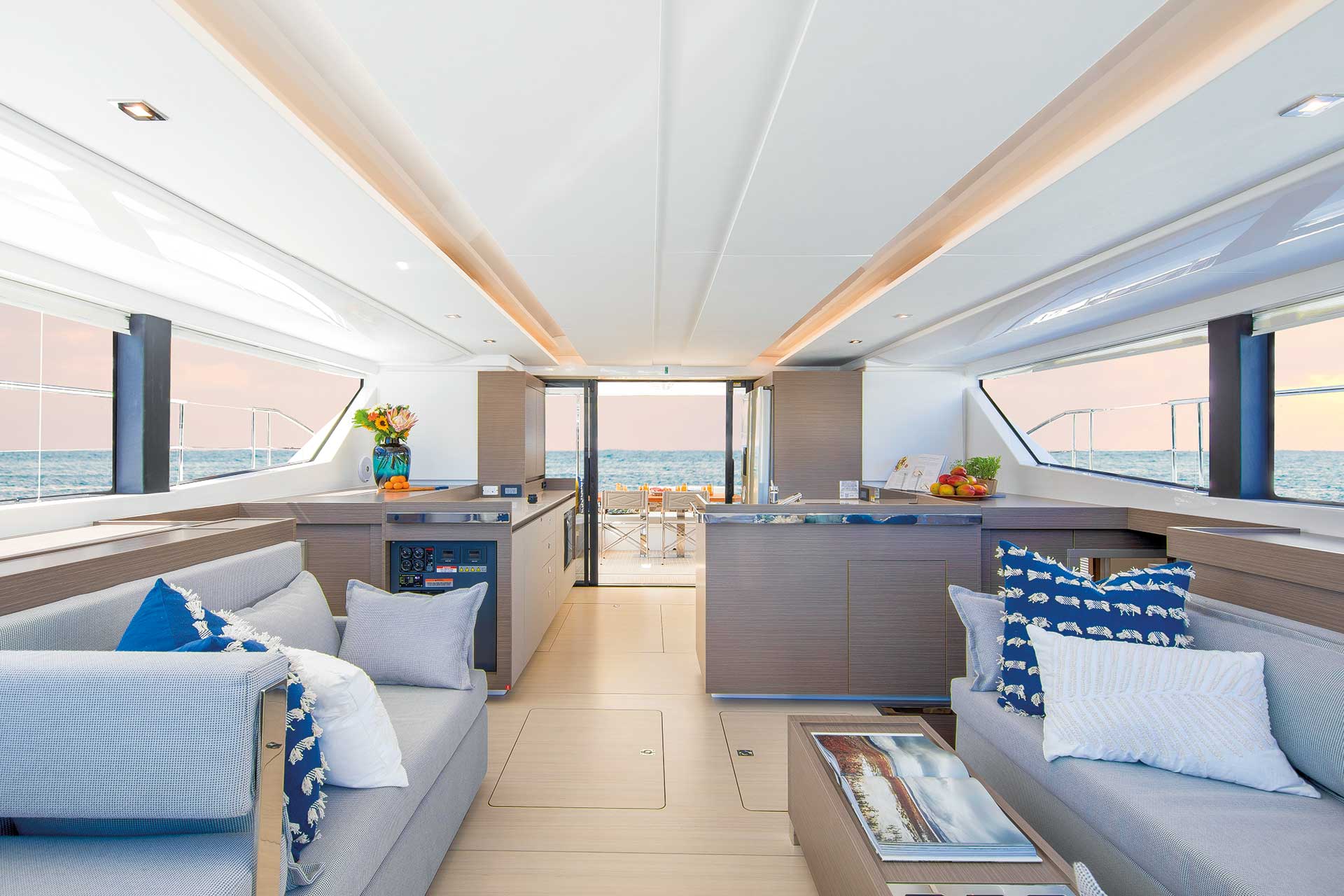 The interior, accessible through a double glass door, follows a classic layout with a large salon and a galley to the port side. The furniture is robust and elegant, rather modern in style.
The galley is large enough to house a large double fridge, an induction stop stove, a microwave and several large U-shaped counters. Across the way, there are several large vertical storage spaces. Forward in the salon there is an L-shaped sofa with a height-adjustable coffee table, with a longitudinal sofa and a TV straight across.
Large windows allow uninterrupted views of the surroundings even from the sofas, and there is plenty of storage space under all seating. To the starboard, the interior command console is served by two 12-inch multifunctional screens. The model is available with a remote-controlled autopilot (option).
The central part of the windshield opens to allow access to the bow, and when the aft door is open, the entire interior is well ventilated. The bow is also accessible through large side passages.
The three-cabin lower deck layout places the master cabin into the right hull, stretching full-length. The cabin boasts a large double bed (223 x 162 cm), skylights for fresh air and large side windows, and height of 193 cm (122 cm above the bed). It's spacious enough for a large wardrobe, a TV and a beauty corner served by a dedicated table, and has an en-suite.
In the left hull, there are two cabins, with the VIP in the bow. As this space is smaller, this cabin has a diagonally set 205 x 160 cm bed, which leaves enough space on both sides. In front and below the bed, there is plenty of storage space. Leopard 46 PC is also available in a four-cabin layout.
How fast is the Leopard 46 Powercat?
We tested the new Leopard 46 Powercat with six passengers aboard, and with two 370 hp Yanmar 8LV370 engines. Variable hulls allowed smooth sailing at low and high speed, and at comfortable cruising speed of about 17 knots (@3000 rpm; 85,2 l/h). The new Leopard boasts autonomy up to 325 nm, and is extremely easy to maneuver even in small marinas.
Photos & video Leopard Catamarans