Manager of the new branch office of Expersea Yacht Management for Croatia Mirjan Vlahović speaks about yachting and his mother country, coming back home after career spent entirely abroad
The arrival of one of the world's biggest yachting companies to Croatia is big news – Expersea Yacht Management, which has replaced Titan Fleet Management, has recently opened their office in the country. This is by no means a coincidence, as the driving force behind that arrival is a 'local guy', longtime employee of Titan Fleet, Mr. Mirjan Vlahović, who will be in charge of the unit. We spoke with him on-board MY Mercury, just ready to take part as 'main character' of this season's series Below Deck.
After building a respectable career in yachting abroad, Mr. Vlahović is coming back to Croatia: 'As Designated Person Ashore and Chief Security Officer in Titan Fleet, I am playing a key role in the effective implementation of a Safety Management System and have responsibility for verification and monitoring of all safety activities., i.e. ISM i ISPS compliances, yacht operations starting with class compliance, following flag regulations, supervising technical inspections, crew certification, daily operations for every active yacht in the fleet… it is a huge job. That includes privately and commercially registered yachts available for charter or owners use, which all are subject to different jurisdictions and follow different rules. Part of my duties was making sure that all the yachts available for charter through us were following rules and regulations demanded by the flag. All seven of our yachts carry Cayman Island Flag , and their length ranges from 40 to 100 meters. Two of them are under 500 BRT, four of them over 500 BRT, and the seventh yacht is the almost 100 m passenger yacht Lauren L. She's very popular with charter clients.'
How did you come to open an office in Croatia?
In the past ten years, almost all of the yachts of the Titan Fleet have at some point cruised Croatian waters, so we are well acquainted and well connected with marine agents, marina personnel and maintenance centers. Many of the yachts have spent winters in Croatia, as well. One of our main partners are Capax as refit yard and Simmor as marine agent, to whom I'm very grateful for both partnership and friendship. A branch office was a logical step necessary for easier operating. As I am Croatian and living here, logical decision of Mangement was to open office here in Croatia for developing business. Our new office is thus a continuation of both of our stories, the company's and mine. The other Croat in the office will be Mr. Toni Šeparović, our fleet technical manager, who after two decades at sea has finally come ashore. We'll be the men behind the curtain, making sure things run smoothly, along with our Head office in Cote d'Azur.
Your path to elite yachting has lead you and kept you abroad?
My parents come from Dubrovnik riviera, and that's where I've first stepped on father's boat. I was born in Zagreb, went to law school in Zagreb, but at some point my heart decided that it wasn't my future and I switched to yachting. I took my RYA exams in Gibraltar and sailed the Atlantic as part of my education path. I was persistent enough and perhaps good enough to get hired as yacht Captain. The first yacht I ever worked on was a 30-meter Ferretti Navetta, and each yacht after that was getting bigger with more crew and responsibilities. I've spent ten years as a yacht Captain, but unfortunately, never in Croatia as most of my seafaring years were in Mediterranean and some in Caribbean also. During that period somehow it came to me that moving ashore might be a great move while staying closely connected to yachting industry.
After taking the Lloyds Superintendent Course in Athens, Amsterdam and Rotterdam and great opportunity came to join Titan Fleet and develop ISM department. That wasn't as easy as it sounds, seeing most of my colleagues are much older 'sea wolfs', having made that step in their career after serving as Chief engineers in Yachting or Merchant navy. Developing company Safety management system, obtaining Document of Compliance from the Cayman Islands and Marshall Island registry and taking over Fleet yacht management was a mission. Recently, we have also been licensed to handle passenger yachts, which is something I consider a huge business success. There are not too many passenger yachts in the world, less then 20, few of them commercial. Our Lauren L is one of those, with successful charter reputation.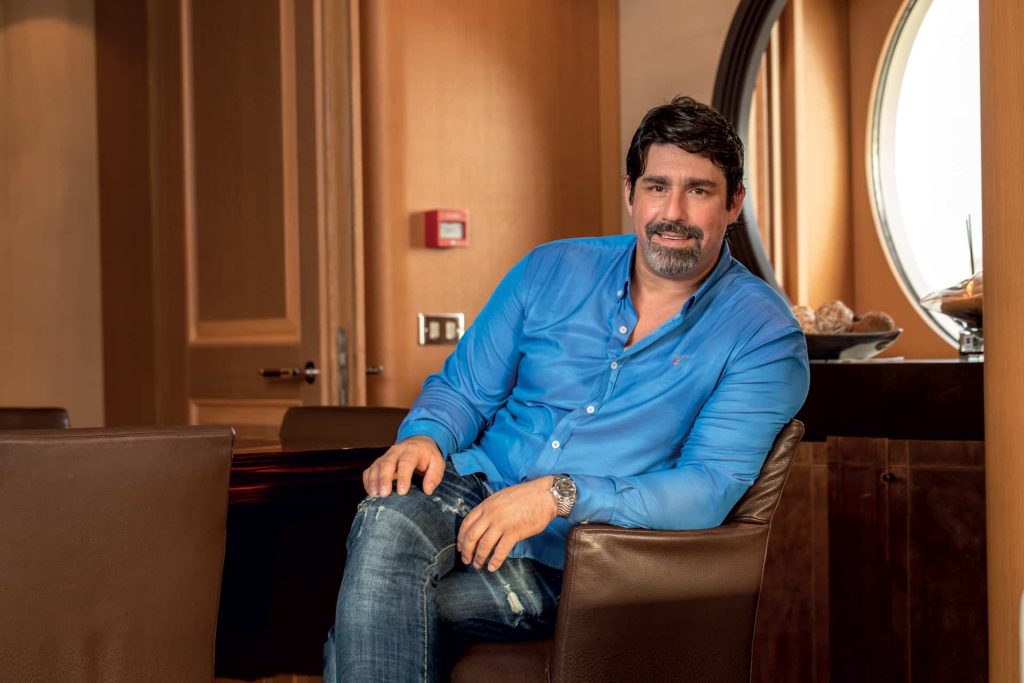 You have been advancing within Titan Fleet, as well?
I started out as a 'mini ISM' guy, managing yachts up to 500 BRT before developing Company Safety Management System, which like I mentioned gave us opportunity to take over larger vessels. After we got the approval, we were allowed to manage yachts ranging from 500 to 3000 BRT, or according to the LY3 code, mega yachts, but not the passenger yacht. I started out in top tier yachting and was given many responsibilities, seeing how the Designated Person Ashore is the liaison between the yacht and the shore. DPA is having personal insurance against failures in monitoring, implementing and finally verifications of all yacht operations, meaning I am co-responsible with the Captain for every situation that can arise at sea that isn't approved by Flag, meaning the yacht is in violation of a regulation.
You are also developing industry-specific software?
In the past two years, we have been working on the new software for ISM and ISPS. It is well designed, specific, user friendly and tailored to our clients. Supervising the IT company in every step of its development to be in compliance with SOLAS , MLC code, STCW code etc… We decided to have this software developed in house, reducing cost for outsourcing companies, but also keeping operations safe from cyber attacks, as safety and security is one of key elements in yachting. We didn't want to share information on our elite clients, as privacy is top priority. Such solutions can be offered to other companies as well, who, I'm sure, will find this software very useful. Rules and regulations are getting more strict, documentation is becoming comprehensive and we believe logical step would be paperless everyday operations as future in yachting.
You have encountered individuals and companies which you appreciate?
The first big step I made was getting my license, and the second finding a friend in Ms. Judith Amselli, my first charter broker and at the time a high-ranking MYBA official. She put a lot of trust in me. I must also mention Fraser, a highly professional company, one of the industry leaders, with whom I have worked closely for years. And finally, my current employer, lead by Mr. Nick Sevier and Mr. Charles Bettell, who had a lot of faith in me as pioneer in Yachts management. I'd also like to mention Mr. Roman Kovalev of Moran Yachts, a great friend of mine. Andrija Simić from Simmor yachting, a longtime friend and maritime agent leader in Croatia was also important part in one project that was led by my brother's company which will produce a great boom in industry development in Croatia, and can lead Croatia to having greater role on world yachting map.
'Beginners must understand that the first five years will be grueling, but they must endure. There are no shortcuts, but there is clear opportunity for advancement'
What advice would you give to beginners in your industry?
Our company employs over 100 crew members, for which we have also the crewing department in our office handling crew employment. Anyone looking to turn pro in this business must understand that the first five years will be grueling, but they must endure. There are no shortcuts, there's only hard work and proving your worth, and then they'll eventually be given an opportunity for climbing up the ranks. They must set their minds on becoming professionals, and understand that this means they'll spend plenty of time at sea and some of that might not be ideal. But ultimately they'll be working in the yachting industry, and that is great, that's beautiful.
Where do you see yourself in the future?
Exactly where I am, because to be honest, I think at some point we have to be satisfied with what we've achieved, forget pretenses. We must get this new office up and running, I have to work on some personal things, and honestly, I'm really personally fulfilled and happy where I am.
You're an avid sailor and a boat owner?
That was inevitable, seeing how I love Croatia, yachting and sailing, as does family, especially my father. As soon as I stopped working onboard yacht, I bought a sailing boat, what was just an extension as my father owned various boats before that. After owning my first sailing boat, spending the free time at sea with friends and family became part of my life. I'm just happy to be in a marina, there, relaxing. I've just purchased a new Elan Impression 45.1, a phenomenal sailboat in my opinion. It is chartered through Sail Croatia, owned by my friend Mihael Primorac. Croatia has the potential to become much more than a small country for a great yachting holiday; we could become a global leader in that segment if we only finally got some things right. Let's do it.
Text Darko Šupuk
Photos Robert Matić