Sail towards Mljet, and discover National park Mljet with two lakes, Odysseus cave as well as sandy beaches Saplunara and Limuni
American Forbes magazine has placed Mljet on their must-see list of islands, havens where you can escape from mass tourism. The island of Mljet lies near Pelješac, Dubrovnik, the island of Korčula and the Elaphiti Islands, and it is perhaps best known as an undisturbed Mecca attracting many a modern Robinson Crusoe and one of the top charter destinations in Croatia.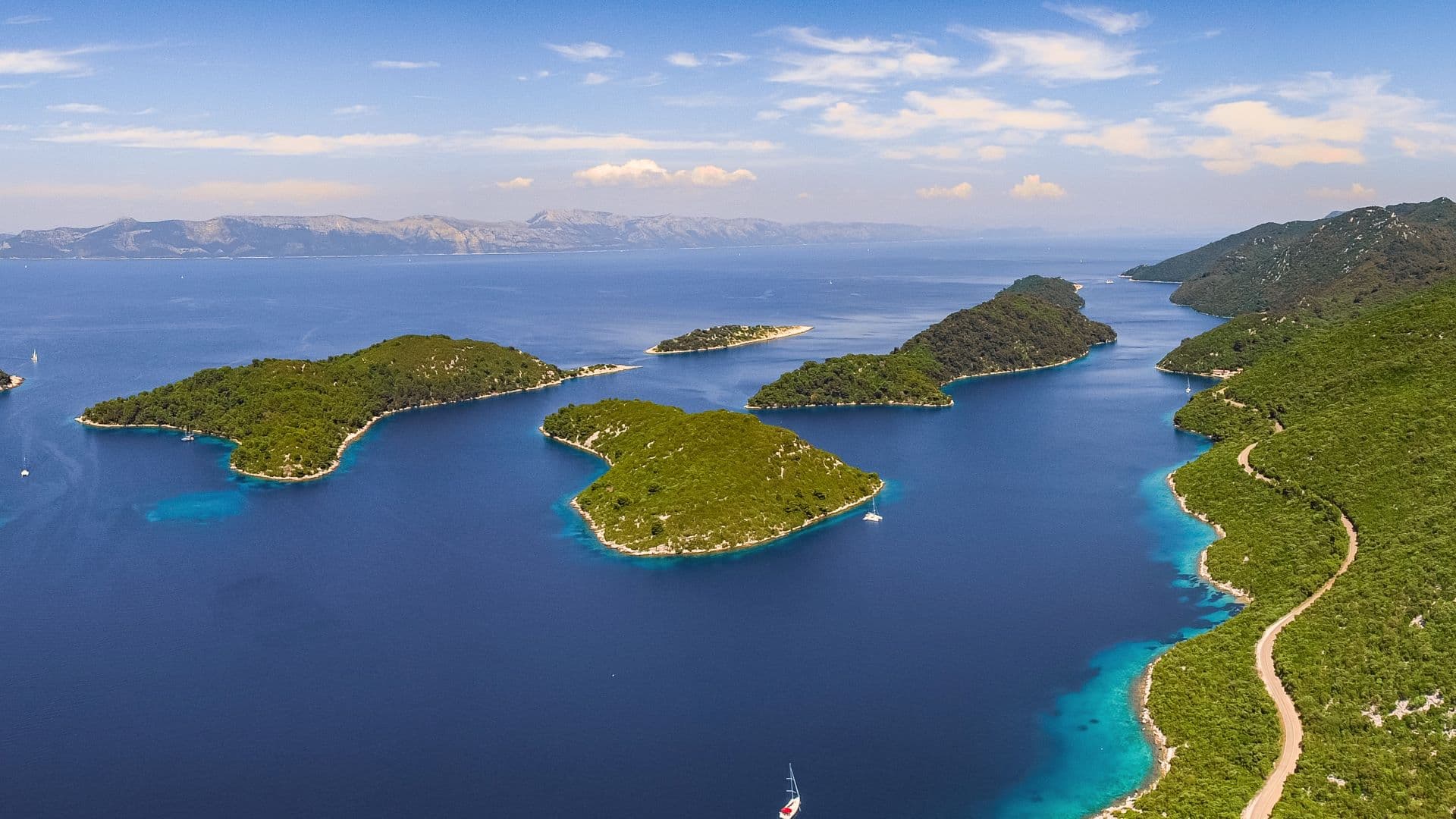 What to see in Mljet?
Most yachts sailing these waters opt for a route taking them alongside the northern shore, where several tiny villages and the only ferry port on the island – Sobra – make for almost all traces of life. The uninhabited southern shore of the island is dotted with small coves, tall cliffs and that's about it, except for miles and miles of blue sea and the Odysseus Cave, a limestone cave with a long tunnel well worth the visit.
Follow our Mljet yacht charter guide and spend at least two days on this beautiful island to see its most attractive spots. Other than in the magnificent National park Mljet, its coast isn't particularly challenging, however, there are some lovely coves waiting to be discovered on its west and east side.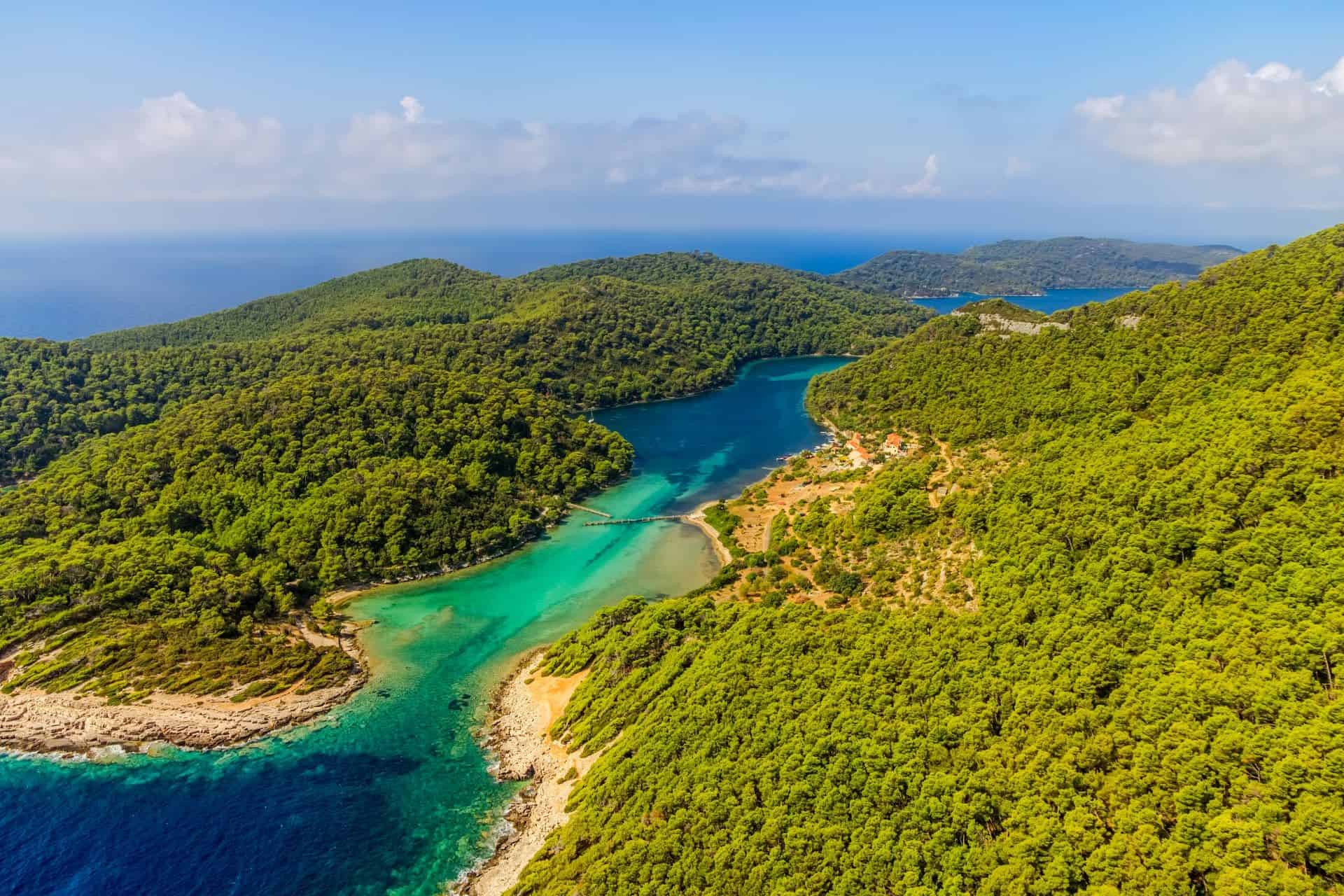 Best time to visit the Mljet
The best time to visit Mljet is from April to November. Being located in the very south, the island Mljet is significantly warmer than its northern neighbors. The warmest months are July and August, while swimming is pleasant from June until the end of September.
Things to do in Mljet
Unique in many ways, the island of Mljet is best known for its pristine nature, so beloved among travelers in search of authentic beauty. With this in mind, the must seen spots are National park Mljet with two lakes, Odysseus cave as well as sandy beaches Saplunara and Limuni. Mljet is heavenly place for lovers of all outdoor sports like cycling, kayaking, diving, etc. Isolated, barely inhabited and laced with a meditative vibe, Mljet is a clam island without night life or bigger towns.
Anchors and harbors on island of Mljet in Croatia
Mljet is easily reached from any of the several marinas serving the Dubrovnik region, but this green island itself is marina-free. Visitors can drop their anchors in at least ten spots. However, keep in mind that almost all berths are owned by local restaurants and therefore only free for their guests.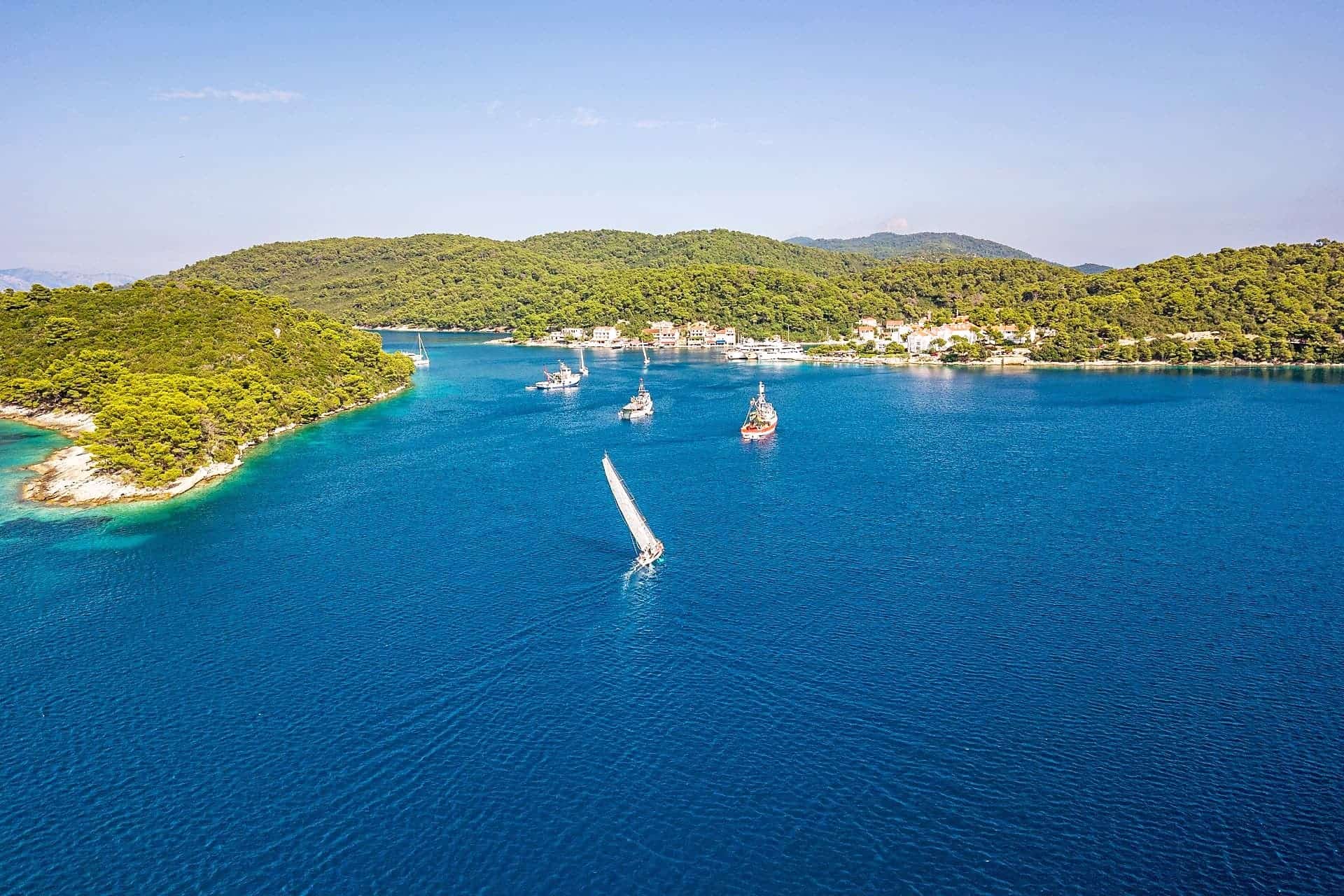 Pomena – marine gates of the National Park Mljet
The safe and well-protected port of Pomena is a popular stop for yachts en route to the National park Mljet and the two salt lakes. In high season, the port is busy, with yachts anchoring at sea or by the two hundred yard promenade in front of the famed Hotel Odisej.
Epicureans usually allow their noses to lead them to the other, eastern side of the cove, jam-packed with family-style restaurants and trattorias delighting the palate with locally sourced ingredients and traditional dishes.
Pomena is well protected from wind, even from bora – by the tiny island of Pomeštak. If you happen to arrive during bouts of northern wind, choose to anchor on the southern side of the island, and make sure you tie the yacht to the rocks, as well.
Odisej is the only hotel on the island of Mljet
Pomena also boasts the only hotel on the island of Mljet, Odisej, attractive for their many events and sports activities. Near the hotel, visitors can also find a tiny marketplace with fresh fruit and vegeta-bles, and ATMs. The neighboring Lokva cove used to be a military port, but since it's also well protected from all wind, it is quite popular among yachtsmen.
Visit the National Park Mljet
Mljet National Park is the oldest marine national park in the country, covering almost a third of the island, covered in lush greenery. Other then Mljet, the park encompasses several smaller islands and two salt lakes, Veliko and Malo lake. The places from which you can reach Mljet lakes are bay Pomena, Polače and less popular bay Gonoturska. Certainly. Certainly, National park Mljet keeps a prestige place in our Mljet Yacht Charter Guide.
Swimming in Mljet lakes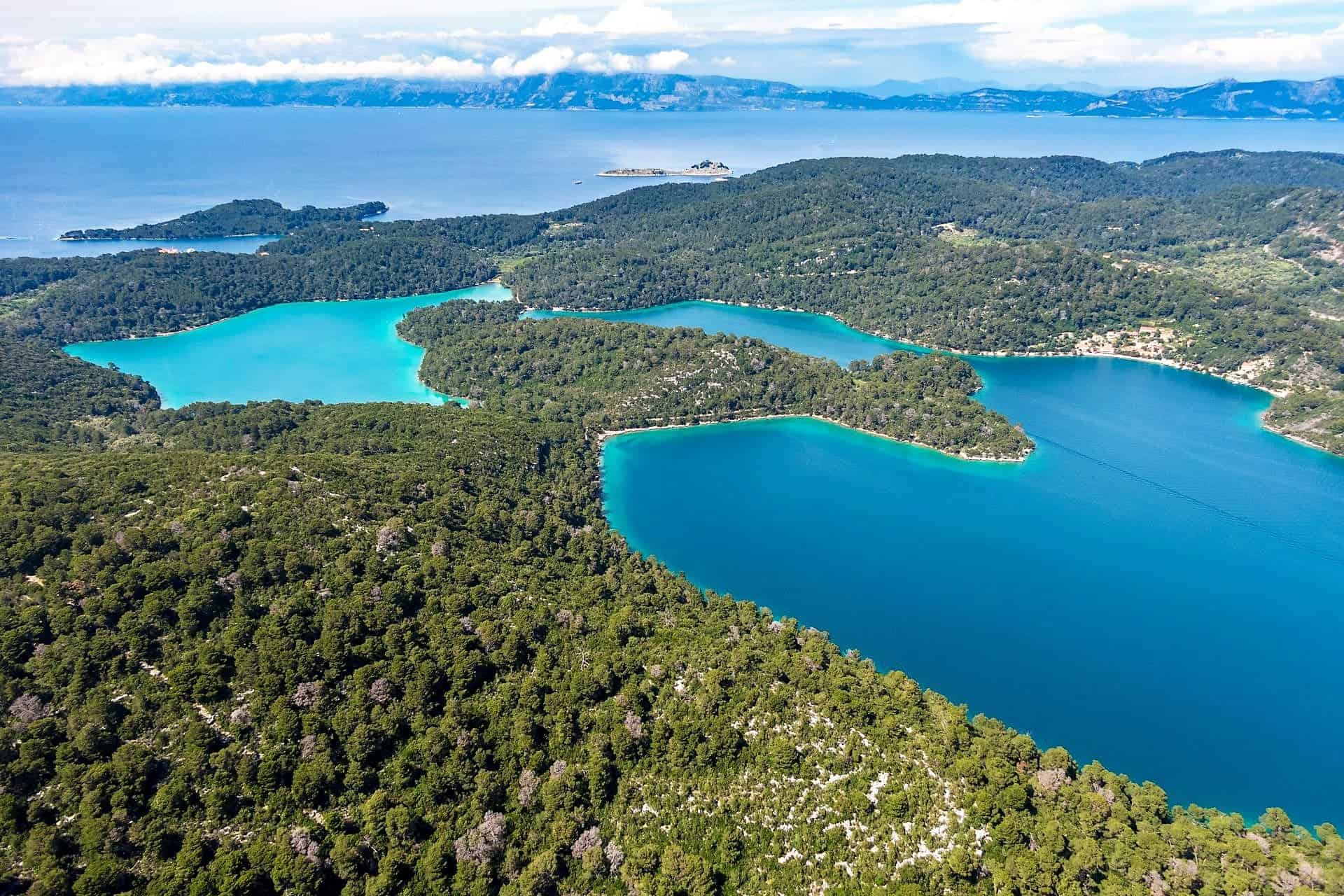 Right in the middle of the Veliko jezero there is a small island Sveta Marija, Mljet with the large building of the former Benedictine monastery, erected there in the 12th century. The monastery's building is now a café and a restaurant. The small island is connected by public boats that sail there from both sides of the lake.
As both lakes are encircled by well-marked paths, you can cycle or stroll along the pleasant, shaded paths. You can rent a bicycle in Pomena, Polače and at Mali Most, the point where two lakes are joined by a narrow channel, to cycle around.
Kayaking is also allowed, so if wish, you can rent a kayak at Mali Most to paddle around both lakes Swimming and sunbathing in Park is good fun – as the water here is much warmer than on the seashores of the island, which is great if you want to swim in colder months.
In Soline as well as under the Mali Most due to tidal and oscillation, there is a constant flow of sea that resembles a natural buoyancy, ideal for relaxing!
Polače harbor: one of the most popular anchorages on Mljet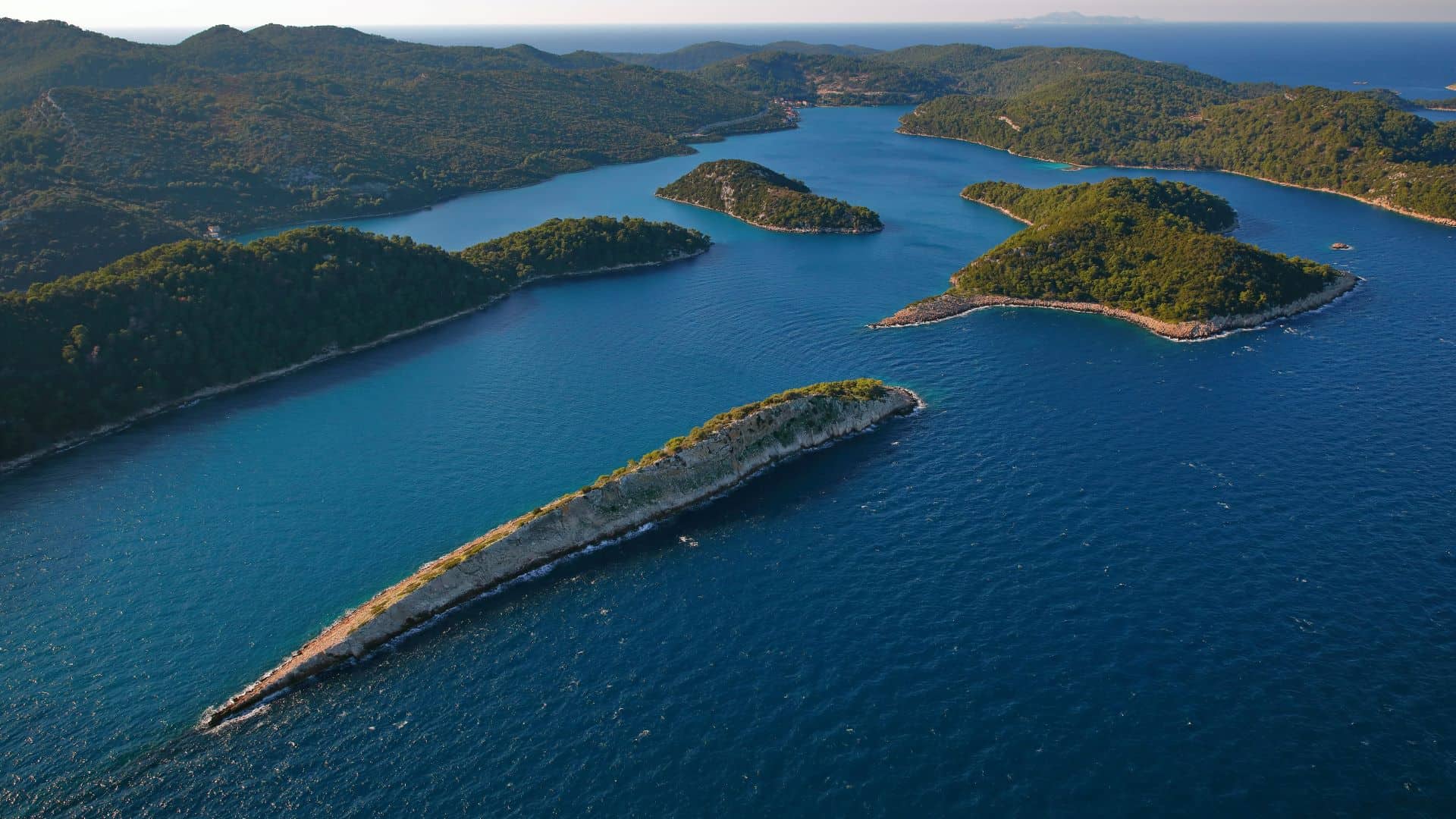 Mljet Yacht Charter Guide, and many others, consider Polače on Mljet as the most attractive yachting location on the island. This large, deep and well-protected cove is almost hidden from view by four tiny islands – Kobrava, Tajnik, Ovrata and Moračnik – often chosen as anchorage points by larger yachts. Rogač cove, the most inner part of Polače, offers protection from winds – as confirmed by pine branches calmly descending all the way to the water. Sadly, Polače on Mljet has in recent times been developed to the extreme, but still keeps some of its old charms.
Visit Roman ruins
Ancient Greek sailors used Polače for stopovers, leaving behind amphoras and anchors, while Romans loved to spend winters in this mild climate, also leaving behind plenty of interesting bits and bobs for modern-time archaeologists.
Yachts love the port for its deep, soft bottom that holds the anchor well, but many boats choose berths in front of the many restaurants along the southern part of the cove, like Antika, Ankora and Stella Maris.
How do you get to Mljet National Park from Polače?
After you drop the anchor, take a relaxing stroll through the National park Mljet (only 2 km away) and around the salt lakes. On the island Mljet, in Polače you can replenish some goods in the local mini-market, find an ATM or rent a bike, a scooter, or a car.
What to do in Sobra on Mljet
The spacious Sobra bay serves as a port to the largest town on the island, Babino Polje, which is 7 km away. The town of the same lies on the western side of the bay, and yachts can be tied along its long promenade. There are several trattorias, a pizza parlor, a market and an ATM; but the ferry port is across the bay, by Badanj island. This bay isn't protected from most winds, including north, south and east.
Sobra used to be the main port on the island of Mljet, from where boats loaded with wood set sail toward Dubrovnik, and since having the ferry port has regained only part of its former greatness. Still, it hosts the only gas station on the island.
Prožura and Love Island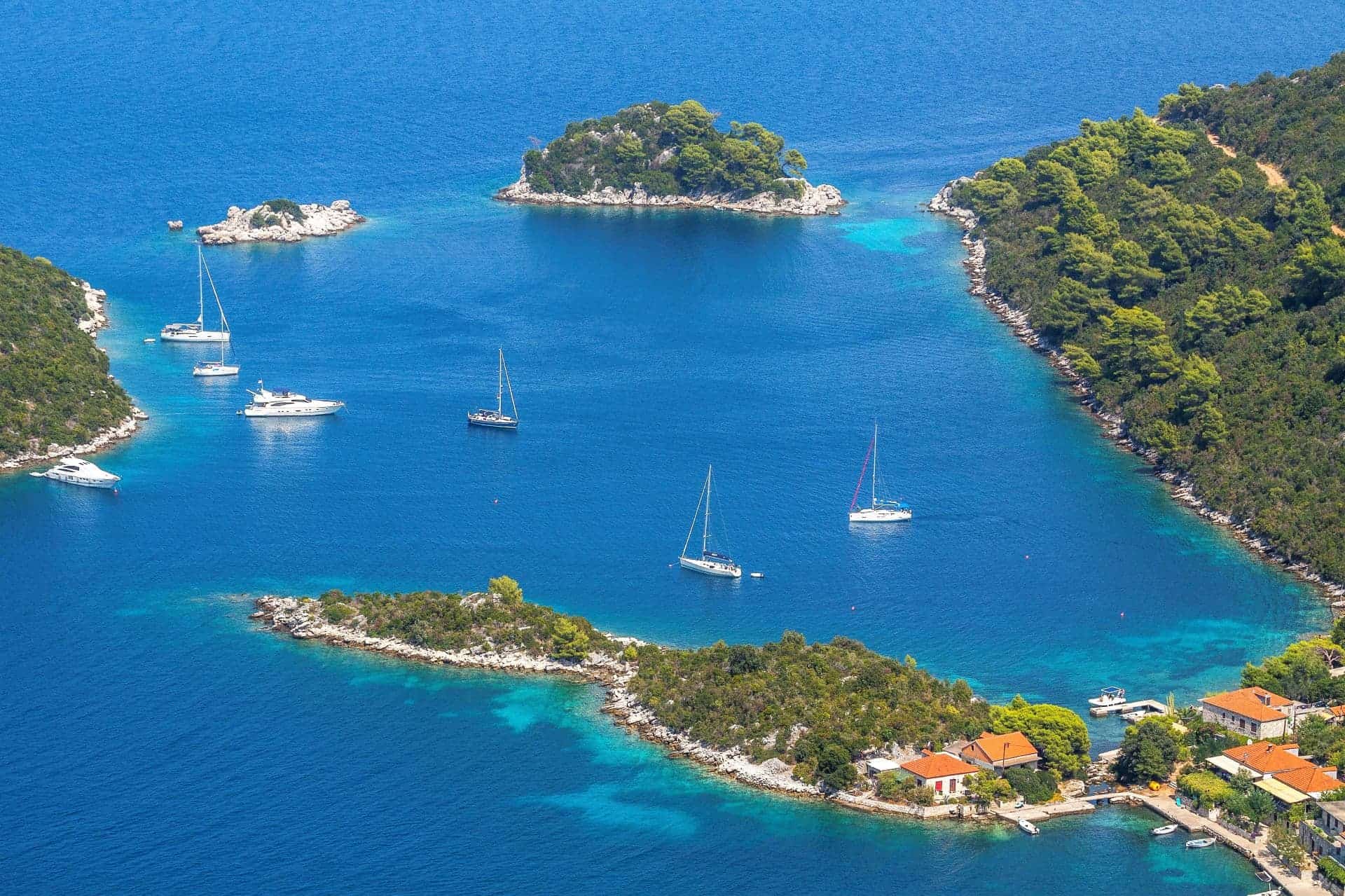 Prožura cove is one of the most charming coves on the island of Mljet, almost hidden from view from the sea by several islands and several rocks. The greenest part of the island, the cove is a lovely haven for lovers of peace and calm, additionally hidden by the tiny green island of Planjak.
Swimmers will love to hear there's a popular swimming destination around here: Love Island, aka Senjevci rock, a tiny rock with a tiny concrete pier where you can drop your anchor and spend a calm night. Nearby, there is a beloved local trattoria Marijina konoba, in front of which you can tie your yacht for a buoy.
The other side of the cove is a little less Robinsonian, with plenty of anchoring spots and a trattoria Barba, but isn't as protected from north winds, so make sure you move in time, preferably to Okuklje, the best-protected cove on the island.
Okuklje: calm and beautiful bay
A favorite during bad weather, Okuklje cove – in Italian, Porto Camera – has one tiny market and several family-owned restaurants whose guests can moor for free. Most yachts prefer the restaurant Maestral. The cove offers a bit of space for anchoring, and several larger underwater rocks make navigation tricky.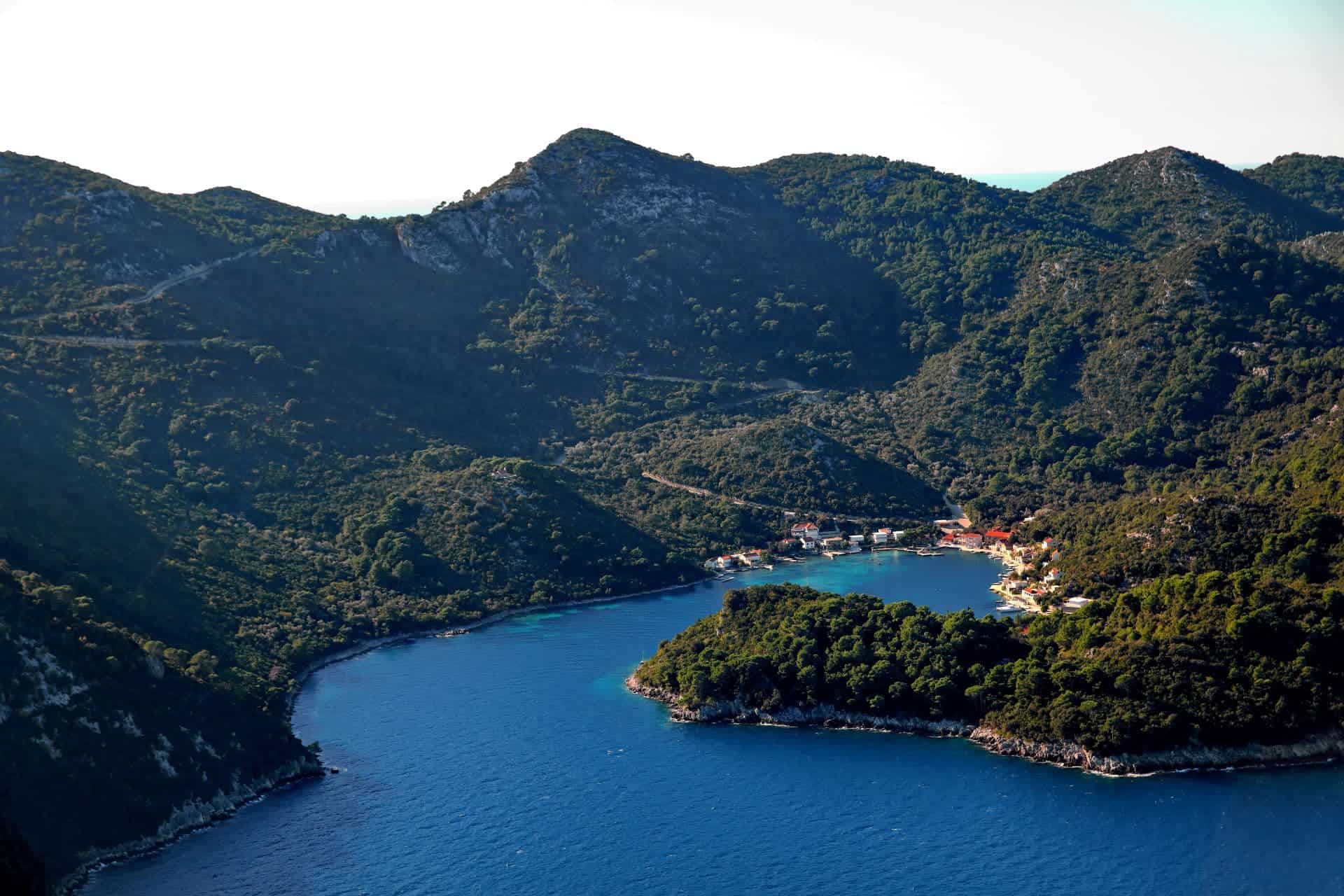 Podškolj: Hidden gem on Mljet
Podškolj cove is a hidden gem of this Mljet Yacht Charter Guide. Surely, this is one of the most beautiful and intimate locations on the entire island. This blue lagoon nesting below tall hills has a view of two tiny islands in its lap, Veliki and Mali Škoj.
In calm weather, we suggest anchoring in the middle of the lagoon, at a depth of 3 m or a berth for one of the buoys of the restaurant Stermasi. Keep in mind, that the bay Podškolj isn't protected from any first and second quadrant winds. Another maneuver we wouldn't recommend is sailing between Veliki and Mali Škoj, as it's too shallow – but make sure you take a dive there with a mask since the underwater macrocosm of this part of the island has a lot to offer.
After a good dive, rest and relax on a tall terrace looking over the blue, enjoying the island's exquisite cuisine as interpreted by the chefs at Stermasi, a local culinary star for years.
Explore Odysseus cave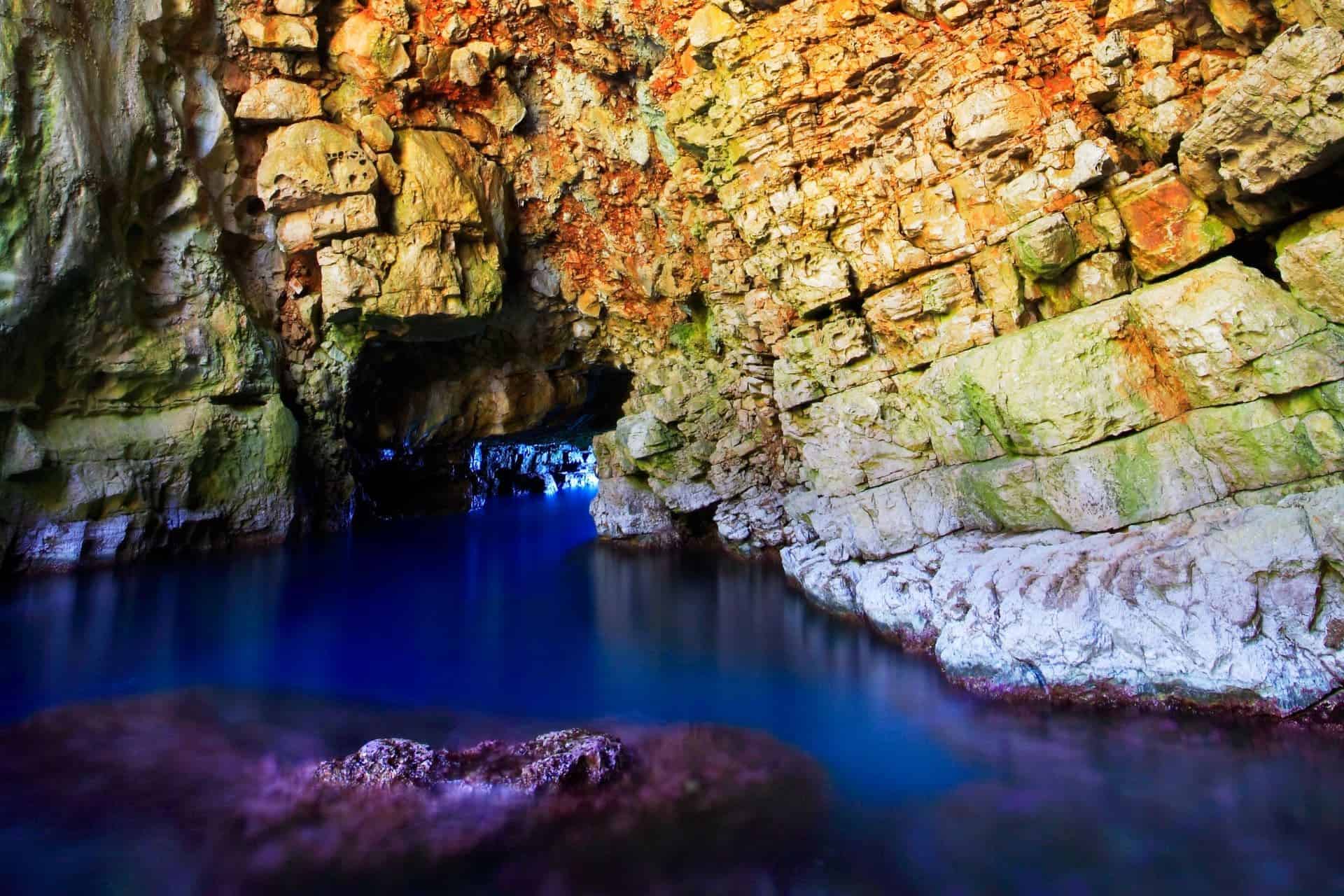 Find the cave that lies in the vicinity of Babino Polje, across the way from the Ogiran rock. The local legend has it that Greek hero Odysseus hid in this cave after a shipwreck, leaving his name as a thank you. The cave is in use, so to speak: local fishermen leave their nets, tools and boats in its tallest part, and pass its narrowest part to get to Babino Polje.
The sea in front of the cave is too deep for anchoring, so always leave one person aboard while others explore the cave swimming or on a RIB. If you're lucky, you might glimpse the cave's most famous inhabitant, the monk seal – but don't count on it, as the seals have become quite rare in recent years. The cave is at its most beautiful around noon, in beautiful weather, when all you have to do is close your eyes to go back in time and almost meet the great sailor Odysseus.
Beaches on Mljet island
Saplunara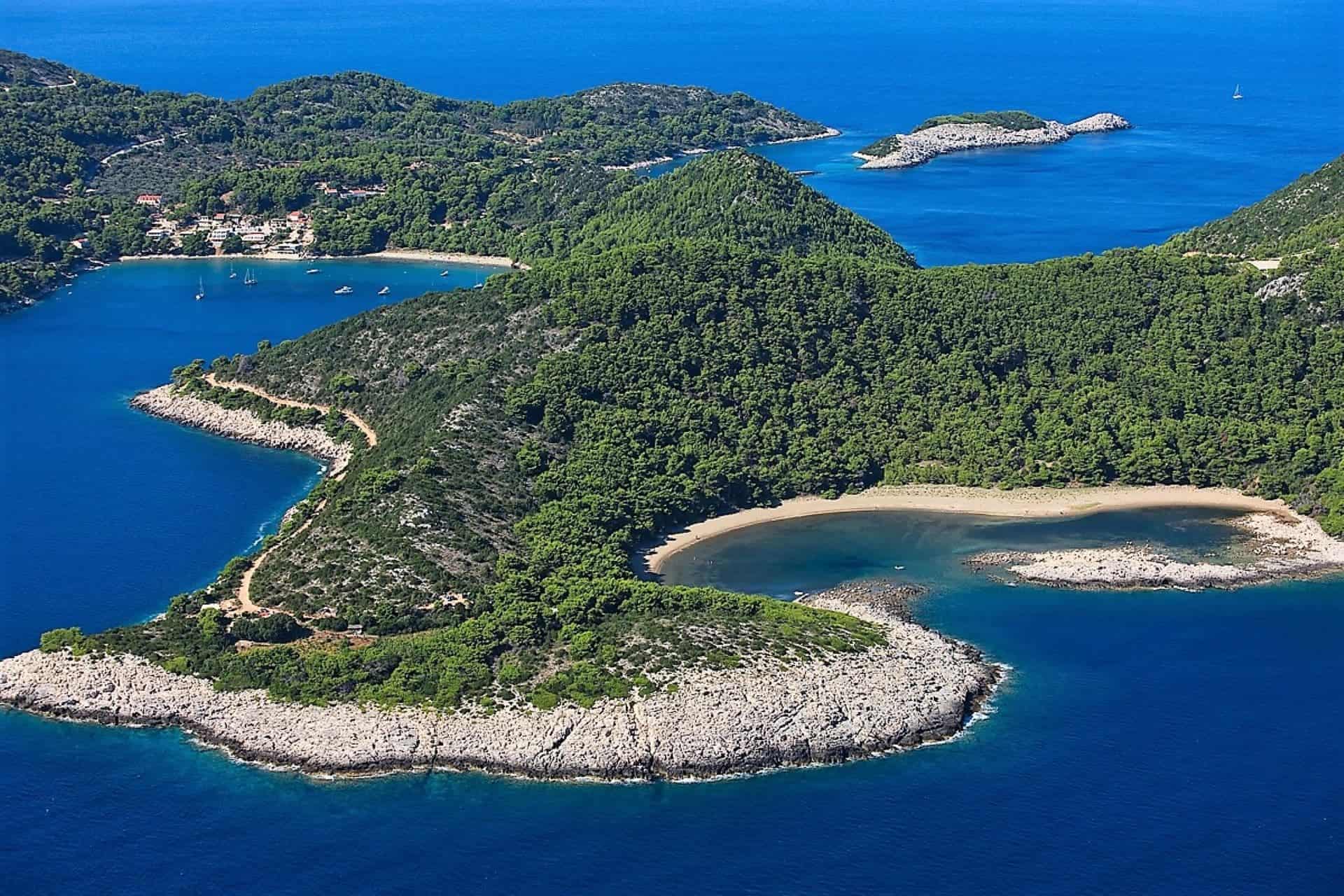 The nearby Saplunara cove on Mljet is protected from south and north winds, but not from southwest winds. Approach with caution, and enjoy its long sandy beach, or use the market or any of the several small restaurants. Our recommendation among them is MS, beloved for their wide selection of traditional dishes. The local restaurants have 20 reserved moorings for their guests. In the eastern part of the Saplunara, Mljet there is a small stone mooring dock formerly used by military ships, and a popular beach bar, Hippocampus, in front of which you can anchor.
Limuni
Limuni cove (locally called Blace) is a twenty-minute walk away. The largest sandy beach on the island is unique and beautiful, but too shallow for yachts, so don't even try sailing in.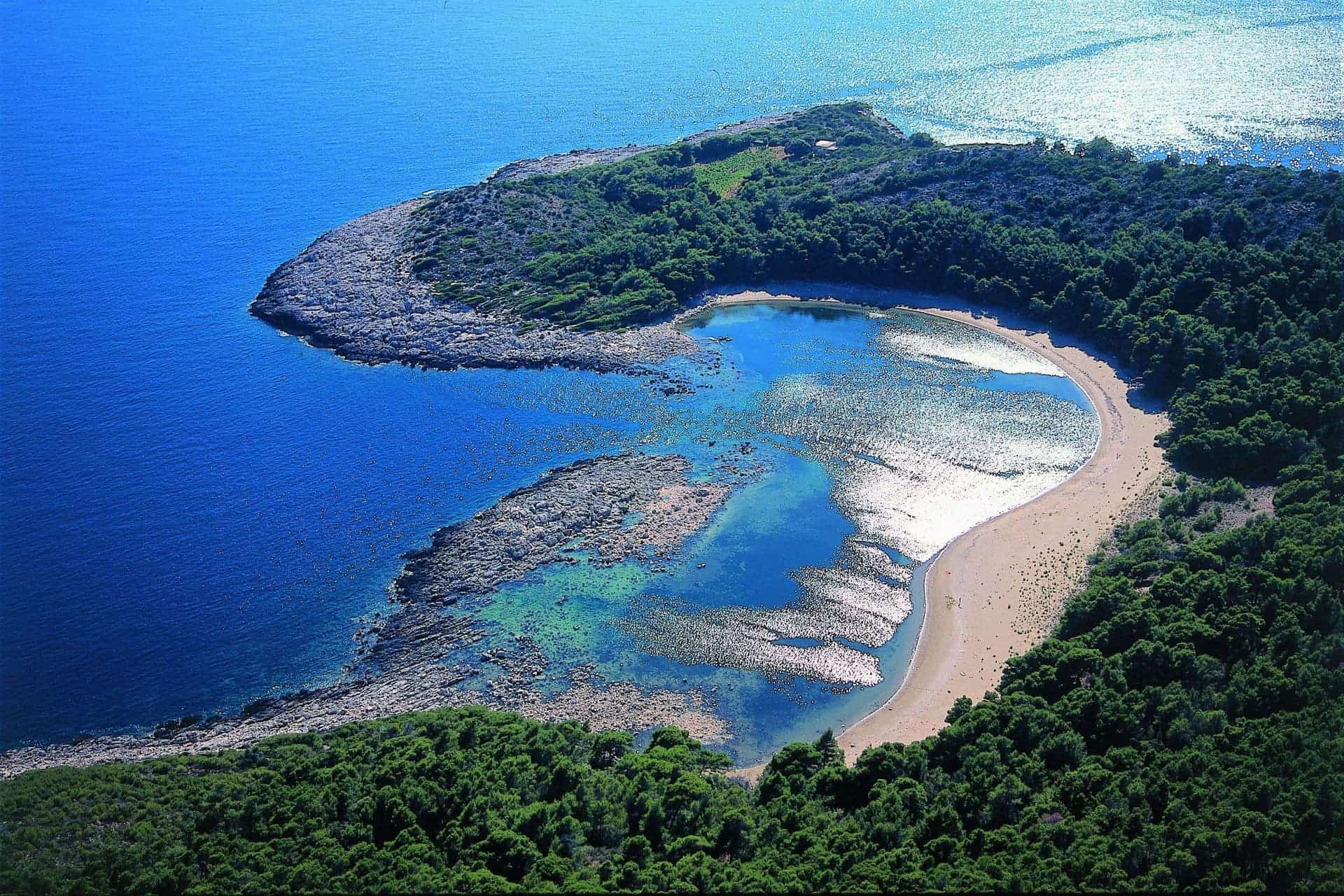 Sutmiholjska
The pebble beach of Sutmiholjska is one of the most beautiful on the island. As it is 'washed' by the open sea, it is adorned with crystal clear sea and turquoise colors. Sutmiholjska beach is located near the largest island settlement, Babino polje. Due to the greater depths and its off-road position – in the bay only occasionally, in calm weather, a smaller yacht anchors.
Yachts for Charter in Mljet
It is not possible to find a private yacht for charter in this corner of Croatia, as on island of Mljet there are no charter agencies. However, Dubrovnik, which is only 15 miles away, offers a handful of possibilities. Furthermore, even closer ACI Marina Veljko Barbieri in Slano also offers yachts for charter.
When choosing a yacht, you first need to decide whether you want to feel the meditative power of silence on board sailing boat and catamaran, or whether you appreciate speed and comfort, with interest to rent a motorboat or luxury yacht. After that, leave all the 'details' to us. We will pay special attention to all your needs, to select the boat up to your wishes, to feel safe and comfortable with the crew that will make your time special, organize provisioning and prepare the route that will leave you breathless!
Upon request, our team will visit the yacht (s) you are interested in, with special care to your wishes – and make sure that we 'pamper' you with beauty while sailing! So contact your broker and make sure your e-mail includes the following information: your preferred type of yacht (sailing boat, catamaran, motorboat or yacht), arrival and departure dates, number of guests, preferred number of cabins and crew. Finally, we recommend you add the sum you are willing to spend on luxury yacht charter in Croatia.
Text Josipa Vlahović Cikatić
Photos Mario Jelavić, Boris Kačan, TZ Mljet, Boris Jović, Ivo Biočina/HTZ, Arhiva NP Mljet