The hand of time has been kind to Italian film diva Monica Bellucci, long-time brand ambassador of Cartier – just as it has to the creations of the French jeweler, whose latest campaign is an homage to their most iconic designs
When Aldo Cipullo, designer for Cartier, designed Love bracelet in 1969 in New York, the woman wearing it in this photo was five years old. Growing up in Umbria, she watched her mom and grandma carefully pick earrings and necklaces, while Cipullo observed the rise into power of the hippie movement. The simple gold band he designed, with screws used as a contrasting detail on smooth surface, won over an entire generation with its clean design and simple message: Love.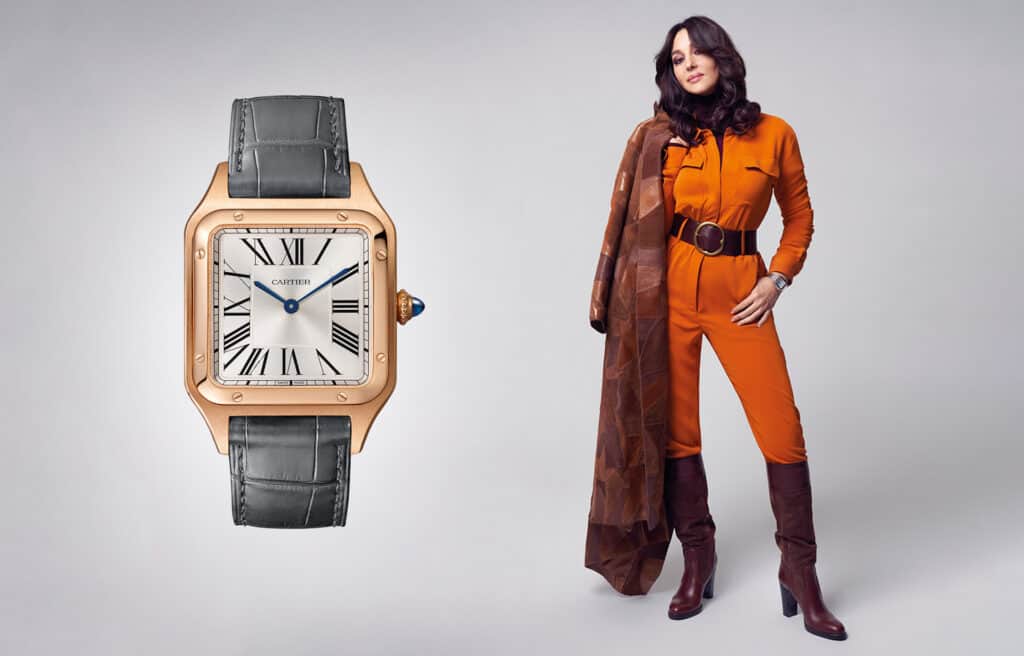 Worn with equal gusto by women and men, the Love band was sold with a screwdriver – it takes two people to screw the bracelet in place, making it the ultimate labor of Love – or just a pair of high-end handcuffs. The band was an immediate success, and every further incarnation – gold, white or rose gold, diamonds – turned out to be just as popular. Eleven years after the Love band debut, Cartier designed the Love ring of almost identical design. The Love band hasn't changed shape for more than half a century: perfectly balanced lines and volumes made her into an icon of the causal jewelry world.
Timelessly beautiful, the band is modeled by Cartier brand ambassador of fifteen years, Italian film diva Monica Bellucci. In the new campaign, Cartier has gathered in one place all of their divas, so to speak, and by selecting a classical beauty like Miss Bellucci – instead of a generic model face or an up-and-coming Gen Z starlet – the French jeweler confirmed their dedication to sensuality, natural beauty and classic ideals.
Miss Bellucci is just as much of an icon as is the Love band. Her movie career followed a very successful modeling career – she walked the runway at the tender age of fifteen, moved to Milan from Peruggia (where she studied law) to pursue modeling career and never looked back. She graced the cover of Sports Illustrated in 1991, in a swimming suit; at 30 she was a superstar, at 40 she had her first daughter, and at 50 she became a Bond girl, in Spectre.
Her long and fruitful career includes indie movies and big Hollywood blockbusters: she was Dracula's bride in Dracula, Mary Magdalene in Mel Gibon's Passion of Christ, Persefone in The Matrix and The Matrix Reloaded, Maria Callas in Maria Callas: Letters and Memoirs, and played the role of a lifetime in Giuseppe Tornatore's Malena.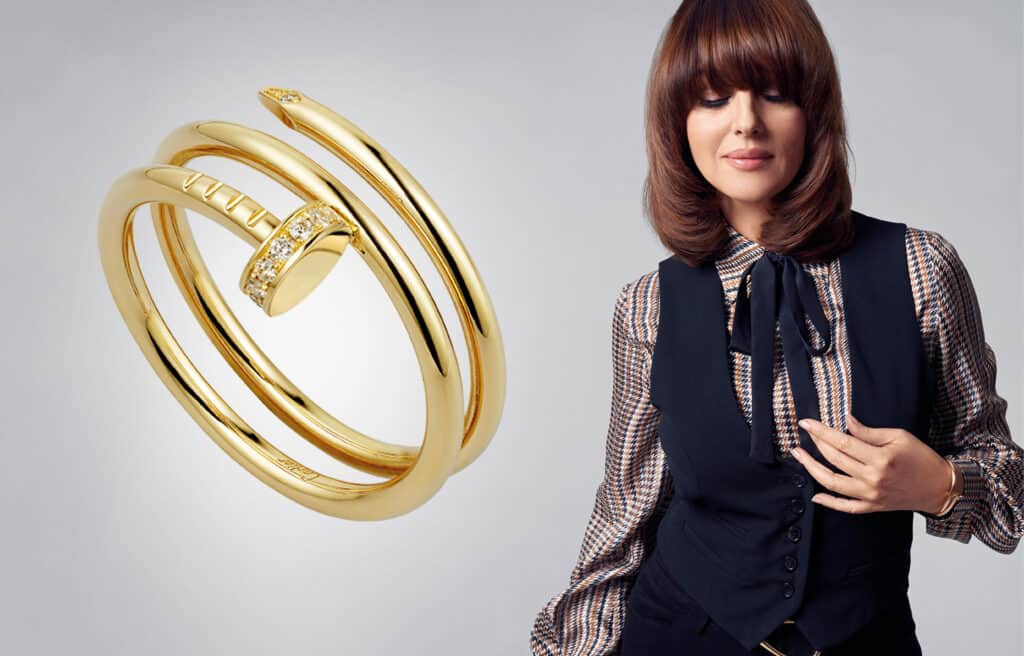 While filming French movie L'Appartement, she met, fell in love with and married French colleague Vincent Cassel, with whom she has two daughters. They recently divorced after 14 years of marriage. Their older daughter, Deva, is the face of Dolce&Gabbana fragrances, just like her mother was in the beginning of her modeling career.
Mother and daughter share more than just physical traits and beauty – they are both fluent in several languages: Monica speaks Italian, French, English, Farsi, Spanish and a bit of Portuguese.
For three decades, Miss Bellucci has been on every 'most beautiful' list in the world, and when asked about her beauty standards, never misses an opportunity to say her idols are Italian colleagues Sophia Loren and Gina Lollobrigida.
She has said she prefers natural wrinkles to unnatural plastic, she claims to eat whatever she wants – but in moderation, keeps her body supple and strong with swimming and yoga, and never ever goes to sleep without having cleansed her face.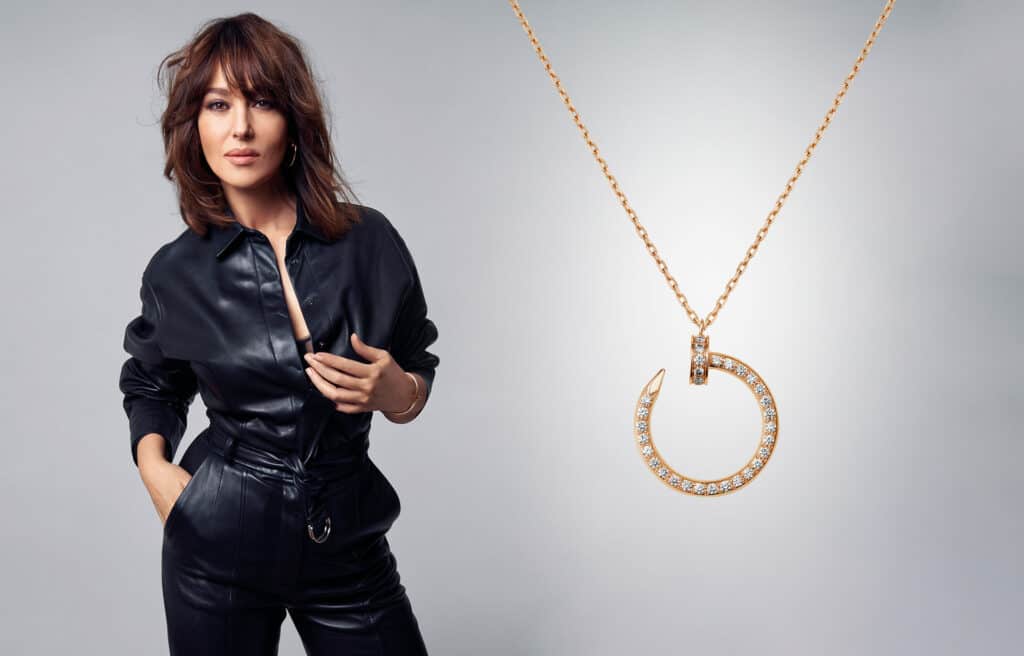 When we interviewed Miss Bellucci in Paris ten years ago, during a Cartier event, she made a strong impression with her belief in mysterious energy that unites the nature and all living things, as powerful as the tide. We have to admit, the mysterious energy that unites Monica Bellucci and Cartier really is as powerful as the tide, and doesn't break even under the scrutiny of the red carpet pizzazz. Miss Bellucci wears Cartier to all her red carpet events.
In 2006, she walked the Cannes festival red carpet wearing their famous Maria Felix tribute necklace made with more than two thousand yellow and white diamonds in the shape of a crocodile. The legend has it Mexican movie star maria Felix had the first crocodile necklace made for her in 1975, when she walked into a Cartier Paris store carrying two baby crocodiles to demonstrate exactly what kind of design she wants.
Monica Bellucci was the first woman to wear the crocodile necklace at an even after Maria Felix – with a simple white shirt and a long black skirt, not to draw attention away from the magnificent green and yellow necklace.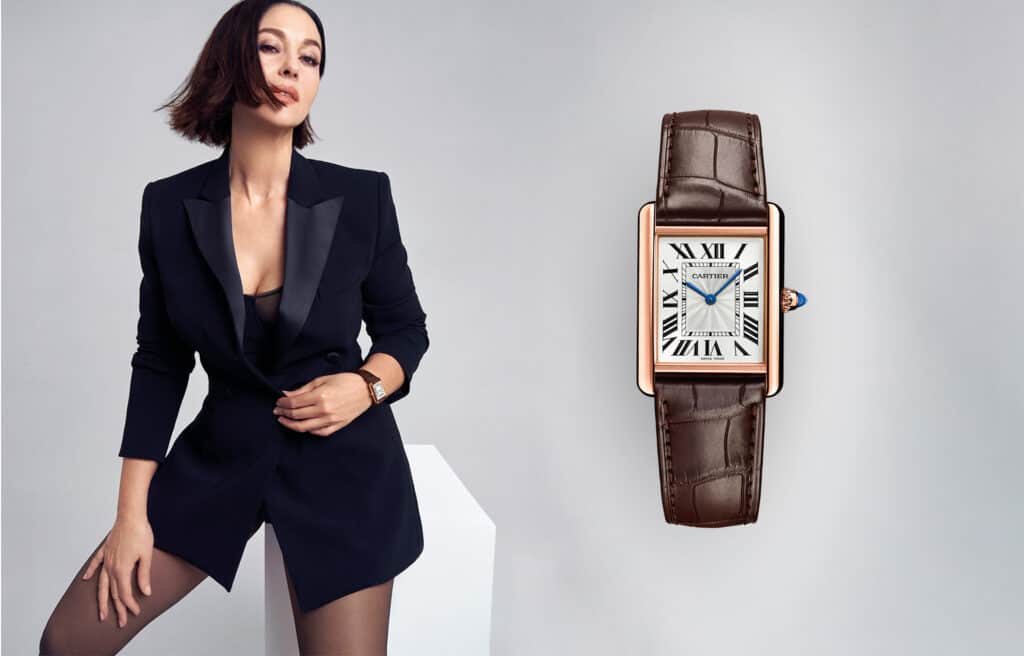 Stylist Barbara Baumel designed Miss Bellucci's outfits for the latest campaign to perfectly match the Cartier pieces – jewelry and watches – the actress is modeling. 'Jeweler's intuition recognizes beauty where other eyes cannot', said Aldo Cipullo, and seeing how fifty years ago he decided screws and nails can be decorative, we should take his word for it. The stubbornly, radically straight nail was transformed into a round band that gently hugs the wrist and opens with a latch hidden under the nail head.
The Juste un Cloue band – just a nail – embodies what the house of Cartier is all about: clean lines, precise forms, delicate proportions and perfectly executed details. Cipullo's band design has in the past half a century poured over onto earrings, rings and pendants. Among Cartier's iconic designs, three watches hold a special place: Santos, Panthere and Tank. In the era of pocket watches, Louis Cartier designed in 1904 for his friend, pilot pioneer Sanots Dumont, a different watch: the first wristwatch, rectangular in shape and with visible bolts on the case.
For almost 110 years that watch has been the object of desire for all men of adventurous spirit, and has since 1978, where the first (more affordable) steel Santos was introduced, graced many a male wrist. Ladies, on the other hand, have fallen in love with Panthere, with a rectangular case with rounded corners and visible bolts.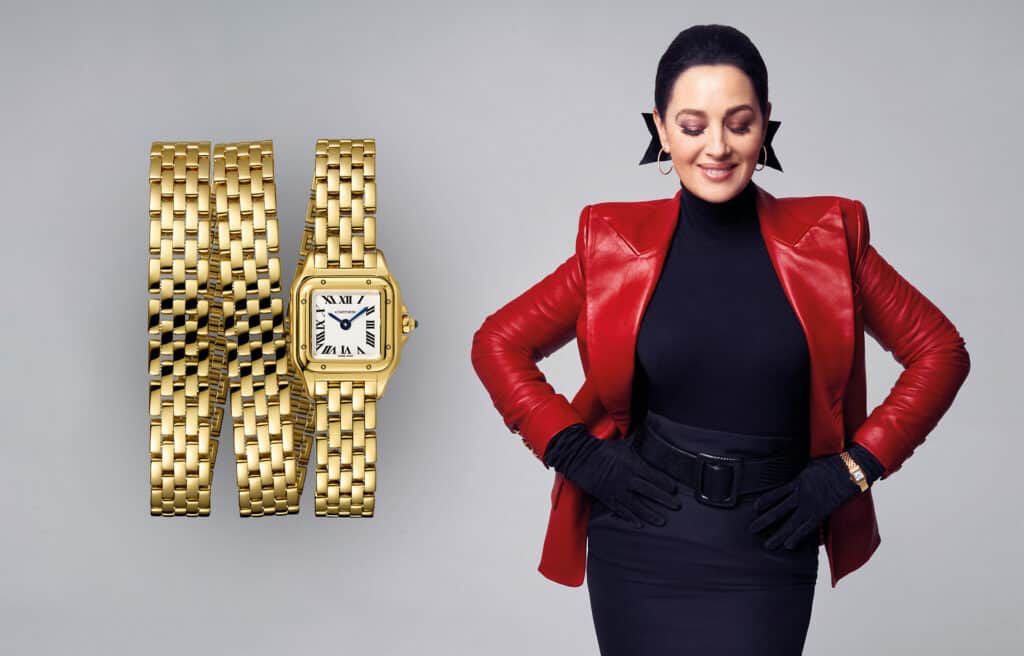 Created in 1983, Panthere was the first watch born out of Cartier's desire to marry watchmaking and jewelry, and its bracelet is as limber as the cat whose name the model borrowed – made from pieces connected in an ultra-flexible band, the bracelet really does move like a wild cat. Tank, rectangular watch designed by Louis Cartier in 1916 and made in mere six pieces in the following three years, is unique in every way – the liens, the size, the bezel – but its most iconic detail are the large roman numerals that grace its rectangular dial. One hundred years ago, Cartier created Tank Cintree, followed in 1988 by Tank Americaine, and followed most recently by Tank Cintree Limited edition.
The imagination of Louis Cartier gave life to the iconic Trinity ring, a simple triple band woven into one. Gold, white gold and rose gold have given it timeless elegance, and in the almost hundred years – since 1924 – Trinity ring hasn't lost one bit of its appeal, elegance and emotion.
Monica Bellucci is as unique as if she herself were shaped by the incomparable imagination of Louis Cartier. As we await her next acting adventure – Miss Bellucci is set to play famous Italian photographer, actress and political activist Tina Modotti – we can admire her timeless beauty and style in the latest Cartier campaign.
Text Dubravka Tomeković Aralica
Photos Thiemo Sander © Cartier
Hair John Nollet
Makeup Letizia Carnevale
Styling Barbara Baumel