Co-owner of Ocean Independence Peter Hürzeler has a long and successful career in yachting and in 1991 he founded a company that has become one of the key players in the yachting industry
Navigating Ocean Independence through highs and lows of the yachting industry must not be a simple task, but for the founder and co-owner of that company (together with Mr. Nicholas Dean from UK) it doesn't seem to be such a tough job. Mr. Peter Hürzeler is a Swiss captain who started his career on Dutch commercial ships, spent time on board yachts and in 1991 he founded a Ocean Independence, company that has become one of the key players in the yachting industry of today.
It is maybe little less known that Mr. Hürzeler has enjoyed many summers in Croatia on board sailing yachts and is one of the best 'connoisseurs' of our area in the industry, with in-depth knowledge about this destination. Therefore it was with great pleasure to speak with him about yachting and Croatia.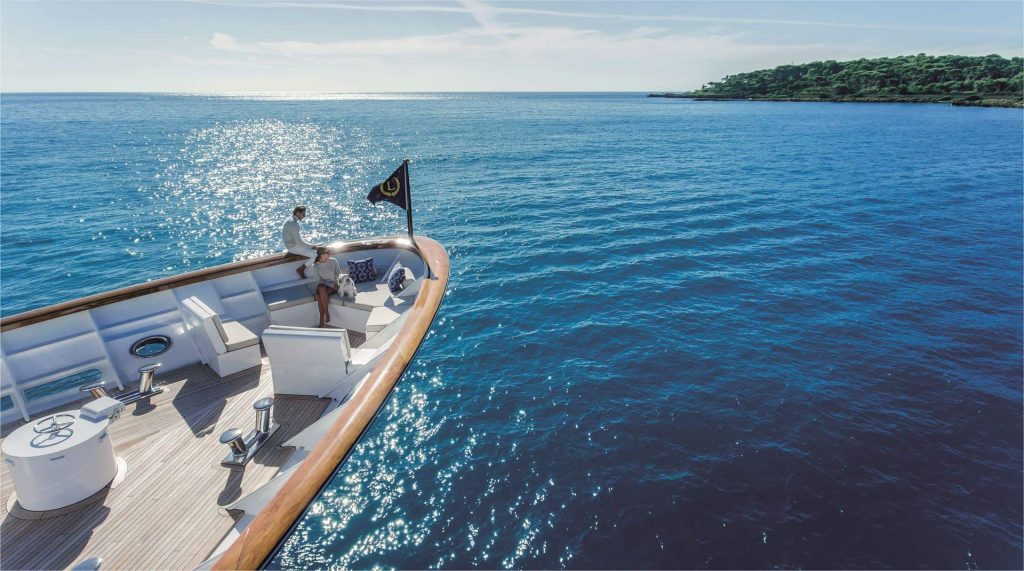 Yachting in Croatia
For the start we asked him about his relation with our country: 'My relation with Croatia is a really positive and long one. I have been sailing in Croatia, along the Dalmatian coast, for the first time in 1987 when I was part-Owner and Captain on board a 36 m motor sailor which was engaged in charter. We came from the Ionian Sea and sailed from Kotor to Pula and back and then to Venice. Since then we have been coming back as a family, and also professionally, many times to Croatia. We (my family) think that it is simply the most beautiful cruising area that you can go to. We have been cruising on the smaller sailing boats as you have many in Croatia, and since 10 years we have been co-owning a slightly larger sailing yacht and have enjoyed many places, beautiful towns, bays, great people, food…, a lot of times.'
You now sail a wooden sailing boat?
We sail onboard a wooden boat built north of Trieste, a very sporty seventy-footer, very cozy as well for the family. We also used the facilities of the shipyard in Betina, where we had one of the best paintjobs I have seen on any boat done, by a Croatian painter. We are big fans of Croatia and everything that goes with it.
Speaking from the yachting perspective, how do you see Croatia today, knowing our area for more than three decades?
Like everything that goes through big developments it has upsides and downsides. There is no doubt that facilities have improved quite a lot, in particular the facilities on shore like restaurants. There has been a lot of renovation in some of the older villages, towns and ports, some of the marinas have been or established or improved over time which is very important for the smaller as well as for the larger yachts. Communication is good, the mobile network coverage is excellent in most places and to get to Croatia is very easy for people who use private jets as well as for people flying commercially. There are a lot of positive developments. What I have seen in last two or three years, and this would be a warning signal for me, is that prices have increased dramatically. That is not a problem for very big yacht owner, but I could imagine that for the lower area of the market it could turn into the problem. To give you an example, in the nineties, when you went into a bay you had few mooring buoys in the water and there was somebody coming along, taking the garbage and you were charged something (naturally). That is the way it should be and that was a deal that was fair. In the last couple of years you went into the same anchorages, you picked up a mooring buoy, somebody was coming asking five times the money and not willing to take garbage anymore… That is not a correct deal, and the element of the garbage is important for the environment and also because to take care about it is a good setup and makes the visitors feel good. There are a lot of places where they still do it so it is not a general criticism but if I would be responsible for the Croatian water tourism these kind of things I would keep an eye on, because people react to small details. This is the same for small and very big boats – the details count.
My way of doing business and the way of our team is that we base our professional behavior on giving honest advice. Not so much on selling for the sake of selling, whether it is brokerage or charter, but to give advice, explained Peter Hürzeler
Do you think the area can be developed for big yachts?
I believe yes. In chartering I can see that already. When we speak with our owners we can see that a lot of them talk about Croatia or have already been there. It will never be like South of France or Italy but it has a lot of charm because of the smaller villages, the bays, the clean water and a long coast with so many places where you can, let's say, hide – and that should be maintained. It would be sad to see too many marinas coming up or general growth of construction everywhere. But this is a challenge because people want to participate in the market, of course…
A broker, advisor, consultant…
Can you reveal us your background in the yachting industry?
I sailed for eight years on cargo ships, I used to have a Dutch master license for unlimited tonnage for cargo vessels and I have been sailing with many Croatian deck officers on cargo ships. In the 1980s we (a group of friends and family) decided that we wanted to build a commercial yacht that was a 36-meter sailing vessel. We did that and I was a Captain, we built two more of the same kind, for about four or five years we operated them and then I became a broker, advisor, consultant. Now we are talking about 1994/1995, and since then I grew Ocean Independence with my partner Nicholas Dean to where we are today, with many good team members because you never do this alone.
From your point of view, what was the most important thing for your growth?
I think it is giving honest advice based on knowledge and competence and being consistent and reliable, and again being honest and authentic about what you do. There are so many different ways to do business and also to be a broker and some ways are going well with you as a person and other ways don't. My way and the way of our team is that we base our professional behavior on giving advice. Not so much on selling for the sake of selling, whether it is brokerage or charter, but to give advice. The sales and charters come out of this and it has been a very good principle to grow the company, and it is going to continue that way because we don't know how to do it differently. This is who we are and the people we have in the team are selected on this basis.
Can you reveal where you see Ocean Independence in the near future?
I see consistent organic growth and I would expect that we see some additional services added to our scope, might be in the marina sector but could also be other services in the luxury lifestyle environment, because over the years Ocean Independence built really strong trust base with our wealthy clients and it would therefore have certain logic that we could advise them on other luxury lifestyle matters.
Small wheel in creating MYBA
Is it because of profit or preserving the client's trust?
It is the combination. To run a business it means that you want to make money, otherwise it is a charity and we are not a charity. But it is also trying to serve your clients so they don't have to find new trusted partners for what they want to do but to stay with us. We can deliver good service in almost whatever yachting area they search.
I have a question about MYBA, you know it from day one, how do you see it today?
I was a small wheel in creating MYBA, alter I was also the president for few years, but many important people were founding the association long before that. I still find it a very important association as one has to understand that our work as brokers is extremely based on collaboration with our competitors, who are the other brokers. Imagine that 70 to 80 percent of our charters are done with other brokers, meaning we need to have trust, meaning we need to have a forum to exchange our opinions, to talk about our problems as the industry and about other problems coming from the outside, like regulations, taxes or climate change. For this MYBA is very, very good. Naturally, as always is a case with any association, there are phases when you believe things could move on more quickly and sometimes you think things move in the wrong direction. As always in democracy, things don't always move in the way you want, but at least you talk to each other and share your worries, goals and possibilities. As a whole I support MYBA very much, although I am not always in agreement with every detail and every decision being taken.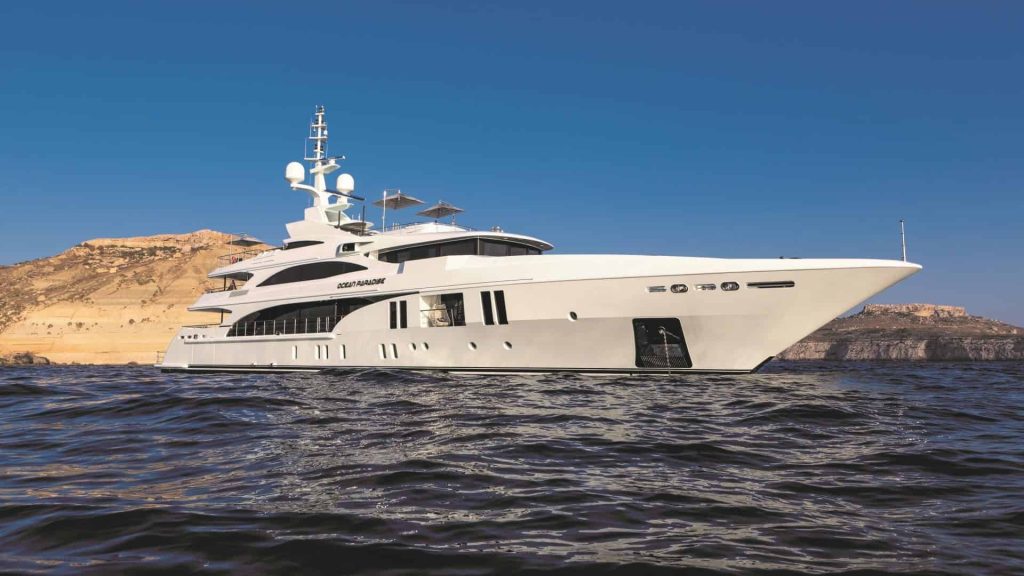 You mentioned environment, how do you see relation with yachting industry and marine environment?
I generally believe in life that everybody should do the best they can do in where they are. So, whether it is sustainability or being charitable, everybody should do what he can, where he is. We, as brokers, are not the rich people who can do big things and big investments. But what we can do is to give indications, make suggestions and put programs together, and have discussions like now on how could we make things better. Therefore we have a certain responsibility, in my opinion, to educate ourselves in terms of sustainability, to learn what will be possible in the near future and, whenever the opportunity is there, to present our ideas to our clients. But our role will always be the advisory role because our clients are all very responsible and intelligent people with financial means and they will take the decision on when they want to do something about sustainability. We should just show them a way.
Do you have some example?
I have a client now who comes and says I want to go to, let's call it 'sensitive areas', like the Barrier Reef or similar. And what I need to do is to say, if you want to go there you should have at least the latest and cleanest generation of engines and generators, you should do a hybrid drive, an electric drive, so you can go there with eight knots without burning fuel, you should think about a dynamic positioning system so you don't need to drop the anchor and maybe damage the sea bottom. These are costly kind of arrangements and not everybody will want them, but the client at least has the option.
How old is this client?
This client is 60 years old, he is a mature and very successful businessman, but most clients are thinking in this way now, most people are seeing the difference in the climate, especially those who go to sea. We have all noticed that weather is not the same as it was twenty years ago and it is underestimating the clients if one believes that they are not exactly or even further than where we are in their thinking about the environment. I have a lot of trust in our clients, but it is the cooperation between everybody that helps to find the right way forward. Evolution is not always as spectacular or quick as we want it to be. If you build for example a new boat in Holland we talk about a lot of money. And you are willing to pay a lot of money in Holland because you get something tested and reliable, which will work for a long time. But to maintain this means that the shipyards are not changing the way they work or the systems they build just because this or that might be a cool idea. So some changes take time. It is all about finding the right balances and that is the business we are in.
Text Darko Šupuk
Photos Ocean Independence & Filip Bubalo