Island of Brač, located in the immediate proximity of Split, offers everything a modern yachtsman could ask for. This Brač Luxury Yacht Charter Guide will discover its most popular as well as many hidden gems of this grandiose island. Its west and southwest sides are well-known among sailors with towns Milna and Bol as its outstanding nautical symbols. At the same time, the north coast of the island Brač is one of the least explored parts of Dalmatia in terms of sailing, and like it is just waiting to be discovered.
---
Discover Croatia's sunniest island with a yacht charter to Brac. Explore the island's golden beaches, charming villages, and ancient ruins, and experience the best of what Croatia has to offer.

---
Things to do in Brač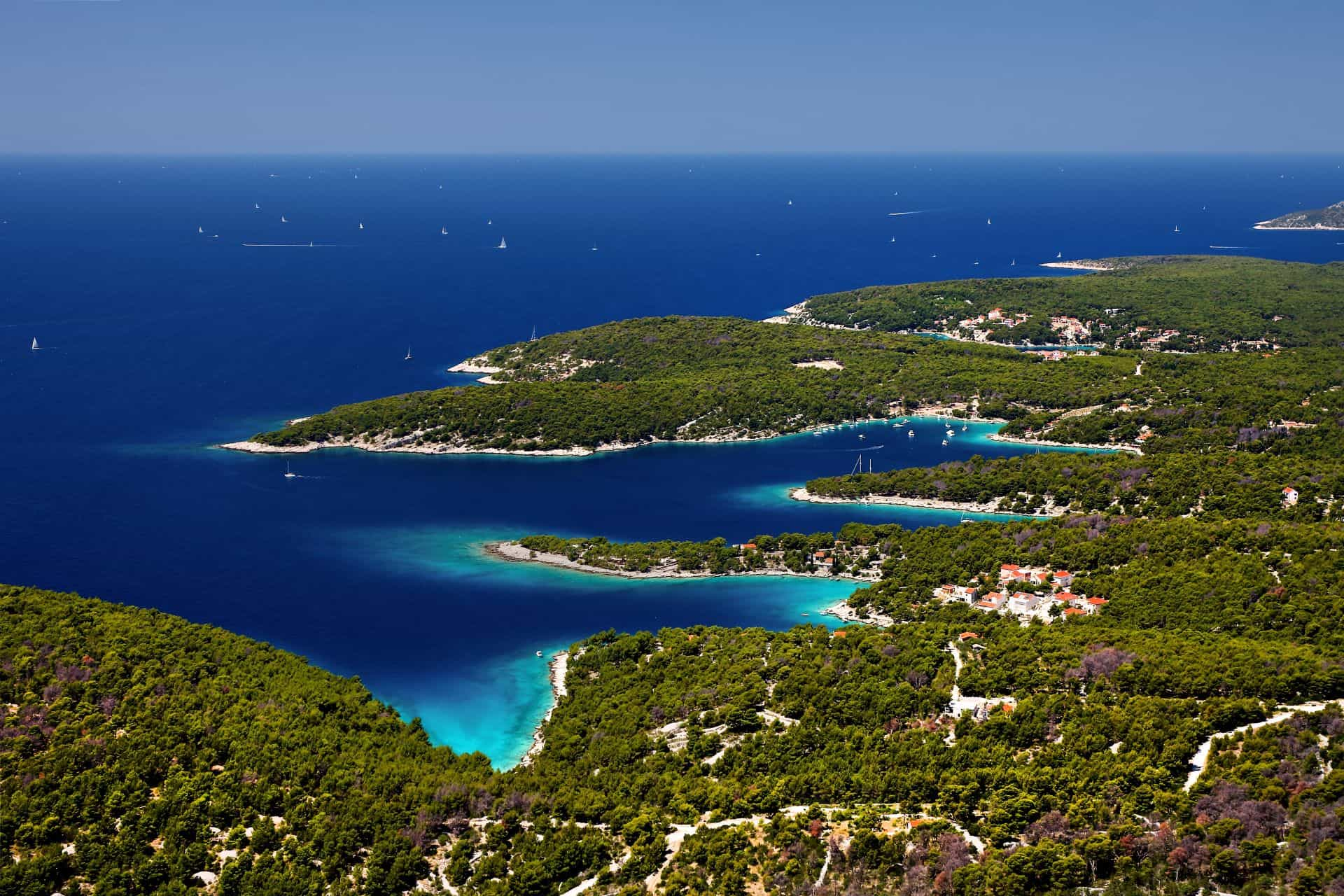 Milna is the yachting center of Brač
Milna, the safest port on the island of Brač, is often the first destination for boaters who, after leaving Split, prefer to spend the night at berth. Hundreds of yachts can find their spot in this secluded, deep bay – it is therefore not surprising that according to legend, the name Milna comes from the Latin words mille navi, a thousand ships.
At the very entrance there are several inlets ideal for anchoring, dotted with a local variety of pine, and towards the bottom of the bay lie three marinas. At the entrance to Vlaška bay on the left, lies private marina Vlaška with 71 berths for vessels up to twenty meters.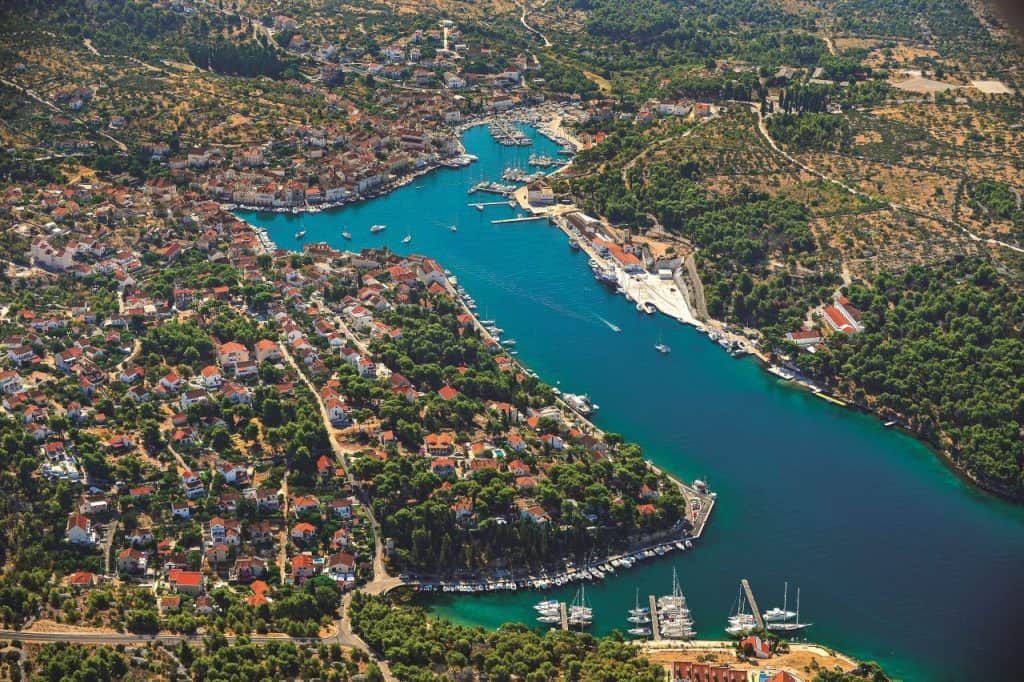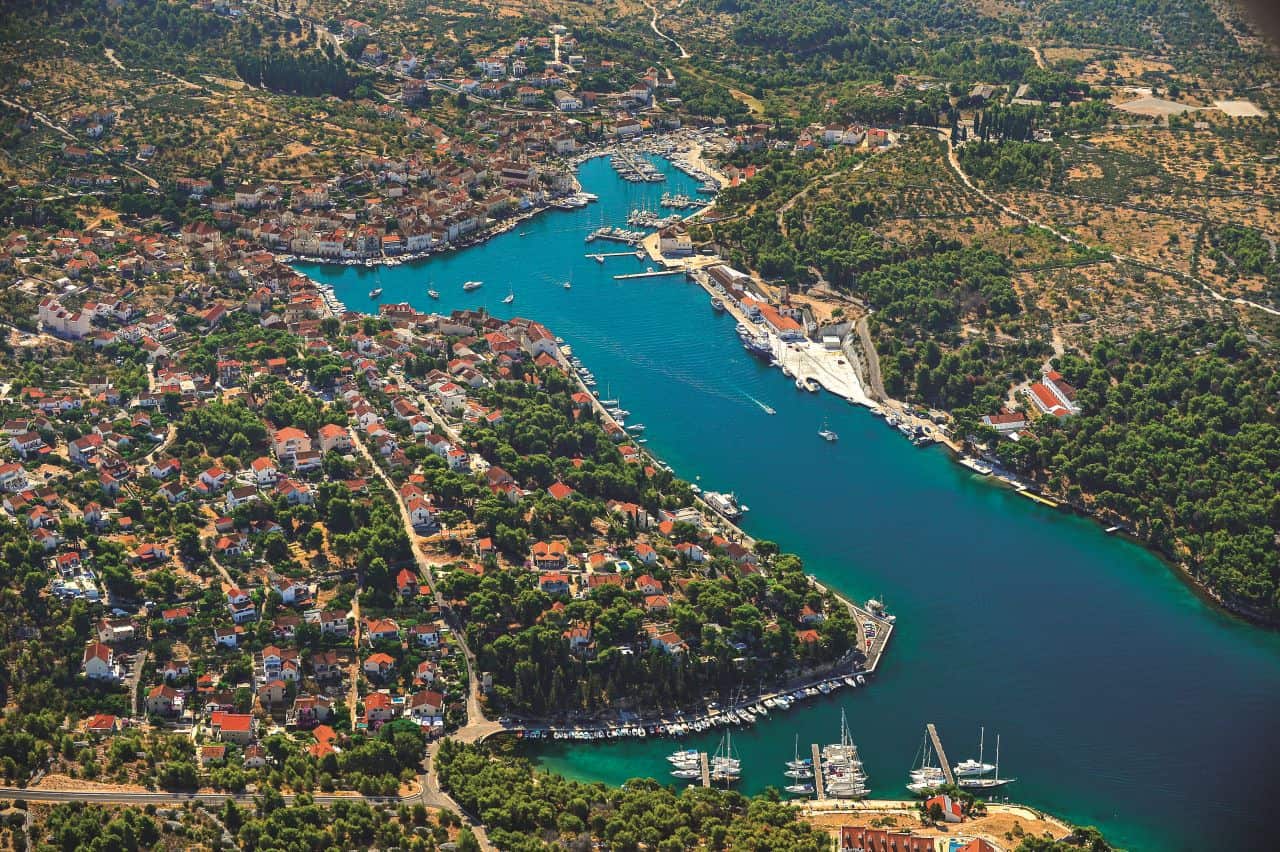 You'll find the best protection in the ACI Marina Milna, with 183 berths, located in the heart of the bay. The only and by far the most dangerous threat to your peaceful dream around these waters is the morning thunderous echo of the bells of a nearby church – the symbol of Milna.
Right next to the ACI Marina, and just before a gas station, lie the berths of the Nautical Center Milna, a total of 45. Milna is certainly the safest port on the island of Brač, as well as an important part of this Brač luxury yacht charter guide.
Visit romantic Bobovišća
Farther north, only two miles away from Milna, lies Bobovišća bay. Perhaps more interesting to romantics souls in search for peace and quiet, Bobovišća is still an important yachting center with buoy mooring for 32 vessels. You can announce your arrival with the locally famous Vala restaurant and enjoy fresh fish and stone oven-baked meat and vegetables.
On the waterfront itself, berth is provided for several boats, where a peaceful sleep can be disturbed only by short summer storms from the west.
Southern coast of the island of Brač
The southern side of the island of Brač enjoys popularity among boaters, and is considered by many to be the most attractive part of in our Brač luxury yacht charter guide. All the large coves on this side – Osibova, Lučica, Maslinova and Smrka – are mostly safe and spacious enough for anchoring.
Deep bays on the way to Bol, like Farska, Veli and Mali Zagradac, Dračevac and Murvica, charm with stretches of beautiful sandy beaches, and the jewel in that crown is the world-famous Zlatni rat in Bol. All these coves are sheltered from northerlies, but completely open to the southerlies.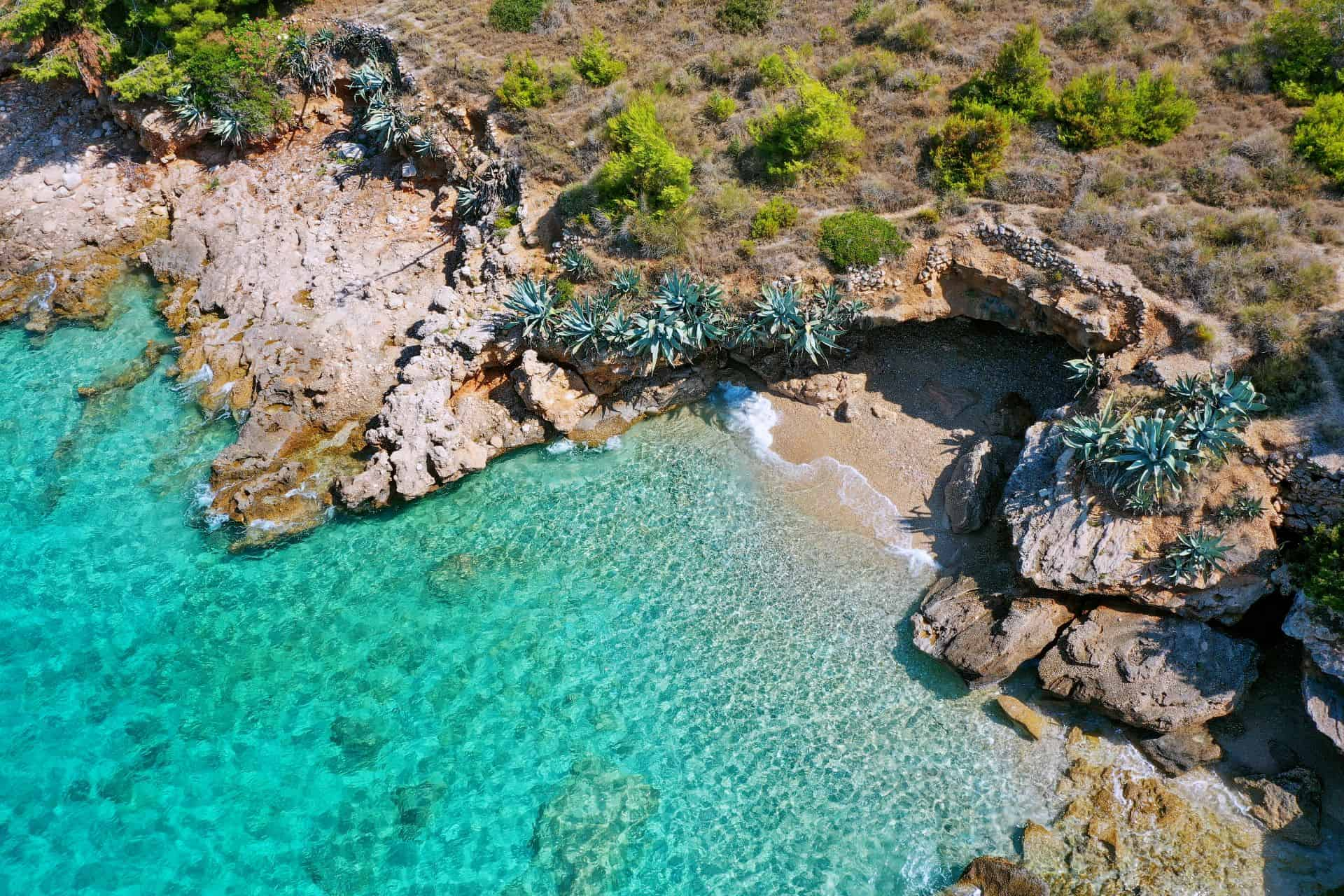 12 buoys have been set up for visitors in Osibova Bay, while home of one of the cult foodie destinations of the island of Brač is Lučice Bay, with a restaurant that has been welcoming and seeing off satisfied yachting visitors for decades. Lučice Bay has five branches, and is unprotected only from the southerlies. The western branches are dotted with 48 buoys, while the eastern ones have enough space for anchoring.
Next are bays of Maslinova and Smrika with former military tunnels built for boats. They offer a great opportunity to hide from bad weather. In Smrika you can also taste local dishes prepared in a small, family-owned restaurant.
Blaca hermitage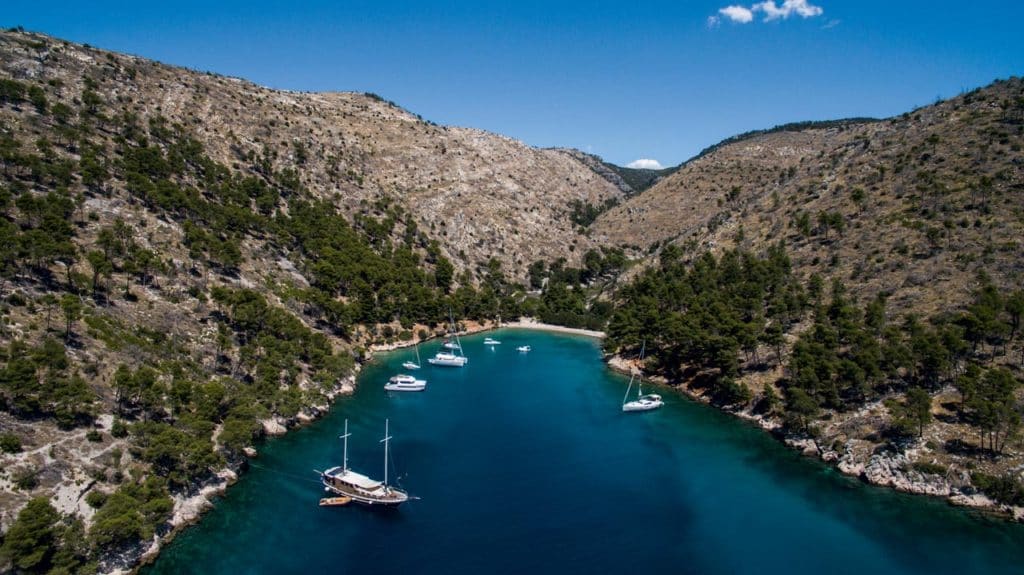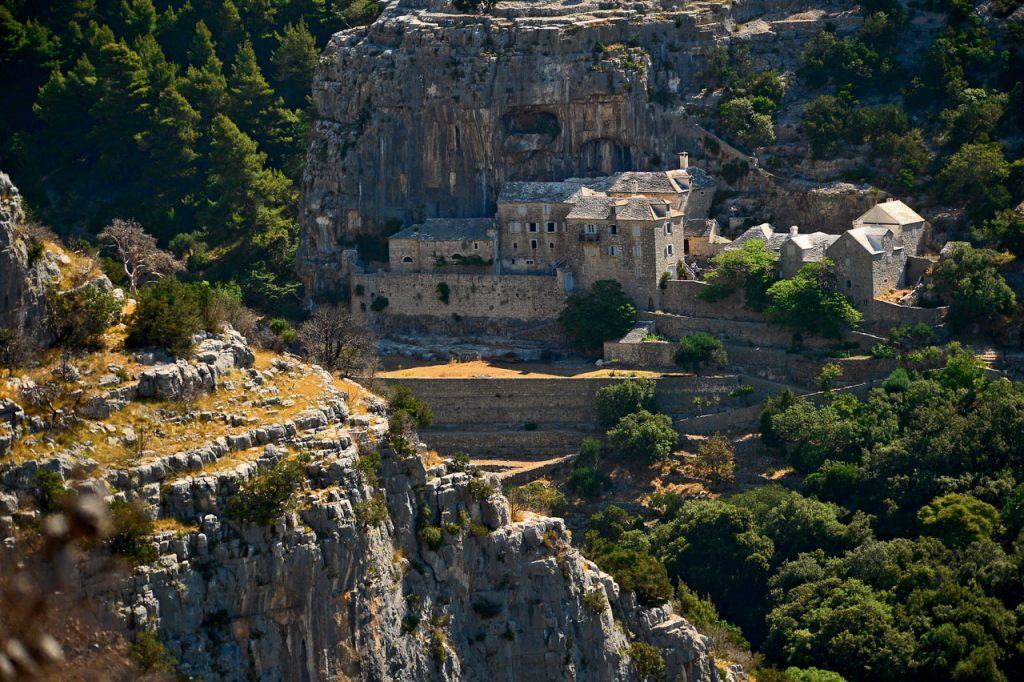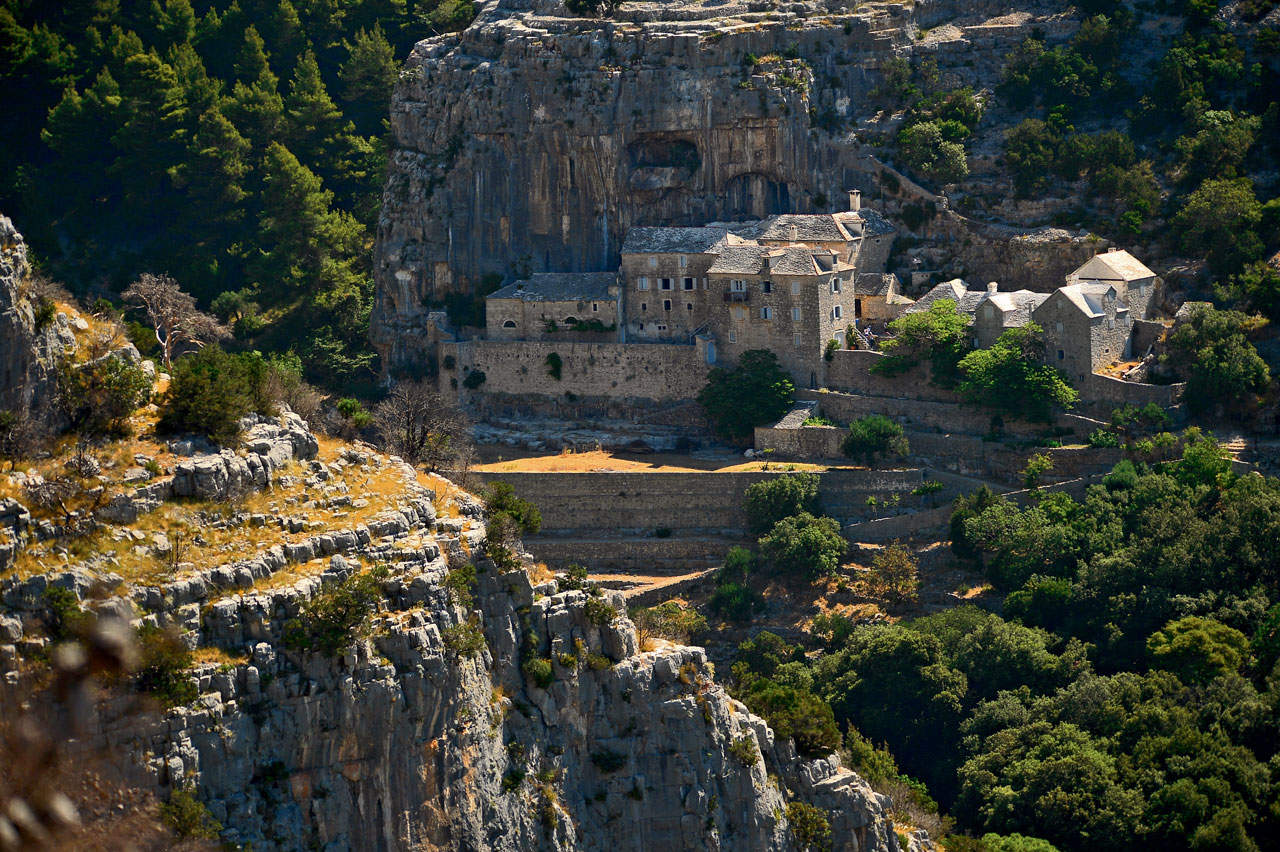 The bay of Blaca is dearest to many: a still intact harbor with a hermitage monastery hidden in the unwelcoming cliffs of Brač Island. The monastery is certainly the most significant building of the Brač luxury yacht charter guide. The cove itself is stunning (and also open to the south wind), and at a half hour's walk from the cove is a monastery.
It nowadays represents a tourist attraction, but also a monument to life on Brač island and the human perseverance in general. We advise against climbing up to the monastery of Blaca in great heat, instead visit in the early morning.
Beach Zlatni rat
Although Bol is world famous for its Zlatni rat beach, there is much more to this tiny town, from a specific local vibe incorporating traditions from the past, to summer parties in the high season, when Bol turns into a center of culture and entertainment. Zlatni rat graces covers of world tourist magazines, famous for its directon-changing top part, easily moved by sea currents and winds. Zlatni rat is a surfers' paradise, and the second largest yachting center of the island of Brač.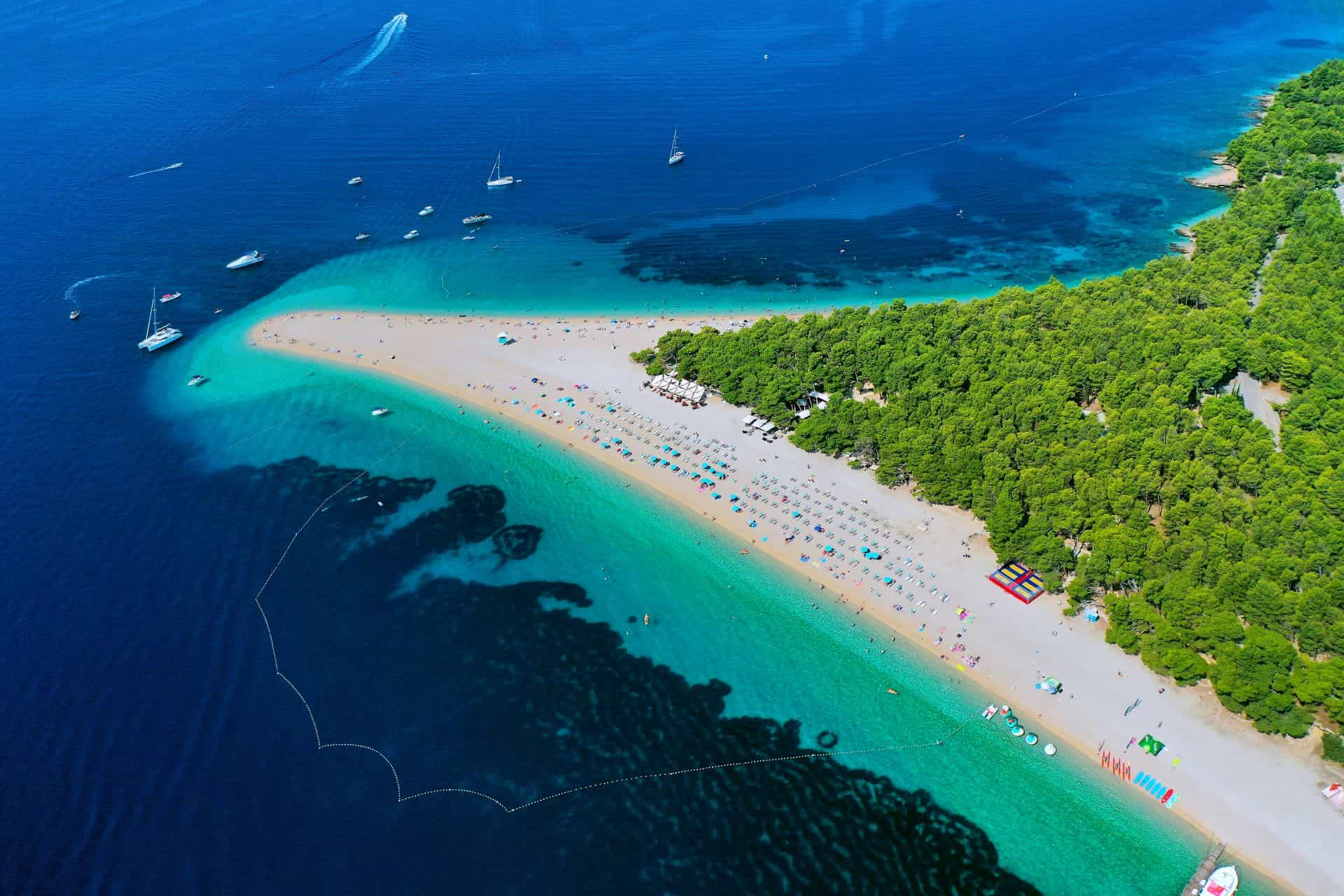 Visitors should keep in mind that Bol is open to all southerlies, and offers the possibility of mooring for 50 yachts up to 40 meters in length, as well as a gas station.
Vidova gora by car
Vidova gora, which towers impressively over Bol, is the highest mountain on any of the Adriatic islands (778 m). Vidova gora is a fascinatingly beautiful place with mysterious forests and hidden valleys. You can reach the top of Vidova gora by car, meaning it's still a fun trip for eternally busy travelers. From the top, the view stretches across the entire central Dalmatian archipelago. Cruising along these coasts dotted with vineyards is breathtaking.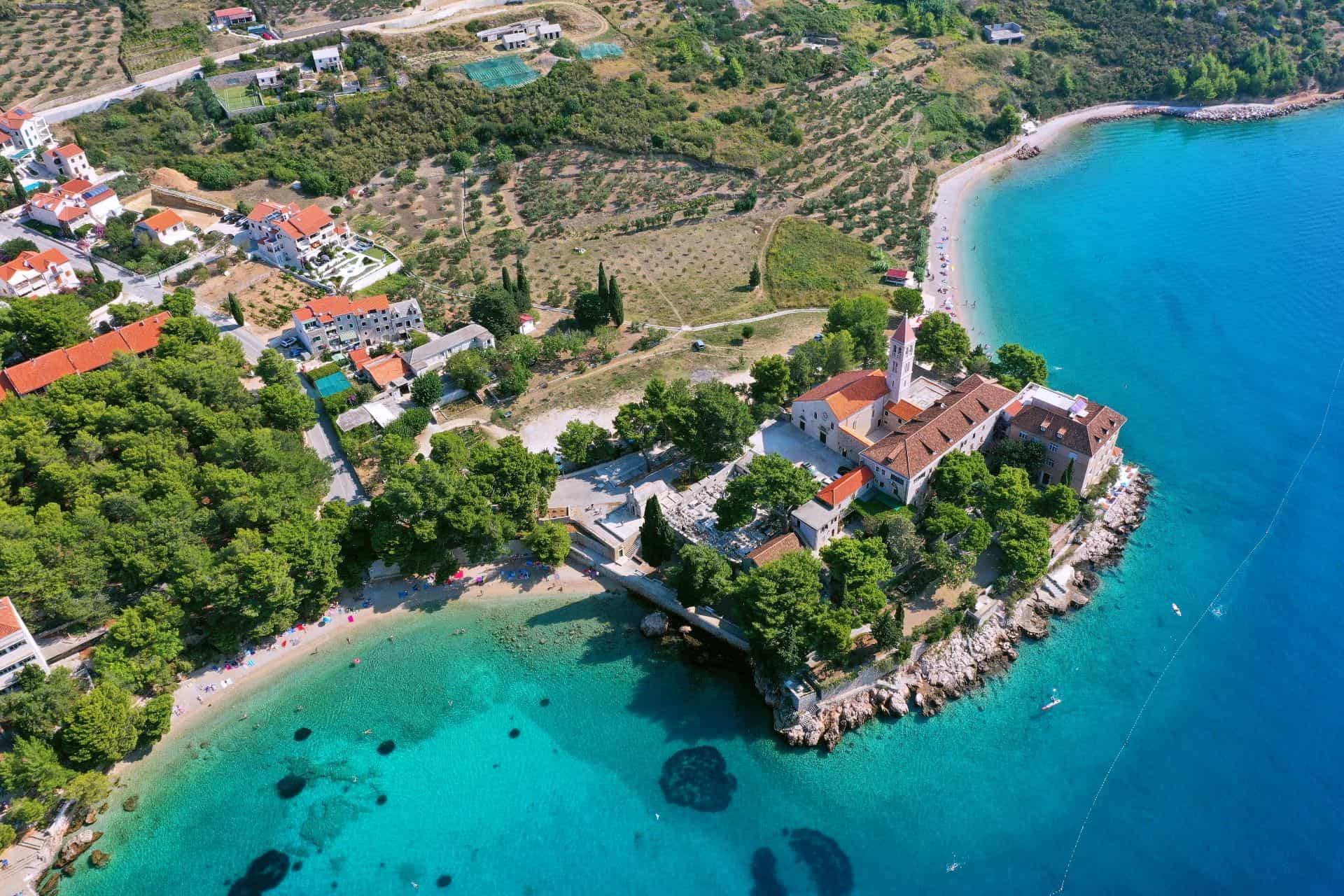 From Bol to Sumartin there are only a few bays suitable for anchoring, and only in calm weather. All of them are relatively deep and completely open to all southerly winds. The picturesque Hrvaska bay is the only one offering the possibility of mooring, on several buoys owned by the family restaurant Uvala Hrvaska. The uninhabited Studena bay is the deepest set cove on the island, near the eastern tip of the island of Brač and the village of Sumartin.
Sumartin
Sumartin is a small fishing village still breathing in the rhythm of past times. There is a small ferry port, as well as 40 berths for boaters, that should be avoided only during southerly winds. Keep in mind that larger fishing boats are occasionally moored on the waterfront, so if you are lucky to spot them, make sure you buy some just caught fish. In the western branch of the cove there is a gas station for boats, usually not to busy even in high season.
The nearby bay of Rasotica snakes into the inland heart of the island of Brač. This uninhabited bay is a favorite anchorage of local boats, which often spend only a few hours in it. All those who decide to spend the night in this small bay painted in many shades of turquoise must make sure to tie their aft ropes to the rocks. During westerly winds, Rasotica Bay provides excellent shelter and a carefree sleep.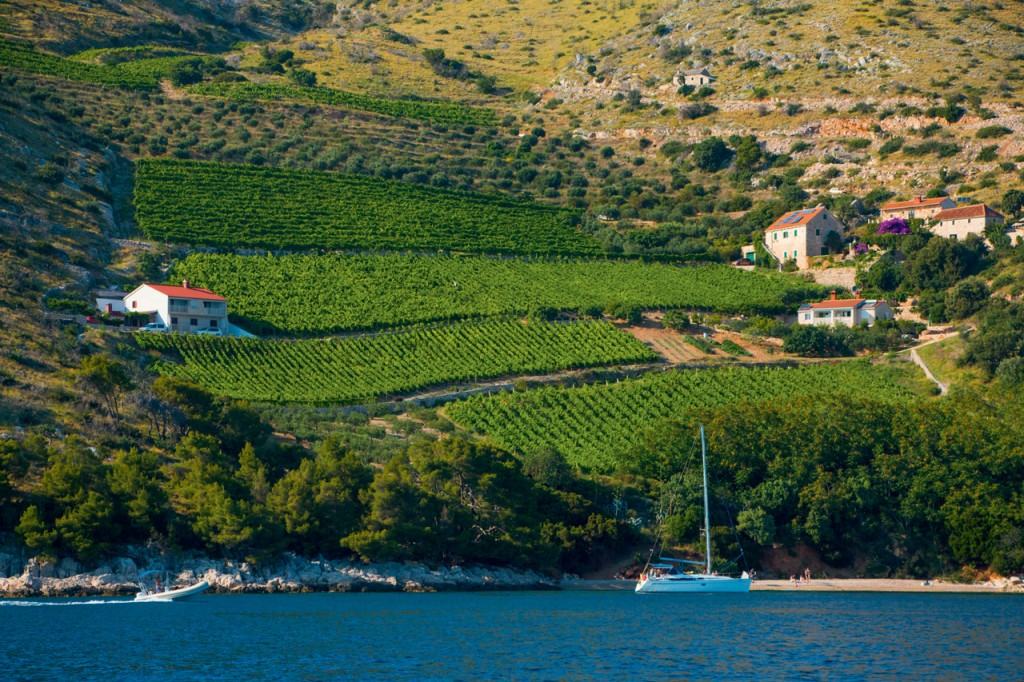 Interesting facts about Brač
Most sailors are not familiar with the northern shores of island Brač, but they include several island gems that could make you come back year after year. Small island villages located in the best ports give the 20-mile boat trip a special charm as well as to our Brač luxury yacht charter guide. However, the north-eastern coast of island Brač has a formidable enemy – bora, so we advise you to only visit the destinations we are about to describe when the weather is stable.
Povlja
The town of Povlja, with mere 10 berths, was founded back in the ancient times when Povaljski bay was an important anchorage for Roman ships. The western part of this branched bay is called Luka, the port, and is a favorite destination of yachtsmen. Apart from the fact that its northern branches provide protection from even the strongest northerlies, there are also two foodie spots around here, offering the possibility of mooring on buoys and a small concrete pier.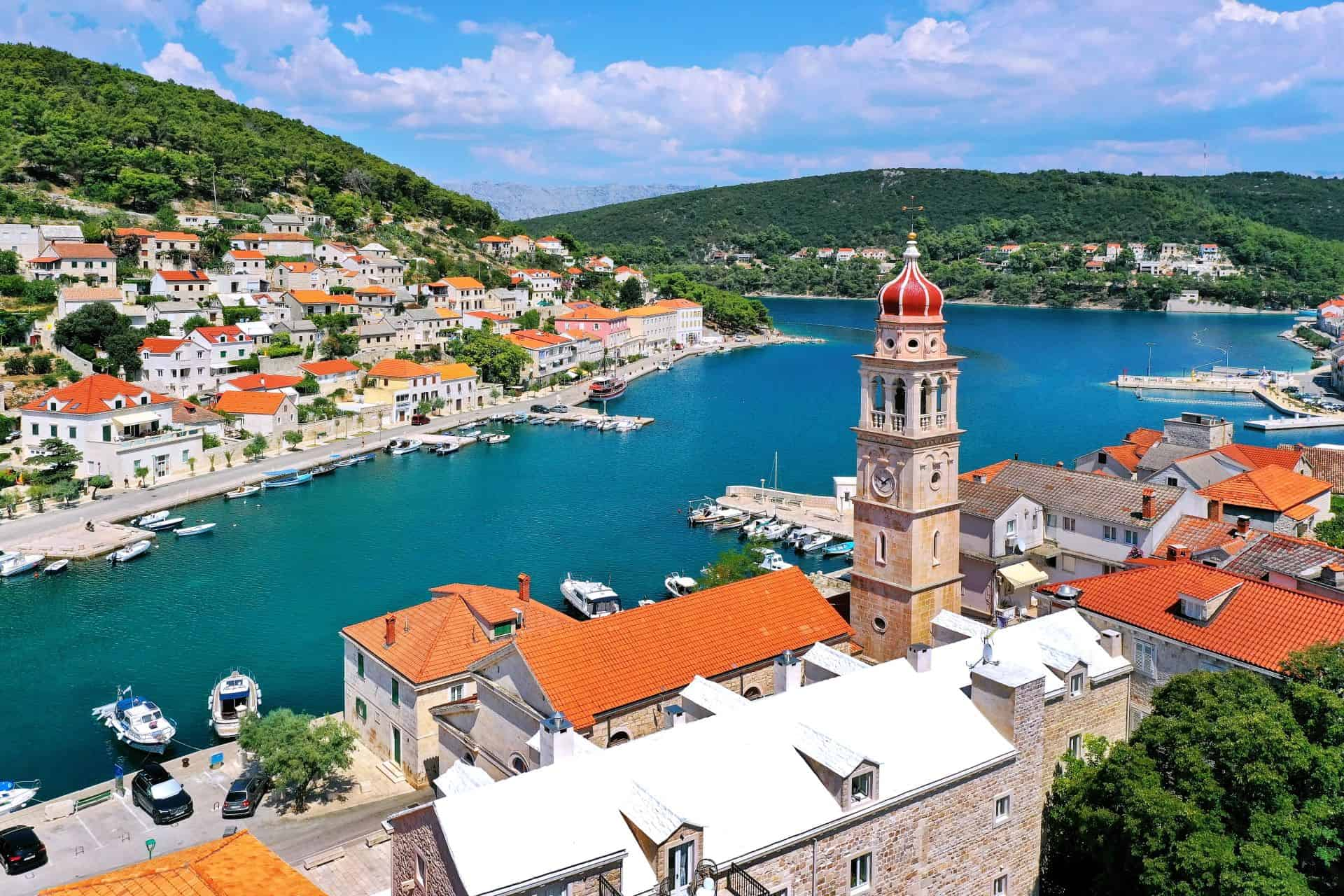 Pučišća
From Povlja to the east follows Pučišća, as the crown jewel of this part of the island of Brač. This village curled in the heart of a deeply indented bay primarily owes its beauty to the Brač stone and the people who gave their souls to it. The whole place resembles an open-air museum, hypnotically white and beautiful. The eastern branch, Stipanska, is suitable for those who insist on dropping their anchor, while the western one, Pučiški dolac, houses almost all berths for boaters, among them 25 for boats up to 15 meters in length.
Symbols of Pučišća and definitely worth a visit, are the stone cutter school, the luxury hotel Puteus Palace (formerly Dešković palace), a protected cultural monument, six preserved castles, the most beautiful of which is the castle Cicarelli, and a quarry aptly named Veselje (joy), located on the very entrance to the port.
Lovrečina bay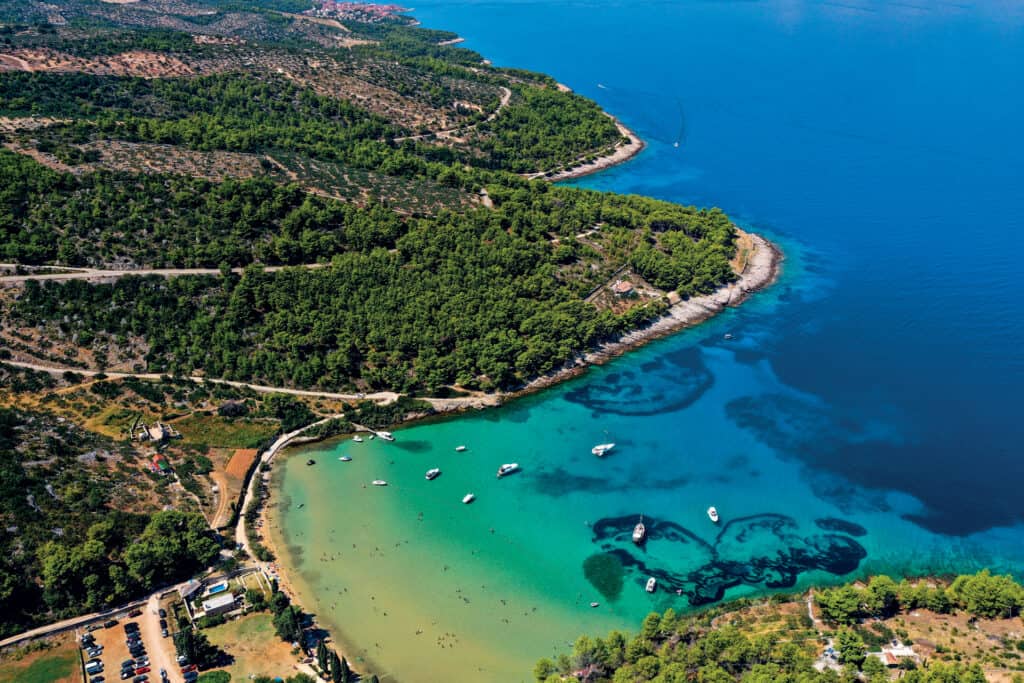 When you head to the next island town – Postira, you'll find beautiful bays ideal for anchoring, like the deeply indented Konopjikova surrounded by pine trees, sprinkled with white pebbles and picturesque vineyards. Find shelter in bays of Težišće and Česminova, where the remains of the quarry are still fun to explore. The most famous among them is Lovrečina, one of the most important archaeological sites on the island of Brač, but also the place with the only sandy beach on the island.
Postira
Postira is the most fishing village on the island, whose trademark is the canned fish factory, and whose most impressive symbol is the Little Night Regatta. This locally beloved sailing race takes place in mid-August, and combines the local night wind gažul and Mozart's composition Eine kleine Nachtmusik, gently playing in the background. This regatta race holds a special place in the locals' hearts, as well as in our Brač luxury yacht charter guide.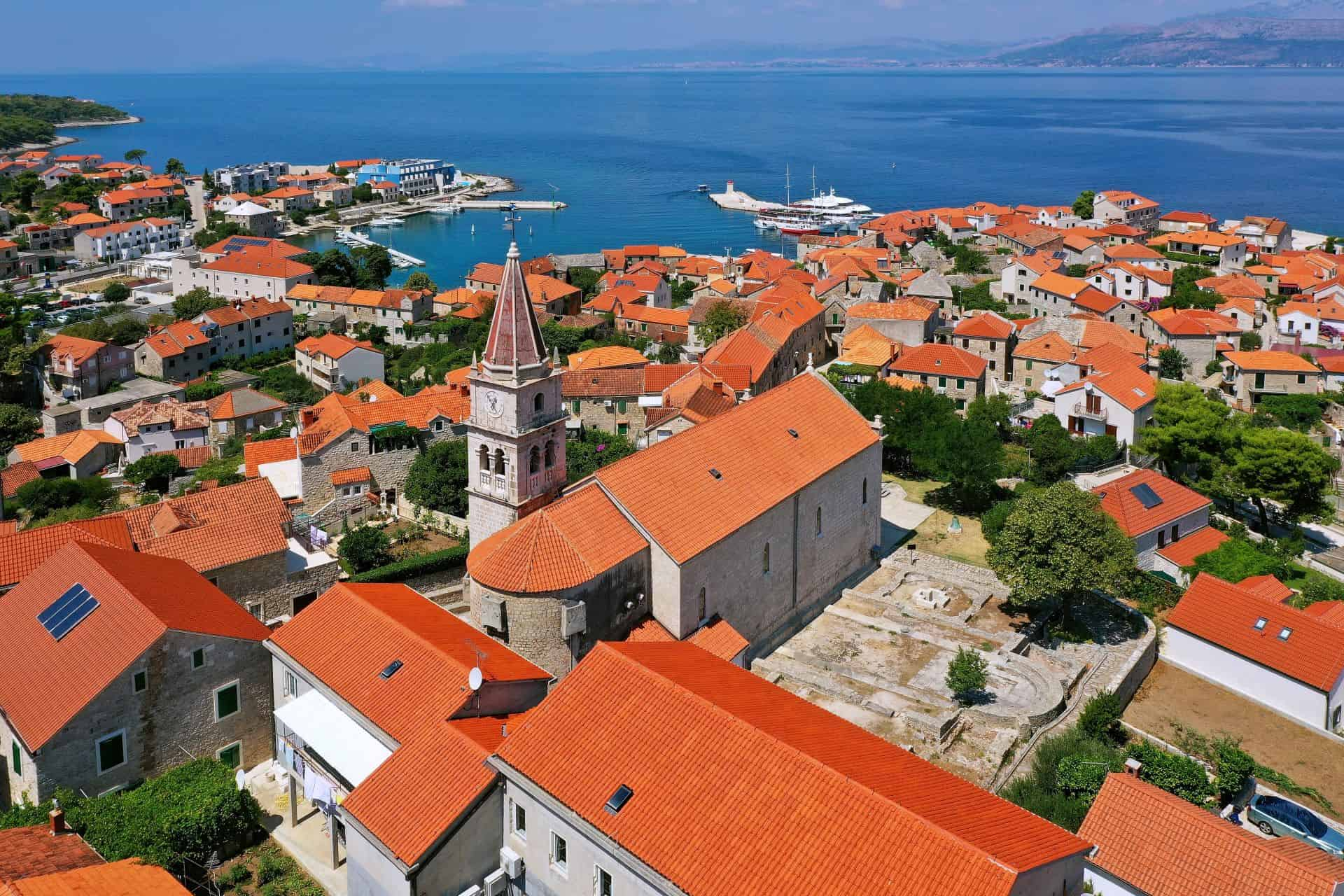 About twenty new berths have been added to the waters of Postira, with several more announced. Postira used to be the port of the nearby land-locked village of Dol, but have with time developed their own identity, as visually, as food- and wine-wise, and are today recognized as a foodie paradise. We recommend you visit Dol, one of the most beautiful villages on the island of Brač, and one that has not erased charming, quaint traces of its past.
The next pearl of in this lovely necklace is Splitska, whose visit is definitely recommended for boaters. A safe berth on the stone waterfront can be found in the harbor of this harmonious place adorned with stone houses and lush pine forests, and for northern winds anchoring in the neighboring bay Zastup will serve as a great alternative. There is also a family castle, which is responsible for the fact that Splitska defended itself from pirate attacks from the sea.
Splitska is only two kilometers away from the fairytale Škrip, a must-visit for sure. The oldest and most authentic settlement on the island of Brač, as well as home to one of the most original Croatian museums, The Museum of the Island of Brač. Also worth a visit is the Roman quarry Rasohe, where marble was excavated for building the UNESCO-protected Diocletian's Palace in the nearby Split.
Supetar: largest place on Brač
The largest place on the island is Supetar, the main port on the island of Brač, always full of hustle and bustle. It's newly found popularity among boaters is mostly due to the increase in the number of commercial berths, which currently comes up to around 30. Supetar does not offer protection from northerly or westerly winds, but breakwaters provide shelter even with bad weather. In the nearby Mirci, find peace and quiet, and if you want to explore the small neighboring Podmirci as well, avoid its tiny port and approach by land.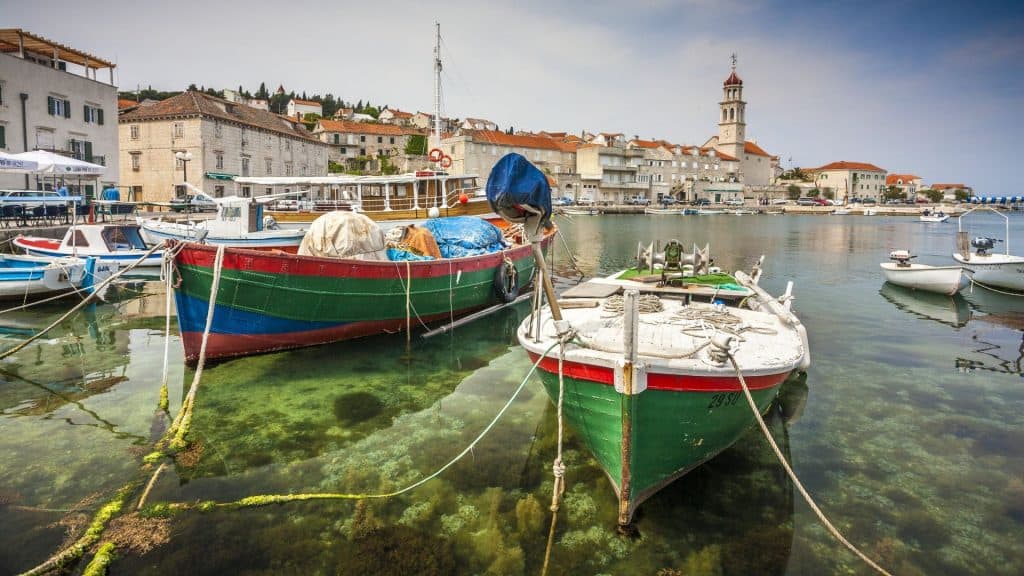 The route that leads west along the coast eventually will take you to Sutivan. This unique place seems to have spilled around its tiny harbor, usually mostly occupied by local boats. Be warned, finding a spot at the newly renovated breakwater is as likely as winning the lottery, but when Sutivan finally gets proper protection from westerly winds and some more buoys, we're sure it'll be a real hit. Sutivan boasts unusual homes inspired by towers and palaces, a fantastic little street Palm Alley, a centuries-old park, catacombs and a handful of other attractions. The most recent built is the magnificent luxury hotel Lemongarden.
When is the best time to visit Brač?
The best time to visit island Brač is from April until the end of October. In case you like hot days and summer crashes then July and August should be your choice. However, if you prefer refreshing nights, windier days and a local atmosphere, April or October should be your winning selection.
Most popular beaches
The most popular beach on the island Brač is certainly the world-known phenomenon – beach Zlatni rat. Besides this magnificent Brač beach, nearby Murvica and Paklina will surely take your breath away with their untouched beauty. In case you are a fan of sandy beaches make sure to visit Lovrečina which is settled on the north coast of the island Brač.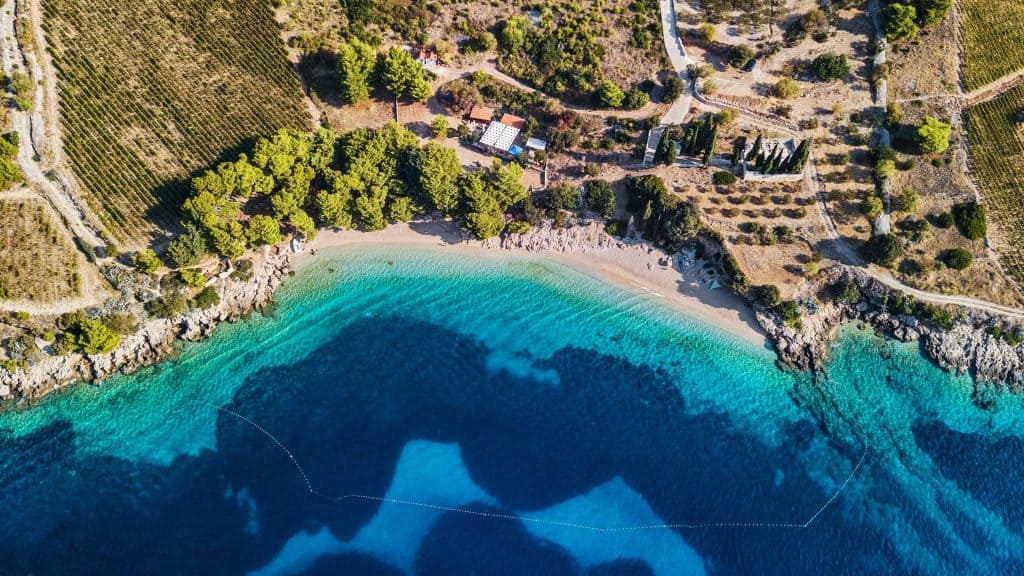 Nudist beaches
One of the most known nudist beach on the island Brač is Paklina. It is located at the western end of the famous Zlatni rat. Furthermore, little and hidden cove called Mutnik, not far from a small village Mirca, is reserved for naturist sunbathers and it is a genuine tourist diamond.
Marinas and Berths in Brač
Marinas and Ports
Milna (ACI marina Milna +385 (0)21 636 306, marina Vlaška +385 (0)99 244 7410, Nautika centar Milna +385 (0)95 376 5001), Supetar (+385 (0)91 331 6012), Bol (+385(0)91 737 4014),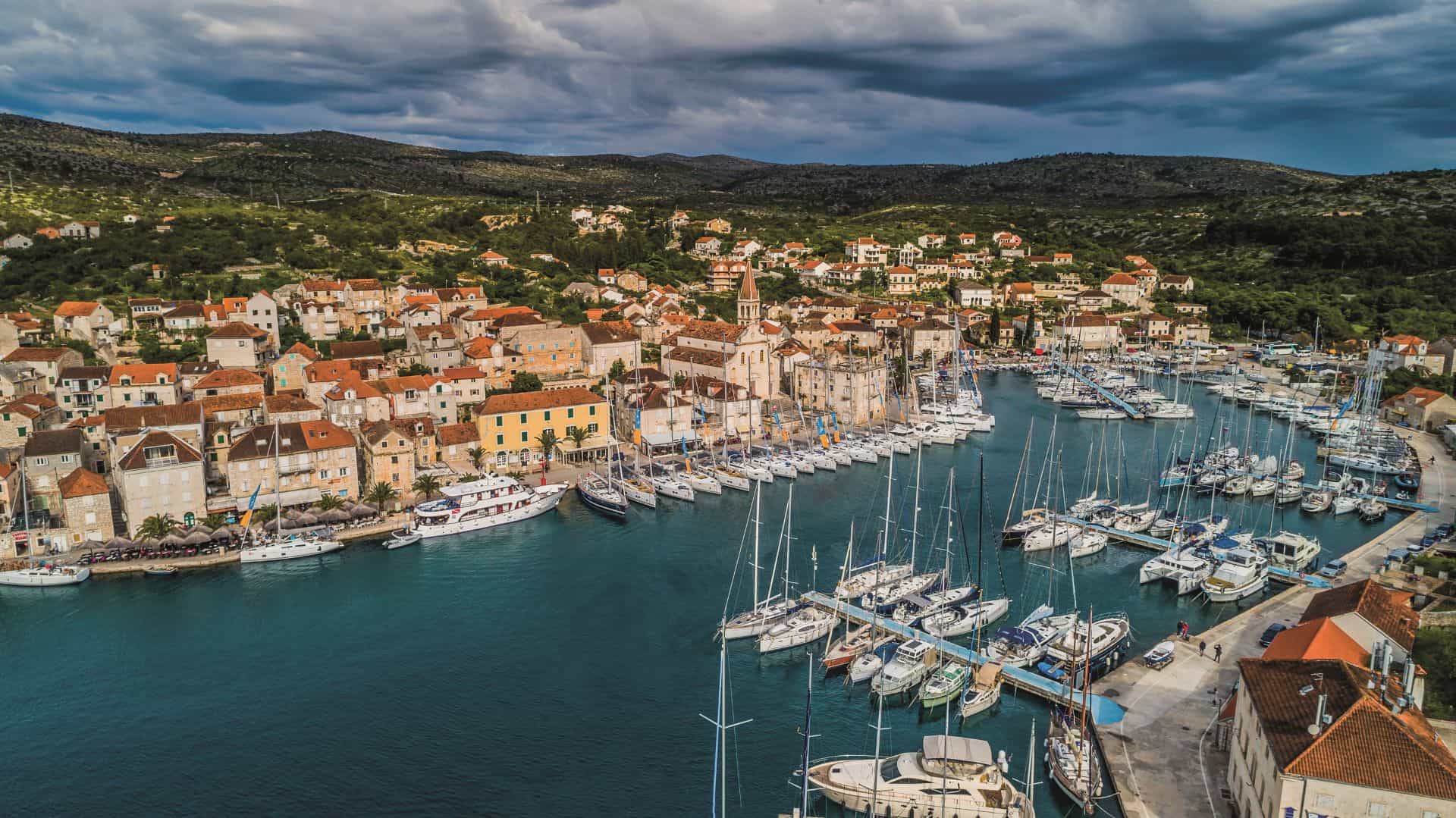 Bays with buoys
Bobovišća (32 buoys/+385 (0)91 5001 619), Uvala Osibova (12 buoys/+385 (0)91 5242 820), Uvala Lučice (25 buoys /+385 (0)91 4222 110), 8 buoys/+385 (0)91 1543 066, 15 buoys /+385 (0)91 5242 820), Uvala Luke – Povlja (restaurant Pipo 9 buoys/+385 (0)98 781 358, restaurant Rojen +385 (0)98 867 292)
Our Yachts in Brač
In order to explore this area at its best, we provide free counseling regarding chartering and activities during your charter holidays. The team of experts that brings together Yachts Croatia is also at your service when creating your perfect charter experience in Croatia.
Featured Yachts
When choosing a yacht, you first need to decide whether you want to feel the meditative power of silence on board sailing boat and catamaran, or whether you appreciate speed and comfort, with interest to rent a motorboat or luxury yacht. After that, leave all the 'details' to us. We will pay special attention to all your needs, to select the boat up to your wishes, to feel safe and comfortable with the crew that will make your time special, organize provisioning and prepare the route that will leave you breathless!
Upon request, our team will visit the yacht (s) you are interested in, with special care to your wishes – and make sure that we 'pamper' you with beauty while sailing!
Text Josipa Vlahović Cikatić
Photos Boris Kačan, Ivana Miletić, TZO Bol, TZO Milna, TZO Postira, Zoran Jelača/HTZ, Aleksandar Gospić/HTZ, Ivo Pervan & Mario Jelavić