Vis is one of the few islands that has managed to preserve its unique combination of character, modesty and charm, which is the essence of the Mediterranean philosophy, restaurants and gastronomy
Sailing and gastronomy are impossible to separate. In the old times this was of vital importance, as without enough food supplies on board, the outcome of the voyage was very uncertain. Nowadays yachting and culinary art are linked in a far more appealing way, to the point that sailing routes are set according to the restaurants offering local delicacies.
If you are one of such navigators, sailing the Central Dalmatian islands, then island of Vis is definitely the destination for you. Vis is special in so many ways, it offers great diversity that sets it apart from other destinations, including its restaurants. Since for many years, Vis was isolated and far from the tourist hotspots, it succeeded in preserving its authenticity.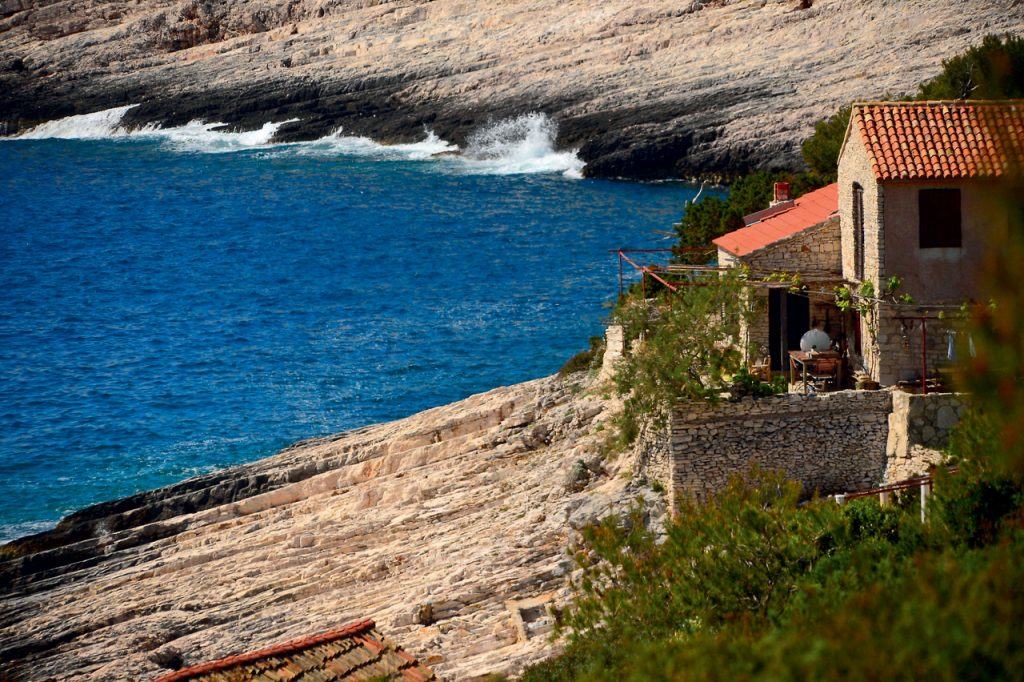 Restaurants in town of Vis
Pojoda
During the winter, Vis is mostly just a sleepy little island with a single restaurant open throughout the year – the Pojoda. Octopus patties, little tunny (a tuna-like fish) in caper sauce, steamed squid in wine with laurel, fish in chickpeas, brewed bean and pasta soup are merely a few of the dishes you will find only here. Monkfish and lobster stew is another specialty you should not miss. One visit to this restaurant is not enough, so gourmets regularly come back for more. The atmosphere in the restaurant is very homelike and cosy, hiding variety and richness within. The restaurant is packed in the summer so reserving a seat is a good idea.
Villa Kaliopa
Should you wish for a romantic evening with outstanding cuisine and wine, Villa Kaliopa is unsurpassed for miles around. The spectacular 16th century garden, filled with centuries-old palm trees, holds no more than a few tables designed to provide candlelit privacy and relaxation. Cream-soup with shrimp is excellent, followed by a choice between fresh fish which will be presented to you by the friendly and helpful staff. To conclude the meal, we recommend a home-made cake, accompanied by a glass of sherry on the house.
Konoba Vatrica
Vatrica is a restaurant sitting right on the waterfront, so you can watch your boat, as well as the entire Vis Bay. This is a much more relaxed and easy-going place: a perfect ambiance for those who appreciate simplicity, fresh fish and homemade wine. Just 30 metres away is the restaurant Val, with a wide offer of fish specialties and is suitable for larger groups of guests. All these restaurants are situated in the part of Vis town known as Kut. Such an abundance of quality restaurants in a small area is proof of their success and appeal with the guests. But the list of good restaurants in the town of Vis does not stop here.
Konoba Kantun
Ivan Ivičević Bakulić is the good spirit behind the restaurant Kantun (meaning 'corner') which is of course located on the corner of the Vis waterfront walkway. Sitting at a table in front of the restaurant in the heart of the harbour is as pleasant as sitting inside by the open fireplace, or in a beautiful garden. There is one thing that we simply must mention: the unique wine list. You cannot have a beer at Kantun – but you can surely learn a lot about wine. The culinary offer is not very diverse and rightly so. Whether you order fish, meat or something else, you cannot go wrong. Everything is made with love, attention, and great taste.
Restaurants in Vis plain
Vis is one of the few islands that has managed to preserve its unique combination of character, modesty and charm, which is the essence of the Mediterranean philosophy and gastronomy. However, the fertile Vis plain, a flatland between the hills, has several family-owned restaurants in which the embers of the traditional, or as the locals call it 'pojorska' (from 'poje', which is 'field' or 'plain' in the local dialect) gastronomy of Vis, glow strong.
Even though these restaurants are kilometres away from the seaside, yachtsmen love visiting them to discover a whole new side to the island. At the outset of this gastronomic tale, small family farms such as 'Darko's' at Žena Glava, which only has four tables even nowadays and offers your basic red and white wine, goat meat and lamb peka, were just getting started to welcome a new era in tourism after years of isolation in the 1990s.
Yachtsmen eager for some solid and honest culinary offer gave a boost to the story. Today, there are 20 spots in the island's interior where you can enjoy excellent food and you will have no idea what you're missing until you knock on the door of your hosts undisturbed by the hustle and bustle of restaurants at the seaside in summer. Below we present merely a few to give you inspiration for a not-your-average meal on Vis and offer an invitation to explore this perpetually magical island on your own.
Konoba Magić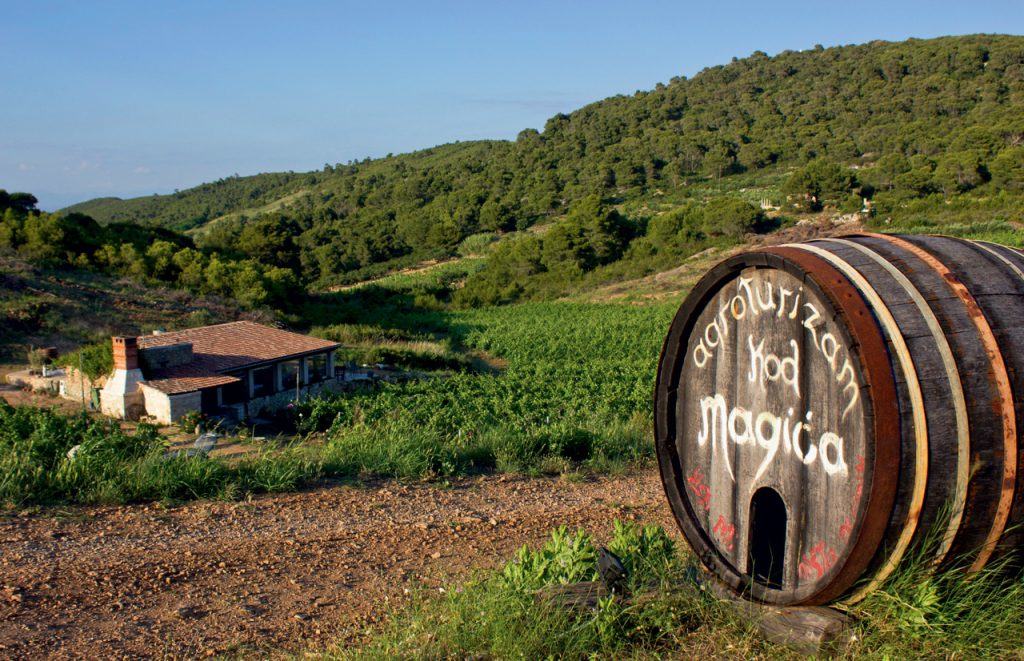 13 years ago, the Magić family farm got the idea to enrich a new vineyard and get the entire family involved in the story. From their own homegrown vegetables, locally sourced fish and meat and two types of wine, this family farm has been loved by yachtsmen from the start. The word about the great food cooked by the Magić family got around and the Vis Regatta was then, as it is now, an event closely tied to the tavern, so it still marks the end of the season.
The tried and tested items on the menu include tuna prosciutto with arugula and almond pesto, breaded goat cheese and anchovies stuffed courgette flowers served with special caper tartar sauce. In autumn, when it's Plavac season, a dish evoking the times of yore is the snail brodet with grapes which is part of the nearly forgotten menu of the Adriatic islands. What sets the Konoba Magić apart is definitely the peka comprising veal, lamb or, if you're in a mood for seafood, octopus, anglerfish or even piper gurnard. We've seen for ourselves that several guests were turned away because getting a seat on the gorgeous terrace surrounded by vineyards is impossible without making a reservation first.
Transportation can be arranged for yachtsmen and you can even get a 'peka to go'. Other popular items include edible donkey-themed souvenirs, different marmalades, syrups and other products of the soil that you can take with you and enjoy the flavours of Vis far away from the island.
Roki's restaurant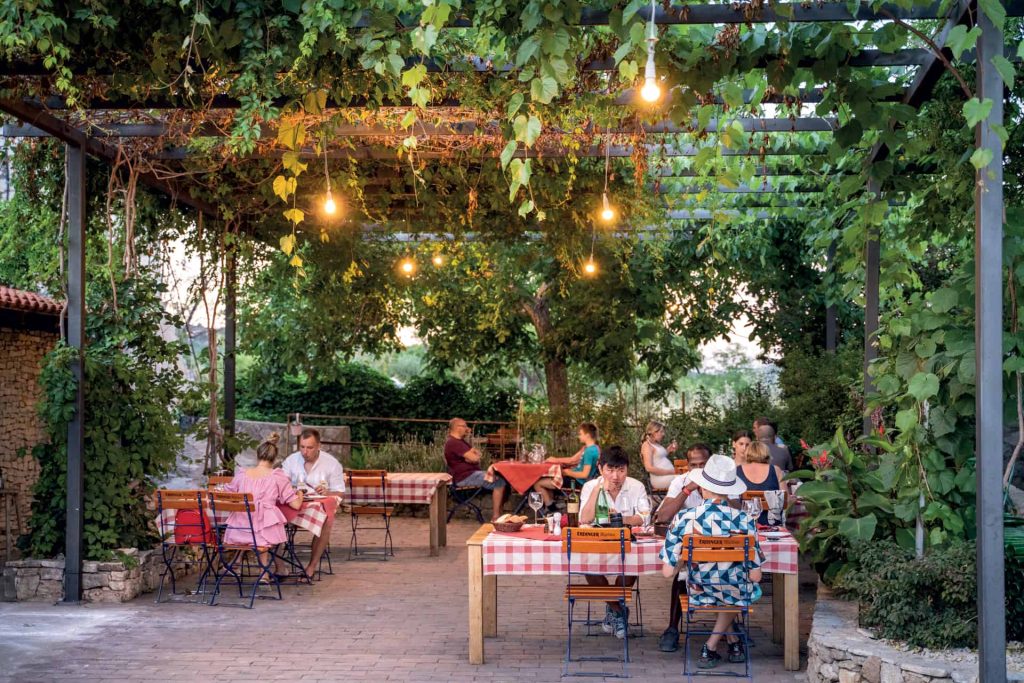 Located next to the former Allied military airfield, Roki's has been one of the most loved gastro destinations, especially when it comes to skippers fond of the waters around Vis. Roki's started as an extension of the family wine-growing tradition going back two centuries. After experimenting in the initial period, the menu now comprises lamb, veal or seafood peka (octopus, anglerfish tail and even merling). If you're a vegetarian, you won't be fed sides here, but you will enjoy standalone dishes, such as artichoke, peka-style, naturally.
Peka is not as simple as it seems and even the biggest bon vivants visit the place, so don't be surprised if you meet women in evening gowns, but also sailors in their seaworn clothes. A wine tasting area was recently added to the beautiful terrace seating one hundred guests, where you can try the light seafood primo piatto with tuna carpaccio, salted and marinated fish and fish pâté.
YACHT SUGGESTION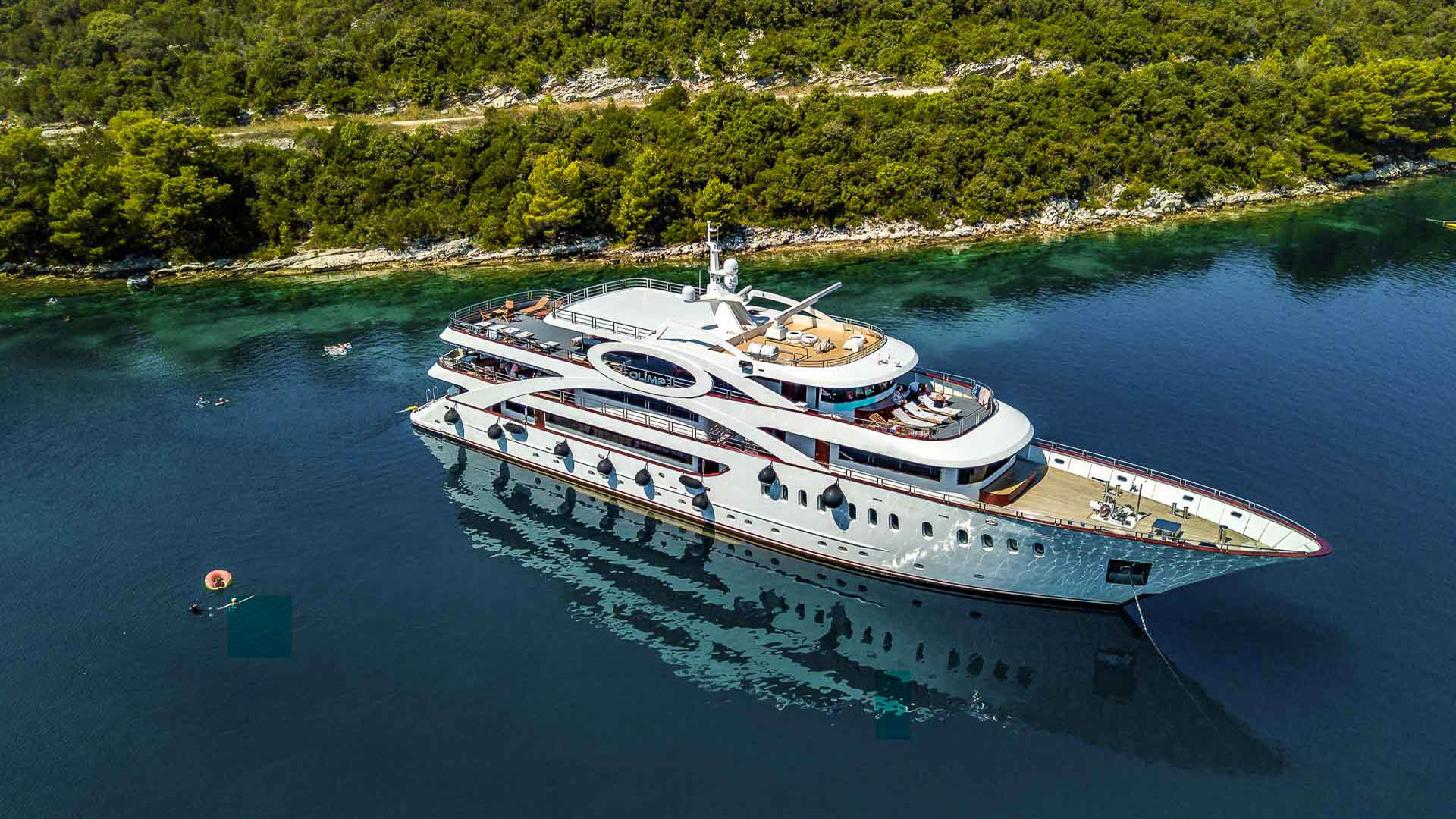 Olimp is a custom-built luxury yacht that accommodates 36 guests onboard. This impressive yacht features a modern, sleek design and ample deck space to relax, socialize and take in the beautiful Adriatic view!
The 55,000-litre winery is their forte and the most interesting variety is the Bugava, best paired with fish pekas, while meat pekas go well with top-quality Plavac or cuvée barrique. The new tasting area means that you will not be sitting in the rural ambiance, but you will become wrapped up in the wine story. The laid-back atmosphere, particularly striking at night, will be made even better by the friendly staff that will fulfil your every gastro demand with homemade bread or Vis pie ('Viška pogača') directly from the hearth oven. This might come in handy for yachtsmen – Roki's offers transportation services, even if you're located in one of the many bays of Vis.
Fields of Grace Vineyards Estate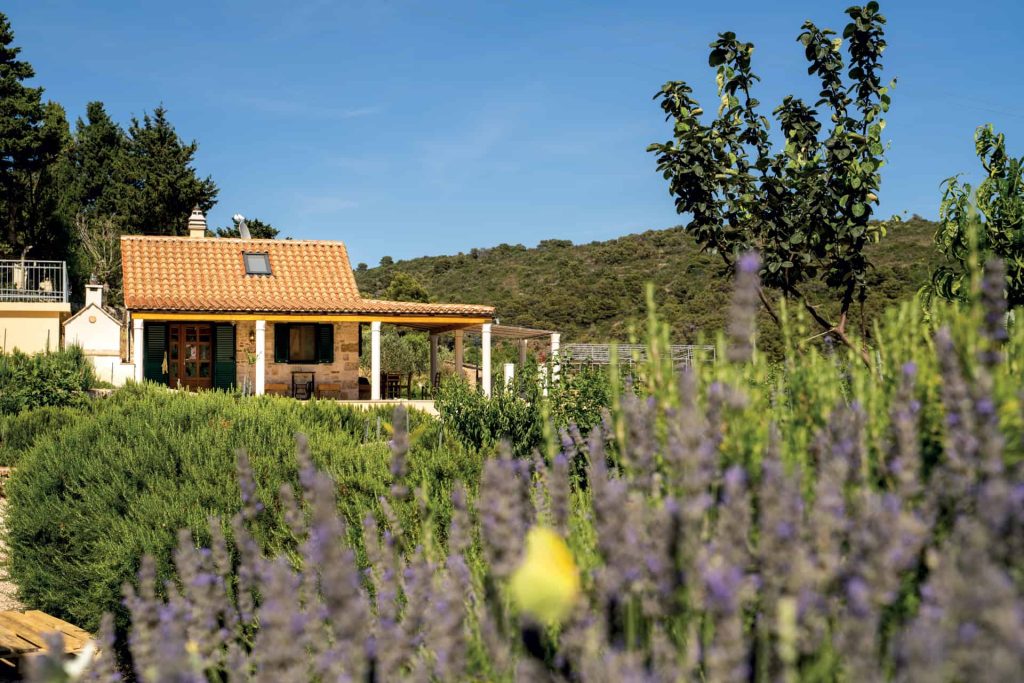 The next time you're cruising the waters around Vis, in addition to the well-known flavours and gastro temples such as Senko in Mala Travna or Andro in Budikovac , get ready to make a trip to the heart of the island so you can discover a new face of the gastronomy of Vis. Their food and wine tasting pavilion is set in the heart of the estate and looks as though it was teleported here straight from the streets of Hong Kong. Guests can walk through a herb-filled maze at the estate, pick their own vegetables, which, being a true 'street' chef, Jakša will then use to make a dish inspired by the moment on the spot.
Jakša prepares tasting menus, each of which has an appetizer, for example rice noodles with mixed vegetables in freshly-made dressing or risotto with curry baked in clay pots. Roast duck 'a la Macau', Chinese-style roast suckling pig or steamed scallops with soy and herbs are some of the dishes that fill the air with the wonderful smells of the Asian cuisine, which are then carried toward the island's interior. Their wine offer is also interesting because, in addition to rosé made from local varieties, but also some non-indigenous ones that Jakša feels are completely logical, such as Graševina, no wine other than the Plavac has more than 13% alcohol.
Jakša is convinced that summer is made for drinking light wines so his Graševina or rosé are part of the affordable menu with an appetizer, plat du jour and a desert that is sure to be a pleasant surprise in this setting. Hidden behind the English name and writing in Chinese 'Dai pai dong' (which translates as 'street food') is a love story between Komiža-born Jakša Kivela and Fung Lin Leung from China. At the opening of the field, they created a unique mix of world culinary trends, experience of working at a Michelin-star restaurant and sustainable organic farming.
Konoba Stončica
An inevitable destination for navigators visiting Vis is the Stončica Bay, where the three Linčir brothers own Konoba Stončica, famous for its fish dishes, lamb and goat pit roasting. Tripo Linčir says that the specialty of this tavern is brine – marinated oily fish, sardines, anchovies, mackerel or bonito and in mid season sardines on a spit. We propose you also try lamb or goat belly, an aromatic and delicious specialty, also known as Vis sausage, apparently best prepared by the Linčir brothers. Should you rather decide on the freshly grilled fish, we would suggest a traditional Vis side-dish: baked tomatoes and boiled potatoes. In order to fully experience this magical island, its inland must be seen.
Senjanović Vineyard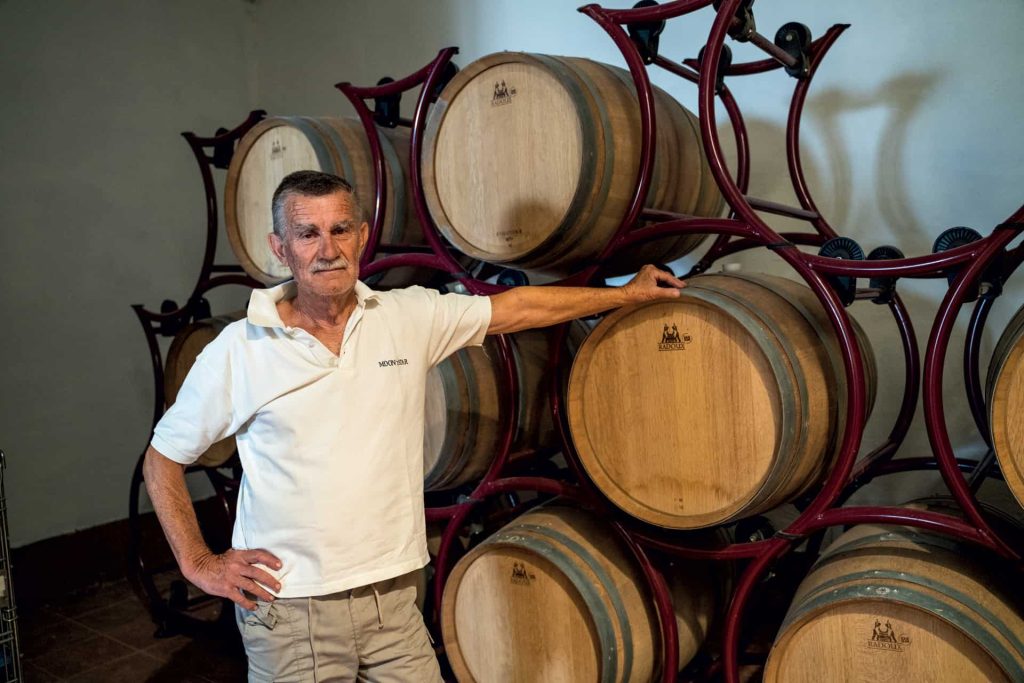 The Senjanović vineyard is a micro-location, ten minutes' drive when going from Vis to Milna or 30 minutes' walk from the famous Stončica Bay and the legendary tavern by the three Linčir brothers that we made pilgrimage to once again so that we could indulge in the scrumptious Forkbeard and grilled goat meat. This tavern loved by yachtsmen and other top restaurants have allowed Senjanović wines to find their way to fans only a few years after their first commercial wine was produced in 2008. The vineyard and the wine share the same name – Tiha braća and the outstanding terroir that Plavac grows in has created a unique wine story from the sand. As the number of lovers of this wine is growing by the year, the process of planting a new vineyard and upgrading the winery is underway.
Restaurants in Komiža, Vis Island
On the other side of Vis Island, the road takes us to Komiža. Komiža is a true traditional fishing village – I believe it is one of the most beautiful in the Adriatic. Here, too, gastronomy is unique and special. Bako and Jastožera are the main pillars of the offer in Komiža. These two restaurants are located next to each other.
Konoba Jastožera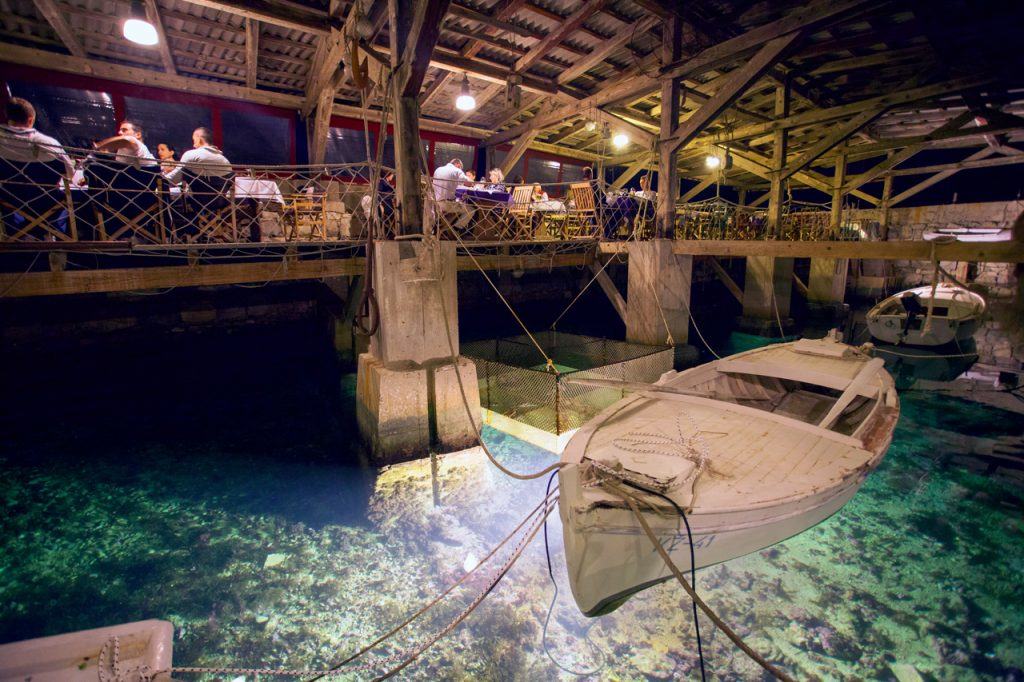 Jastožera is a story in itself; the island is famous for lobster fishing and the current restaurant site, was once a lobster trade station. This is one of the rare restaurants you can literally sail into by a small boat. At Jastožera the sea is beneath your feet and the specialty is of course, lobster prepared various ways. Two years ago there was a shortage of lobsters, so the restaurant lost its main specialty.
Konoba Bako
Konoba Bako is another legendary restaurant in Komiža. Simple ambiance, combined with the fish and crab specialties prepared following the ancient local recipes, are more than enough reason to visit this tavern. Right next to Bako and Jastožera is Konoba Barba, with its magnificent seafront terrace overlooking Komiža. The owner Dragan Stjepanović bases his offer on fish and lamb, telling us that the Barba is the only place in Komiža where you can have pit roasted fish, octopus or lamb.
Fabrika
Konoba Barba is special for something else too – they offer the fantastic homemade Biševo Plavac wine by the glass. If you prefer something different, there is the retro fun food & wine bar Fabrika, established in Komiža by the singer Luka Nižetić. At Fabrika you can taste daily tapas: anchovies, smoked tuna, pates, bruschetta or the daily special, like spaghetti in shrimp sauce. The bar is decorated in a vintage industrial style and besides food, you can also enjoy good, carefully selected music. It is also worth mentioning that Fabrika welcomes pets.
Konoba Senko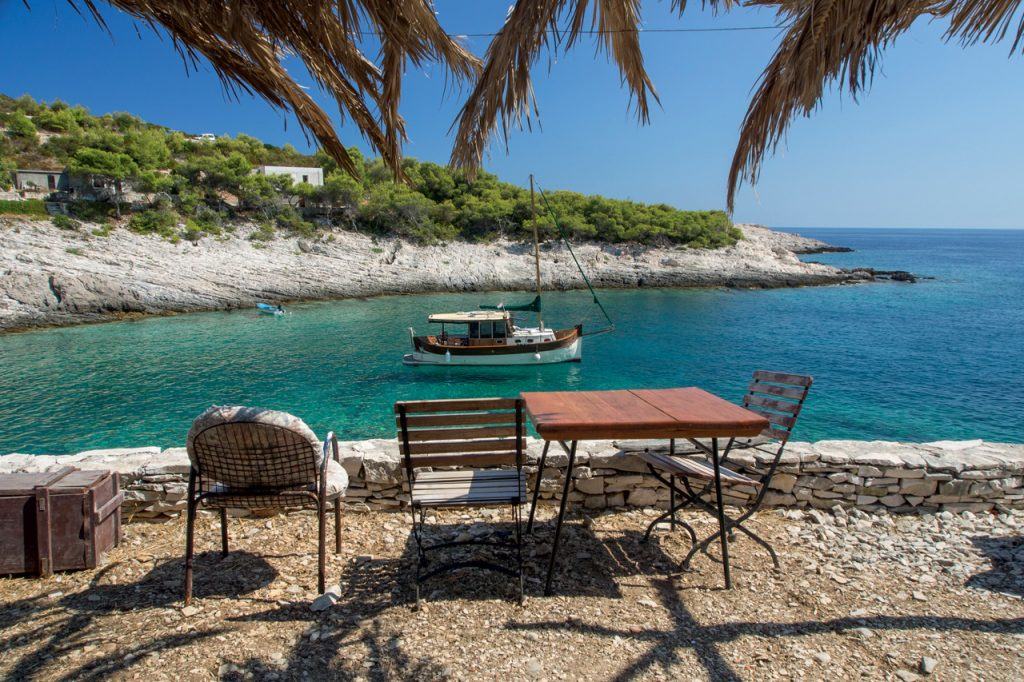 The best kept culinary secret, known only to navigators, is neither a restaurant nor a traditional stone house, but a place of unusual but exceptionally strong energy. It is Mala Travna and its owner Senko Karuza – a writer, poet, fisherman, vintner, cook and so much more that only a sensitive soul can feel. Gastronomy here springs from the nature, life philosophy and wine is made from proper Vis grapes. Once all this falls into harmony and the view wanders from Mala Travna onto the open seas, the real world becomes something distant, unimportant and the transition into another dimension, seamless. Those who have been there know what we are talking about.
Restaurant on Budikovac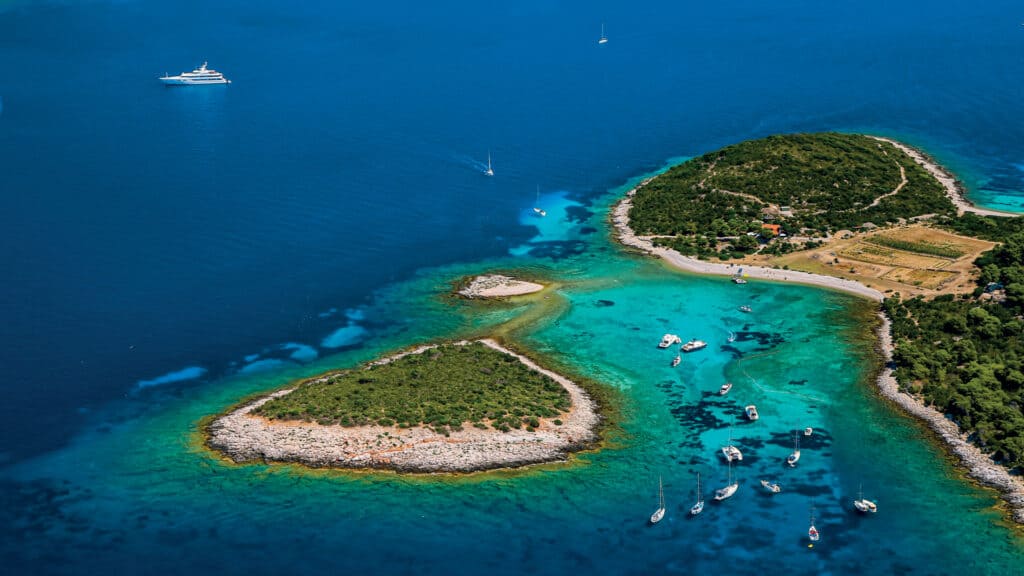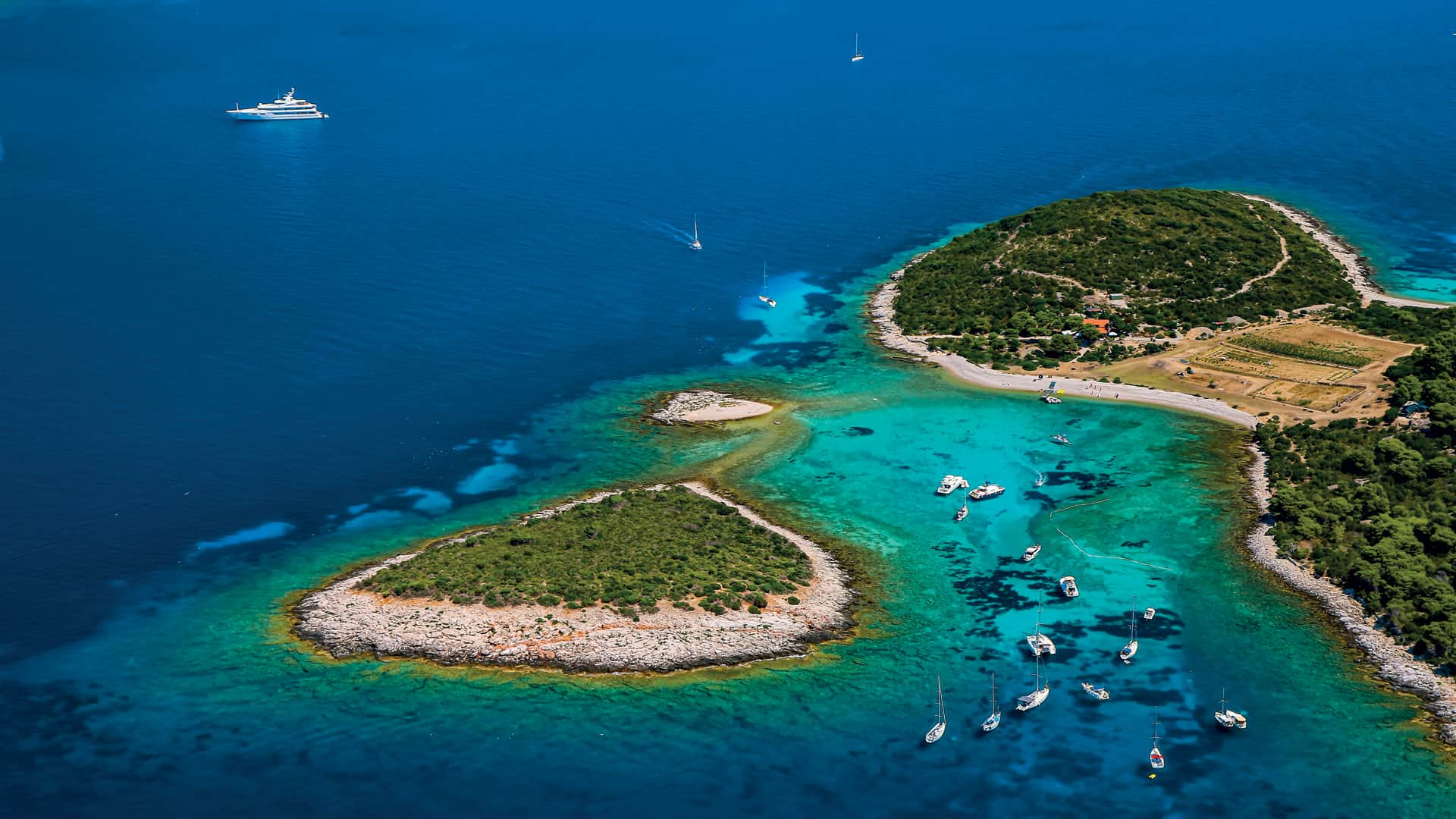 We will now end our culinary Vis journey with Budikovac, an even smaller island south of Vis. The owner of the restaurant on the prettiest Adriatic beach is Captain Andro Slavić, a peculiar character with a peculiar culinary expression. Andro served us a suckling pig with potatoes on the hottest of summer days. This choice of food would never occur to me, even on a colder day. But we have never tasted anything like the suckling pig from Andro's bread oven. Not only did we eat it all, unable to decide which was sweeter, the suckling or the potatoes – but we came back for more on the very next occasion. No need for any further comments on the Budikovac gastronomy…
Photos Mario Jelavić & Yachts Croatia archive