Sunseeker 65 Sport Yacht boasts aggressive, elegant lines, spacious interiors and the innovative Skyhelm
If you have three million euros to spare and you happen to be into yachts, you won't find it easy to choose on which motor yacht around 70 feet to spend money, because devil is in the details. Sunseeker helps you decide, offering a detail no-one else has. Skyhelm is a hybrid fly or a sports bridge, as they call it. Very stylish and even more functional, it gives the skipper the same joy in navigation a race driver might feel behind the wheel of his sports car.
Sunseeke's innovative SkyHelm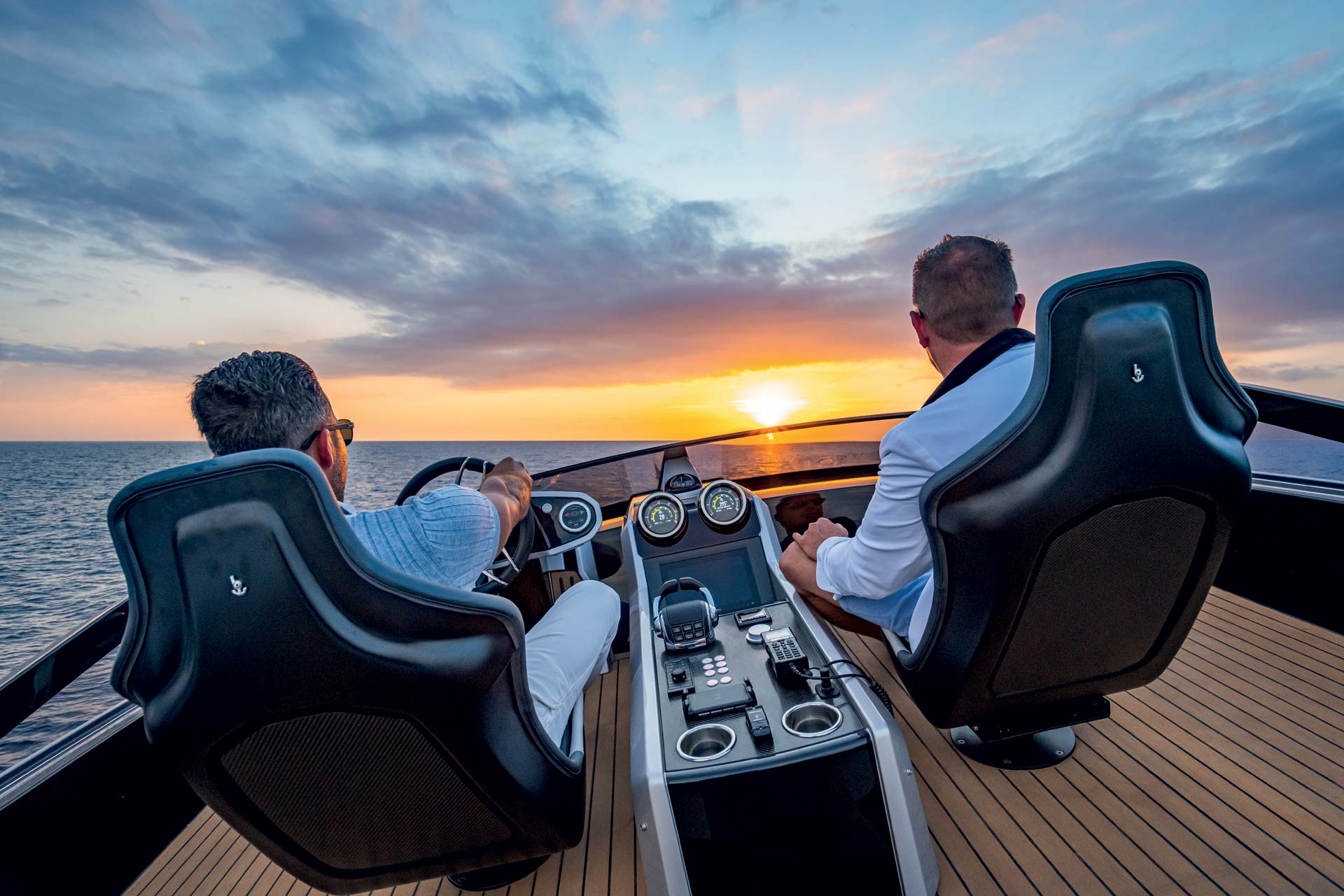 This aggressively looking, sporty model with tinted glass panes around the salon and along the hull is surprisingly calm and measured on the inside, with a family-style interior ideal for longer cruises. Impressive wood details made by Sunseeker's in-house team and stylish skipper seats with insets in stainless steel are just some of the many details attracting the eye in this luxurious interior.
Sunseeker 65-foot motor yacht
Although the Sunseeker 65 Sport Yacht we took for a test ride was with dark fabrics and gray floors, there are several style packs that elevate the interior to unexpected levels, like the High gloss layout. Beach club aft serves as a place to park your tender (Williams 345), the lift that serves it and one Seabob. Should you choose to place the tender on a submersible platform, this space is large enough for a fridge, a bar and a grill, and is ideal for seaside socializing.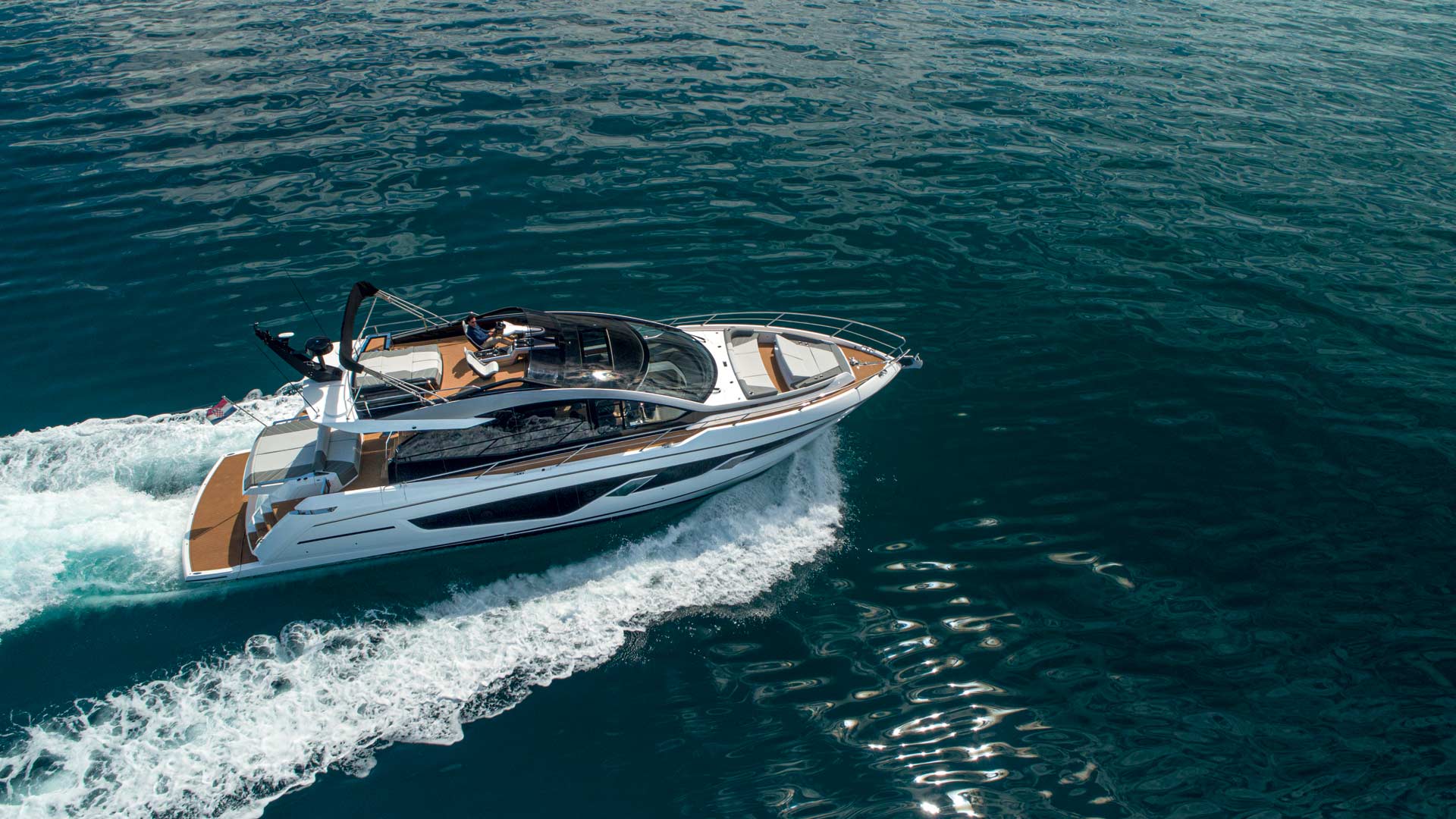 The hydraulic plank makes access to the cockpit very easy, and that space is furnished with a sofa and a table, or alternatively, with an L-shaped sectional port-side. The indoor saloon and the galley face each other and are separated by a small serving counter, and a folding glass window… allows connecting the galley and the cockpit. In the salon, there are two sofas – a small one starboard and a large one port- and a large TV, hidden in a wooden element when not in use.
The command post is served by two fabulous leather seats (we miss electric adjusting system) and is, as we expected, the best spot aboard. Digital instruments, switches reminiscent of those of infotainment systems in modern cars, the joystick – everything is perfectly withing reach. An additional console with carbon insets and two Garmin touchscreens with two digital, but analog-looking odometers complete the setup and provide more than enough information in navigation.
The tiny Semate touchscreen allows control over every onboard system, from lights to generators. All mobile phones can be charged in one of the many small storage units… from cabins to fly deck.
Sunseeker 65 Sport Yacht interior
Below deck, down a wide and open staircase, there lie three cabins with private heads and a day-head, but the layout of the unit we tested was merely a suggestion. Starboard, there is a double guest cabin, while ahead lies the spacious and comfortable VIP cabin.
The full-beam master cabin offers plenty of storage space and still has enough room for a small private salon with a sofa and a small table. Served by two large portholes, it is bathed in natural light even though set quite deep in the belly of this sporty beast. The crew cabin lies next to the engine room – where we discovered a Seakeeper, guarantee of comfort and calm – and is served by a dedicated staircase below the fly bridge stairs.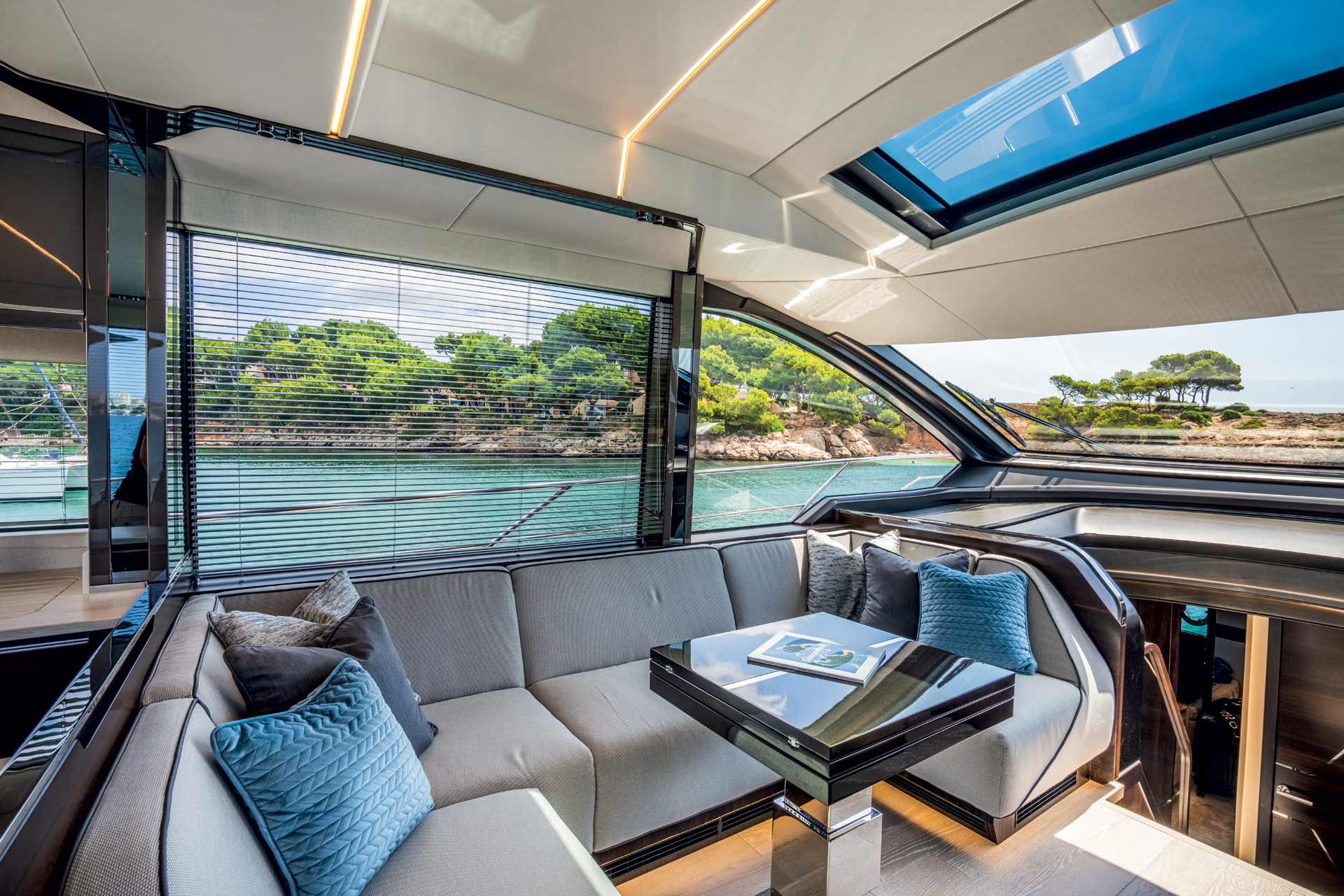 Although not as spacious as a classical fly bridge on Sunseeker's 65-footer, this deck is an excellent addition to Sunseeker 65 Sport Yacht, whose central console, placed between the two skipper seats, not only looks great, but holds everything one needs to pilot this yacht from the highest deck.
Sunseeker 65 Sport Yacht range
Excellent sound insulation (below 65 dB) even at full speed makes this Sunseeker very elegant, and even with the Seakeeper navigation off, navigation is delightful, if you avoid sudden turns.
Sunseeker 65 Sport Yacht cruising speed ranges from 19 to 24 knots, so every owner can choose for themselves, depending on the desired fuel consumption. Thanks to the two reliable and moderate Volvo D13 engines, with a 15 percent full tank, consumption at 17 knots amounts to almost negligible 140 liters for both engines, while at 2000 rpm fuel consumption jumps to about 240 liters at pleasant 25 knots.
Sunseeker 65 Sport Yacht top speed
On our sea trial, we managed 2400 rpm and reached 32 knots with consumption of 380 l. The inevitable eight-manoeuvers we needed for the cover of this issue were performed at 27 knots or above, very relaxed and holding the helm with only one hand. Steering on the skyhelm further enhanced the experience, and the IPS system offered a slightly faster response to commands than a normal steering wheel would.
YACHT SUGGESTION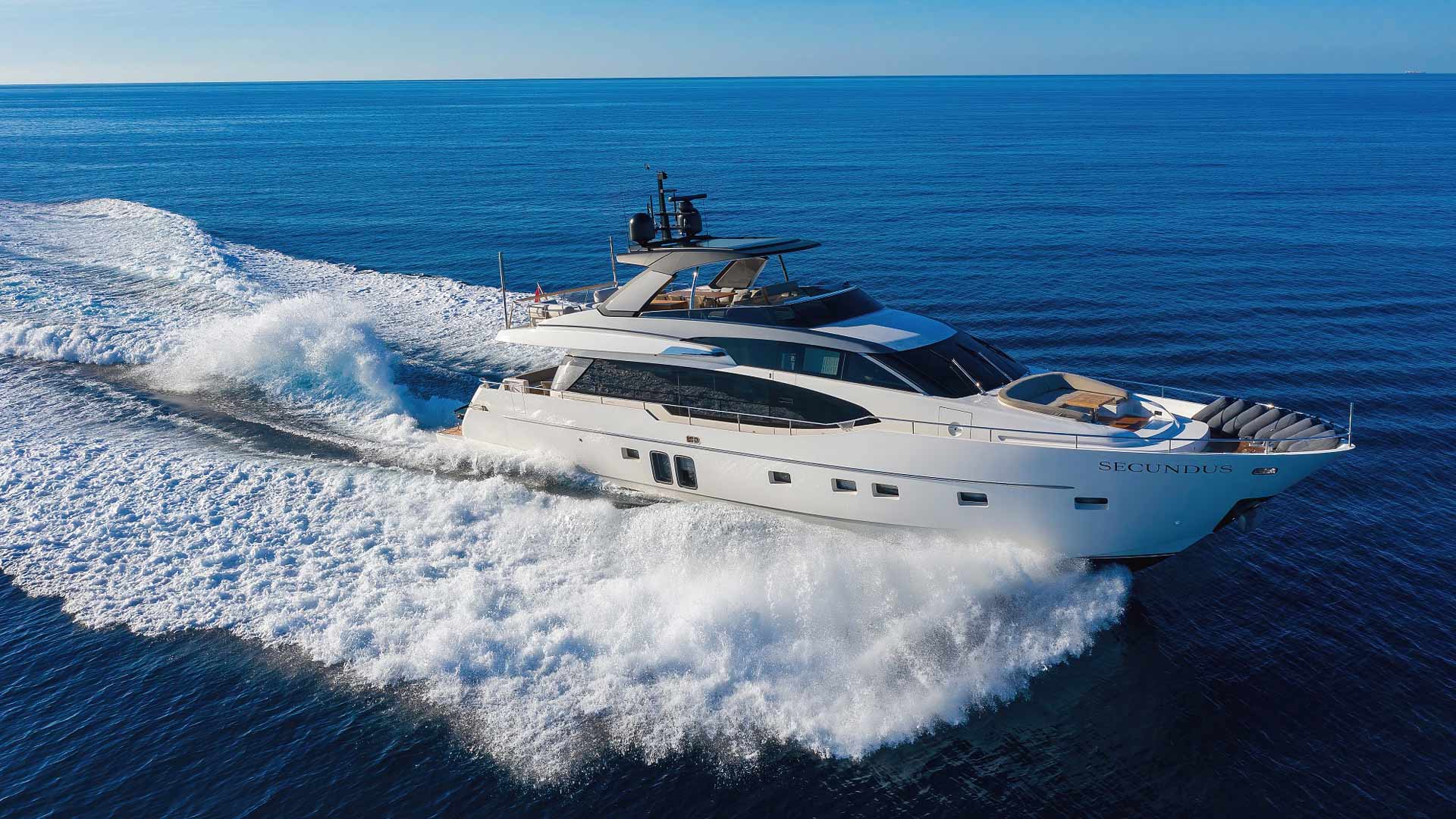 Secundus is an attractive 4-cabin luxury motor yacht on the charter market. As any Sanlorenzo yacht, she is immediately recognizable, at first glance.
In addition to the pure joy of piloting from a top deck and enjoying maximum visibility, the console provides plenty of support to skippers while docking and maneuvering in crowded marinas with help of the IPS joystick.
Powered by two engines with combined power of 2000 HP, this sporty and elegant model is also fast, reaching 35 knots of top speed and offering agility of a yacht half her size. One of the best models in Sunseeker's fleet, this elegant little yacht is as exciting as she is unique.
Text Filip Bubalo
Photos Mario Jelavić & Sunseeker
Video Sunseeker