The food at Hiša Franko is avantgarde, made from locally sourced ingredients from small farms, micro-seasonal, unique in flavors and creatively presented. In a word, sensational. Oh, and gilded by two Michelin stars
Walking toward Kobarid, you might feel like you're walking through Trygve Gulbranssen's 'Beyond Sing the Woods' come alive. As my thoughts glide through this subdued, dark, mesmerizingly beautiful nature, snaking up steep serpentines like morning mist above Staro Selo, brass bells on happy, plump, well fed cows signal our arrival to Posočje. Just a few more steps and the green turquoise of river Soča will split the scene in two. Fish glide downstream – rare Soča trouts lost in swarms of brown trouts, chubs, graylings and barbels – effortlessly, carried by the stream.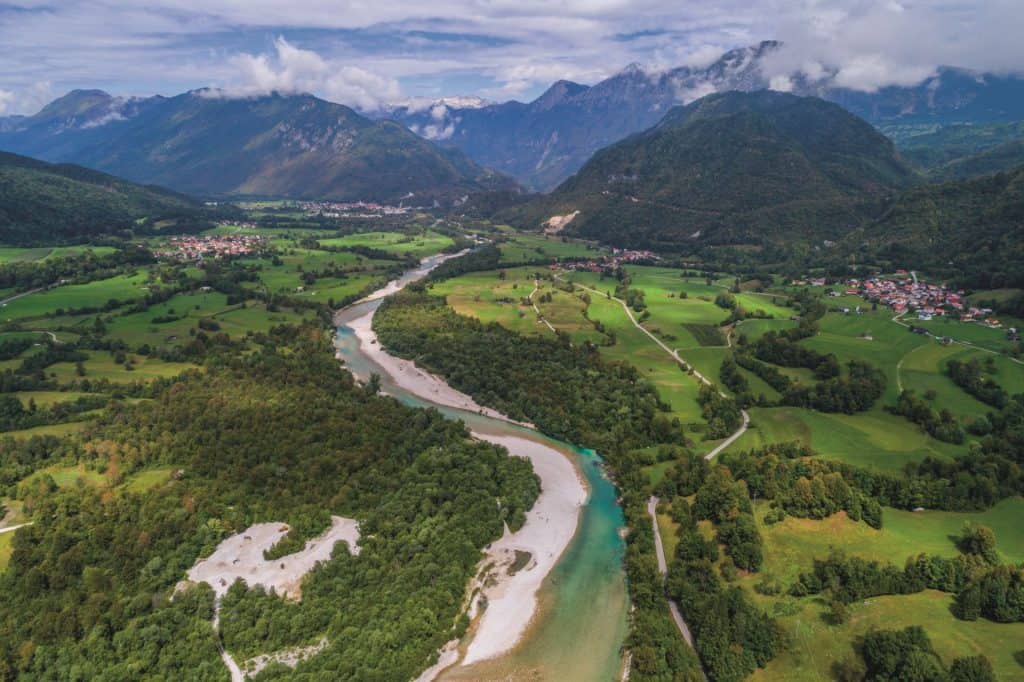 Ana Roš was set to take her place in the diplomacy
As we slow down near Napoleon bridge, our hearts speed up: we're almost there. Hiša Franko counts more than one claim to fame – Ernest Hemingway stayed there while recovering from a gunshot wound during World War I, and possibly even wrote 'A Farewell to Arms' – but the latest is the one that matters. The culinary story of the restaurant begins years before Ana and Valter stepped on the scene, but the chapter that matters the most opens with Valter's father Franko stepping down and giving the keys to the kitchen to his son.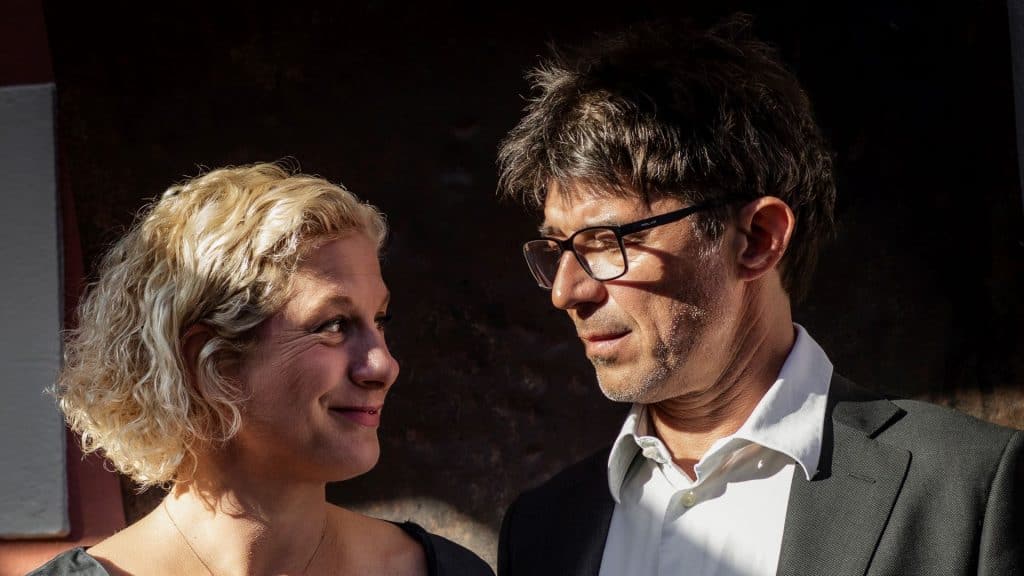 Valter's wife Ana studied diplomacy in Trieste, promptly traded her one-way ticket to a Bruxelles diplomacy job for plating dishes in the restaurant. What prompted such a sharp turn in direction? Ana Roš was born on the last day of 1972, in a well-off, respected family: her father was a doctor, her mother a reporter for Slovenian Delo.
Fluent in five languages, Ana was set to take her place in the diplomatic spotlight after following a straight path to success, and polishing her CV as member of the national ski team and professionally trained ballet dancer. To say that her move to a quaint village squeezed in between steep gray mountains to plate food in a restaurant was a detour is an understatement.
The talented wondergirl seemingly chose a path that lead nowhere. Working with Valter and his parents at Hiša Franko, Ana started out as lowly kitchen help, serving and bussing tables – but not cooking. The only food she knew how to cook back then, she admits, was pasta. Valter's mother taught her how to prepare a couple of basic dishes, and three years after her move to Hiša Franko, Ana suddenly found herself at the helm.
Franko and his wife Joži had been eyeing retirement for a while – and deservedly so. Valter is a one-man show, a majestic maitre d', a sommelier, a food genius. Sure, he grew up in a restaurant, cooking was in his blood, but his love for all things food went above and beyond call of duty.
On the top of culinary world
Ana had a big apron to fill. So how did a young woman with no formal culinary training, without a single day of experience in a restaurant other than her new family's climbed to the top of culinary world in mere 15 years?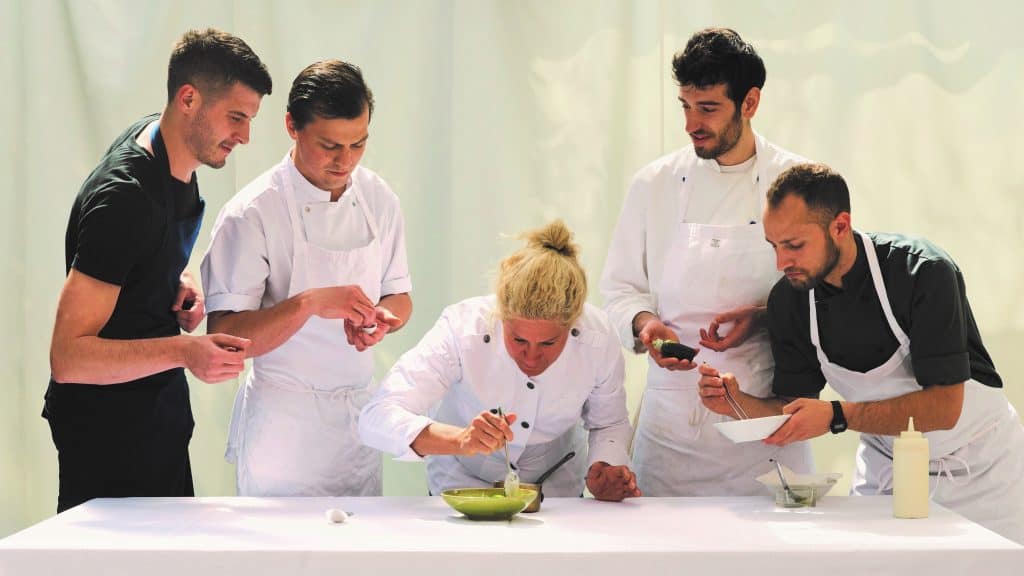 With determination, hard work, vision, ambition, observation skills and talent, that's how. Observing great chefs in their element, soaking in their advice like a sponge and combining the collected, Ana forged her culinary identity – so unique, so bespoke that it cannot be learned, taught or copied. I first visited Hiša Franko when Ana was still in her early chef days; the days of pastas, roast beef, simple dishes and big dreams.
I have been following Ana and Valter's rise ever since, and Hiša Franko is to this day the place where my heart and stomach feel at home. The changes to the menu were so fast and complete they seemed to whirl by. Around 2012 or 2013, something magical happened: the food became more complex, the ingredients absurdly creative, Ana went supernova, rose to the skies and left Slovenian cuisine far behind. Traveling around the world to find inspiration and learn from most celebrated restaurants, the cooking couple realized the core of the business must be a good team.
At that time, Ana turned into a conductor, flushing out even a smidgen of talent in a young cook, adding fuel to that creative fire, and Hiša Franko became a talent nursery, the most elite cooking school in all land. Their yearbooks are written with names of today's top chefs – Ana's sous chef Vladka Cenčić, American Korean chef Emily Walden Harris, Croatian Bernard Korak (son of famous winemaker Velimir Korak from Plešivica), Michael Knight and Leonardo Fonseca, Colombian who breezed through Noma, Kokkeriet and El Chato to finally settle in Kobarid.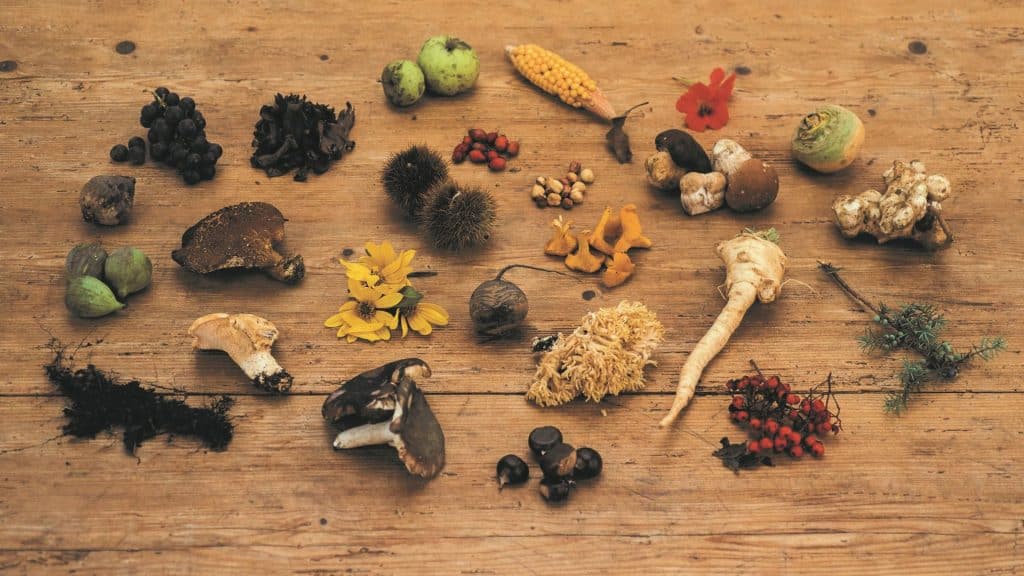 From 2012 to 2015 Ana and her team toured the most important cooking festivals and events, from New York to Cook It Raw to Gelinaz! and so on, until in 2015, they received an e-mail: Netflix wanted to film Ana for an episode of their popular Chef's Table series. At first, Ana was reluctant, but then she decided to open the doors of her home, Hiša Franko to cameras and the crew for a very intimate portrait of her and Valter's life. Those 43 minutes changed their lives.
World's Best Female Chef
There probably aren't many countries in the world from where at least one foodie didn't launch into the culinary adventure of their life spurred by what they saw on that episode. Two years later, Ana was crowned by The World's 50 Best as the World's Best Female Chef and Hiša Franko was listed as one of the best restaurants in the world – as number 69. That year alone, Ana flew more than 150 times and gave more than 500 interviews – to the likes of CNN, BBC and Forbes – spreading the word about the new gastro heaven that was Slovenia.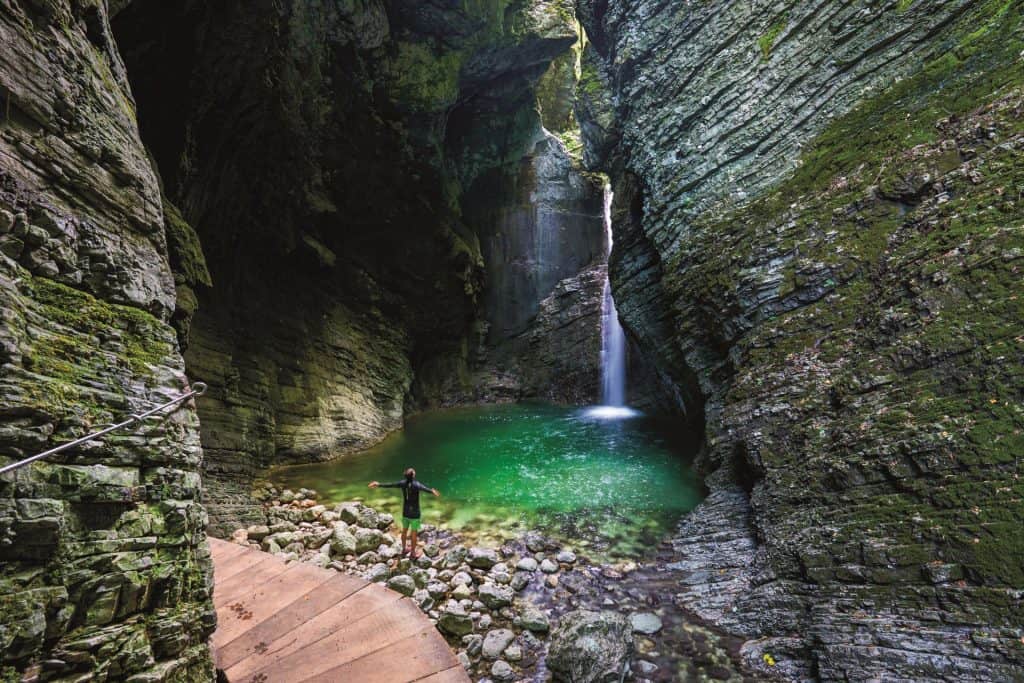 Ironically, she had her go at diplomacy, after all. Valter, an embodiment of the warm spirit of Kobarid, had by then built a lustrous sommelier career, preaching about Slovenian wines far beyond national borders; created a cheese laboratory that lured with scents and aromas like witches' cabin in the woods; and opened an addictively attractive Hiša Polonka in the heart of Kobarid, a place where locals and visitors can enjoy simple homemade cuisine, local wines and craft beer from his brewery, Feo.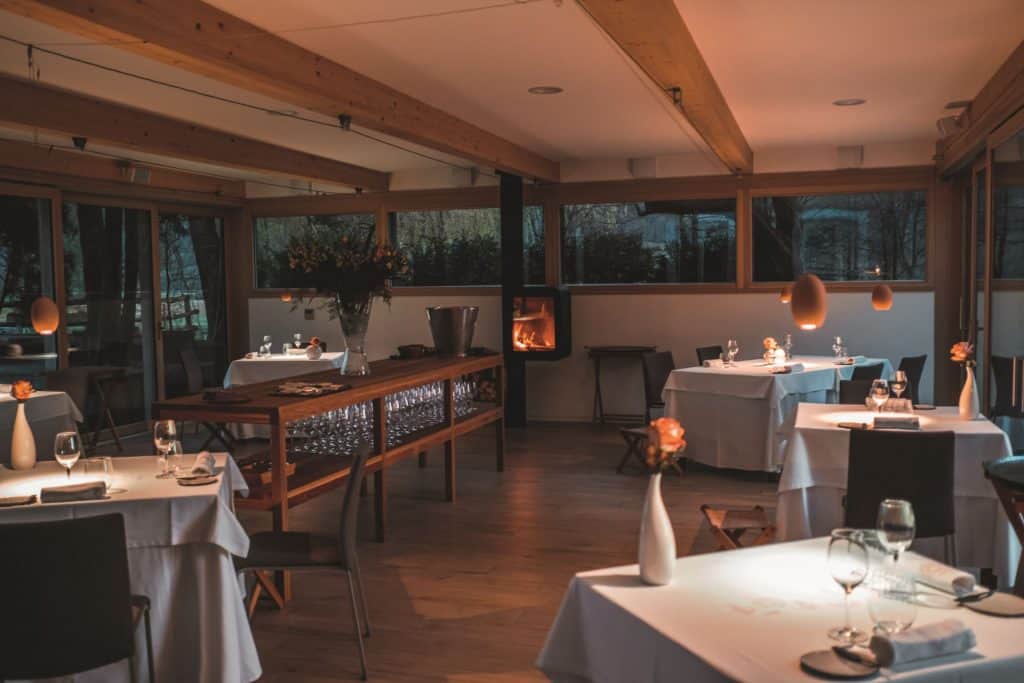 Their efforts were anything but in vain, but the crowning moment came with Michelin inspectors. Hiša Franko was gilded with two stars. 'That visit and the resulting Michelin Guide for Slovenia were unbelievably important, especially since we immediately were awarded two stars. In a small country with no organized tourism efforts, that's an achievement', said Ana Roš at the time.
'Many Slovenian restaurants are oriented on domestic guests, local and seasonal ingredients, and their prices are affordable, which sometimes is not an easy combination, and yet, their creative take on Slovenian national cuisine was enough for refined palates of Michelin inspectors. I am convinced that Slovenia has a lot more to show. We are one of the cleanest, greenest countries, ecology has long been our thing and we grow some unique ingredients you really won't find anywhere else. Their close connection with nature, the local traditions of foraging for herbs and other ingredients, gardening and hunting, as well as presence of many small farms and food producers make it easy for our chefs to find daily inspiration, to give well known ingredients new taste and identity.
I expect that restaurants that were not awarded Michelin stars this year will get them next year, and I hope that this temporary setback will not really set them back, but invigorate them, inspire them to push forward and create menus that will erase any trace of doubt from the minds of Michelin inspectors.'
What is the food at Hiša Franko really like?
But what about the food, you ask. What is the food at Hiša Franko really like? Avantgarde, made from locally sourced ingredients from small farms, micro-seasonal, unique in flavors and creatively presented. In a word, sensational. Is there such thing as sophisticated punk? There is, at least here.
After two years of hard (literary) work, Ana has published her first cookbook, with Phaedon, this spring: Sun & Rain. Named for the life cycle dictated by the river Soča, and not for seasons as one might think at first, the cookbook is mostly Ana's brainchild, with some help from prominent Slovenian food reporter Kaja Sajovič. Fantastic photos by Suzan Gabrijan provide vivid commentary of that off-kilter normalcy that is life of a restaurant.
What Ana and Kaja said with words, Suzan says with images, interpreting life through a lens – and judging by Sun & Rain, Ana's life is a joining of genres. Never trivial, her gastronomic aesthetic realism is colored with rain, winter and mud, sunny mornings reflecting light of the waters of Soča.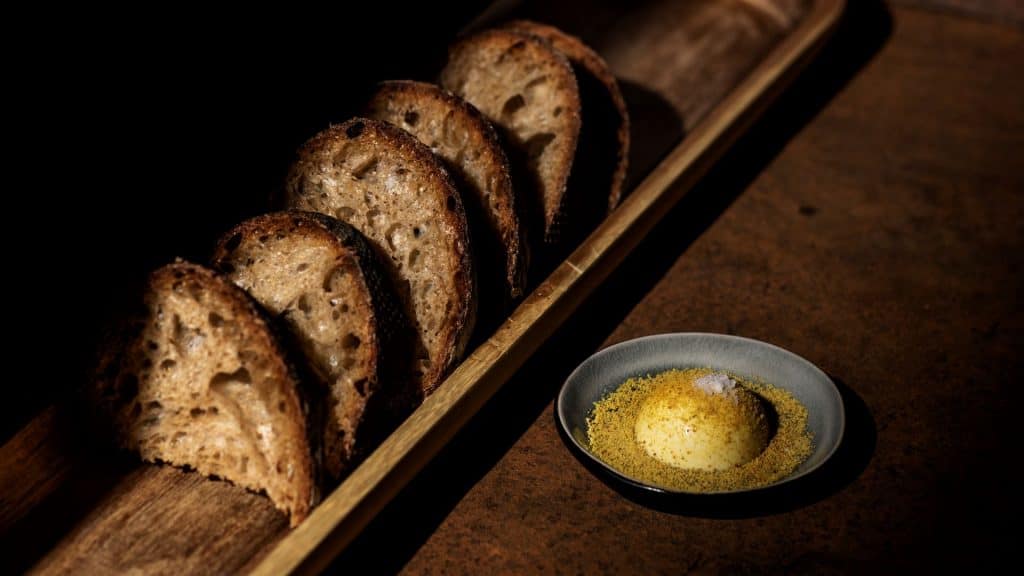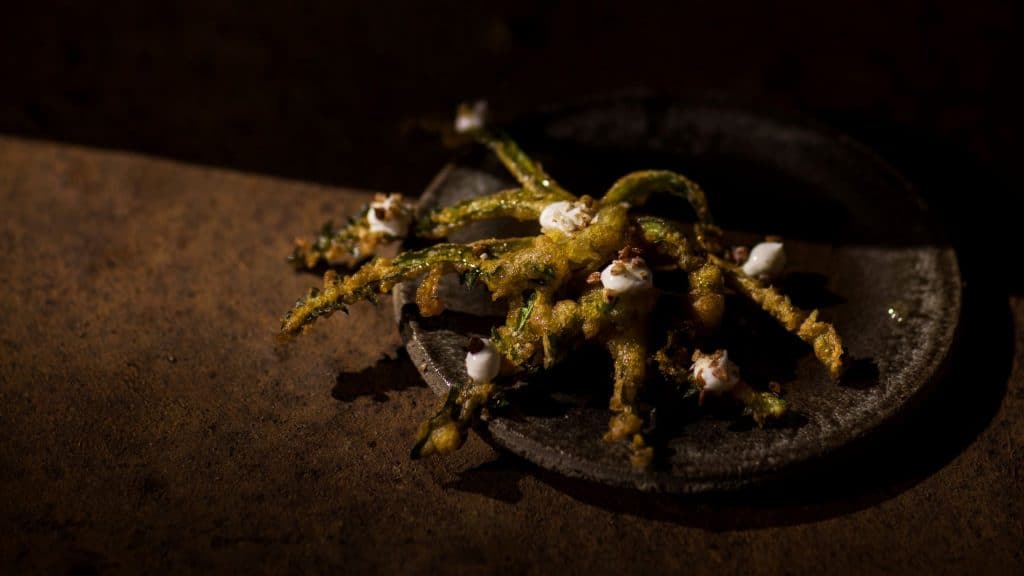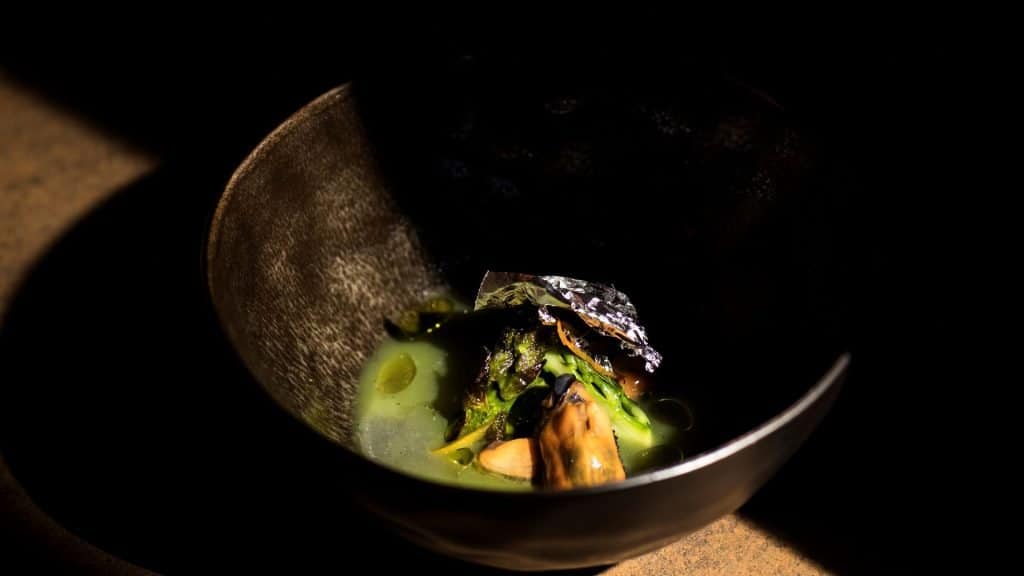 No matter the season, Ana is a strong woman who never idles, who takes on project after project, uses her intelligence creatively, promotes her homeland and its tradition one cow, mushroom or trout at a time, with incessant passion. It may have taken some time, but Ana did become a diplomat and fulfilled her youth's goals. The ambassador of Soča valley created a book that represents the little people of the region; cheese makers, shepherds, herb foragers, hunters, bee keepers.
She writes of her summers spent in Istria, of her kitchen team (always with gratitude and affection), and above all, of her family. Sun & Rain is 250 pages of pure joy, recipes, adventures, photos and snippets of an incredible life in an incredible home that is Hiša Franko. Those among us who have paid the visit to Hiša Franko will read it to reminisce, and those who are yet to visit should take it as an invitation.
Text Hrvoje Petrić
Photos Benjamin Schmuck, Suzan Gabrijan & Archive of Soča Valley Tourist Board