Unique, intensive, passionate, these are the words to describe Istria restaurants, the art of Istrian cuisine and the gastro-story behind it
Regardless of the season, Istria restaurants keeps thrilling its guests with exquisite diversity of its eno-gastro offer, entwined with world-class olive oils and wines. The north-west region of Istria that we visited stretches across a relatively small area and encompasses Umag, Buje, Novigrad, yet fills the heart-and-soul with harmony and content. Six restaurants, six different family traditions, all cherishing the same life philosophy – a great love towards their work.
Morgan Tavern, Brtonigla
There, where the birds sing and a stunning view stretches across the vineyards is the nest of the Morgan family property. Ever since 2009, when they officially started, this tavern has been offering Istrian traditional cuisine, rich meat dishes, Fiorentini, veal, a whole list of game dishes and poultry as well as Peka dishes (open-fire baked dish). Our host Marko Morgan together with his sister Ana, the chef, have brought new innovations and recipes to a flourishing family business.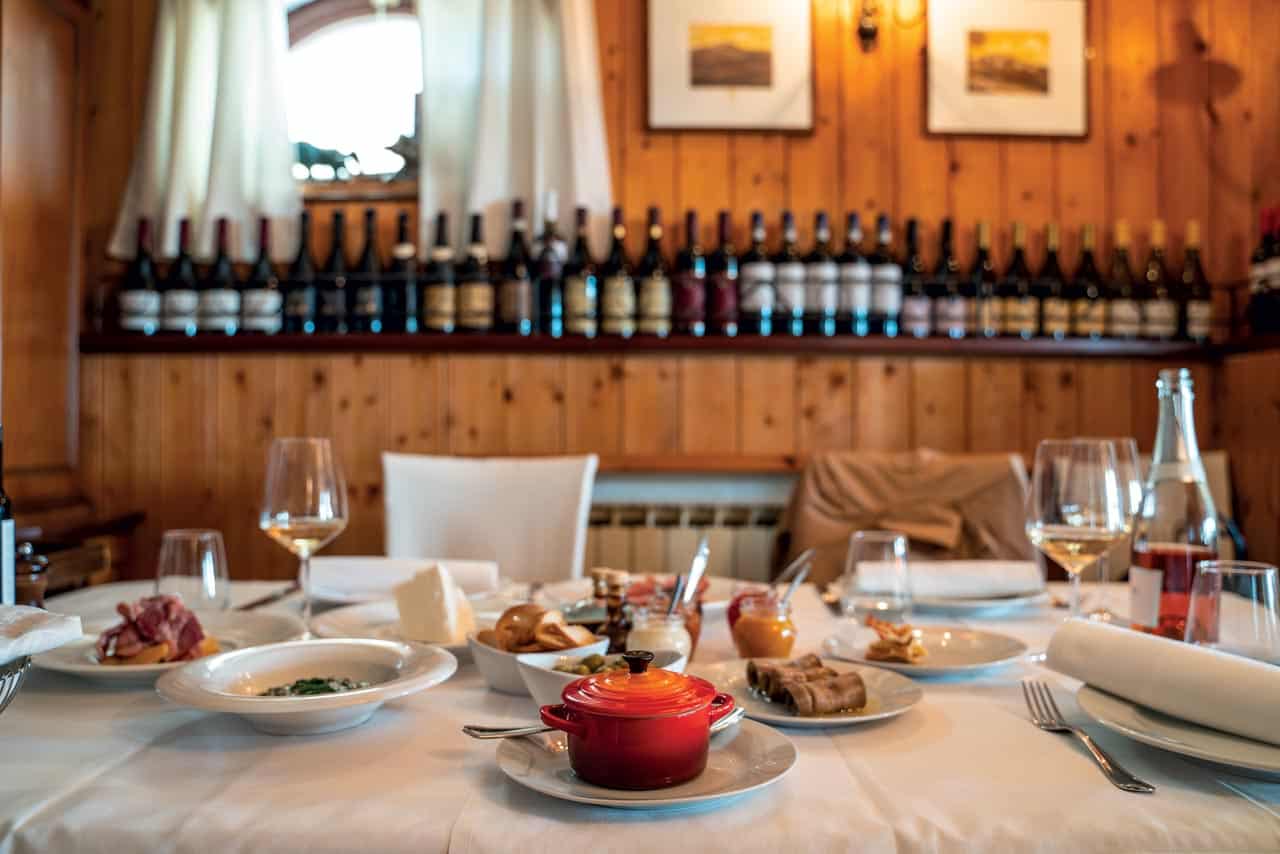 Upon his suggestion, we started off with an appetizer. Inside the cosy modern interior, they served before us good 'farmer-style food' – asparagus frittata, freshly sliced prosciutto, varieties of homemade sheep, goat and cow cheeses – curd, marinated eggplants, pork shoulder blade in bread and mustard/pepper, onion, plum and quince marmalade, as well as homemade horseradish.
Great attention is paid to sustainability using seasonal produce. 'Nono and Nona often hosted Italian hunters who used to gather at our place on Sundays for lunch, made from the game they caught that day. That's where it dawned on us to use this spot and broaden our business', Ana explained to us.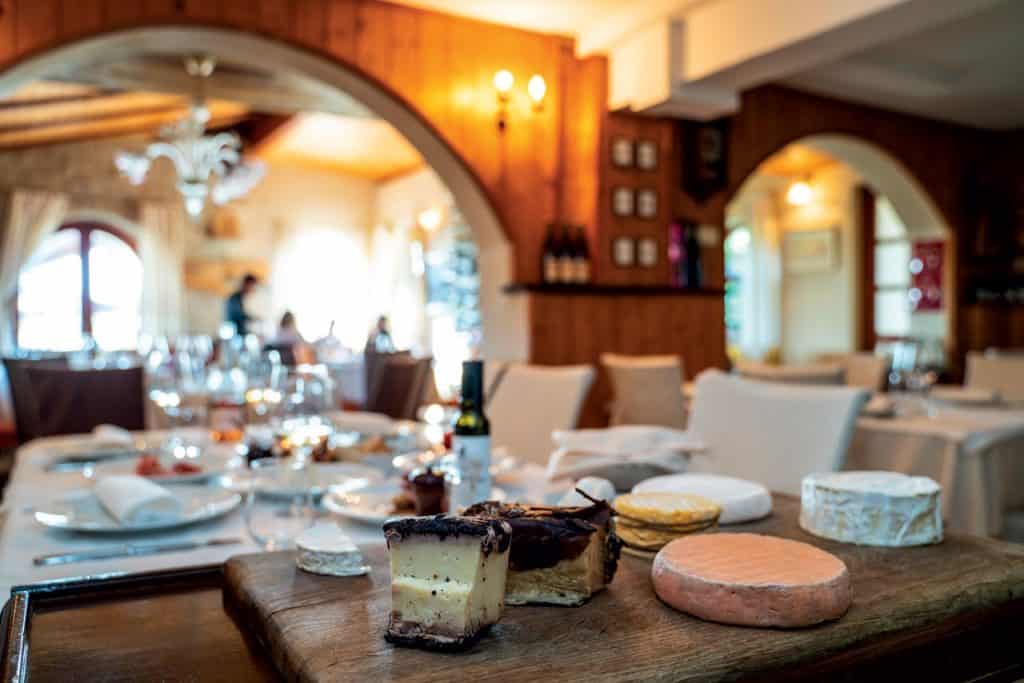 As a chef, Ana is devoted entirely to the None's recipes and added 'those genuine recipes are perfect, nothing needs to be changed'. The sunny afternoon allowed us to indulge our taste buds on their open terrace; we started with goose liver paired with peaches, veal cheek accompanied by gnocchi, and ravioli filled with goose ragout.
You certainly will not regret ordering any of these dishes; impeccably prepared and presented, establishing this tavern as a remarkably ambitious one.
Čok Tavern, Novigrad
The charismatic owner Sergio Jugovac Čok, the proud Istrian, greeted us with open arms on his tavern terrace, which he runs successfully with his wife Vilma, while his son Viljan plays the role of a cuisine virtuoso. Not far from the Novigrad waterfront, Čok serves top seafood, live lobsters, shrimp, and first-class fish, always a fresh daily catch. Luckily, we made an appointment before arriving, because all the tables, in a moderate space of simple design, were taken.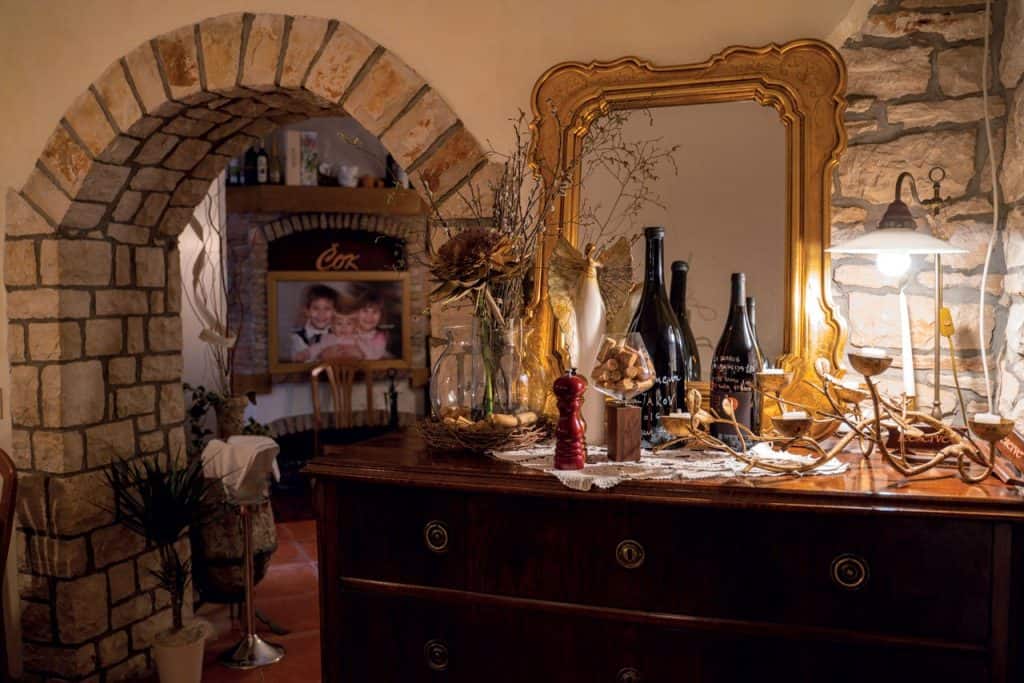 On their way to our table with full hands, our friendly hosts Čok and Vilma couldn't avoid exchanging a few words with other guests. Cuttlefish and mullet carpaccio, white fish paté, mullet tartar, and lavishly speaking, two plates coloured in spring – prawn tails in the company of black truffles on a bed of sheep curd and beetroot plus cuttlefish-beetroot risotto.
Mmmm… an interesting combo, definitely worth relishing. 'We offer the best we can. Regular customers and a Michelin-recommendation for the third year in a row mean we run a successful business', Čok explained.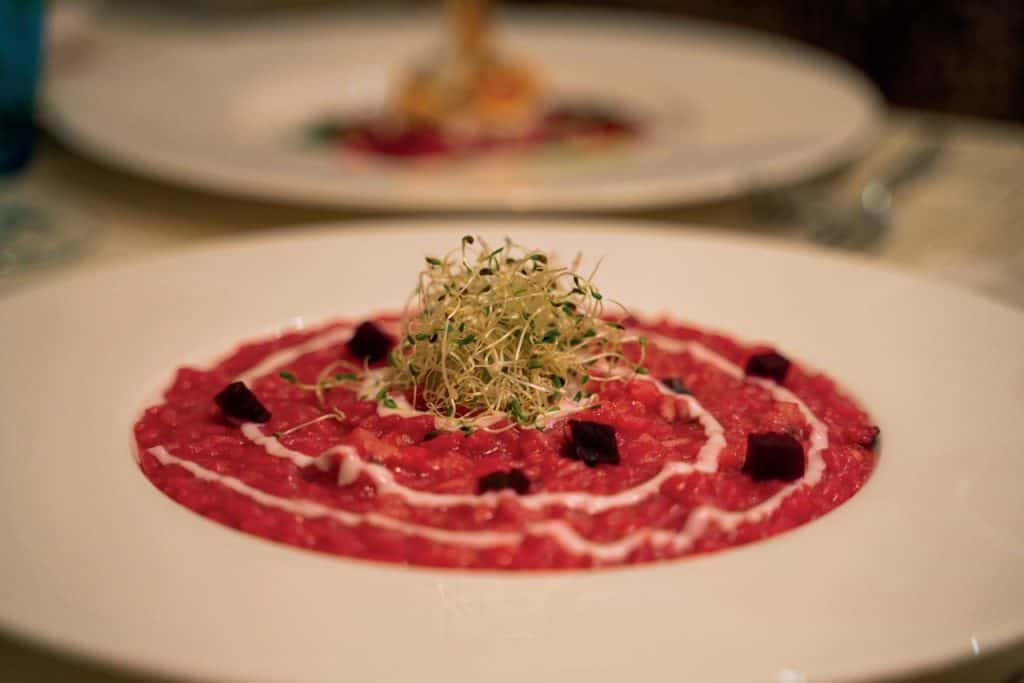 Čok always uses top-quality ingredients, creatively integrated into a seasonal menu. Be sure not to miss Mrs. Vilma's desserts! This tavern offers products from local producers of wines, olive oil, vegetables and other products – proudly showcasing the autochthonous Istrian flavours to their customers.
Damir & Ornella Restaurant, Novigrad
In the Novigrad city core, hidden from the main street, a small family restaurant has settled. Ever since the 90s, it has been cherishing love for seafood. The restaurant holds barely twenty seating places, and the motto 'From the sea to the table' is a tale of unique gastro experiences. It has a pleasant interior design with stone details, old chests of drawers and modern paintings get interrupted by the jingle of the restaurant-cart about to spotlight the appetizer preparation – an esteemed feature of this place.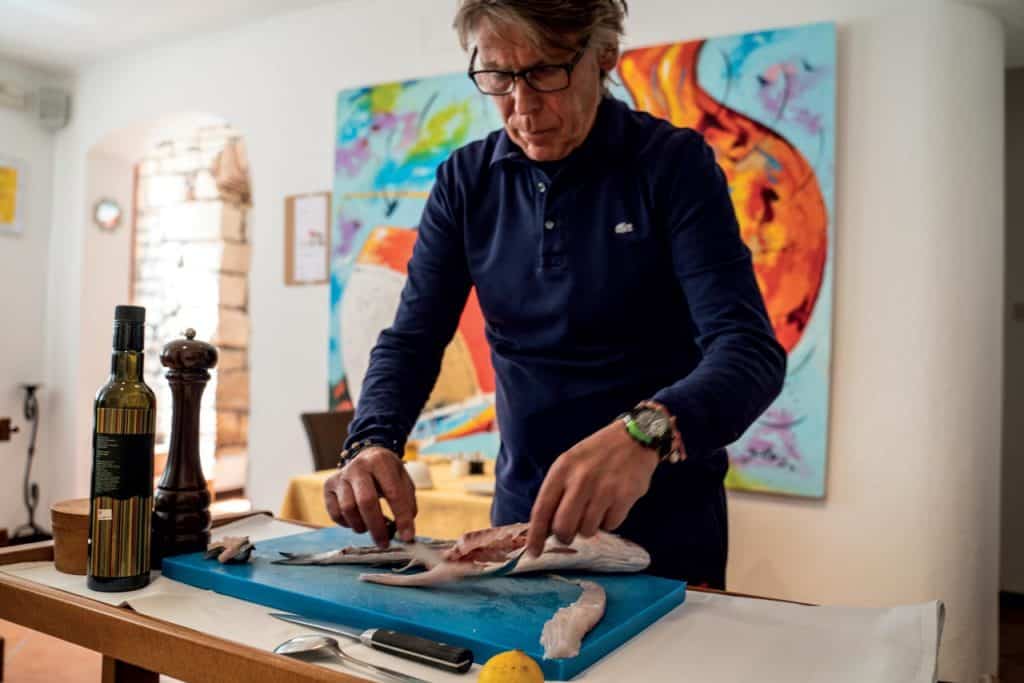 Quick and skilful preparation of the fresh sea bass was performed by our host Damir, using the 'Mediterranean Sashimi' method, sprinkled with olive oil, salt, and pepper, and voilà… before us a fillet with fresh asparagus and polenta.
The mini-size of your dish will deceive you because your taste buds will be treated with a maxi-sensory experience of fresh fish fused with a genuine Istrian Malvazija, a signature of the winery Kozlović. Apart from the raw and baked seafood (e.g. baked Great scallops/capesante), the menu offers also pastry. We savoured homemade spinach gnocchi in a creamy sauce with sea bass chunks.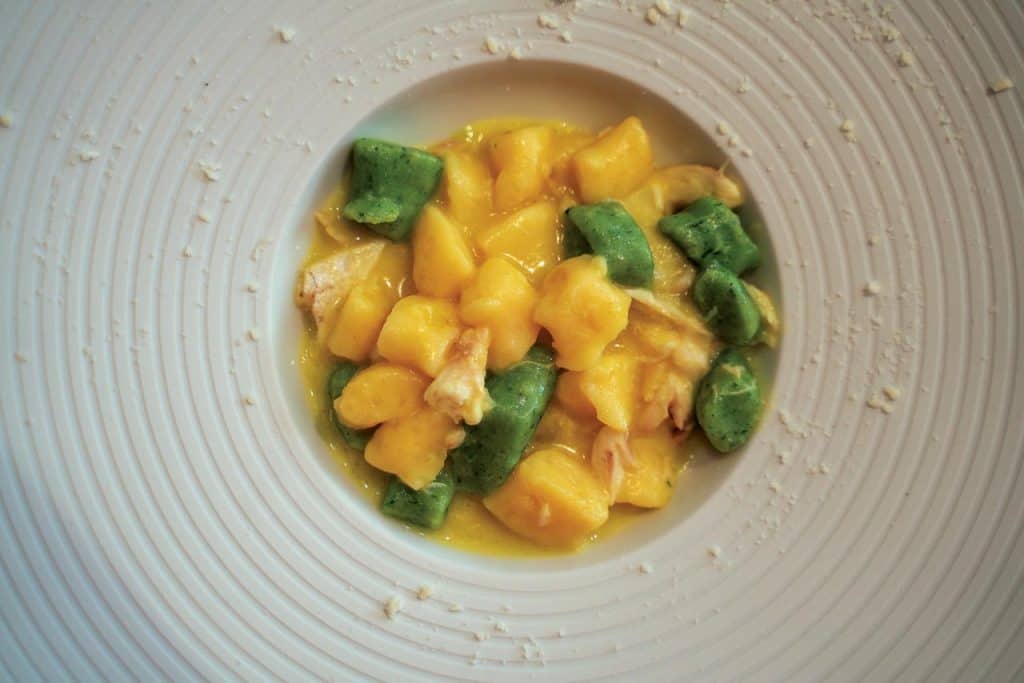 Even though it was hard to find the space, we were not allowed to miss the chance to try their daughter Matea's – a sommelier by profession – sweet treats. Lined up before us were: cremeschnitte reconstruction – a lemon-flavored creme patisserie with puff pastry, crispy apple cake topped with olive oil, white chocolate and raspberry ricotta and finishing it with dark chocolate and orange cake. The embodiment of a five-star experience!
Badi Restaurant, Lovrečica
Halfway between Novigrad and Umag, in a place called Lovrečica, lies a restaurant carrying the family name Badi. For more than thirty years it has been offering a top gastro experience; attracting guests from Austria, Italy, Slovenia, and all of Croatia.
It has a modern interior, cosy atmosphere and excellent service – in two words: sophisticated and discreet. This high-level seafood restaurant, which also has the likes of beefsteak, lamb cutlets and duck breasts on its menu, differs from others through their technical and presentation elements.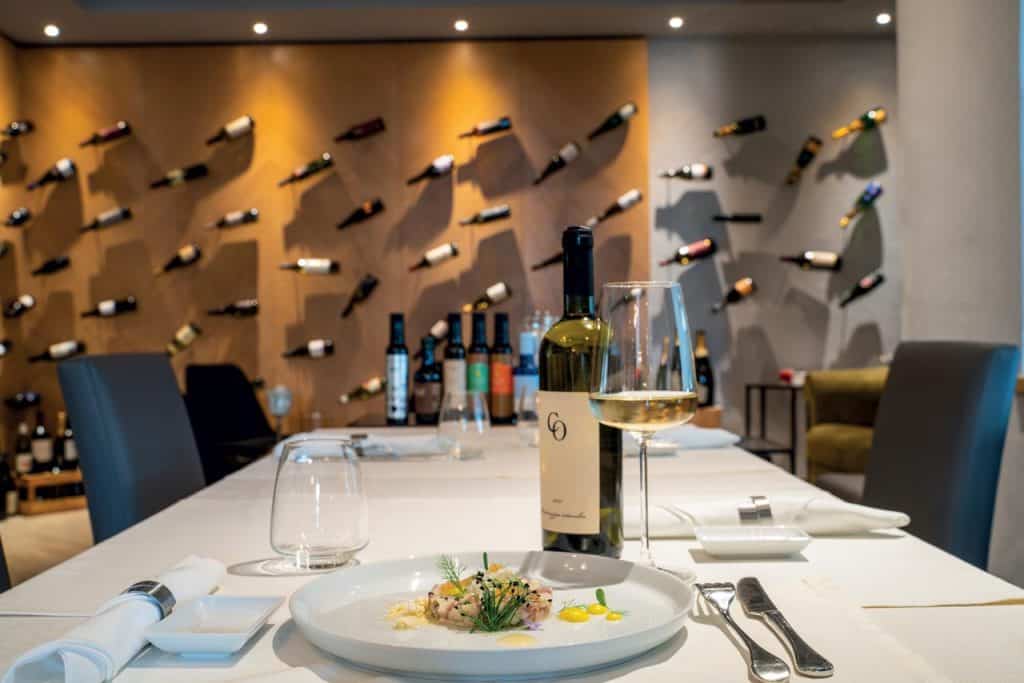 Ivan, the restaurant manager, owner's son and our charming waiter for the day presented the restaurant's philosophy through the tasting menu, designed according to their choice. We started off with white seabream marinated tartar accompanied by scallions, grapefruit pearls, olive oil powder, citrus fruits cream and peach gel, baked shrimp coupled with sunflower powder and sesame seeds, green apple gel, pickled radish, and kale cream.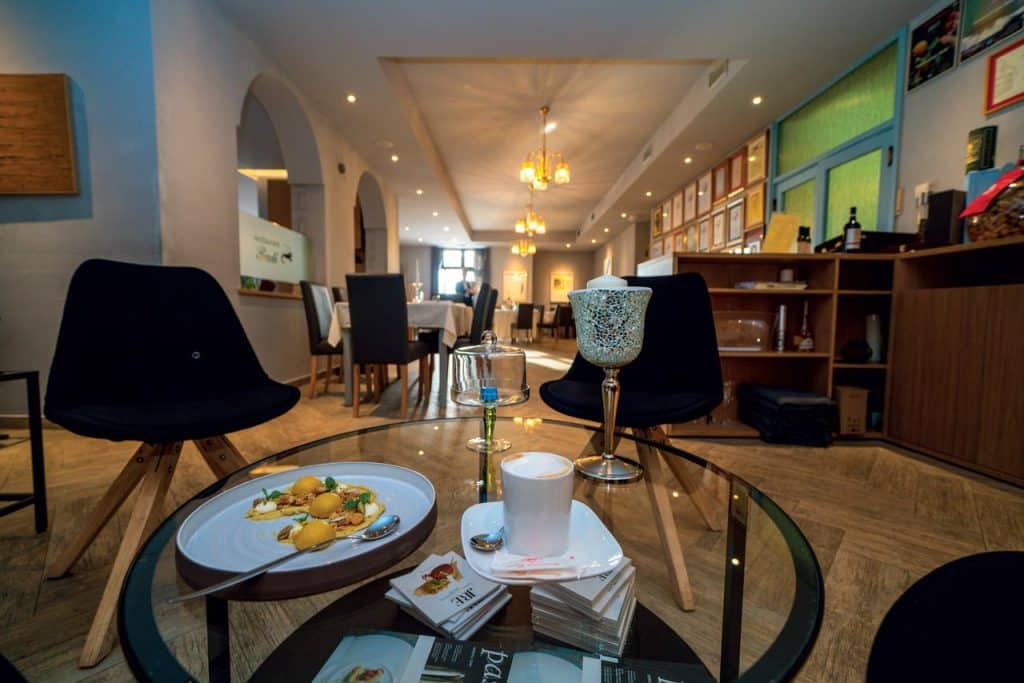 The next to be served was a cuttlefish tapenade, barley fused with bay leaves, caramelized onion cream plus cuttlefish-black-ink mayonnaise; sea bass fillet in homemade salsa with baby spinach, caramelized cherry tomatoes supported by lobster mousse, all wrapped up in homemade tortellini filled with salsa, stir-fried European lobster and European lobster soup. An exquisite menu and experience, with unforgettable flavour combinations. However, we still couldn't resist the final dish – a deconstructed pistachio cheesecake. Definitely, the best dessert we have ever tasted.
Bušćina Tavern, Bušćina
Preserved autochthonous values of Istria is what you will experience in Bušćina Tavern. The friendly owner and chef, Fabiana Mijanović, welcomed us to her warm, rustic traditional Istrian house. For more than twenty years she has been living her dream and sharing her passion for cooking with all who appreciate and are intrigued by traditional and genuine Istrian cuisine. Creatively made local dishes, whether meat or fish, follow the seasonal ingredients, meaning there's always a chance to try something new.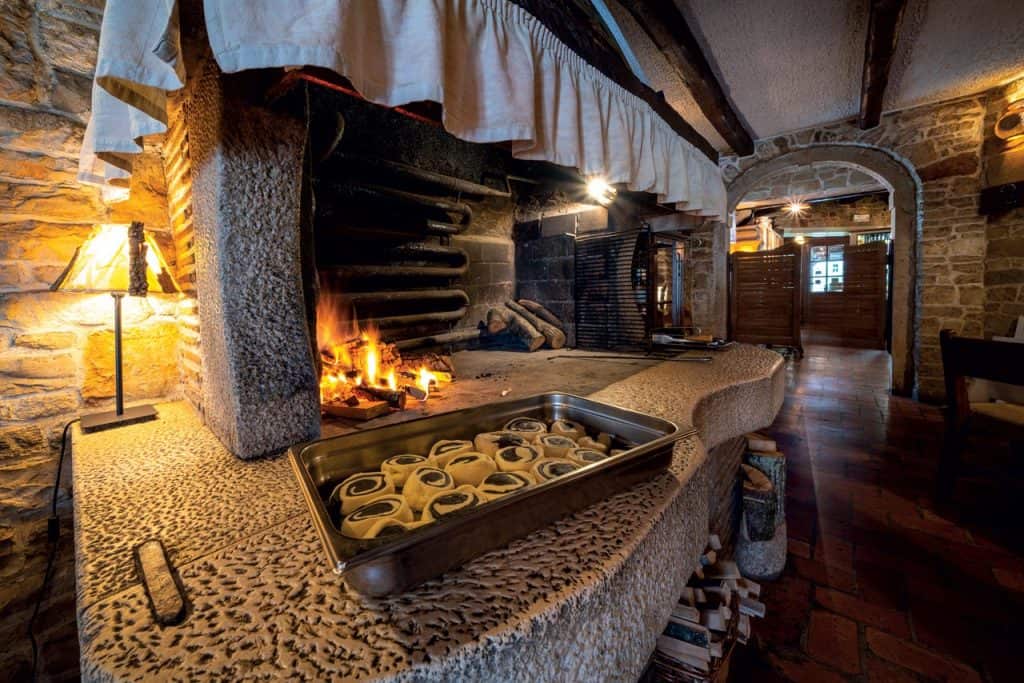 We followed our hostess's recommendation and dived into the flavours of our first dish. Raw Kvarner shrimp served in red grapefruit, curd with fig marmalade, Mediterranean plants cream, dehydrated beetroot, and carrot plus Teran aromatized salt – all Fabiana's creations.
The intriguing bitter-sweet blend was paired with Malvazija Bušćina, edition made by the vinary Cuj especially for the tavern's needs. The gastro-symbol of Istria is definitely 'fuži' (noodles) with truffles, and our next course. The intensity and truffle aroma, you either love or hate, nothing more to add. We definitely enjoyed it.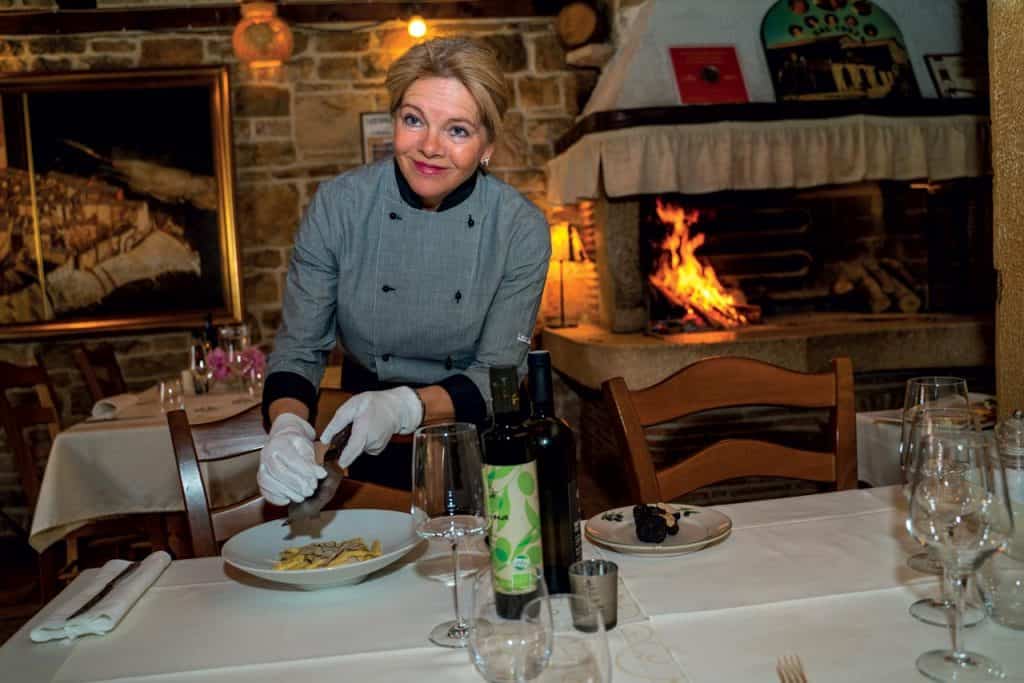 A pleasant conversation over tasty bites led us to the insight of the artist behind the paintings hanging on the stone walls, some of the works by Fabiana herself; who also deserved all the credit for the grilled rump steak, that previously sat thirty days in a special sauce. The perfect pink piece of meat, tender and rosy all the way through, with the only supplements – olive oil and warm bread, created an impeccable gastro-dance causing a mouth-watering sensation. Passion and dedication represent a special touch of this tavern. Highly recommended!
Zigante Restaurant, Livade
If you are fond of aromatic delicacies – truffle mushrooms, you should definitely drop by the tiny village Livade and Zigante Restaurant which holds a position most metropolitan restaurants would envy.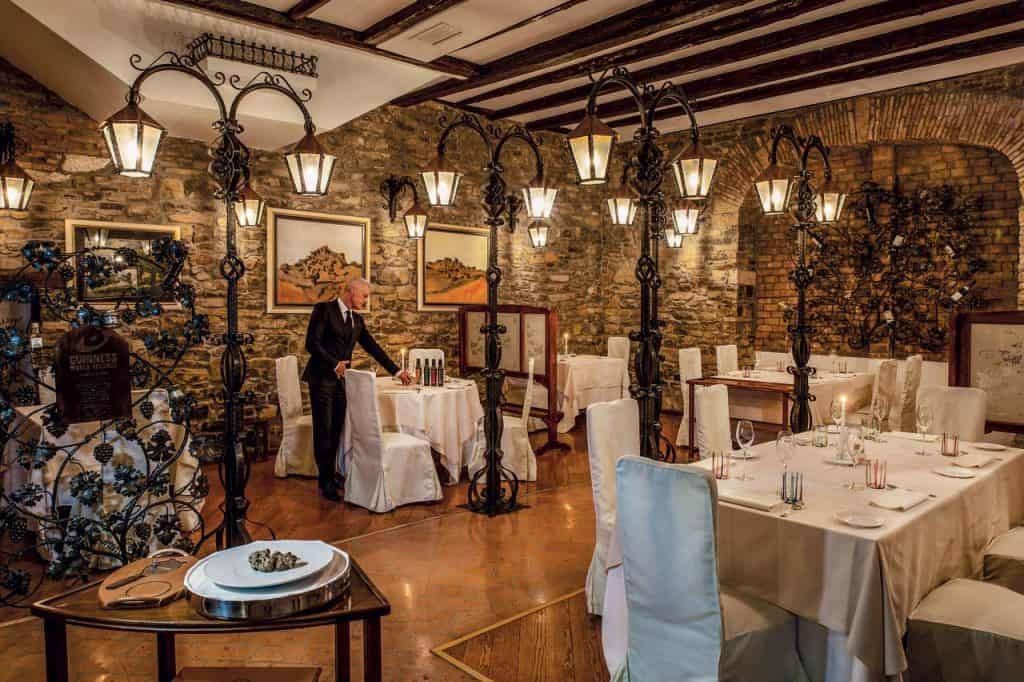 The authenticity and originality of this place are apparent at first glance, right before you enter, the words 'Tartufo Vero' are inscribed, which guarantees Istria's high standards of serving the delicacy.
The restaurant offers a carefully designed menu based on fresh truffles attuned with the truffle picking season. Fresh black truffle meals are on the menu year-round, while white truffle dishes are offered only from mid September 'till the end of December.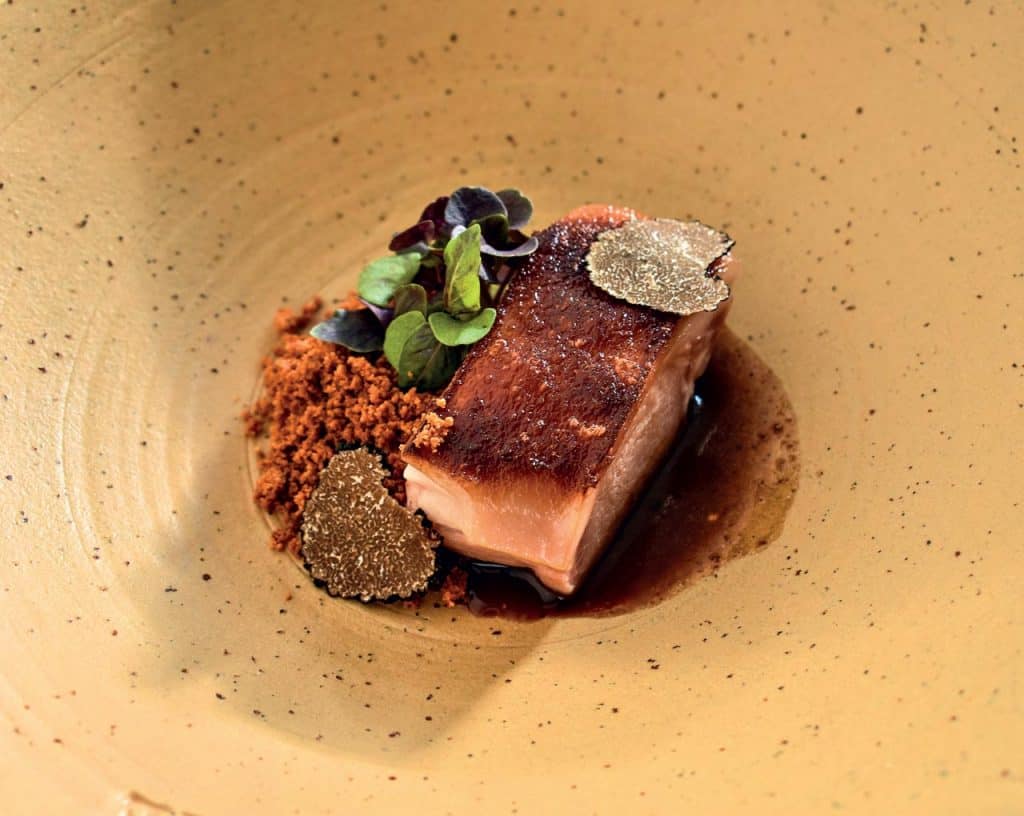 For a full truffle experience, the restaurant organizes 'truffle hunts' led by a truffle-master hunter and his specially trained four-legged companion. Remark: finders keepers! As an extension, the restaurant offers accommodation in a renovated Istrian stone house with modern, fully-equipped rooms.
Photos Mario Jelavić, Zigante