Ferretti Yachts embodies the most authentic Italian nautical tradition, featuring innovative choices, the highest quality production and technological know-how
Thanks to the formidable combination of expertise and know-how, Ferretti Yachts has been the leader in nautical industry since 1968, currently covering the flybridge sector with planing vessels from 45 to 96 feet which are objects of desire for boat owners all over the world. This success was initially based on the foresight of the company's founder, but in fifty years it has grown thanks to the work of architects, engineers and designers to reach its current leading position. Today, engineering and R&D co-exist with the craftsman like spirit which every boat keeps intact, confirming their thoroughly Italian origins. Ferretti Yachts was founded in 1968 when brothers Alessandro and Norberto Ferretti created the first nautical division in their family company, a dealership specialised in luxury car. Three years later, in 1971, the Genoa International Boat Show gave a warm reception to the first vessel, a wooden motor sailer equipped with both sail and engine. At ten metres in length, it was particularly comfortable and safe for cruising. In 1975 the Ferretti brothers abandoned the automotive sector in order to focus on the yachting world. The next decade saw a great change, with the shift from sail to motorised propulsion. In 1982 Ferretti Yachts presented its first vessel powered only with an engine and began building sport fisherman type craft, open and flybridge, which demonstrated the revolutionary changes still used today: the stern platform, the tilting windows which open onto the cockpit from the lounge, and the internal passage between the lounge and the flybridge.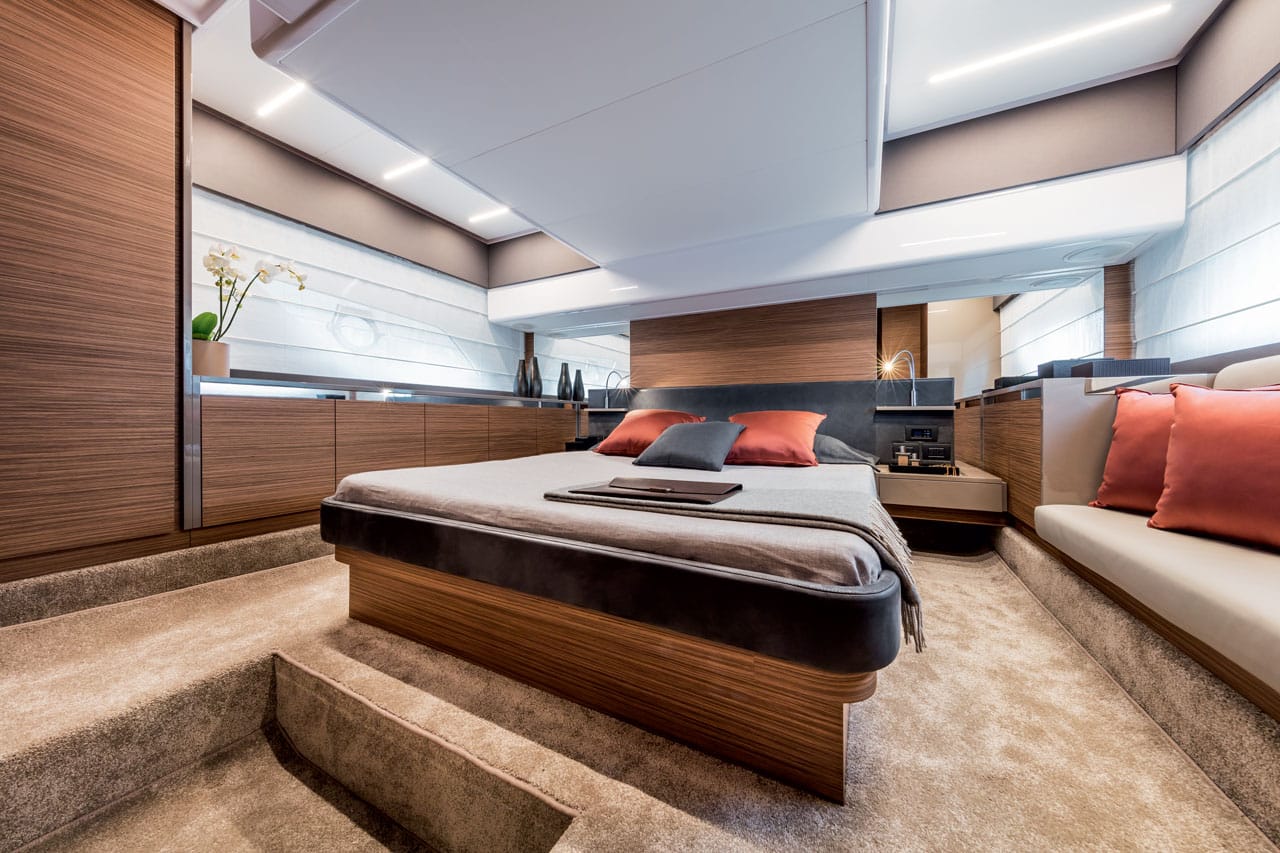 The 1990s mark significant investments in research and development applied to naval engineering, leading to the birth of the company's Engineering Department and winning performances in offshore competitions as well. In the years which followed, the range further expanded thanks to design and stylistic solutions which were always original and appealing, eventually resulting in the current fleet, which is continuously renewed in order to ensure the inarguable aesthetic and technological supremacy. Ferretti Yachts has made comfort the cornerstone of every design and stylistic choice. Comfort also means safety. Comfort is increased by the intelligent design thanks to ergonomic solutions for engine room soundproofing, climate control systems which allow the temperature of each area to be set individually and stabilisation systems to reduce roll. The large windows, also designed to the highest safety standards, offer a unique contact with the sea which can also be viewed from each of the guest cabins. The harmony between the boat's spaces, materials and its guests is Ferretti Yachts' design concept, expressed externally with modern and functional lines, and in the interiors with the highest quality furnishings and unsurpassed on-board liveability. This is thanks to the innovative ideas and constant research of Zuccon International Project Studio and the shipyard's architects and designers.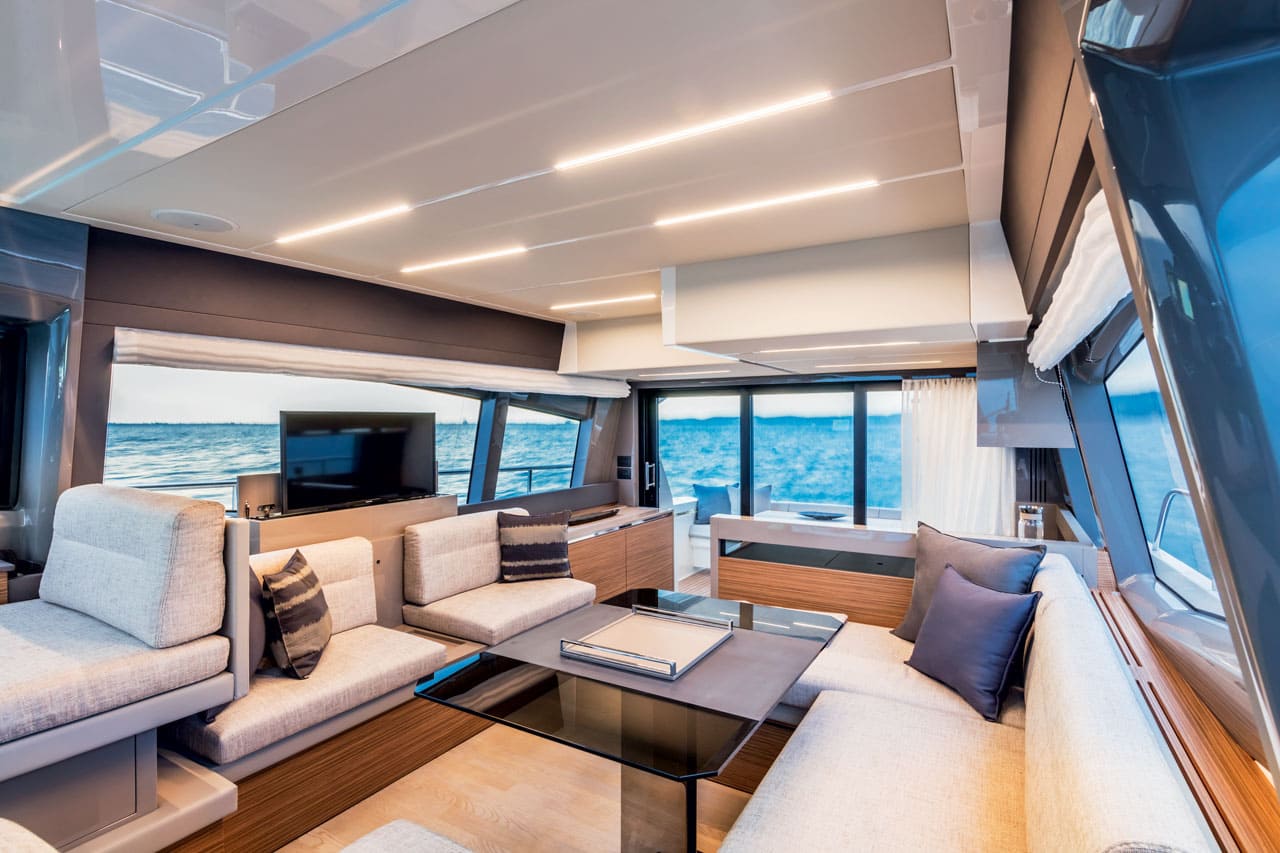 The Ferretti Yachts range currently consists of the following models: the flagship Ferretti Yachts 960, Ferretti Yachts 850, Ferretti Yachts 700, Ferretti Yachts 650, Ferretti Yachts 550 and the Ferretti Yachts 450. In addition to these are the new designs Ferretti Yachts 780 and Ferretti Yachts 920 that had a world premiere at Boot Düsseldorf. The Ferretti Yachts style features a classical yet contemporary design which combines traditional taste, dictated by continuity with the lines established over the brand's history, with aesthetic and functional elements taken from the most advanced design. On the other hand, the interiors of the entire fleet offer many layouts to match the range of different lifestyles at sea all around the world and satisfy the requirements of any boat owner. Ferretti Yachts crosses the landmark finish line of fifty years in business by signing a prestigious sponsorship agreement with the motorcycle racer Andrea Dovizioso. Alberto Galassi, CEO of the Ferretti Group, warmly welcomed this agreement: 'Seeing these two champions of Italian excellence coming together makes me extremely proud. We wondered for a long time what would be the most appropriate way to celebrate the 50th anniversary of Ferretti Yachts, and the sponsorship of Andrea seemed like the most natural and most rewarding choice for one of our best-known brands. Andrea is a 'product of excellence', if I may put it that way, of our local area. His courage, his personality, and his talent are the same qualities that have led Ferretti Yachts to produce world-class boats.' It seems that 2018 is going to be a great year for this outstanding motorcycle racer and for this extraordinary yachts.
Photos by Ferretti Yachts