Cap Aureo is the flagship of Maistra's restaurant portfolio and since its opening has been setting high standards for the fine dining scene. The art of haute cuisine comprises put-together culinary philosophy and local ingredients, a great team that runs like a well-oiled machine and a chef that is not only a visionary, but also executes his vision to perfection
Jeffrey Vella's reputation as an extraordinary chef and promotor of contemporary cuisine in Croatia was unquestionable ever since the first dishes he cooked at Zagreb's Esplanade. Nearly 13 years have passed and the tireless spirit of this Maltese national is scaling new heights, opening the minds of gourmands flocking to Rovinj's Cap Aureo to unheard-of culinary pleasures.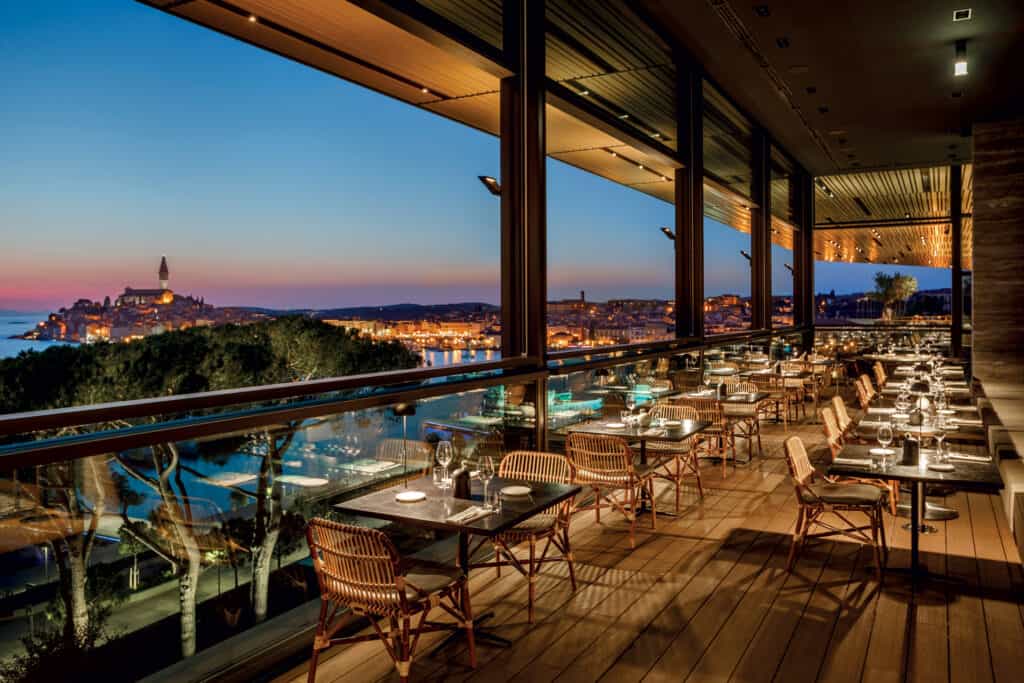 Located on the fifth floor of the majestic Grand Park Hotel Rovinj, Cap Aureo is the flagship of Maistra's restaurant portfolio and since its opening two years ago, it has been setting high standards for the fine dining scene.
The Grand Park Hotel alone will take your breath away when you see it for the first time. Cap Aureo consist of two parts, one of which features a glass wall terrace overlooking the marina and the old town of Rovinj and it is the first one to get full.
Guests enjoy the unforgettable view and picturesque colours and as the sun sets, the flavour theatre puts its show on display. Open kitchen means that guests get to witness meals being prepared and the chef's table is located right next to it.
The minimalistic space is simulated on the table setting as well. The same neatness, concision and perfectionism are reflected in each new dish we taste. The basis of Cap Aureo's kitchen is the ingredient and its location. So, the Chef's trained eye chooses the best of what Istria has to offer and then the young team moulds it without aggrandizement.
Harmony and whimsy in unknown tastes and textures of well-known ingredients. The menu is mainly plant-based, but there is always room for a scrumptious portion of fish or oysters from the nearby Lim Channel, as well as a delicious piece of meat.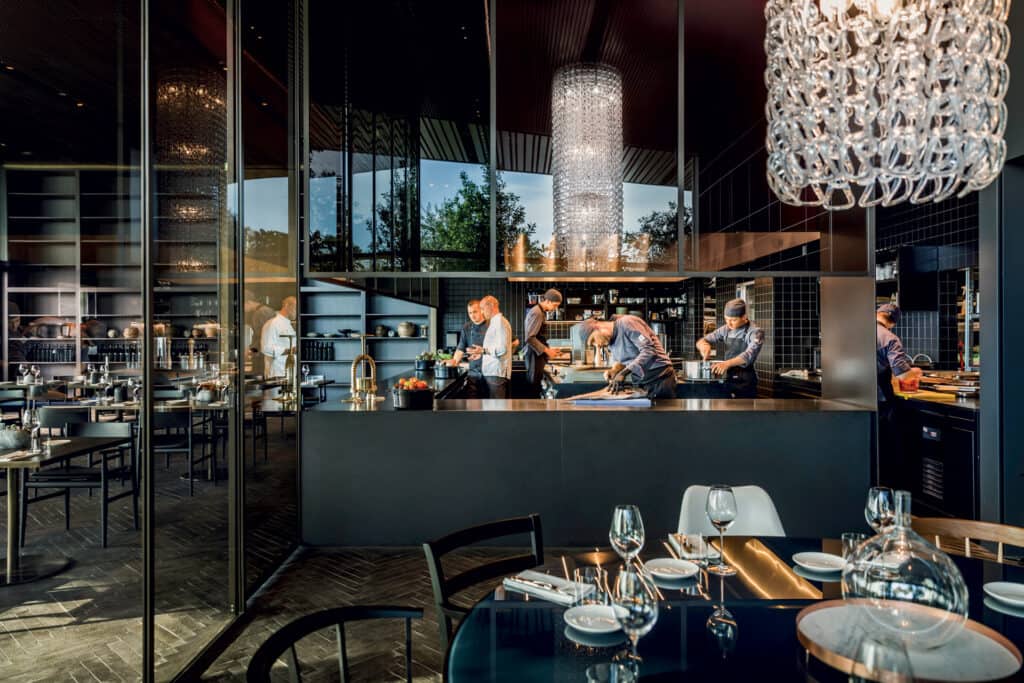 The 'Cucina povera' is doubtlessly their inspiration, but it takes more than a put-together culinary philosophy and local ingredients for a fusion to work. The success of the art of haute cuisine depends on a number of factors, a great team that runs like a well-oiled machine and a chef that is not only a visionary, but also executes his vision to perfection.
As Jeffrey has found his home in the hamlet of Maružini near Kanfanar, which is home to some 80 people, and as he is, as he says himself, quite happy with his life in Istria, we believe that this is merely the beginning of his culinary adventure that will put Istra on a culinary pedestal.
We have followed the steady growth of Cap Aureo since the first day. Two or three dishes have turned into classics and it is good that they are available year-round, with slight modifications. Other dishes change relatively quickly and constant touch-ups are done to the menu, both due to changing of the season and due to the myriad creative ideas that make it to the menu after a period of testing and perfecting the dishes.
As the Grand Park is also home to what is probably the best bar in Croatia, young barmen have designed several cocktails served as aperitifs and digestifs at Cap Aureo. We highly recommend ordering a glass of champagne or sparkling wine.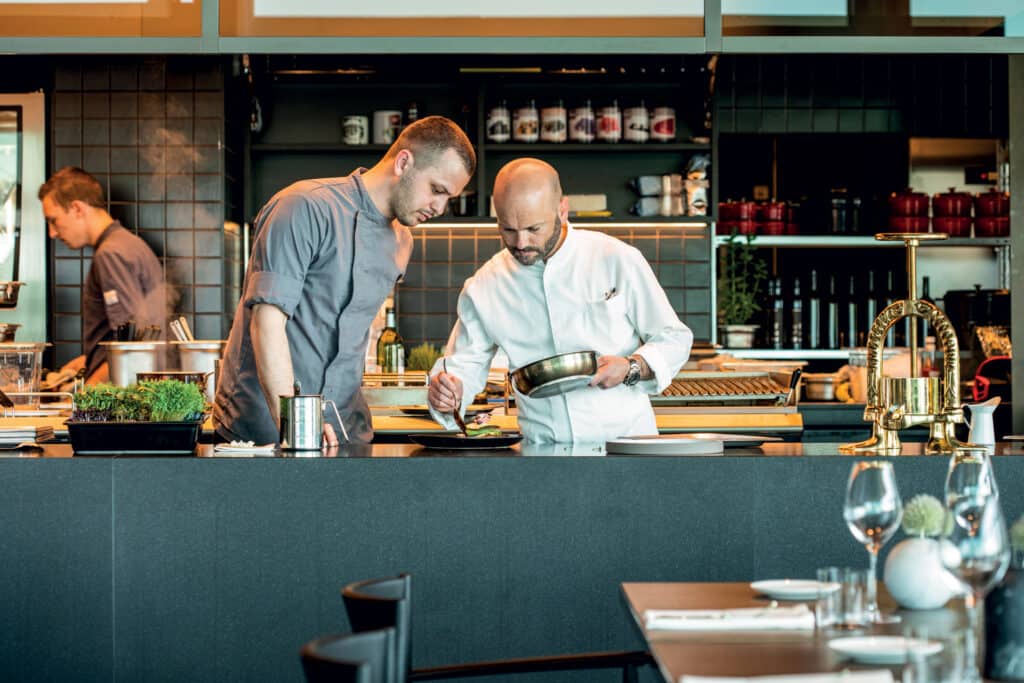 A few amuse bouches to get us started. Sweet corn – crème or popcorn, followed by carrot in two ways: tartar and pickled. Next, we have roasted Portobello mushrooms, pickled chanterelle and shaven caps. This grand opening will win you over with its elegance, visual composition and an exciting play of simple ingredients. A strong and certainly tasty follow up is leeks and mussels from the Lim Channel. Roasted with local juniper and vanilla, simmered with Slavonian kulen and grappa, which gives it a kick and some saltiness, and finally salted pig from Jeffrey's artisanal oeuvre.
Our favourite new dishes are barbecued asparagus with ramson and barbecued Lim Channel oysters with sautéed rabbit kidney. A singular and multidimensional dish. A classic that we've previously mentioned is a take on the legendary Italian dish Cacio e pepe the likes of which you've never tasted before – paired with squid and gambero rosso, shaven bottarga washed with a green tea martini. Exquisite. Another new addition to the menu that blew us away was the butter warmed Novigrad scallops, absinthe poached turnips – crumpet and sauce made out of 30-month old Veli Jože cheese by Latus Dairy, topped with Oscietra caviar.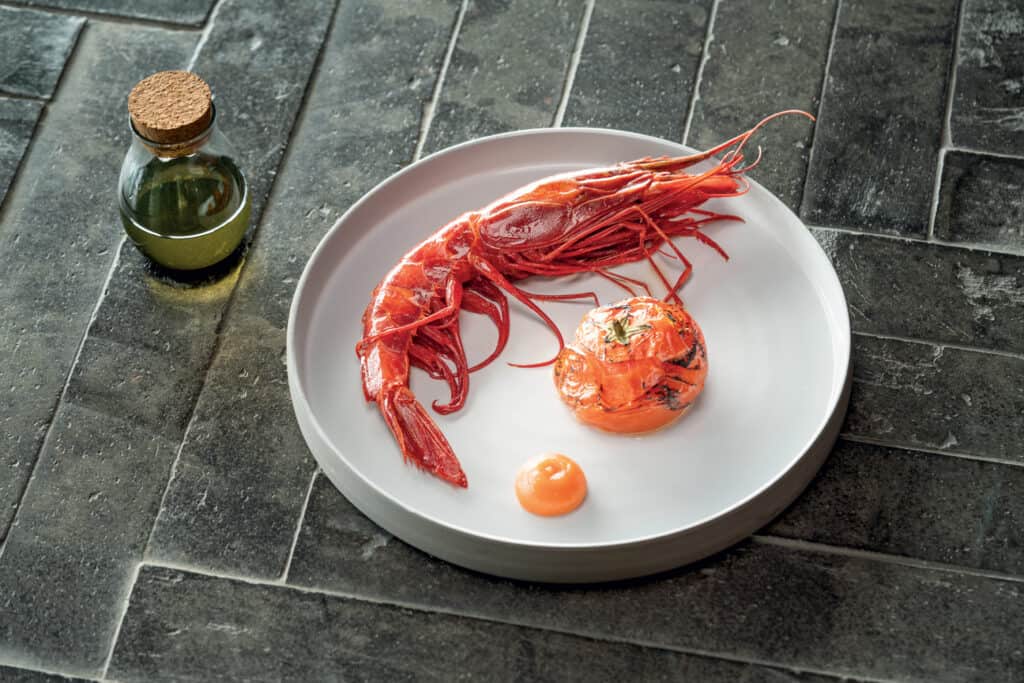 A touch of luxury permeates the restaurant's pleasant ambiance and the choreographed sommeliers and waiters led by Mr Željko Lozančić. For the grand finale, we suggest you try the refreshing Straw & berries – Strawberry and fennel seed sorbet with strawberry 'straw', strawberries and lemon verbena gel. Cap Aureo's tasting menu is not strictly defined; instead, the menu consists of 20 stories, dishes, and it's up to you to choose as many as you want.
Wine pairing will also be tailored to your selection of food unless you already have your eye on one of the many wines from the great wine list. The list has recently been updated and expanded to cater even for the more demanding palates. Young sommelier Maja Hrastinski, whom we had the pleasure to meet in renowned restaurants such as Boškinac or Restaurant 360 in Dubrovnik will explain each wine down to the last detail or recommend the best option based on your preferences.
Cap Aureo has turned into one of the best restaurants in Croatia in a short period. Chef Jeffrey Vella and his sous-chef Ivan Koprivnjak prepare exhilarating and delicious food, truly one of a kind because it is difficult to compare it to anything else. Each new visit is a new gastronomic experience, virtually unmatched in Croatia. If you haven't had a chance yet, dare to visit them as soon as possible because they are definitely in their cooking prime.
Photos Cap Aureo