At fifty years of age, Josip Stojanović Jolly has nearly thirty years of business experience; today he is building a new hotel, spreading his Mercedes network in Dalmatia and retirement could not be further from his mind
Entrepreneur from Šibenik, Josip Stojanović Jolly, has an impressive, almost 30 years long business career behind him in various business spheres. It is no secret that Jolly, as everyone calls him, has a nose for business. He speaks of his beginnings: 'My first venture was a discotheque and we became known when Mišo Kovač held his concert there. His fee at the time was 200,000 Dinars, which is 20,000 Euros now. The price was fine but Mišo asked for 80,000 Dinars in advance. A friend of mine managed a liquor discount store in Šibenik and gave me two truckloads of drinks to sell on Visovac Island. We made exactly 80,000, and I took this money to Mišo in Tribunj. When I told him that his fee was a bit high, he agreed to reduce it to 170,000 should the concert fail. Sure enough, the event was a huge success… it was just a meadow in Miljevci, whoever wanted to jump the fence, could have; but nobody did and we ended up with 3,500 people who all paid their tickets. The offer of drinks was simple: Jure wine, beer, mineral water and cola. We had 18 waiters from Šibenik taking more for themselves than they gave to the boss and goods on debit were not an option. My main task was to just take the sale money from them. We paid Mišo and the drinks, and since that day, whoever came to the location knew Mišo was there – they knew neither of Miljevci nor of Amadeus Discotheque.'
When was this?
In 1987, and I opened my first store in 1989, it was the first private store in Drniš and the second in the county. Then I went to war and after Miljevci was freed, I started to work. I went once again, for the Operation Storm: my entire company was called to war, and I volunteered. I keep all the critics quiet, I tell them – I didn't see you in Knin where I was among the first to arrive. I lost everything in the war: two stores in Drniš over night, I and my father were left with 10,000 German Marks each. I used this to make a new start in Šibenik; at one time we had 32 members of my family stay with my grandparents, in exile, sleeping on the floor. My grandfather cut 14 prosciuttos for them.
You have been so successful in many business aspects. What is your recipe?
I have always been feared and respected without knowing why, I was trying my best to be ordinary. My warehouse worker has been with me since 1992, when I opened my first store. We were just remembering a story when the German Mark dropped from 4.44 to 3.70. You buy at 4.44 and need to sell at 3.70, the company was in panic. A worker came to tell me – 'Boss, we have all agreed to work 6 months for free.' This was not necessary but it was a beautiful gesture. It meant so much… I was always stern and fair. I would do anything for a hard worker, even my blood; but the slackers are not tolerated. I am on first name basis with all of my employees and I know them all. My companies now employ 400 people. There used to be 750, when I sold my stores I decided to never have over 50… But humans are creative beings. I could have retired long ago, but I am not that type.
Why did you start in automotive business, are cars your passion?
This happened accidentally, not out of love. I would never have begun with this if Mercedes dealers Škojo and Gašparić were not at war. I was friends with Gašparić and lent him some money. Then I bought Zadar, followed by Split. This is now my favourite venture, I am always on the move, in contact with people. I love my hotel but I would never go back.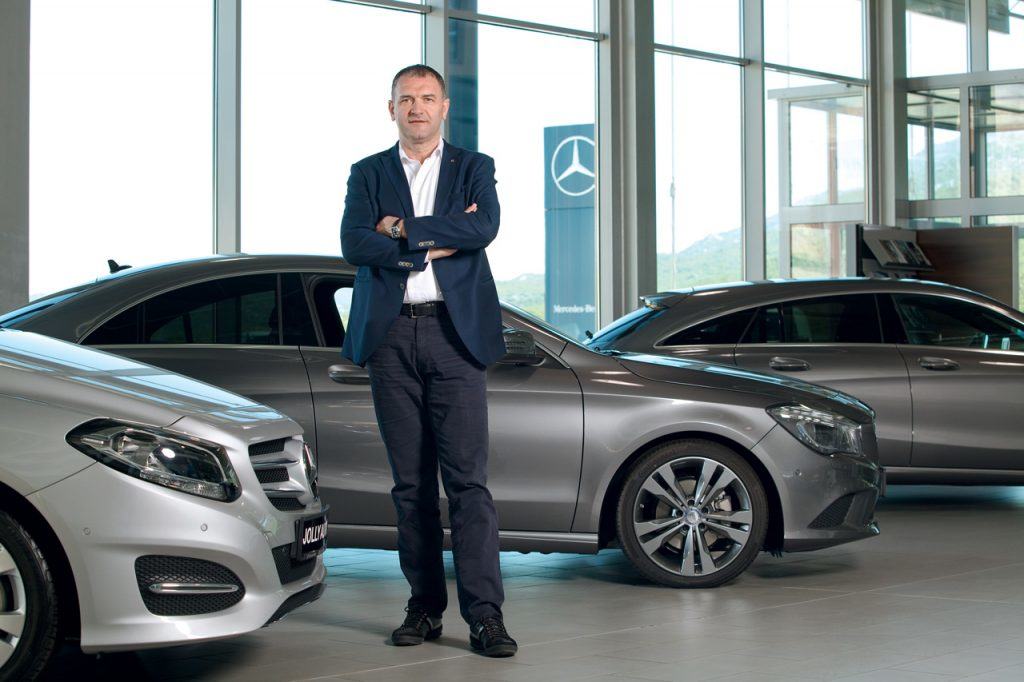 Why?
I have never learned how to not have full control over a situation. When we bought Vodičanka, the former management left us with 1,600,000 Euros of debts. I was the owner that could not assemble the management board: I had problems for six months. Unions approached me, as if they would work for me. I said no, please, for the love of God; I called the workers to ask them whether they want to work, but when there is nothing to do, they can go home. I also said not to try and stay 15 minutes longer so that I need to pay them 30% more… where from? If you do not have money, I will lend you some; you work when there is work and you will be paid. They all agreed and nobody joined the union ever again. Our salary was never late a single day and we began with serious business in 1989. People know and appreciate this, I stand with my name behind all my companies.
Are you building a new hotel in Vodice?
We were considering buying the neighbouring hotel, but it depressed me when I remembered how it was before at Olimpija. Then my Executive Director Miro Mažar, my left and right hand, suggested that we build a new hotel, as we have 60,000 square metres of land. It is a big hotel, ten floors and it came out of necessity as we have a 650 seat conference hall and only 241 rooms. Since our biggest progress was made in conference tourism, we had to send people elsewhere. It was easy for us to see the need for more accommodation units. Out of ten floors, only six contain rooms, while the rest of the building features other facilities such as the 53 metre swimming pool on the roof and the restaurant on the tenth floor. The problem with Vodice is that there is only one restaurant open in the winter and we are open all year round. The destination is not following us, so we invest a lot ourselves: this year we have renewed the beach to give it a whole new dimension.
What is your favourite business venture?
First and foremost, our goal is to strengthen the Mercedes. We open in Dubrovnik on the first weekend of May – it is a large market, far from Split and repair shops; we have more long-term plans but I prefer not to reveal them at this point. This is our baby, all the other businesses are already established, the shopping mall, packaging, two more old loan instalments and we will no longer need to help the hotel. All new companies are debt free, financed with my own money. We are taking it step by step, and Mercedes is the main project.
How do you see Šibenik today, a magnificent town with great potential?
It may be a good thing that nothing was done in the past years, so nothing went wrong. The St. Nicholas Fortress is being renovated, a gorgeous walkway is built, two more fortresses have been renovated, the National Parks of Krka and Kornati are close by. Here lies a great potential and I tell my employees that it must be sold even off-season, from October to May. They can take tourists around for seven days until they drop; eco-tourism is also developing, we have a big vinery, prosciutto shops, horses etc. This must all be combined into one product and sold throughout the year.
You are also known for owning quite a few yachts?
I never wanted to charter my yacht; I either have it for myself or not at all. I am now in the market for something from 50 to 55ft – my yacht needs to have some soul to make me happy. Money is no object, I have to love the boat, otherwise what is the point? I have had 52, 64, 84 and 72ft yachts. I now own a RIB MarCo which is brilliant, with a cabin, icemaker, fridge, toilet… It is comfortable enough for four persons, although I have never stayed the night – it is my day boat. A boat is not worth having unless you have time to enjoy it.