The new Ribco dealer for our area is a highly experienced yachtsman who knows the soul of his product for which he sees great future in our waters due to many similarities with Greek seas where this brand was born
The new dealership for Greek boat builder Ribco for the area of Croatia and Montenegro is a yachting connoisseur Manos Papadogiannakis, who is at the same time a truly convinced customer of the Greek brand. With thousands of miles spent at sea onboard different yachts, he found his joy in fast commuting the Greek islands onboard one of Ribco boats, sailing in the same way which he sees as a possibility for Croatia. So, merely twenty-five years after the start of the production of the Ribco, Croatia now has their official dealership representative, who was exhibiting their brand for the first time during the Biograd boat show last October, which was the perfect opportunity to talk about their plans for our area.
This is your first time in Croatia, why have you made the decision to be present here?
That is true, we see this area as an opportunity to expand our businesses in Croatia and Montenegro plus Slovenia and Serbia. We believe there are some similarities with Greek waters, first of all, you also have many islands. Second of all, we believe that boats like ours can fulfil the needs of people who really want to enjoy cruising and simultaneously want to have safety for themselves and their families. We put a lot of trust in this.
Ribco is a very well-known brand for the highest quality?
We believe that we know the sea, and that any boat has to be first studied for safety reasons. The conditions in the Greek waters force us to make an excellent and seaworthy hull and boat. We are very proud that you can cruise safely with our boat, this is the most important feature. This boat is also a luxury product, I wouldn't say it is an expensive boat, but it has a certain price level, depending what you compare it to. We believe that we offer very good value for money quality-wise. I am talking from my experience as the owner of various boats, I definitely trust this product.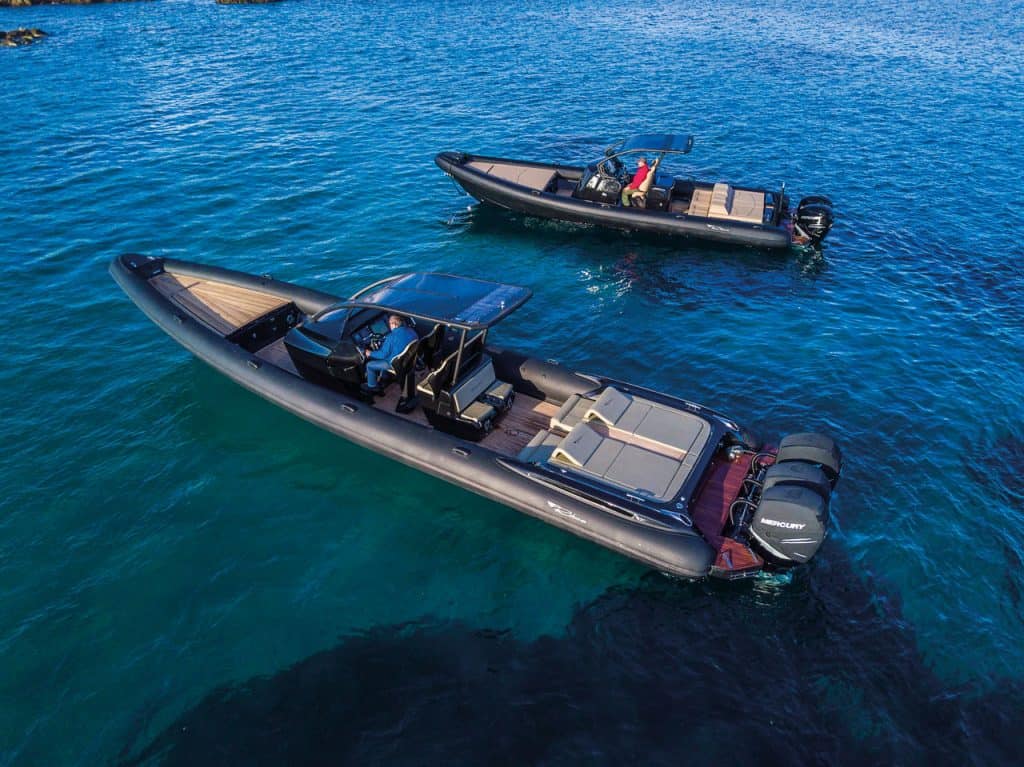 What is your current range?
It starts with a model 28 ST which is a stepped hull, then we have the 36 which is our bestseller, last summer our first 39 Venom went out, and our flagship is a 44-footer. Each model comes with outboard or inboard engines, either gasoline or diesel. We believe that outboard engines are a better match for the boats for many reasons, but of course, if the client wants an inboard, we can do that. We are testing our 32-footer that will come out of production as our next model.
You have announced a new spirit of that model?
The new model will come with the letter R which marks Racing, it is aimed in this direction because we want to create the model which is something between 28 and 36. We already tested this boat in Greece, and the current hull exceeds 60 knots, but we are not ready to produce the boat until it has the level of perfection recognized by us.
You already have stepped hull on the 28-footer?
It is a more 'nervous' boat, very fast, it is more like driving a sport car, the benefit of the stepped hull is well-known, it reduces drag which means more speed, and we found it is nice to have a boat like this. It is a very balanced boat, and it also works well as a chase boat, we have clients who buy it for yachts larger than 35 meters. We have kept the philosophy of the excellent hull with seaworthiness, but we have also spent a lot of time designing and creating a comfortable space for the guests.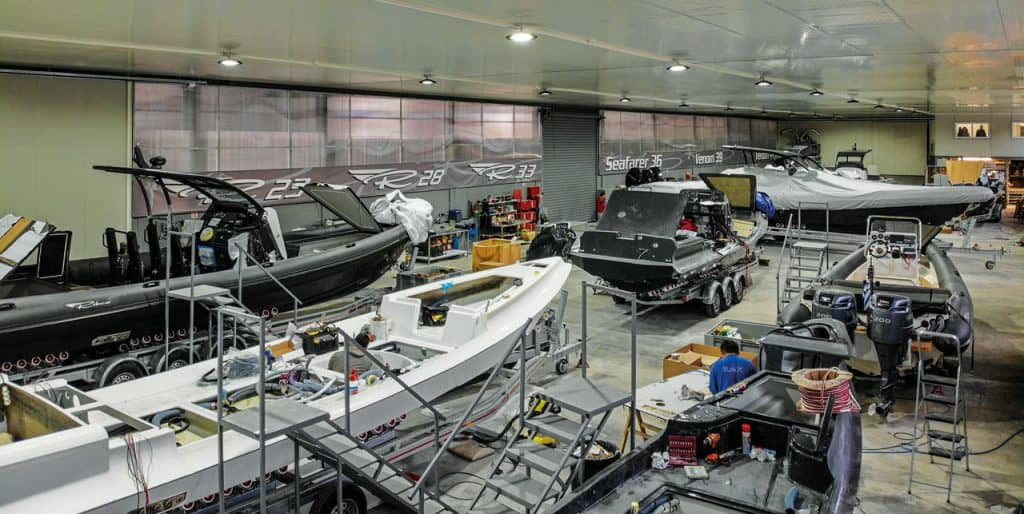 You mentioned you have more then 100,000 miles under your belt?
Actually, I have more than 170,000 miles spent in cruising the Mediterranean Sea. That was an experience that came from the love I have for the sea and for cruising, I was happy that my family was following my 'madness' for the sea, the only month the boat was not used was February. I spent Christmas on the Greek islands which are lovely, but now I only use Seafarer 36, and I use only RIBs because fast cruising the Greek islands gives you a big advantage. We have this blessing from God that when we sail from port, we can choose a lot of possible destinations. Having a RIB like ours makes the distance between Athens and Cyclades a very convenient one because you are travelling very fast. I believe this is not limited by age, somebody like me who is getting older can also use it (smile).
Accommodation in two cabins on 36-footer is really a surprise?
It also comes from the Greek islands, nature gave us a lot of natural ports and beaches, and all the southern parts of our islands are very well-protected for boats. Maybe if the politicians were a little wiser, they would think to invest some money in new marinas. Having a boat that gives you basic comfort like hot water, toilet and cabins, while at the same time high commuting speeds, gives you the possibility to combine sleeping in hotels and staying in some gorgeous locations on the water. In the space of half an hour, you are bound to find a great spot to sleep wherever you are in Greece, and I believe it to be the same in Croatia.
How many units can you deliver in Croatia when it accepts your product?
All our boats are hand-made, we are very careful in delivering and placing our boats, in total we cannot produce more than forty boats per year, and for Croatia and Montenegro, I believe that we can supply four to five items per year. We have strict quality control, to ensure everything is perfect and meets our high standards.
Photos by D. Šupuk and Ribco