Villa Nai 3.3 can be seen as one residence with eight rooms, or a boutique resort with eight rooms and suites, with sea views, rooted in local Dalmatian heritage
Villa Nai 3.3 is a new luxurious hotel accommodation anchored on Dugi Otok Island completely immersed in nature and embraced by beaches and cliffs. The story of Nai begins with a large piece of land gifted to civil engineer Goran Morović, by his father. Later on, Mr. Morović purchased more land on Dugi Otok and now owns roughly 40,000 sqm.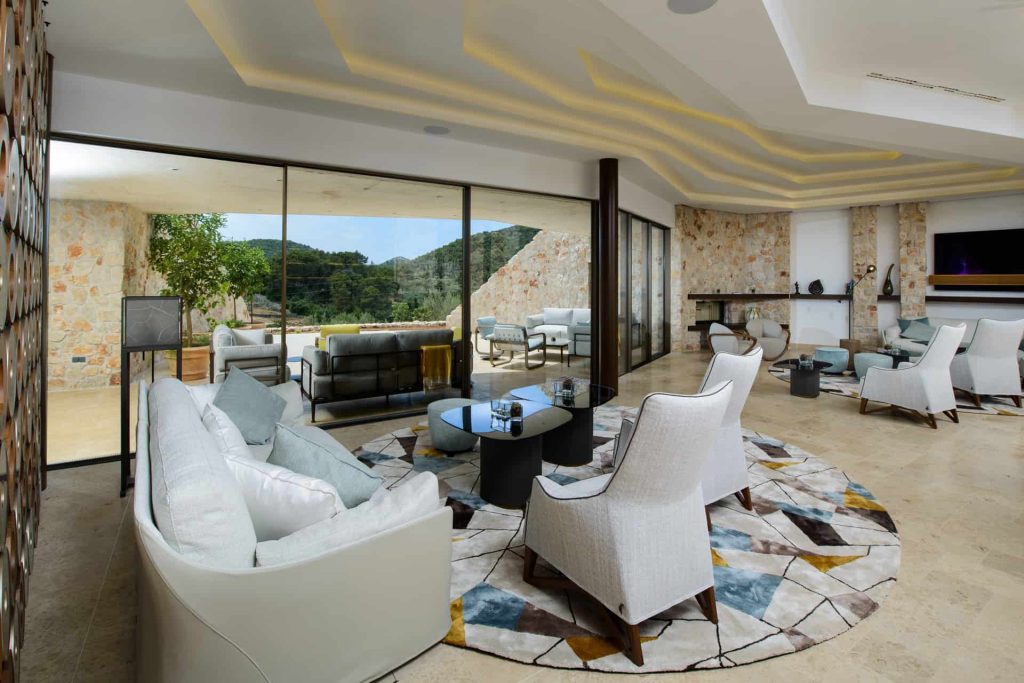 The idea for Villa Nai was born without too much thinking. Mr. Morović hired one of the most prominent Croatian architects, Mr. Nikola Bašić, and gave him a simple task – he and his wife envisioned a villa with an olive mill, a tasting area, and accommodation at top-level, all under one roof.
Architect Bašić created a true architectural gem, fascinating for its unusual geometry and seamless fusion with the terrain. The architecture of the villa is rooted in local architecture and heritage, and its structure imitates the elements of the traditional Dalmatian dry stone building method.
The facilities are built from stone harvested from the olive grove, and all the concrete used to build the villa and adjacent buildings were made from that same stone excavated from the hill. The hotel accommodations have distorted geometric shapes that sit inside the hill, flawlessly in sync with nature. The same hydro-insulation that was used on the Gotthard tunnel in Switzerland was used on Villa Nai.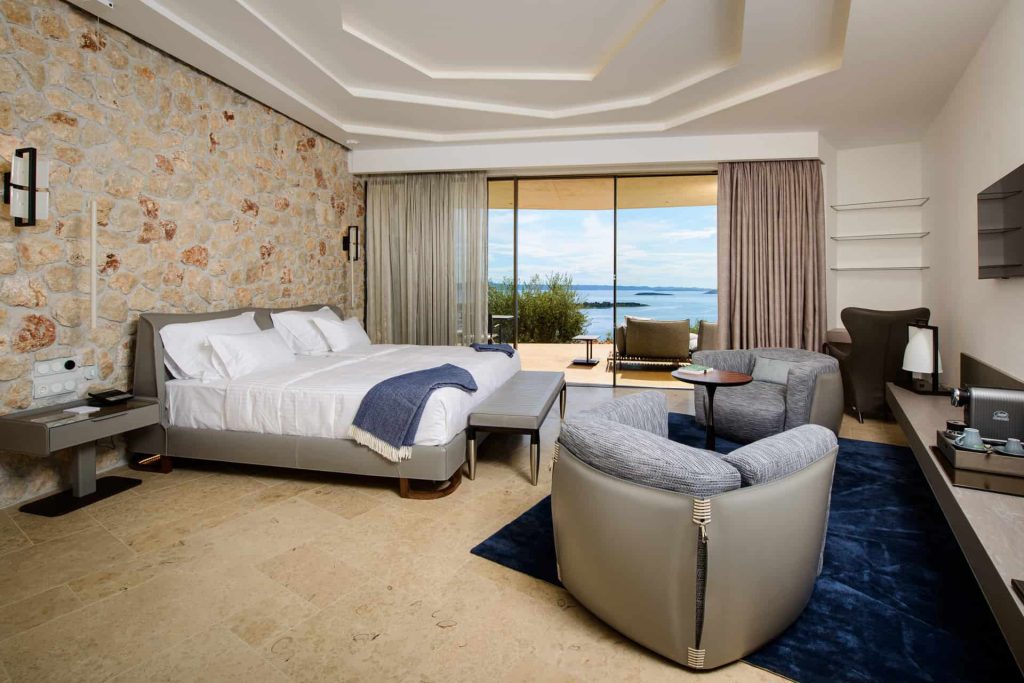 The sliding doors are Swiss-made (Sky-Frame) and their thick frames allow a look into nature with no worries at all, offering the highest level of wind protection – up to 107 knots. Villa Nai 3.3 can be seen as one residence with eight rooms, or a boutique resort with eight rooms and suites, with sea views or olive grove views. Room sizes begin at 70 sqm, and suites at 90 sqm with private outdoor terraces that act as extended living rooms.
All the rooms and suites have been furnished with exclusive and timeless Giorgetti pieces. They have beautiful, spacious private bathrooms with walk-in showers, double vanities and bathtubs, all made by Agape, a true leader in bathroom architecture and design. To complement the premium signature look of the rooms and suites, all the bedding has been made by the top Italian linen maker, Frette.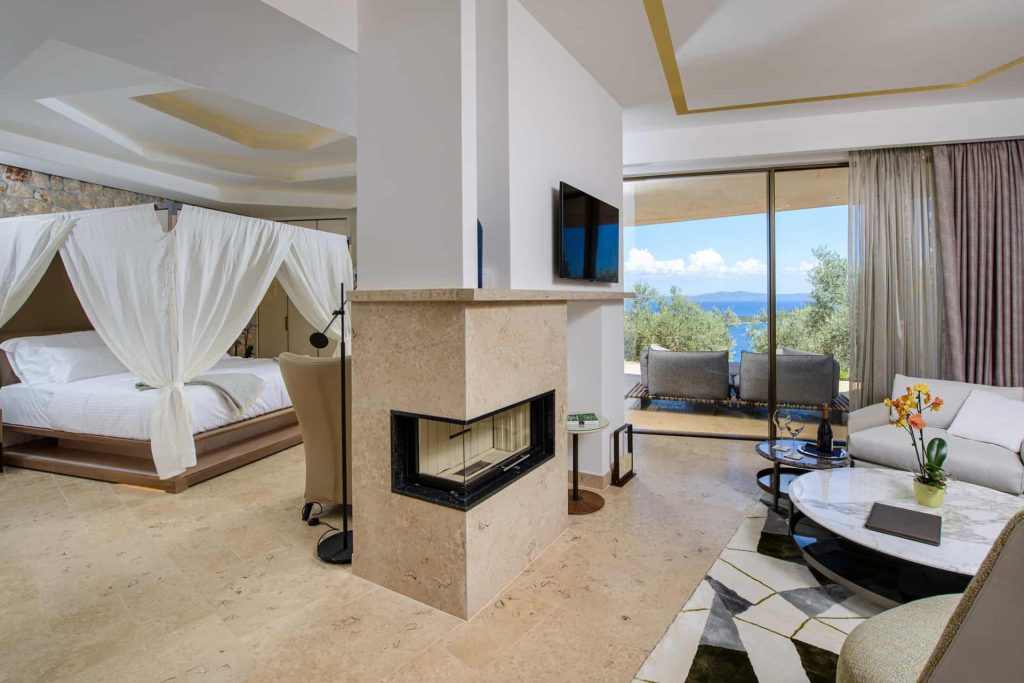 Villa Nai has two restaurants that are open to both hotel and outside guests and serve only selected ingredients sourced from island farms and the sea. Restaurant Grotta 11,000 specializes in meals prepared by an open fire, honoring the ancient tradition of the island 11,000 years ago, with a capacity for 18 seats.
The restaurant uses exclusively wood on the open fire for meat and fish and uses the finest ingredients grown on the island or caught in the Adriatic. Restaurant 3.3 serves modern Mediterranean cuisine and has 22 seats. All ingredients like vegetables and fish are organically grown, and carefully selected, and complemented with Nai 3.3 olive oil.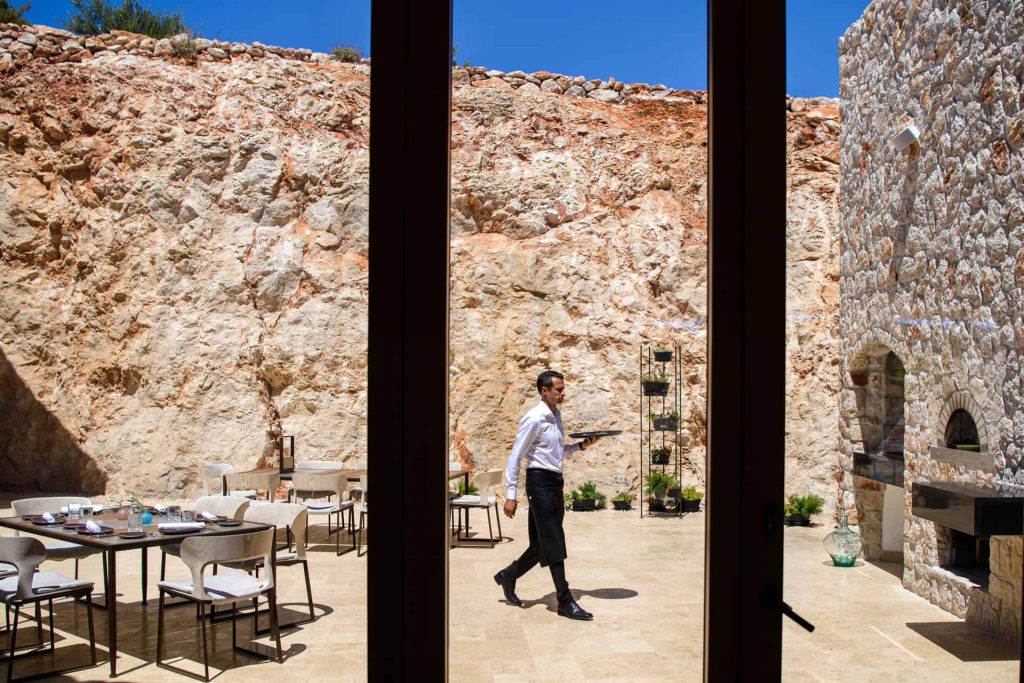 This fine-dining restaurant officially has a 7-course menu, but serves three additional meals; the welcome course, the first dessert, and the second dessert, all perfectly paired with wine. Breakfast is also offered for both hotel and outside guests and boasts local ingredients like goat milk, goat cheese, goat yogurt, bread and pastries made in-house, and seasonal fruits and vegetables from organic farms on the island.
Villa Nai currently carries 203 wine labels, highlighting the Dalmatian region and selected international wines. The wine list focuses on sparkling wines and champagne, with 33 champagne labels, and bubbles used in cocktails.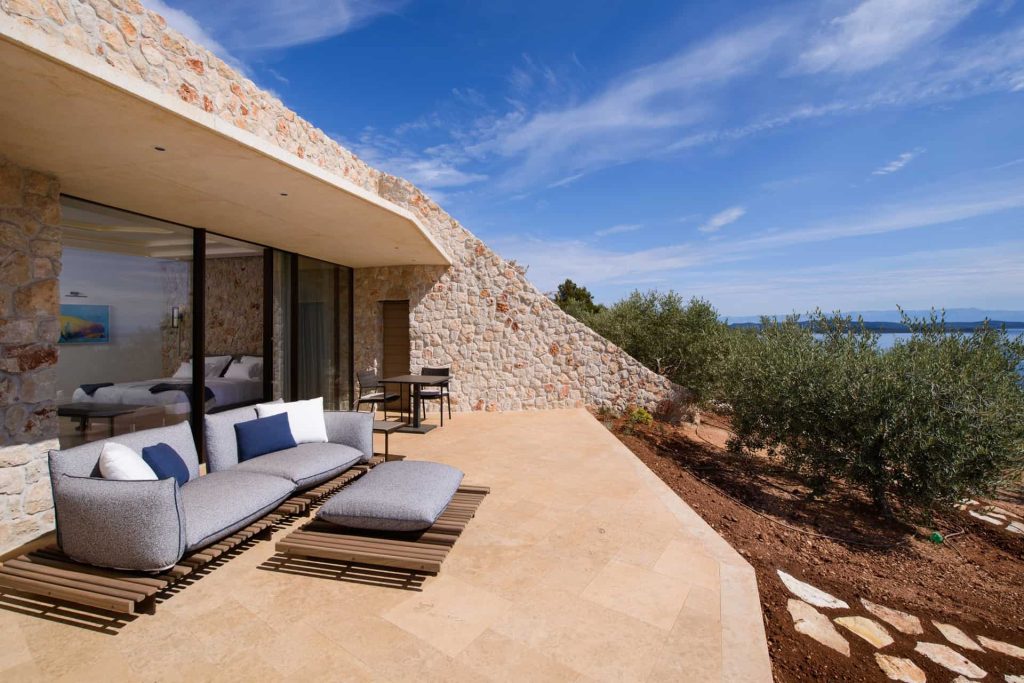 The hotel spa uses medicinal herbs from the region and the island, as well as Nai 3.3 olive oil. The olive milling technology separates the olive oil from the rest of the liquid, which has even more polyphenols than the olive oil itself.
Using this liquid, the spa at Villa Nai has developed a healing formula beneficial for various skin conditions. Also available in the spa is plasma therapy using this liquid, unique to the Villa Nai.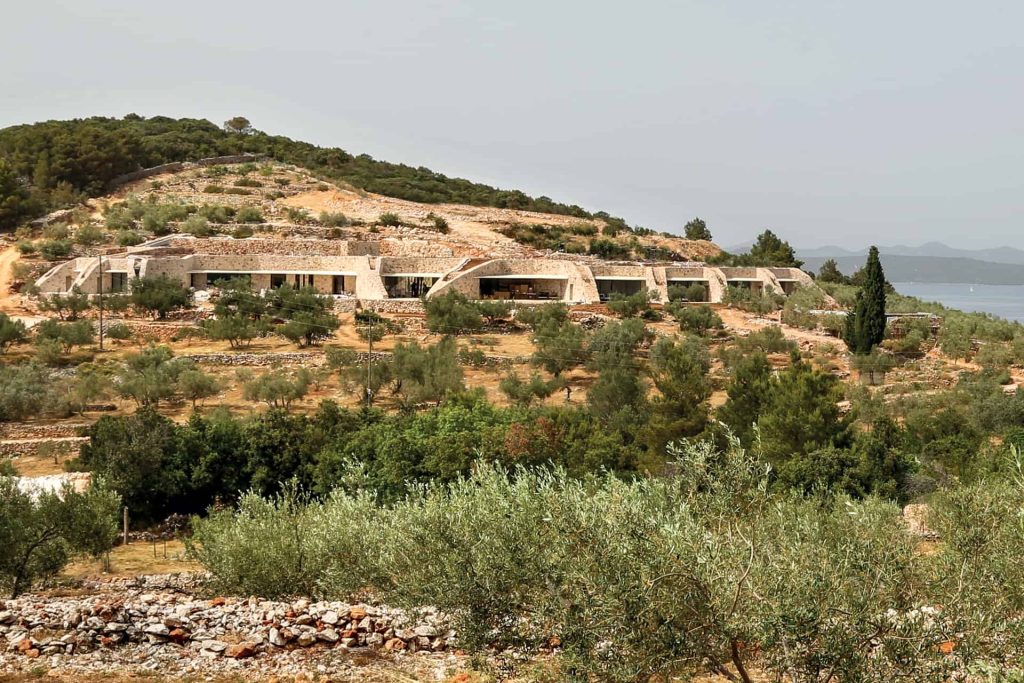 The hotel has two seawater swimming pools. One small indoor pool mainly acts as a jacuzzi, while the outdoor seawater pool is 23 meters long, large enough for a proper swim. The pool water can be changed at the request of guests at any time. Villa Nai 3.3 is changing the landscape of luxury with its design and its level of comfort, but also by offering a different type of accommodation.
More a private residence whose owner has invited you to stay over than a hotel or a resort, Villa Nai 3.3 is blended into its surroundings as if grown from them and offers a true island experience focused on olive trees and olive oil production, as unpretentious as all other charms of the island.
Text Zoran Pejović
Photos Villa Nai 3.3 / Damir Fabijanić