A product of the revolutionary vision of Paolo Vitelli, Founder and President of Azimut|Benetti Group, and the creative genius of architect Stefano Righini, Benetti B.Yond 37M embodies the excellence of a new Voyager series and truly reflects the style of the modern owner
In an emotional and eagerly-awaited ceremony held at the Livorno shipyard, Benetti launched the brand's new four-deck B.Yond 37M Voyager.
Instead of fiberglass, Benetti made an unusual choice for a boat this size and opted for a return to steel. A step back in time to the 1950s, when Benetti pioneered the introduction of metal in place of wood. For many markets, steel is a symbol of durability and solidity, which are quintessential features of a Voyager designed for long cruises.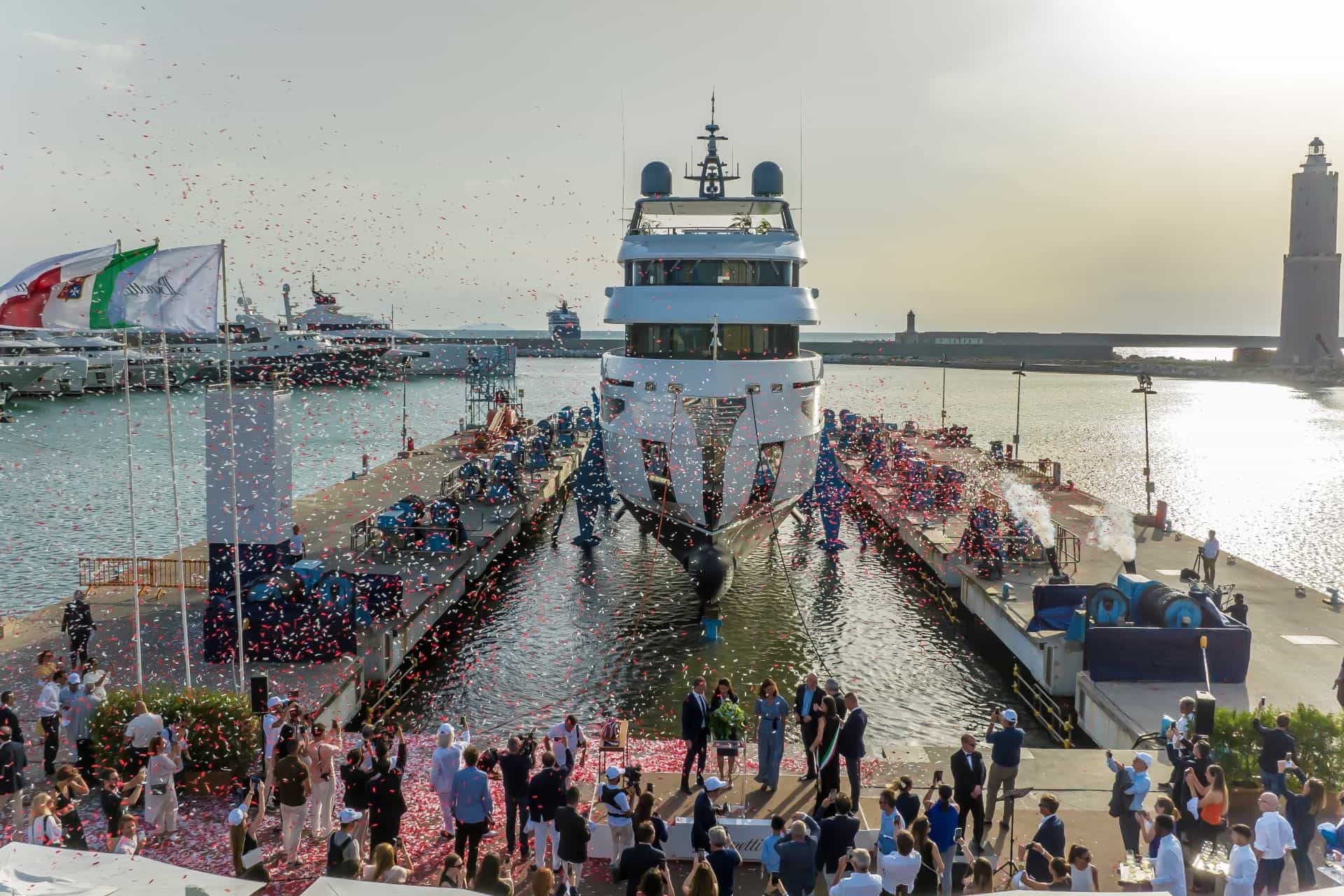 The innovative E-Mode Hybrid system by Siemens Energy makes it possible to optimise on-board energy consumption according to specific usage profiles, which translates into unprecedented CO2 and NOx emissions reductions for a yacht in this category.
Paollo Vitelli, Founder and President of Azimut|Benetti Group commented:
'I am happy to present one of the most innovative boats ever built. Equipped with a hybrid system for long-range, environment-friendly cruising and featuring a four-deck layout in a length of just 37 meters, this is a dream come true for modern owners who want to cruise around the world with their family and friends. In my imagination I saw a record-breaking boat, and here it is'.
The B.Yond 37M is the world's greenest boat in its class, combining SCR catalytic filters – a gas control technology that uses a urea-based liquid solution already adopted in the automotive industry for Euro 6D diesel engines – with the innovative E-Mode Hybrid system by Siemens Energy, which is based on a crew-friendly integrated add-on architecture built on top of a traditional system. The result is extremely simple management, with switching possible from mechanical to electric propulsion and vice versa without the intervention of specialised personnel on board.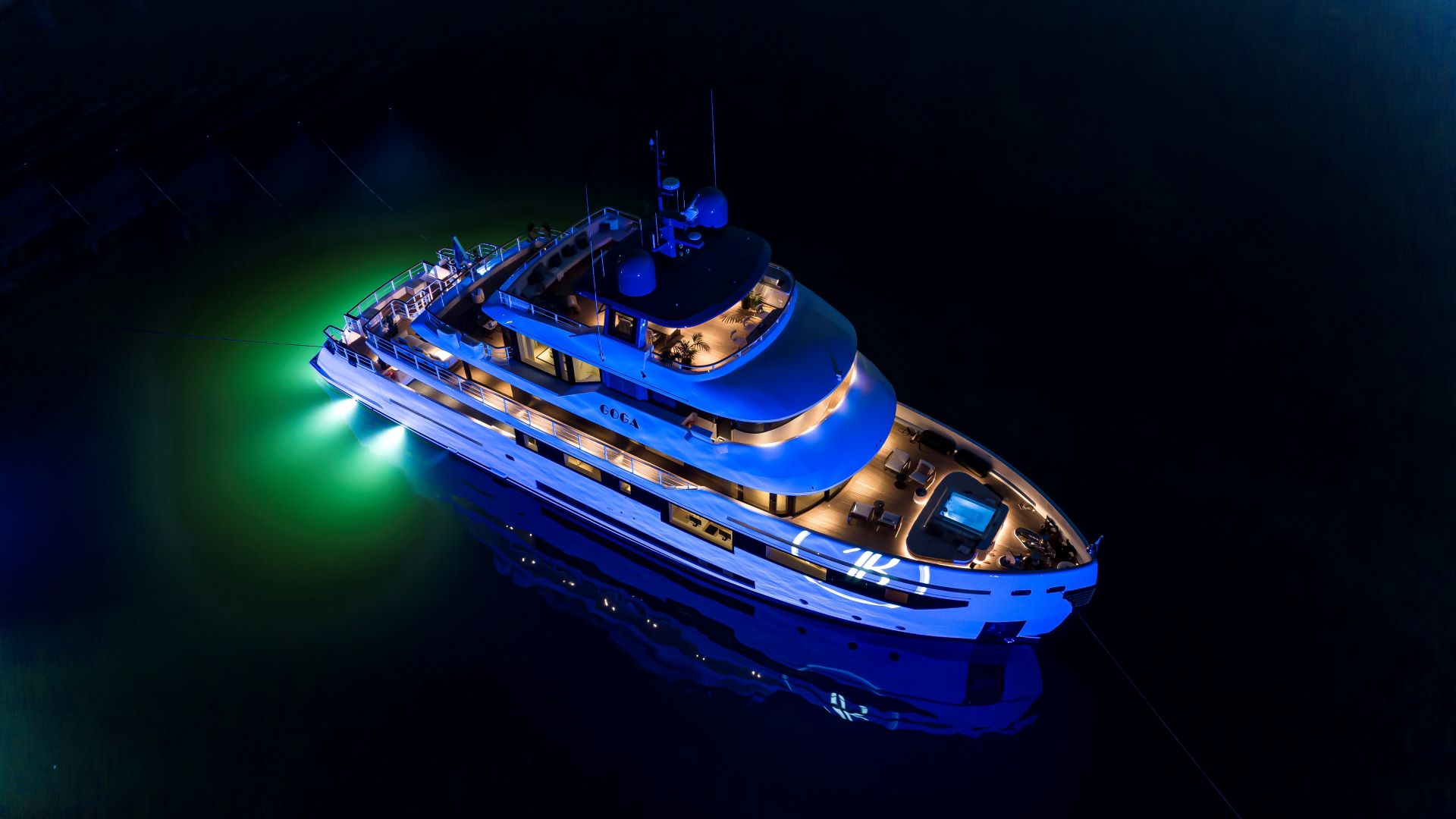 Estimating an average annual use of 1,000 hours, of which 400 under way and the rest at anchor, fuel consumption and CO2 can be reduced by up to 24% and NOx by a maximum of 85%.
All this plus the added value of a Voyager with an incredible range almost double that of traditional navettas of the same size, or up to 8,200 nautical miles at 9 knots in Eco Transfer mode, with the two diesel-generators switched off and only one propulsion engine running, which reduces fuel consumption and CO2 emissions by up to 16% and NOx emissions by up to 80% compared with traditional propulsion systems.
The revolutionary concept devised by Stefano Righini, who brings all his creative flair into play, features the inclusion of a fourth deck, which makes it possible to raise all the most noble areas of the yacht and gives them an incredible panoramic view.
The service area on the Lower Deck includes a walk-in wine cellar and a cold room, unusual features on a boat this size. The Main Deck provides the night area for guests, offering four suites accessed from a panoramic lounge featuring generous windows, which Benetti calls the Playroom. Stepping up onto the Upper Deck, the living area offers a completely unobstructed 360-degree view. Moving up still further, the Bridge Deck is set aside for the owner, while the Sun Deck provides a dining area with a pantry and an outdoor table sheltered by a hard top.
Two stairways, one for guests and one for crew, provide completely separate flows, ensuring total privacy for both owner and guests.
The layout is extremely flexible: the Main Deck, in addition to four guest suites that are particularly spacious for a 37-meter yacht, can optionally contain either the master cabin or the Playroom with a panoramic view. The Bridge Deck can accommodate, on request, either the master cabin or a panoramic veranda.
On the Lower Deck, the gym can be replaced by a sixth guest cabin. Another important new feature is the double accommodation solution for the captain, with a full-size cabin adjacent to the wheelhouse and another very spacious one adjoining the crew quarters. If the captain chooses to use the cabin closest to the wheelhouse, the other one could become a seventh guest cabin.
The spacious garage contains a 6.5-meter tender for the owner, a 4.2-meter rescue boat and two jet skis, for the first time in a protected and out of sight area.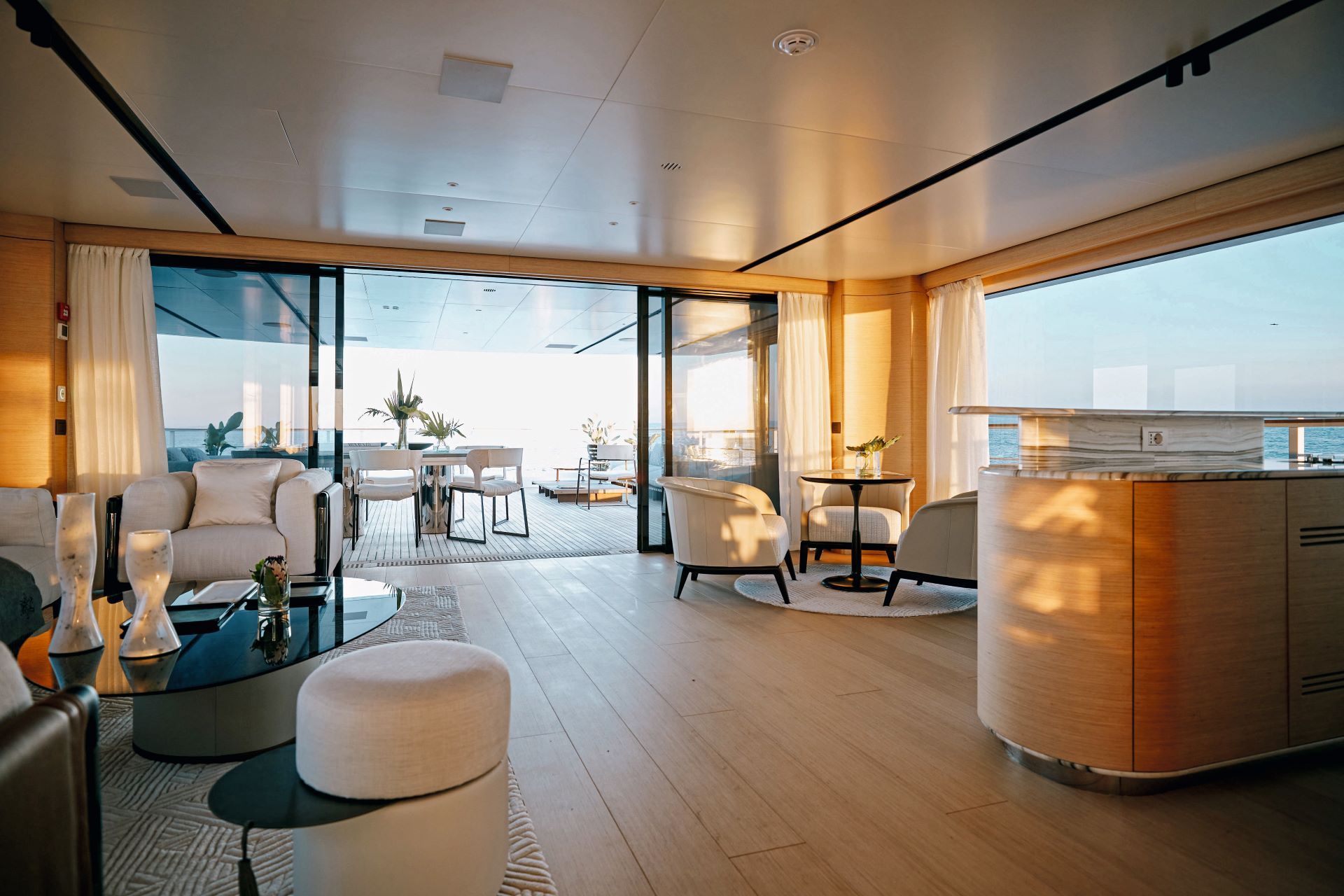 Open and spacious, the interior design by Benetti architect Mauro Izzo offers even more potential for customisation, allowing the owner to express their own taste and personality on a yacht to live on as if it were a second home.
This spirit has been captured to perfection by leading contemporary design brand Giorgetti, chosen by Benetti to provide the furnishings for the first B.Yond 37M, with solutions that accommodate all the owner's requests in an embodiment of beauty and functionality expressed through haut de gamme quality.
The fine materials chosen feature a palette of natural colours, enhanced by touches of blue provided by the fabrics and accessories, standing out against the optical white walls and echoing the colour of the sea. Giorgetti's refined and sophisticated language runs through all the yacht's decks, telling the story of the brand's prowess in designing spaces that form part of an overarching vision.
Photos Benetti