Luminosity is 107.6 meters long beauty with a beam of 17 meters. Constructed with a steel hull and aluminium superstructure, the yacht has a gross tonnage of 5,844, and is the second of three 100-meter plus yachts to be built during Benetti's Giga Season
Benetti FB272 Luminosity is a moving palace of glass with unparalleled views of every changing landscape. The Giga yacht spectacular exterior design exterior design is a collaboration between Zaniz Jakubowski, Andrew Langton and Giorgio M. Cassetta, while her interiors are entirely the work of Zaniz Jakubowski.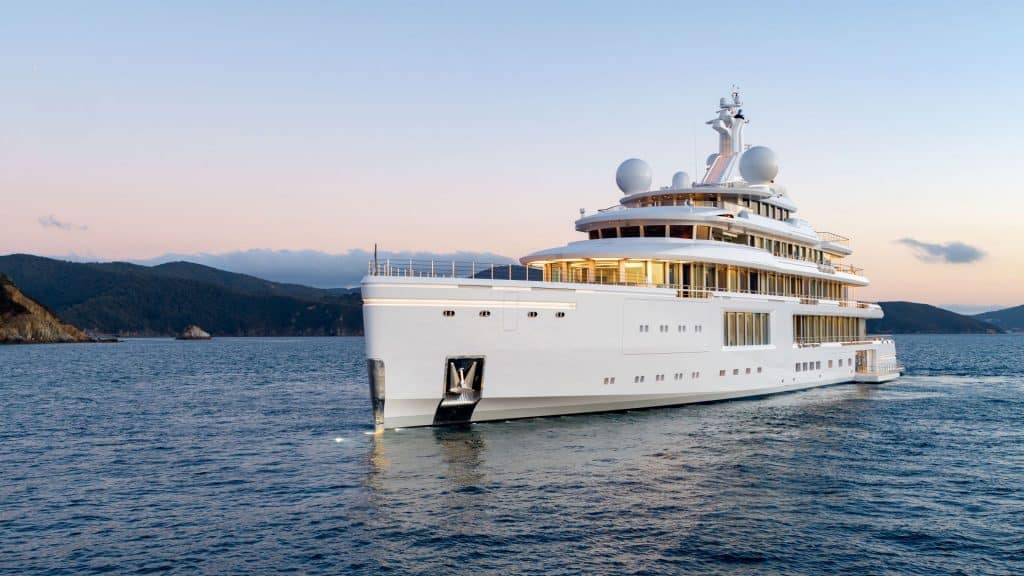 Benetti FB272 Luminosity interior
With over 800 square meters of exterior glass wrapping around the main decks, 'Luminosity' has become a record breaker for Benetti. 3-meter-high windows are entirely uninterrupted by structure, giving a floating appearance. A straight bow offers brilliant seakeeping credentials, while a huge forward deck area brings guests a thrilling vantage point from which to cruise and relax. From here, the main deck is a step lower, offering further dining and social spaces, sheltered and shaded by the graceful overhang of the beautifully styled superstructure.
The defining characteristic of FB272's interiors are the huge 3-meter-high windows flooding spaces with light and providing a seamless connection with the outside world. A magnificent skylight at Sun Deck level fills the yacht with a longitudinal axis of light, cascading down the 18-meter staircase that passes through five of the yacht's 6 decks, its polished steel and toughened glass giving the structure a sculptural yet floating appearance.
Within the sumptuously proportioned interior, an incredible variety of glazed surfaces creates a constant impression of shifting light, which enters the yacht from all angles. The materials and colors used in fabric, furnishings and fittings offer a continuity between indoor and outdoor spaces.
FB272 is powered by an innovative hybrid propulsion system with diesel-electric engines and two ABB Azipods connected to a specially developed battery pack. The advantage of this system is a vibration-free navigation in total silence: with such stable and soundless cruising, guests might hardly realize they are underway.
Photos Benetti & Imperial
Video Benetti Yachts