Fractional ownership of a yacht is well established in the US, how to make it successful in Europe explains the CEO of SeaNet Europe Matty Zadnikar, with his first yacht moored in Split, Croatia
During the Düsseldorf Boat Show in January we saw the launch of SeaNet, a new business platform for fractional ownership of yachts. The new company has a great position as the owner Mr. Matty Zadnikar bought the new Benetti Delfino 93' in 2015 and started promoting his new business not only as an entrepreneur, but also as a yacht owner and one of the members of the fractional ownership club. Furthermore, their activities have continued in Croatia, the yacht is moored in Split where they do a series of presentations for potential clients, showing them what ownership of the yacht would look like. We took the opportunity to speak with Mr. Zadnikar about the project that has shiny plans for the future, including positioning other new yachts in Sardinia, Balearic and Northern Italy.
You started the promotion of the concept and SeaNet brand in Düsseldorf, but that is far from what you really do.
For me I think that you have to be at the 'Düsseldorf's of the world', we will be present in Cannes with the yacht at the boat show and you also need to have a very attractive internet platform so when people are looking for a new yacht, you must stand out. But I am now, more and more thinking about the markets where there are wealthy people, who at this moment, are simply not attracted to yachts. They think it is too expensive. With our concept it is really easy to start with yachting for newcomers. That is our huge chance to open a complete new segment of clients but it is not easy and will take time and a lot of endurance.
You provide unique presentations of the project?
I want to give people the experience first, before I sell. They need to be on board for two days, to feel the service on board, so we can present them our concept in a real live environment. I'm planning to keep a minimum of 25% shares in our first four yachts in Europe. By doing this I will have my own showrooms on the water to attract and present our concept towards potential clients. When you want to see the yacht you have bought, you have to wait to see it physically. It is very strange for a multi-million-dollar experience that you don't have a real chance to test it and to feel it. I want to change that and the experience we offer is completely different, we sell enjoyment.
You are now looking for new owners?
At this moment we already have two owners in our first yacht but still 50% shares are open for sale during this season. In our concept the maximum number of owners for one yacht is four. This new possibility to only purchase 25% ownership in a yacht of this size and class opens access to high end luxury yachting for many more people.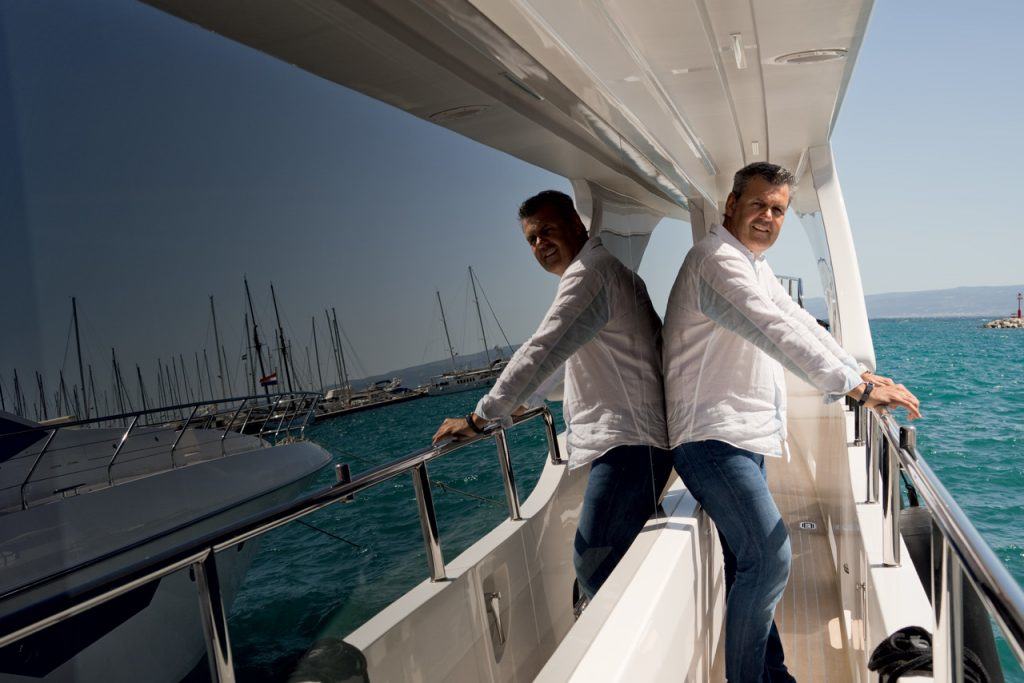 Who is your best client today?
There are tree high potential client groups. The first one are newcomers who don't want to pay a high price for entering into yachting. The second one are those who have already been sailing for years with 50, 60 or 70 footers and are dreaming of a larger yacht. From the moment you want to grow, you are confronted with much higher running costs and more necessary personnel and management of the yacht becomes much complexer. When you look at this group of people that would jump from 70 to 95 or 100-foot yacht, this jump means millions in Euro's. The gap in money is huge, not only in purchase price, but also in running costs. This could be a very interesting opportunity for this group, instead of spending upwards of 7, 8, 9 million and having very expensive running costs, they could have the same experience for 2.5 million – which is still in their price range and what they are used to paying, yet they get to have the same fun. And the third group are all experienced charter clients who after years of chartering want to move to their own 'personal' yacht.
What if somebody wants to exit the ownership?
It is very easy; the ownership title is free for sale. You only have to send a pre-notice to the other owners 30 days in advance. If you want to get out, you simply need to write an official letter to SeaNet saying you want to sell your share; 30 days after the postal stamp date you are fully free to sell, but the other owners have the opportunity to buy first. If they say no or don't react, you are free to sell. If you can't sell your share within the first three years, you can offer your shares again to the other owners. If they still say no, the full yacht has to go to market – that is a protection for the owner, so he is not going to be stuck with the yacht for the rest of his life. We only go for new yachts, or maximum two years old, as we want to have an attractive, highly branded new fleet. Size wise we start from 90 foot up to a maximum of 140'.
You already have a strong position in the USA?
I own 50% of SeaNet Inc. in the US, where this business started 12 years ago. If we look at them, though I don't want to compare 'one on one' the US mentality to European mentality, but in America about 50% of people step out after five years and another 50% upgrades to a larger size. The average age of the yachts in the US is 5.5 years. At the moment we also help our owners and play as brokers for them.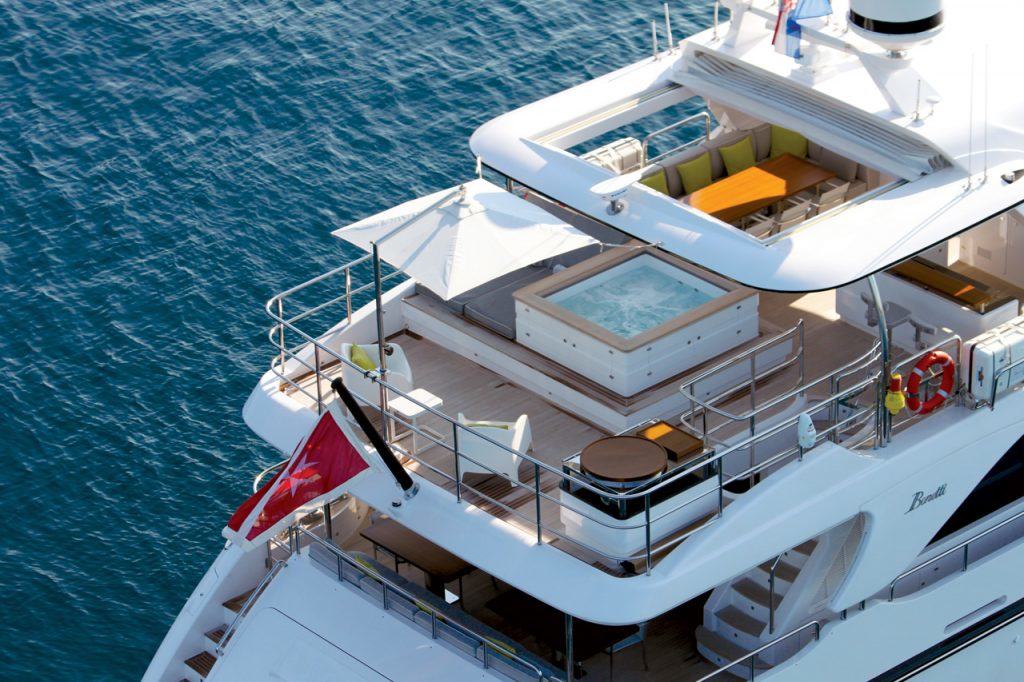 How did you decide for this way of business?
For me it was very simple, I am a fanatic yacht owner myself and I spent a lot of time on my own yachts the last 20 years. What I noticed, speaking with other owners in the marinas were the same three things. They all have the same passion for the sea, that is positive; however, the first negative aspect is the money you pay for the yacht, 50% of it is simply gone once you do it. If you don't have that mentality, don't step into yachting. The frustration comes from the fact you use it the most during the first year, which often means five to six weeks, but from the second year onwards, it is used much less and the ratio of the running costs versus the time spent on board is poor. And every month you still need to pay the invoices. The second thing is the fact that owners want to escape from their management job, from their companies, problems, discussions, boards… When they come on the yacht, captain says – now you are on board and I have to do this and that… – and they have to manage the yacht. The third thing is the rotation of the crew, there is a huge percentage of changes, you just get used to crew and then they change. I started thinking about those three points. At the end of 2015, I said to myself – why not make a business out of this from the owner's perspective: reduce the purchase price, reduce the running costs – giving the maximum experience of the high-end service and do the complete management of the yacht. I did research on the European market and very quickly noticed that there is almost nothing in the sizes between 28 and 40 meters. But then I went to the States and there were around 50 companies of shared ownership. I visited all of them, spoke with their managers and SeaNet is number three in America with 24 yachts. I 'clicked' very well with the owner and eventually I became a 50% owner of SeaNet USA. I didn't want to start from scratch, now I have the SeaNet label and more importantly, know-how. In America, context of liability is very important and I used their contract base, rewrote it for the European laws and launched the brand during Düsseldorf Boat Show.
SeaNet also became a part of your lifestyle?
For me this is a hobby that could become a profession. My intention is in the first 3 to 5 years to have as quickly as possible – multiple yachts on the market. One of the huge advantages of fractional ownership, is that once you are an owner, you can swap with owners on other yachts, not only in Europe, but also in the States. I already have three weeks in America, in Bahamas and Caribbean and this simply costs me zero, we just swap time.
You move quite fast?
I am very crazy about yachts, but I will not buy five of them. I said to myself I would buy my own yacht, very popular top brand as Benetti Delfino is, and use it as a test case. Immediately we had interested clients and we could close one deal, so 25% of this yacht is sold. But the question for me was – was this just a lucky shot, or is this something that I can continue to do and effectively market? From the moment I sell shares on this yacht, I will invest in a new one. That means I will look for the two fractions to be paid and I will do the other 50% of the investment. As an entrepreneur it seems ridiculous to own your own yacht if you think about it, you only spend 6 weeks on board, so it just doesn't make sense. I will keep 25% of the first four yachts. This one will stay in Croatia, we will have one in Sardinia, one in Mallorca, one in Luano. It is much more enjoyable when you are able to say to your wife – where are we going? To Croatia, or Baleari or Italy… Then I get to go on my yacht where I know the service and the quality. And I am not speaking merely as broker, but also as an owner; I want my yacht to be in the best shape because it is my investment too.
Why did you start with Croatia?
Because I am crazy about Croatia. My father is Slovenian, but all my childhood we spent summers in Croatia, I like it a lot. I started boating when I was 12 with a small Zodiac, then 18- footer, then 25-footer and 37', 58', 60', 72'… I have always been around boats and when you have been sailing once in Croatia, that is it. I have seen the whole of Europe, the whole of the Med – except Greece, yet when you enter back in to Croatia, for me it is a completely different world, incomparable. Here I can sail very little time to get from one beautiful spot to the next, each location is unique with a variety of small islands, villages and restaurants all close-by. The second thing that speaks in Croatia's favor is the mentality of the people, they are incredibly friendly and open. I will always spend a lot of time in Croatia; it is nice to spend a weekend in Sardinia or Palma, but I will always return to Croatia.