The island of Šolta charmed Illyriqan queen Teuta into building her castle there, was one of emperor Diocletian's favorite fishing spots and inspired poet Marko Marulić – and today this central Dalmatian gem is one of the few yachting spots that has escaped the merciless hand of modern tourism
Location, location, location – but also natural charm and maritime heritage. Croatian island of Šolta has it all and is a must-visit yachting spot for all who are cruising the Adriatic coast.
What to do on Šolta?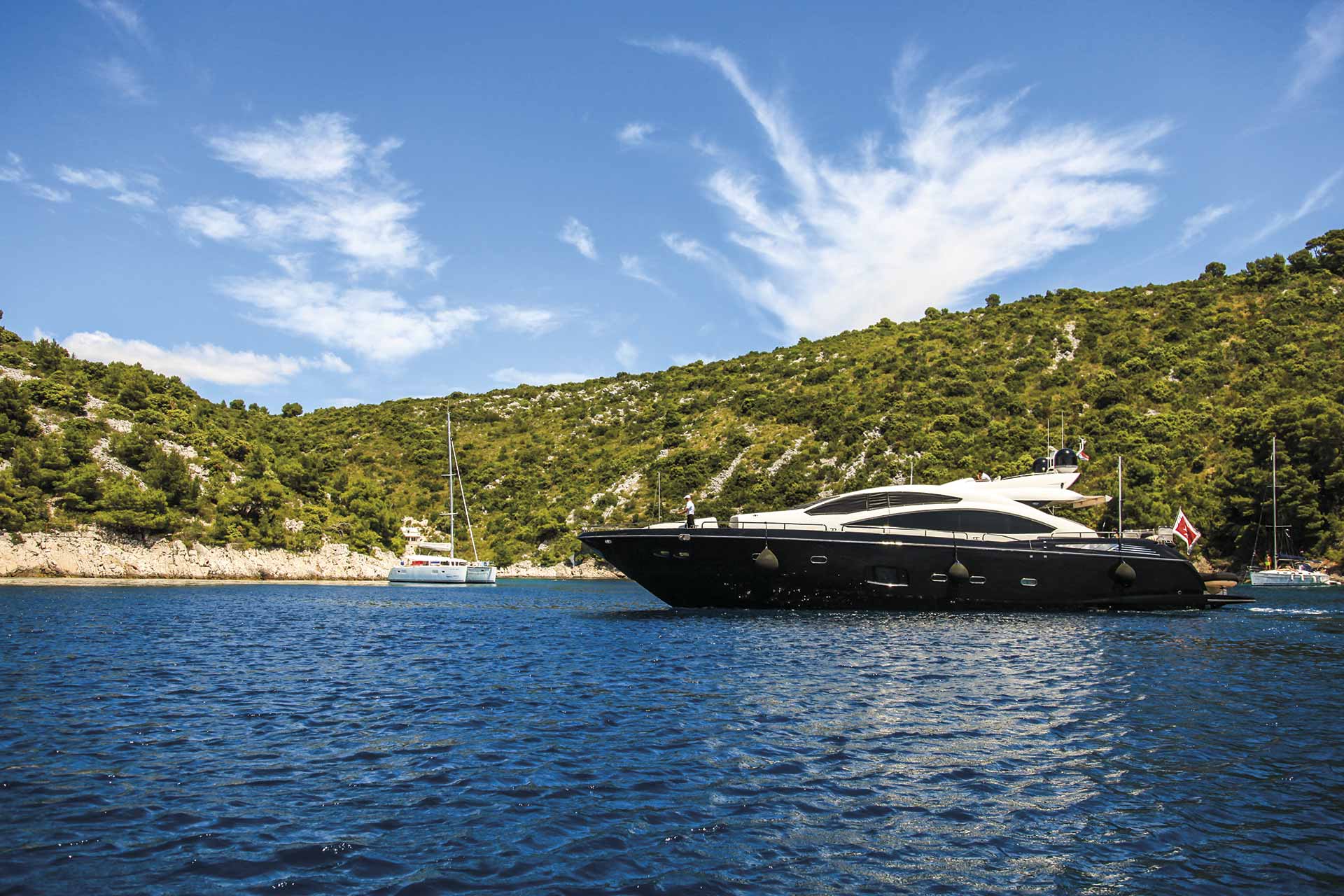 Part sleepy and quaint, part modern, Šolta seems to be on the right track to become another hip tourist destination – or to attract back permanent settlers, as now it is well connected to the nearby Split.
Surrounded by endless blue, this green oasis of central Dalmatia is gaining popularity, and after decades of disconnection and oblivion coming into focus as a serene place to spend a few days – or forever.
Getting to Šolta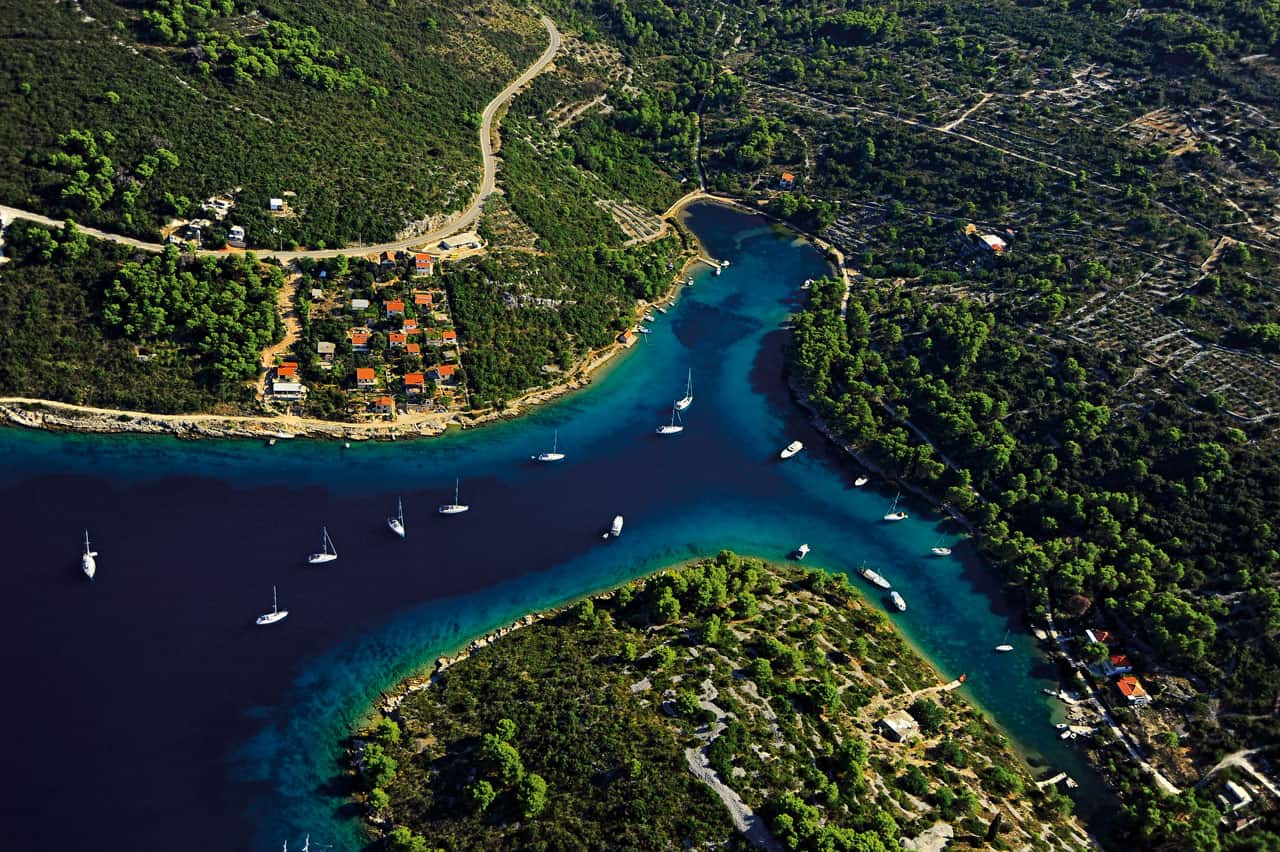 On this island mere nine miles south of Split, all four inland towns have their port – Gornje, Srednje and Donje Selo, and Grohote are served by Rogač, Nečujam, Stomorska and Maslinica.
Marinas and anchorages on Šolta island
The northern shores of the island seem to be connected to the city of Split by an umbilical cord. In Rogač bay, there is the only ferry pier and gas station on the island. As the largest anchorage on the island, Nečujam bay is regularly visited by many yachts, while lovers of more traditional Dalmatian destinations flock to nearby Stomorska and Krušica bays.
On the indented western shores lie the most beautiful Šoltan town, Maslinica; the most beautiful Adriatic boutique marina, Martinis Marchi, and the winding Šešula bay with seven islets, while the southern shores of the island give off a different atmosphere, with charming bays that welcome visitors only in the summer, where internet is sparsely available, and where loneliness and calm are part the atmosphere.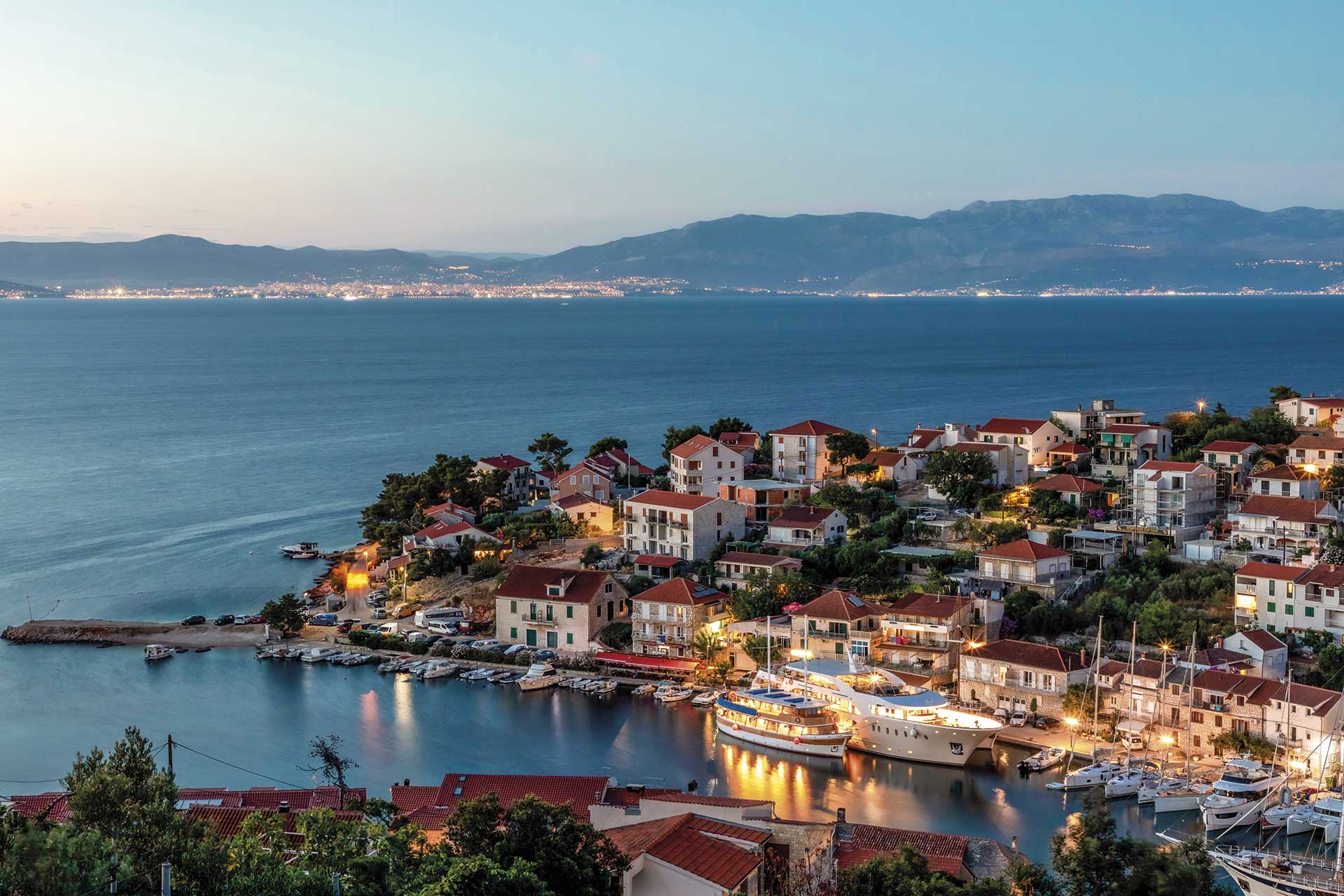 Krušica Bay is only two nautical miles away from the Split Gates, an extremely busy passage squeezed between the islands of Brač and Šolta. Krušica is known for its azure sea, a small beach, an olive grove, green pine trees and picturesque stone houses that are mostly inhabited only seasonally.
Water depth never exceeds 10 meters, and remember the anchor is likely to slip on this bottom. Krušica is also unprotected from all winds from the east, so it is better to spend the night there only in calm weather.
Stomorska, the fishermen's village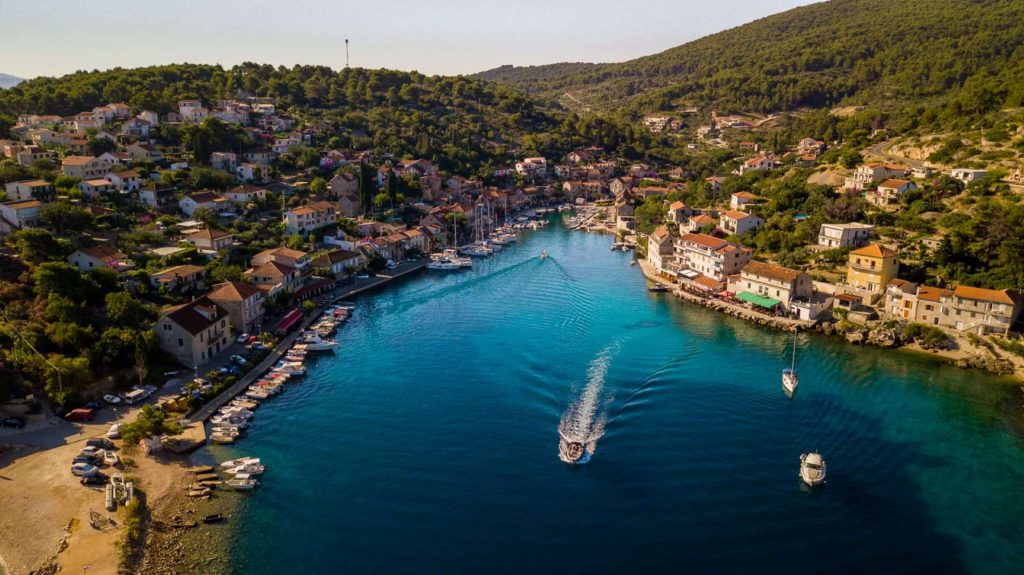 Neighboring Stomorska is the oldest inhabited location on the coast. Easily recognizable for colorful stone houses, Stomorska offers 15 moorings with almost no protection from bora (NE) and levant (E). In addition to electricity and water connections, showers and toilets are also present, as well as two megayacht spots on the eastern side.
Wine tasting & gastronomy
Tourist boat trabakul regularly stops in Stomorska, and almost all visitors are happy to stop by one of the local taverns and treat themselves to a glass of top quality Dobričić wine. The people of Šolta are particularly proud of this autochthonous grape variety.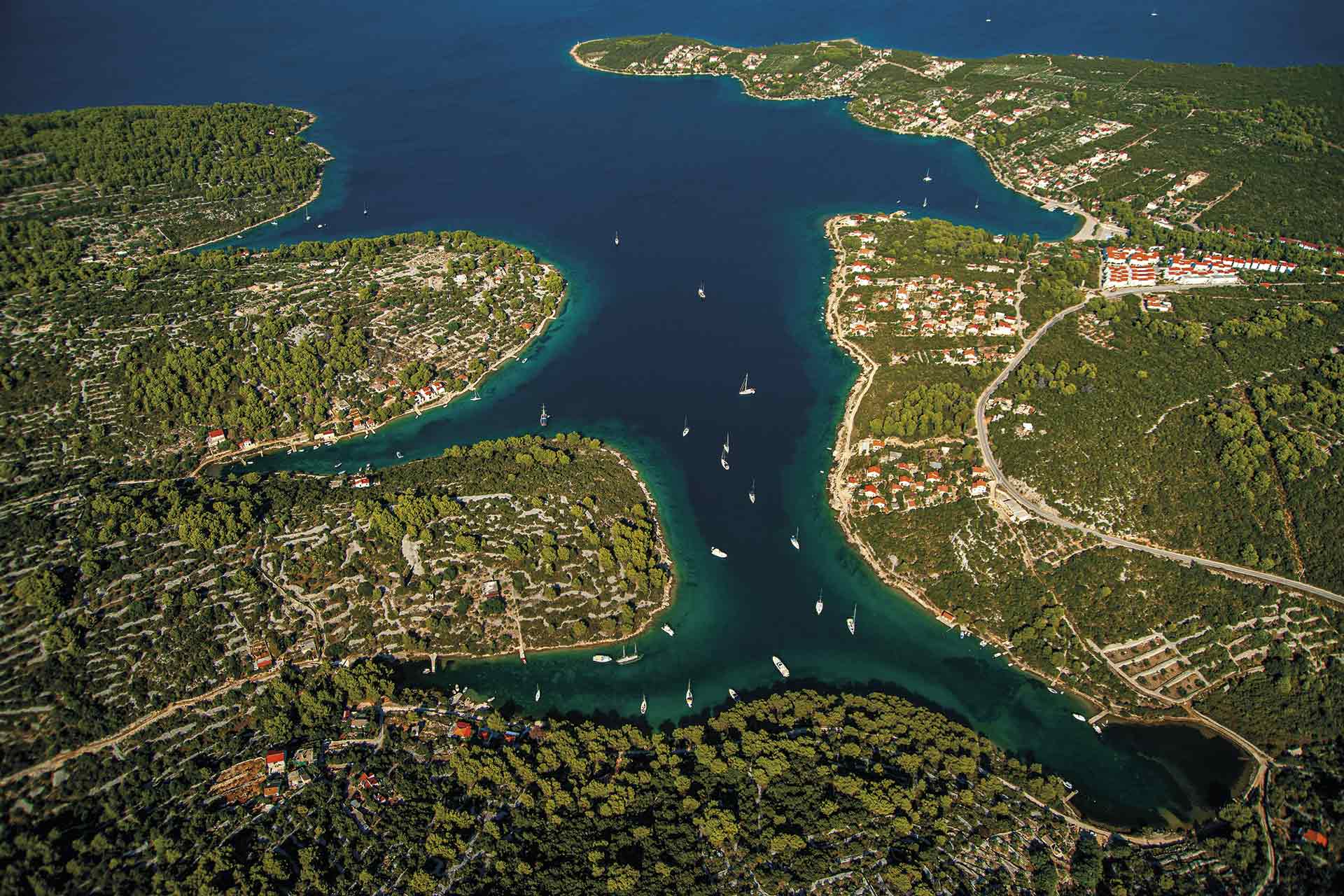 Discover Nečujam, the deaf port of Šolta
Nečujam bay is the most popular anchorage on the island. Almost a full mile inland, it offers protection from all winds, including storms, so choose your spot according to current weather situation. Emperor Diocletian kept a fishing pond in this spacious bay, the remains of which are still visible today.
Many centuries later, the father of Croatian literature, poet Marko Marulić, found inspiration for his many works in the serene, quiet cove that today is colloquially know as Marul's cove. Another poet, Petar Hektorović, was so in love with the cove he described it in his most important work Fishing and Fishermen's Talk, but in the last decade or so the cove has attracted visitors much louder than poets.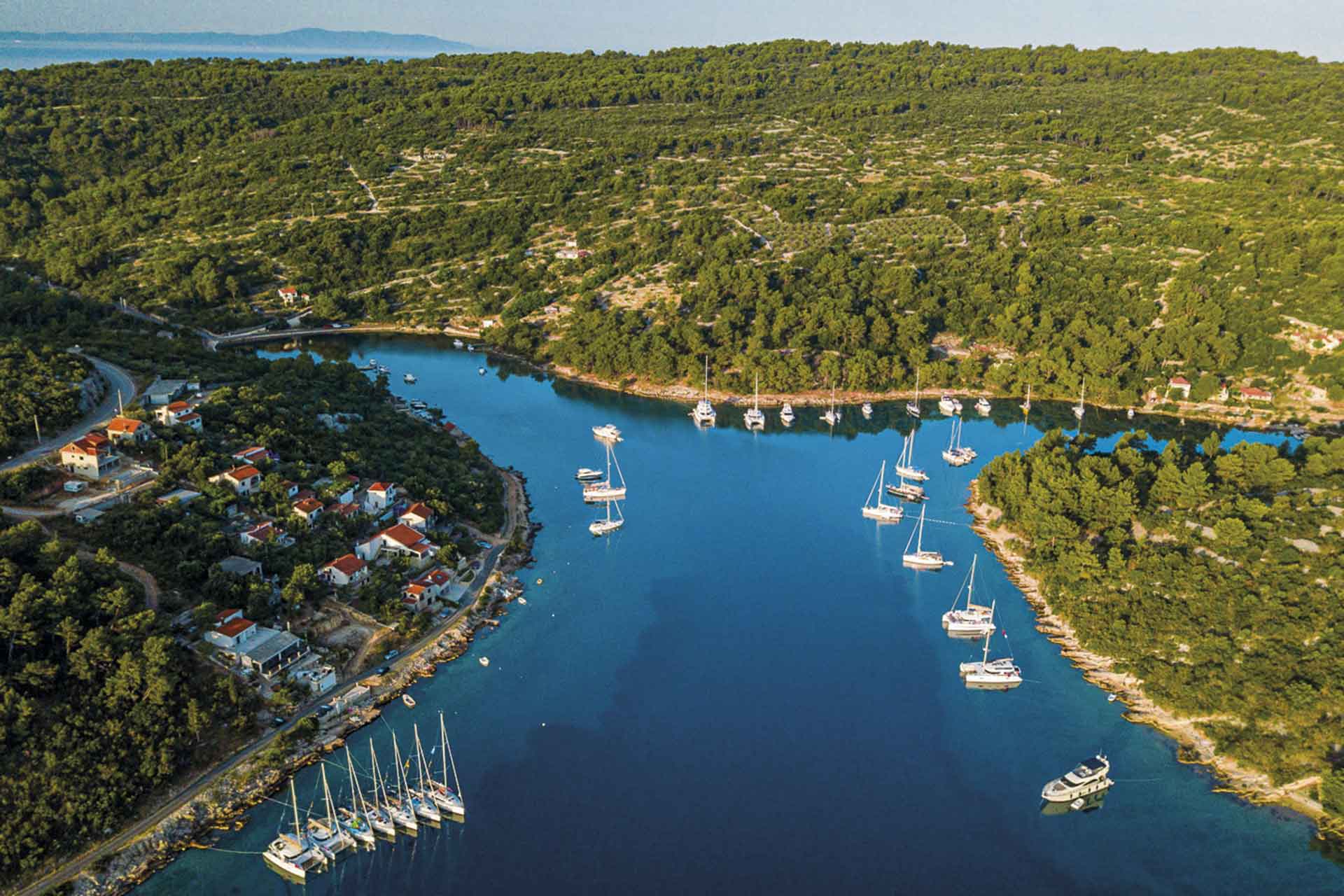 Since ancient times, local sailors have spent most of the summer anchored in Nečujam, and these days as well as back then, the atmosphere there is traditional, with song and dance, traditional food and wine – but a lot has changed since the Roman era, so you'll also find an apartment complex and numerous private homes in the area.
The western part of the bay has still preserved its traditional charm, though. While smaller vessels are welcome to dock in Nečujam, larger yachts can only count on dropping their anchor in the middle of the bay.
Rogač port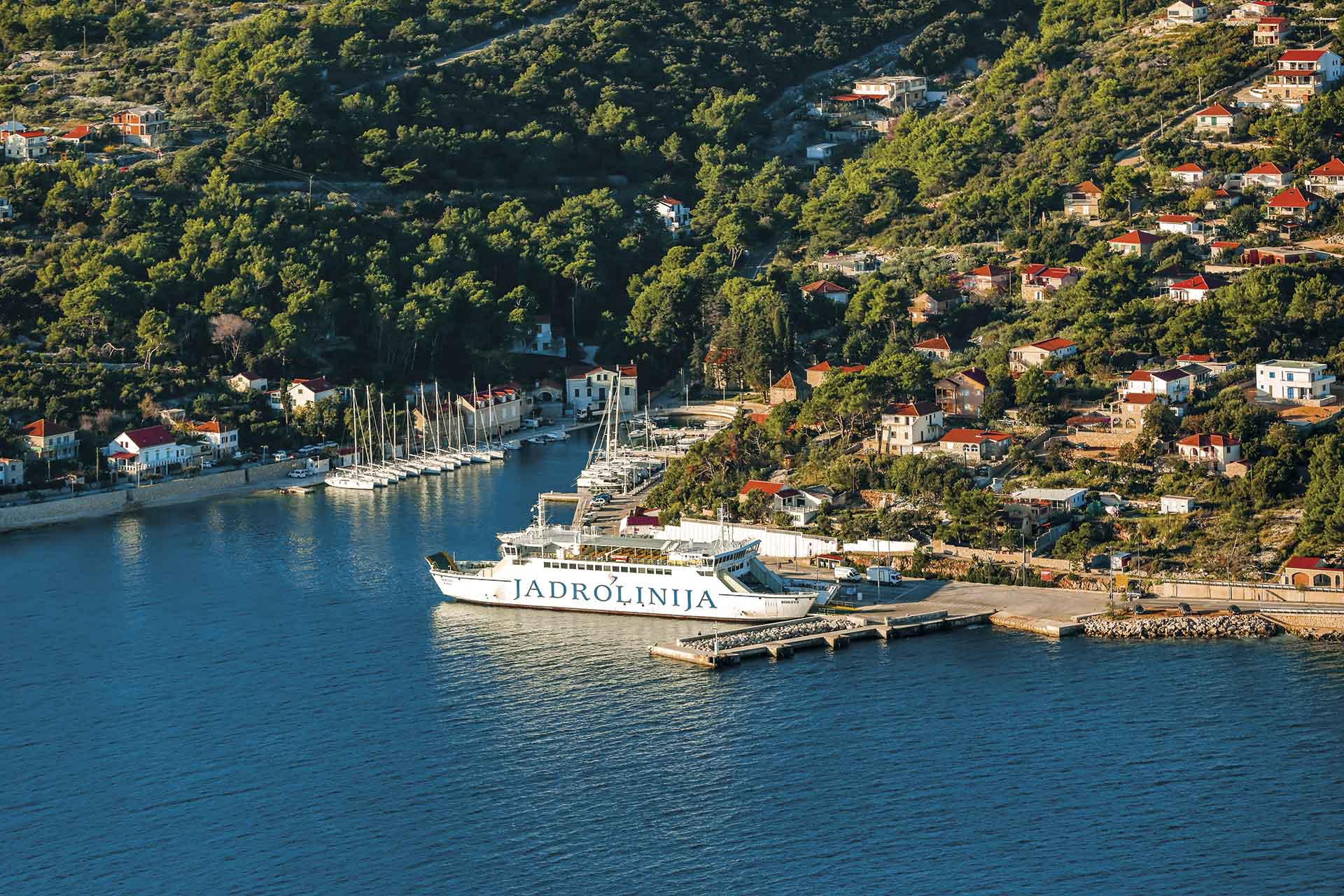 The nearby port of Rogač is also deeply set into the Šoltan mainland, spread across six small bays that provide shelter from any wind, except from bora. the past, Rogač was the port of Grohota, the largest settlement in the interior of the island, and to this day serves as the town's mouth.
Right next to the ferry dock there is a gas station, a grocery store and a small marina, as well as a creatively furnished restaurant popular among yachts.
Maslinica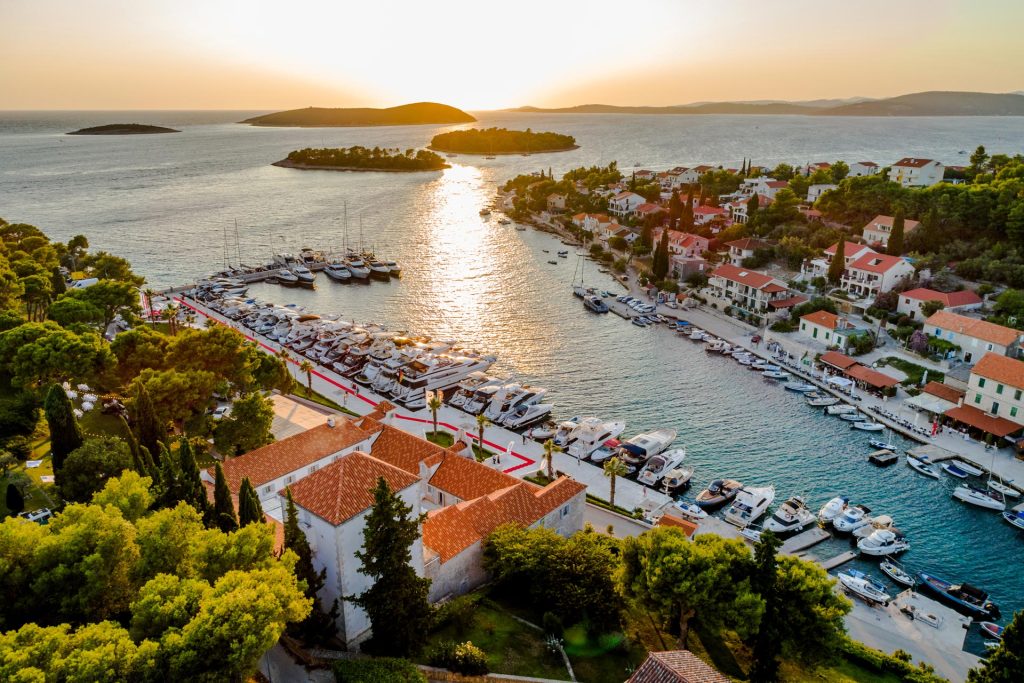 The small fishing village of Maslinica named after olives tree is everyone's favorite place on the island of Šolta. The tower and the baroque castle, today the beautiful boutique hotel, restaurant and marina Martinis Marchi, give it a special luxury feel. The exclusive marina, built following sustainable practices, is popular among luxury yachts.
Martinis Marchi
In addition to 55 moorings, the marina boasts an amphitheater that hosts all kinds of cultural events in the summer. If you are set on a quest to discover that perfect yachting destination on Adriatic that showcases the peaceful Mediterranean lifestyle and if you are lucky enough you will end up in front of mesmerizing castle hotel and Martinis Marchi property on the island of Šolta.
The luxury, privacy, safety and high level of service you shall experience in this marina, restaurant and heritage hotel, are nowhere else to be found.
This natural harbour, easily accessible and located on the west side of the island of Šolta, is an ideal starting point for discovering all the beauties of Adriatic while chilling here or exploring this magical island of honey, wine, figs, and olive oil.
This unique venue, where modern and contemporary harmoniously coexist with historical and local, surrounded by untouched nature, is ideal for special occasions, dream weddings, refined business, sports and private events or celebrations, which are often organized during the high season.
In front of Maslinica, there are seven islets whose waters are safe for anchoring, but find shelter from the mistral along the shores of Polebrnjak and Saskinja, in the shallow blue lagoon. However, the water depth between these two islands is less than two meters, so it's safer not to try and sail between them.
Šešula bay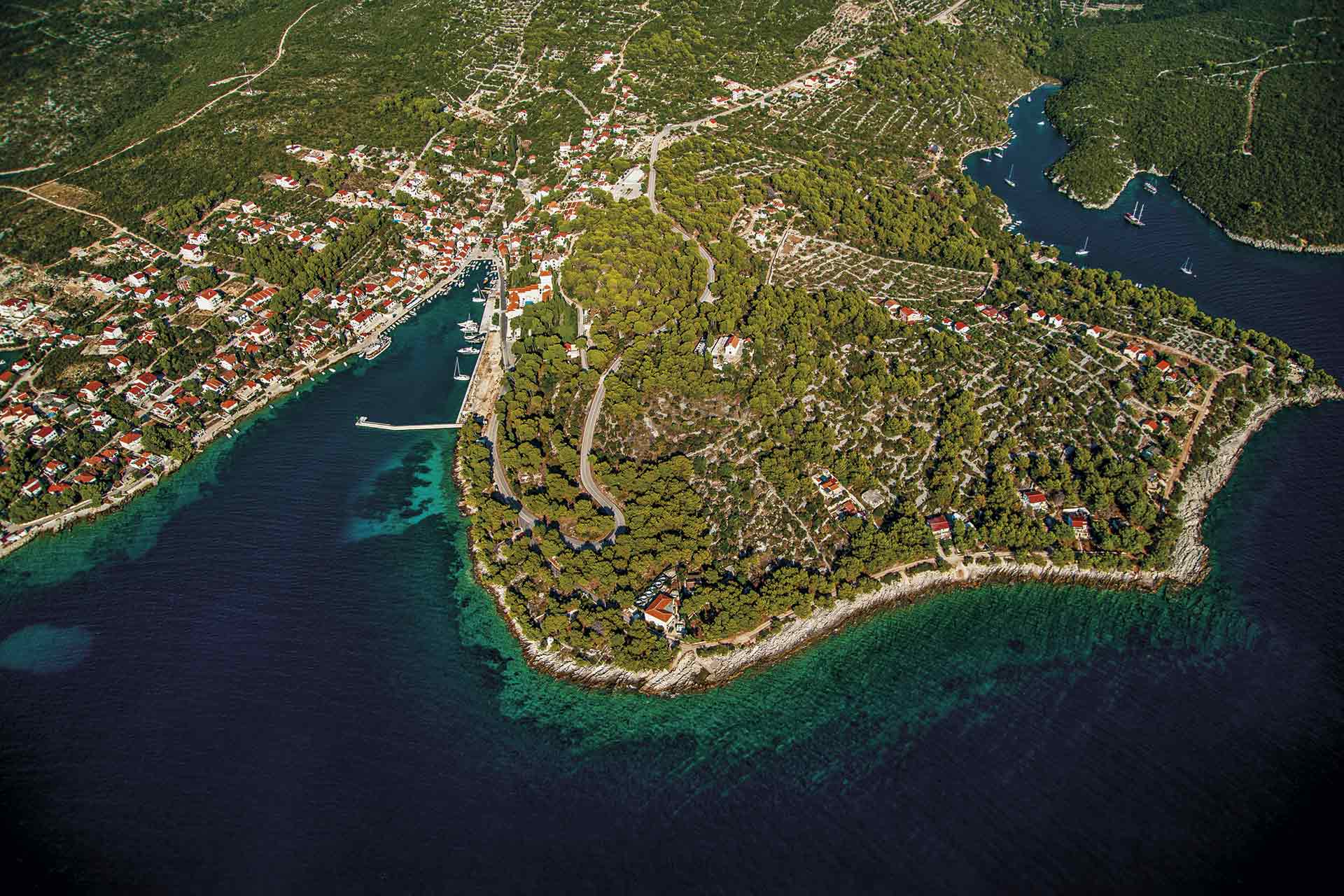 Šešula Bay is one of the best anchorages in the Adriatic, about a mile north. At the very entrance, where the fish farm is, the depth is great, so choose SE or NE arm for anchoring. Many prefer to anchor in the NE part of the bay, where there are two restaurants with private moorings.
Although the depth here is insufficient and the anchor holds well, the bay is narrow, so make sure you take your stern ropes ashore. Šešula Bay is only unsafe during stronger SW wind, which is rare in summer.
Senjska cove
The southern shores of the island lure with what are considered the most beautiful bays around, as well as imposing cliffs ideal for lovers of free climbing and diving. Tatinja, Jorja, Senjska, Stračinska and Livka are all equally popular, with every local having their favorite. Make sure to avoid all of them during southerly winds and storms from the west, from which they do not offer safe shelter.
Tatinja is certainly worth swerving from your planned route on your way to Vis or Hvar, just make sure you pay attention to the two rocks right next to the coast.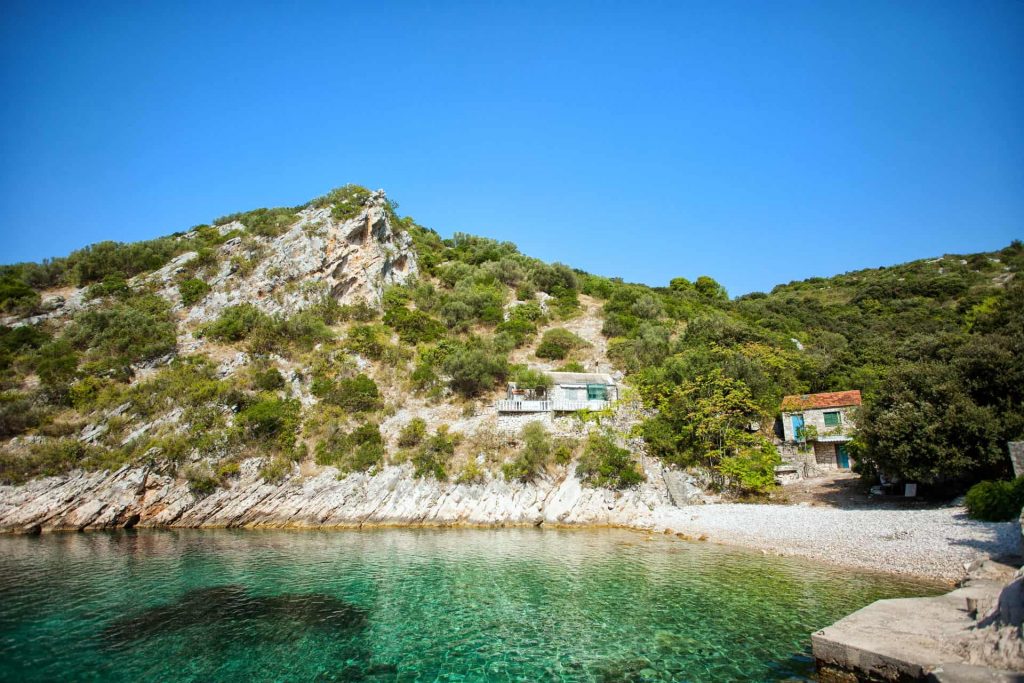 This deep bay consists of three inlets with depth ranging from 8 and 12 meters, and it is bordered by impressive rocks that descend almost vertically into the underwater expanses. All inlets here are narrow, so make sure you tie your boat to the shore.
Many visitors consider the middle arm to be the most attractive, but it is also the least protected. There is a restaurant in the eastern arm that is regularly visited by local boats, with private mooring for guests and unique atmosphere.
The neighboring bay of Jorja is similar, but with a restaurant on the hill, with an enchanting view, and a different feel – while Tatinje is most popular among smaller boats, Jorja has become a favorite destination for more glamorous motor yachts. Imposing cliffs also surround this cove, and the western, secluded part of the cove offers the most beautiful shades of blue sea.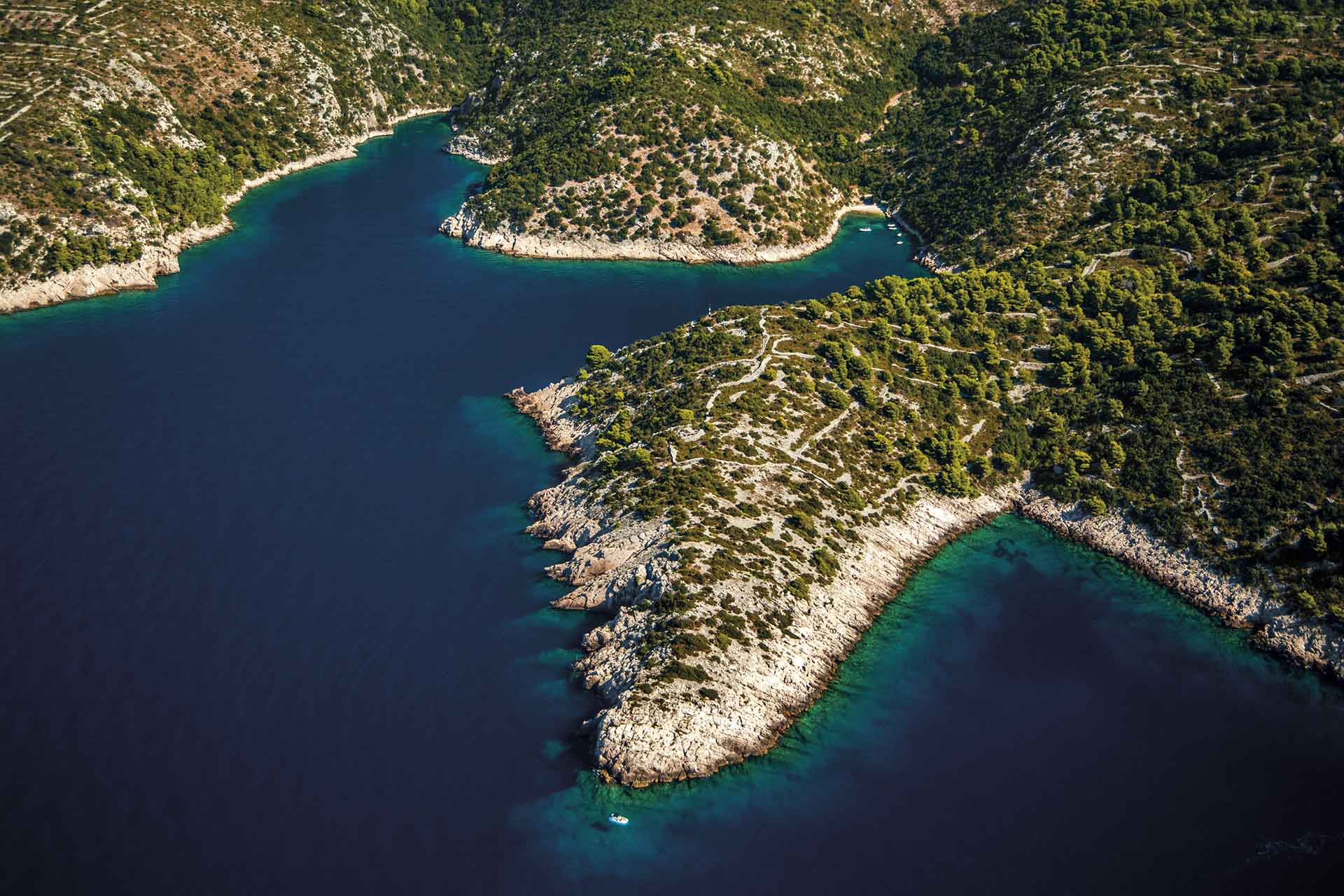 Head out to the beach!
The legend has it that the palace of local queen Teuta was located on the hill above Senjska Bay. According to that legend, fishermen used to throw fish from their daily catch into the sea toward all four sides of the world, asking for the queen's help in fishing.
In the northern part of the bay, lovers of pristine nature will find their place, while the eastern part with two tiny houses, a small beach and emerald green sea serves as a romantic backdrop for your daily adventure, well protected from the south.
The picturesque bay of Stračinska, only two nautical miles from the Split Gate, is popular among daily excursion boats, but come night, the bay settles into almost primordial peace. In this deep bay with two inlets depth ranges from 7 to 15 meters, and impressive rocks and a few stone houses calmly rest in the surrounding pine forest.
Livka bay
Boats sailing from Split to Vis often take a short break in Livka bay, but many also like to spend the night there. Water depth allows the anchor to be dropped close to the shore, but make sure you tie the boat to the shore, as well. If you want to visit Livka as it is, hurry, as the construction of a marina is planned and the bay will soon become part of a different yachting story.
Photos Yachts archive, Ivo Pervan, Boris Kačan, Martinis Marchi, Jure Ravlić, Mario Paparela, Beep Pictures. TZ Šolta, Ivo Biočina/HTZ, Shutterstock