The route which took us along south shores of Šolta and Brač Islands was simply amazing, and one definitely must check what it is that is so special in this part of the Adriatic, located right next to the most popular yachting waterways
As 'leitmotif' of this year's sailing we decided to go with the term 'wow'. We set out to the most beloved and most densely inhabited Adriatic archipelago, discovering its most hidden corners, sailing as fast as we could on the most popular transfer vessels, and on our way visiting the most popular restaurant in the area.
We have already written about island of Šolta and some of its hidden gems before, and the biggest hit with the yachtsmen is the Martinis Marchi castle's marina in Maslinica. So, remaining faithful to our decision that everything must be outstanding, we chose this as our starting point. As 'means' of our transportation on the water we picked two most famous RIBs for the purpose, the new Colnago 26 and the latest model of the Kanula company, the Lolivul 7.4. Both RIBs set an example to others in their class.
Luka Colnago was the first to begin transporting guests in this area, but also build passenger carrying boats, and the new Colnago 26 represents the synthesis of his vast knowledge. It is built of aluminium with Hypalon tubes and internal engine, and above all a narrow waterline enabling it to navigate even in the conditions when being at sea is not recommended, this RIB certainly belongs at the top of the world's supply of passenger boats.
Since Colnago had started transporting passengers, many others followed, and among them Mate Arapov, co-owner of the Kanula company and our acclaimed yachtsman. And a boat builder. After developing the 5.9 and 5.1 meter models for professional use (race competitors, divers, Mountain Rescue Service), Kanula built a nine meter RIB, proving to be a 'best buy' for carrying passengers, and today it is the most popular boat for this purpose in the Adriatic.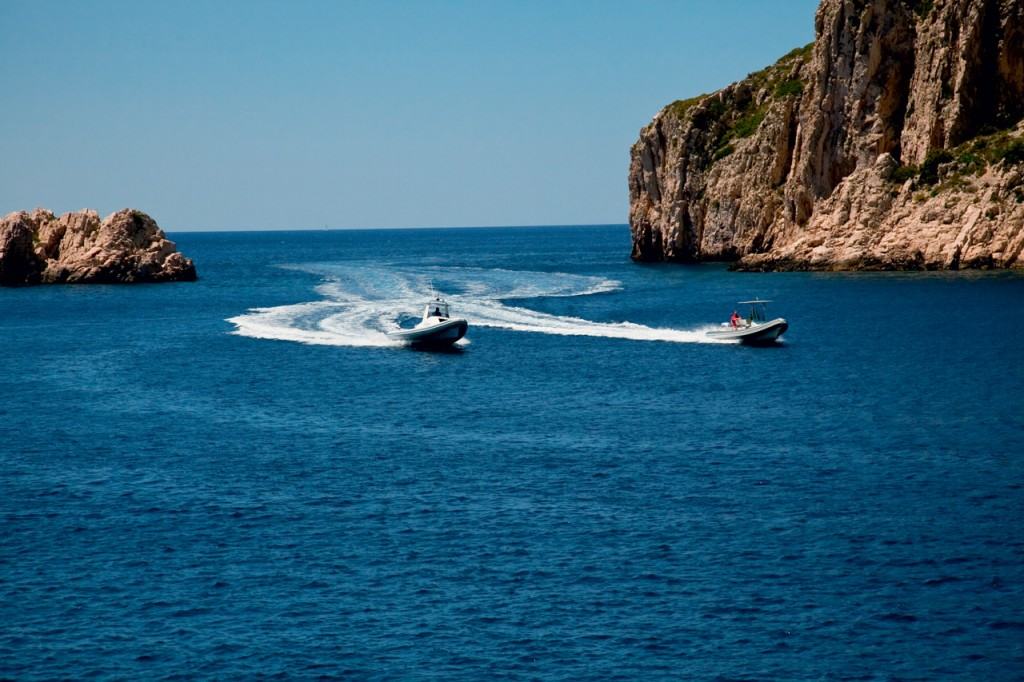 An interesting fact is that this company sold three of these for Luc Besson's film, being now shot in Croatia, so we look forward to seeing Lolivul boats 'playing a different role'. The 7.4 meter model represents a smaller version of the nine meter one, and we happily chose it as our second vessel for the exciting trip we started from the Martinis Marchi marina, unearthing their most concealed secret – the Marinča cape.
A military tunnel on the outer cape of Maslinica 'ate' at least ten kilometres of the road, but it enabled the Yugoslav army to keep their cannon battery there. And, as we were told, their rocket base too. As this is not a magazine on military installations, we were curious to know why this place was so important to our Maslinica friends. At the Martinis Marchi, known for the most beautiful marina and a fantastic hotel, a complete opposite from the style of military tunnels, this symbol of human stupidity (which we have an abundance of) is used in a positive way – for educational purposes and team building.
Most of the tunnels are now renovated, with pictures of people who symbolized the Cold War on the walls, serving as part of a quiz for the visitors. This was a pleasant experience, but we recommend leaving the skipper onboard, as docking is impossible even in good weather because of seiches. At the Martinis Marchi Heritage Hotel they offer organized tours to the tunnels so this is a good option for a visit. Our journey continued along the least popular part of Split Archipelago – the south shores of Šolta. We have crawled into tiny coves where remains of lime furnaces can be found, once a tool so important to Dalmatians.
These coves, hiding pebbles on their beds, have a unique charm and a 'taste of the wild'. As they are rather small, they make an ideal choice for Robinson style relaxation in the sun and sea. You will enjoy the views, solitude, chirping of the cicadas, and if you are good at fishing – an excellent spot for sport fishing. But before all this, we suggest you look into the weather conditions for the area, as during south winds the entire south shore of Šolta is less than ideal to anchor a boat, and to – if at all possible – storm anchor your boat on all four sides of the small bays for a safe mooring and peaceful sleep.
Although the coves are quite indented, the passing by of large ships can bring an unpleasant wave in the middle of the night, which can sometimes cause the anchor to plough – the last thing you need on a vacation. In any case, the area is well worth exploring and enjoying alone, with good and popular mooring sites just a few miles away. Midst all the small coves, nestle somewhat larger and better known ones. We would especially like to point out Zaglav, Tatinja, Jorja (with a lovely restaurant and mooring buoys), and my personal favourites Senjska, Stračinska and Livka.
In Stračinska and Livka you will 'wake up' again, the vicinity of the most popular sailing routes and Split Gate has done its share, so these gorgeous bays are no longer as isolated as they used to be. On your way to them, besides having the possibility to anchor in charming little coves, you will sail underneath Vela Ploča, an almost vertical rock fiercely plunging into the sea, and delight in the views of Vis, Hvar and Brač Islands.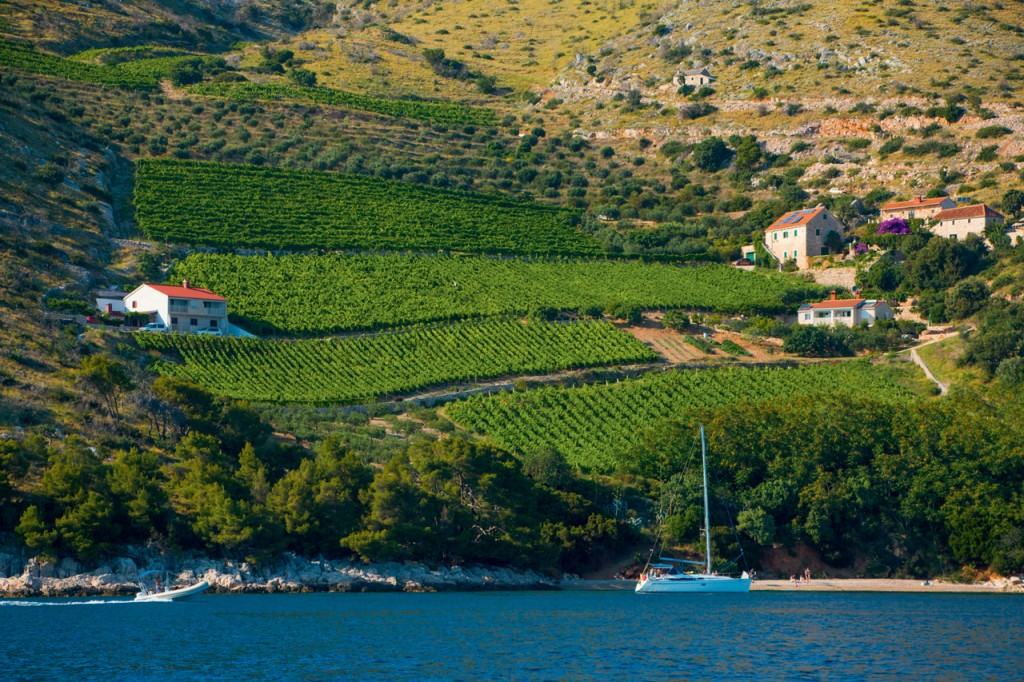 Brač was our next destination. Although well-known anchorages and island civilization (i.e. the road) to spoil the Robinson ambiance of bays and coves are just around the corner, the south shore of Brač offers a few good and not so crowded anchoring spots. You can visit the bays of Maslinova and Smrika with former military tunnels built for boats which offer a great opportunity to hide from bad weather.
The bay of Blaca is dearest to us: a still intact harbour with a hermitage monastery hidden in the unwelcoming cliffs of Brač Island. This is certainly the most significant building on our route. The cove itself is stunning (and also open to the south wind), and at a half hour walk from the cove is a monastery, now a tourist attraction, but also a monument to life on Brač and the human perseverance in general. We advise against climbing up to the monastery in great heat, instead visit in the early morning.
Sailing towards Bol is nice, but your main enemy is the – road. Stretching all the way to Farska bay, the road brings possibilities for a modern approach to agriculture, access to magnificent pebble beaches between Farska and Bol to tourists from the mainland, and a lot more. As beautiful as it was navigating at the foot of Vidova Gora and the island vineyards, we set sail in another direction: to the largest and best protected bay on our way – Lučice Bay.
It is home to the oldest and most famous restaurant in the area, the Marino tavern, owned by our friends, the Lemešić family. We listened to the 'middle' Lemešić, Leo, when he clearly warned us – do not dare pass by without stopping to see me. And so we did, and had an excellent lunch consisting of Adriatic fish, fresh and tasty as usual, and healthy and not so usual pasta with tomatoes and turmeric for our vegetarian crew members. We relished in the most popular and original meal offered by the Lemešić family – vegetables baked in a clay pot.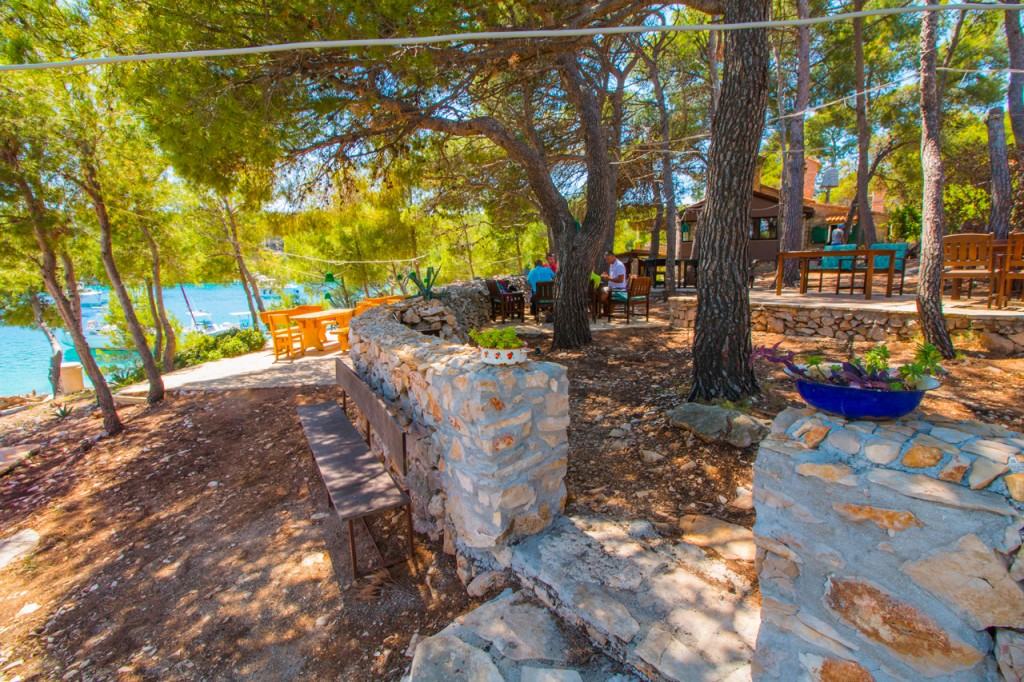 The quality of their cuisine must be experienced in person; you can enjoy the local produce, home-made olive oil, and vegetables from their own garden. The service of the restaurant includes buoy mooring, and also accommodation in unique apartments filled with antique furniture; and there is also a swimming pool.
This type of tourism is where the Lemešić family sees their future. Leo Lemešić tells us that the 'upgrade' of existing facilities became possible by bringing electricity and water to this once wild cove. Close by you can see luxury properties belonging to Croatian celebrities, and in the short time we spent there, it became clear to us why the pretty Lučice Bay is so liked.
Our journey ended with a visit to the village of Sutivan, becoming a 'wow' destination for cyclists after upgrading its cycling trails, but this is a topic for a different article. Hoping that in this abundance of experience offered by our summer route you find something for yourself, we wish you a 'wow' summer.