Azimut Yachts enters the world of triple-deckers with a revolutionary model: The Grande Trideck, three decks + one.
+ One, because of the extra aft deck in addition to the three traditional ones, completing a visual effect of cascading terraces from the top of the Sundeck down to the sea. 38.2 meters long and 7.9 meters wide, the Azimut Trideck is not only the new flagship of Azimut Yachts, as well as the first triple-decker and the largest boat ever built by the shipyard, but even the new symbol of the brand's innovative DNA.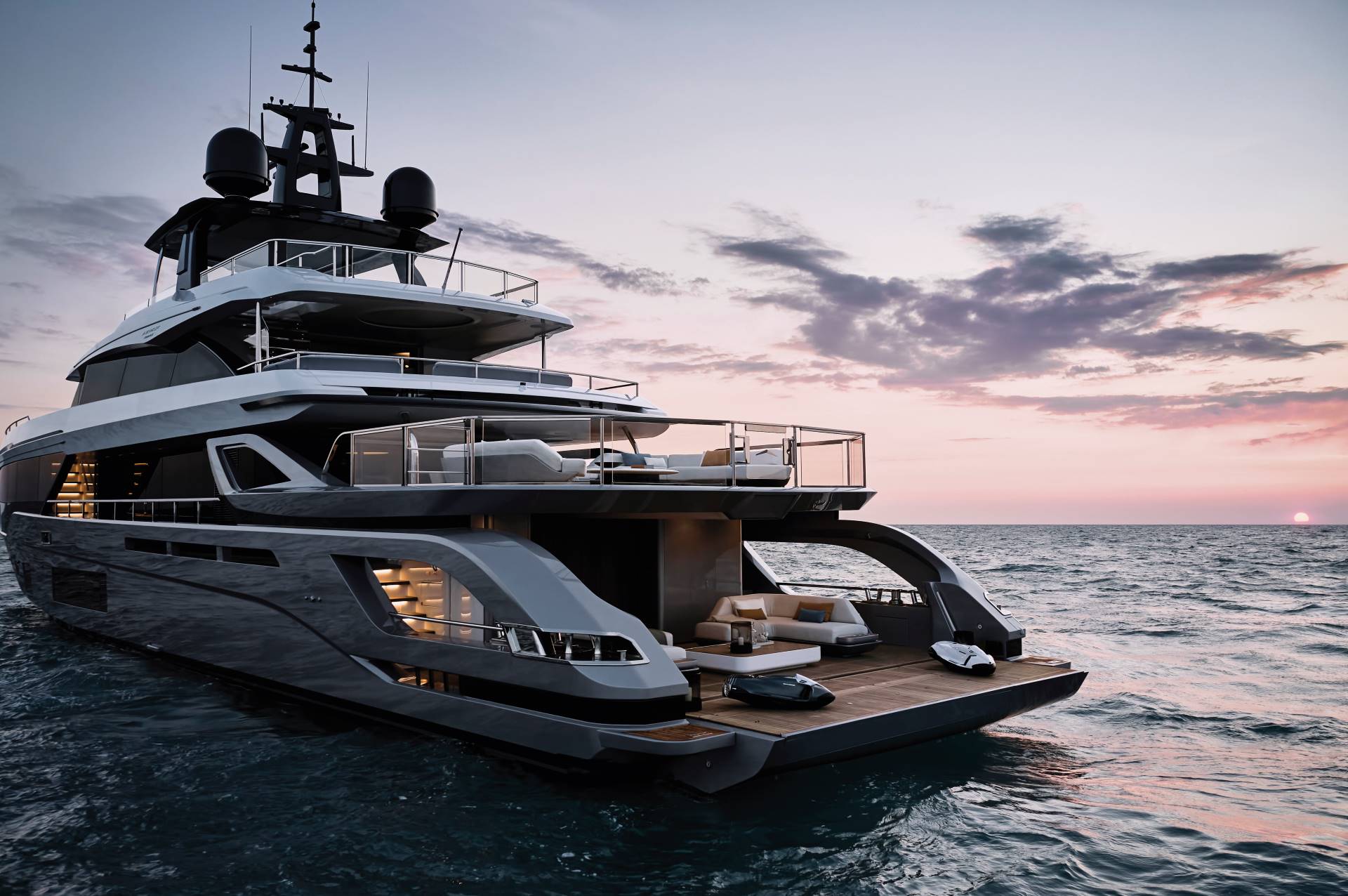 The Trideck proposes a revolutionary layout, both indoors and outdoors, to create new spaces more congenial to the demands of contemporary owners, increasingly inclined to a less formal lifestyle onboard and closer contact with the sea – all with a gross tonnage below 300 GT and two possible configurations for five or six guest cabins.
Designed for a contemporary owner, looking for a context for conviviality in constant contact with the marine environment, Azimut Grande Trideck has been designed in the name of flexibility. She was conceived on staggered decks to offer an unprecedented interpretation of the environments onboard, even inventing all-new spaces.
With a modern stylistic language also seen in car design, Mancini lightens the external lines, restoring a feeling of dynamism, a difficult task considering the vast internal volumes on this 38-meter yacht. The designer sculpted the hull with a rib that starts from the stern, at the height of the exhausts and extends to the bow, moving and giving tension to the profile. The fairleads themselves are styled and incorporated to enrich the design.
As for the other models in the Grande Collection, Azimut Yachts relied on Achille Salvagni for the design of the interior spaces and furnishings. The designer fully embraces the cause of the shipyard: to offer the market a redefinition of the role of space, giving new functionality to the onboard environments.
Salvagni works on two levels: function and style. First of all, he carries out a functional rethinking of the interior spaces, for which he abandons the preconceived functions of each area. The goal is to transform the yacht into a place where the owner can live without constraints, in a more liquid and accomodating space. To this end, the interiors have been dilated and integrated with the external areas, to become extensions of one another, a harmonious continuum.
Azimut Grande Trideck has a dual-motor option, with a pair of MTUs of 2400 or 2600 hp each. The first model under test, with an engine of 2600 hp, recorded a maximum speed of 24 knots, a range of 700 miles at 19 knots and, at a cruising speed of 12 knots, an autonomy of over 1700 miles.
Photos & video Azimut Yachts