Meneghetti Wine Hotel & Winery is an opulent multifunctional resort in the dreamlike Istrian landscape featuring a prominent winery and boasting world-renowned olive oil, hotel and restaurant which is praised and recognised worldwide
To get to know the history of the glorious and extravagant Meneghetti estate situated 20 kilometres from the colorful coastal town of Rovinj, we need to go back a little less than two centuries ago. In the period of the Margraviate of Istria, then part of the Habsburg Monarchy and Austria-Hungary, a fortified military compound accommodating some 600 soldiers was located in the area.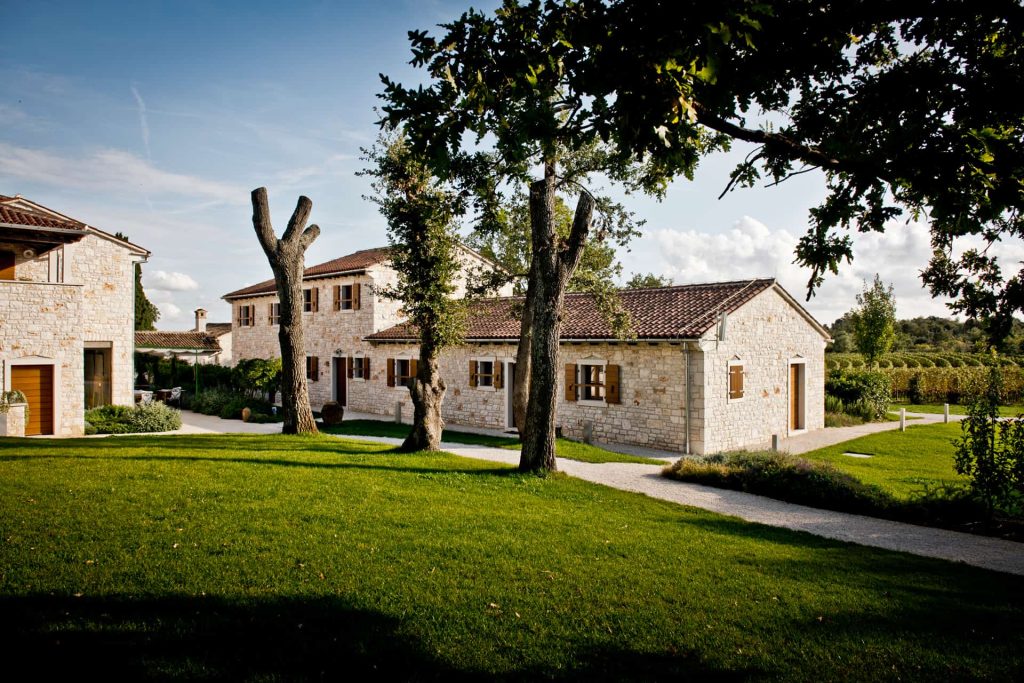 A Mr. Meneghetti, whose name remains a mystery to this day, purchased a large piece of land here and started planting olive groves and vineyards, rearing livestock, building barns and shaping a property that would supply the nearby military compound and where he would host Austro-Hungarian officers.
Overgrown in Mediterranean shrubland, it was purchased in 2000 by Miroslav Plišo and his wife, Romana Kajfež. With a lot of hard work, a keen sense of aesthetics and a vision for the promising estate, they turned the property into an opulent multifunctional resort with a prominent winery and world-renowned olive oil, featuring a hotel and restaurant praised and recognised worldwide. The estate spreads over nearly 400,000 square meters, the central hotel with villas and residences nestled amidst acres of vineyards, olive groves and woods, with idyllic pathways leading you to a private beach with a view of the Brijuni Islands.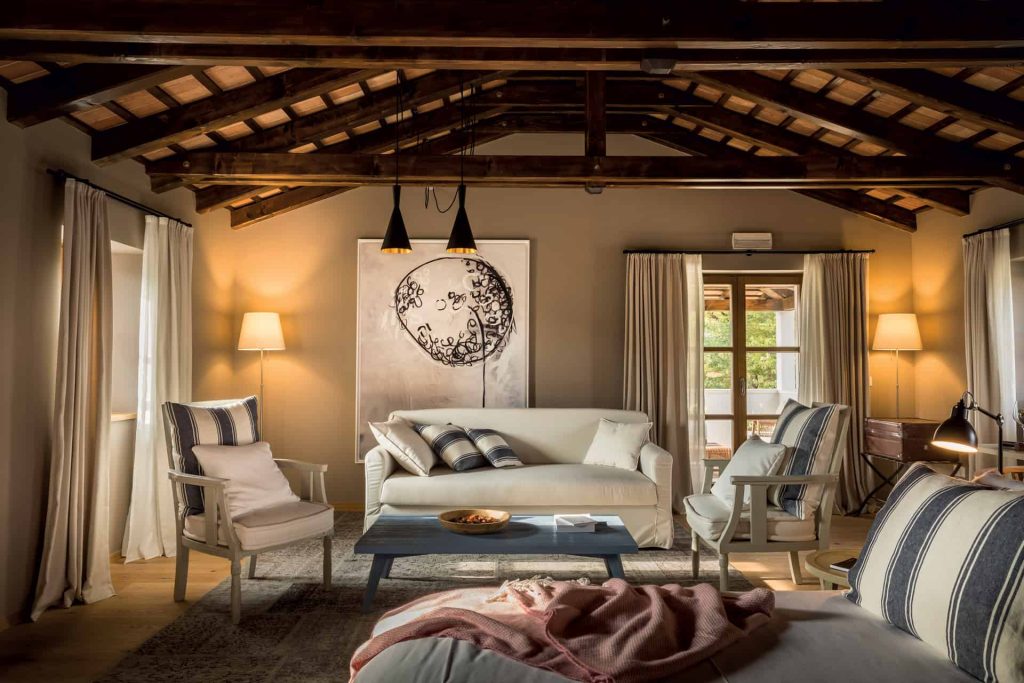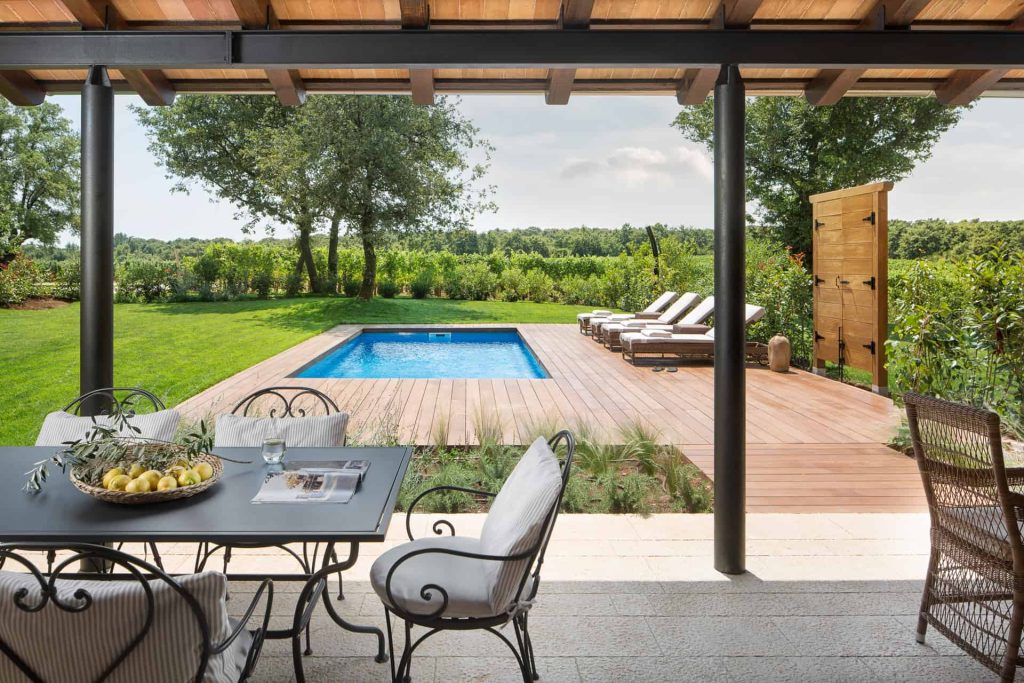 The hotel has been a member of the prestigious Relais & Châteaux association since 2013. Stone and wood dominate contemporary residences, villas and suites, exuding rusticity and elegance at the same time. Complementing lavish accommodations is a restaurant with Damir Pejčinović as head chef. The restaurant's culinary philosophy has recently taken a conceptual turn, evoking a modern Istro-Italian trattoria charm with outstanding service.
Meneghetti Wine Hotel & Winery has 40 rooms and a fine dining restaurant where you can choose from their long, exquisite and award-winning wine and olive oil list
The dishes we tasted were delectable, focusing on seasonal food, tradition and location, but above all else, skillfully prepared using premium ingredients by local suppliers, such as the Latus dairy and Kumparička cheese farm, Franjul cured meats, Istrian cattle (boškarin) meat from AZRRI, fresh fish from the North Adriatic, clams from the Lim Channel and Kvarner, vegetables from their own garden, cultivated for them by a family farm Božić, just a mile from a property, while bread and many other products are prepared directly on the estate.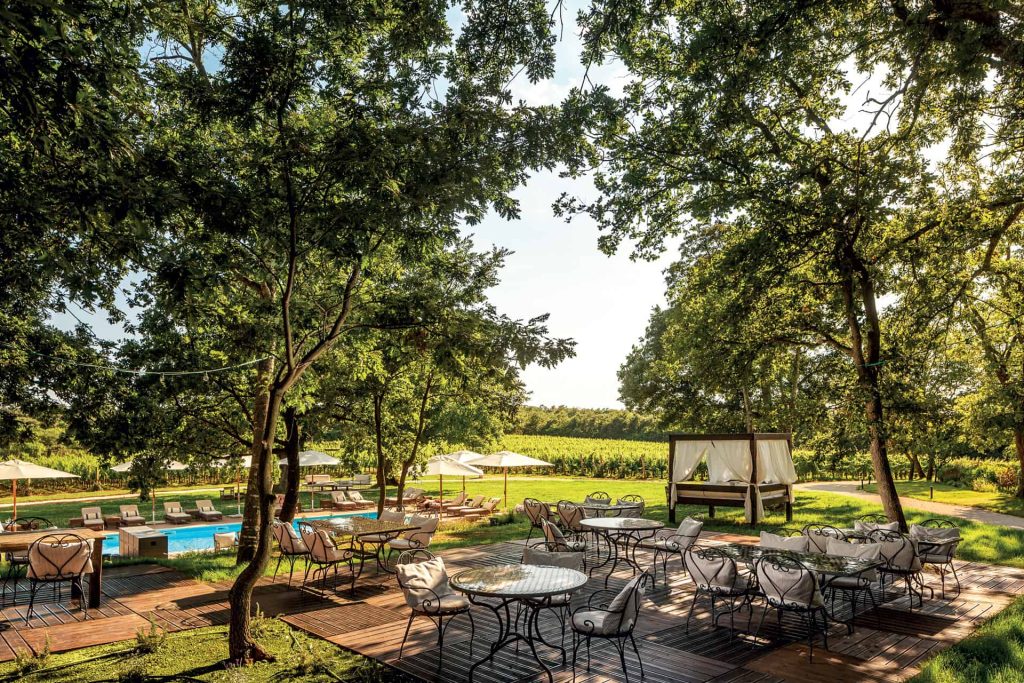 A new addition is a VIP private dining room with an eight-person maximum capacity that has been highly sought after since it was introduced, enthralling high-level guests. In addition to the main restaurant, the Meneghetti Wine Hotel & Winery also has an al fresco restaurant & lounge bar, OlivetO, located in a picturesque setting right next to one of the outdoor pools overlooking the vineyards.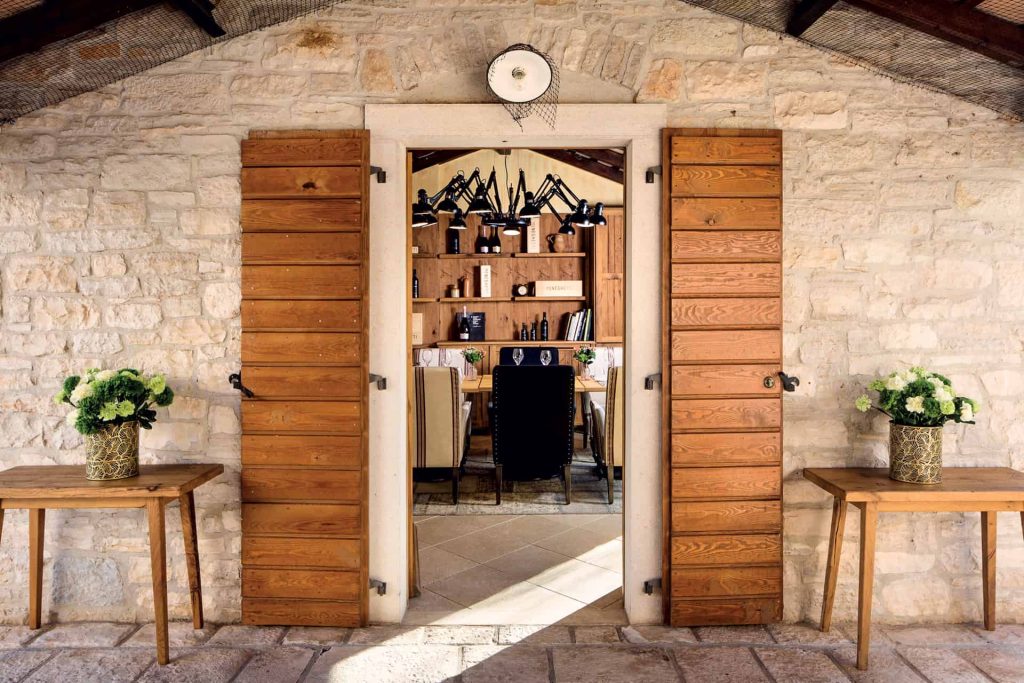 Often chock-full at lunchtime, OlivetO offers conventional local cuisine with a twist and an occasional Istro-Italian classic. Other than outdoor pools and a fitness centre on the premises, many residences and villas also feature private pools. In case of bad weather, there is also the indoor pool, sauna and a spa and wellness centre. For those of you wishing to spend your vacation by the sea, last year, Meneghetti opened the Boho beach club on its beach in Barbariga, less than two kilometres away from the estate, known locally as Stanzia.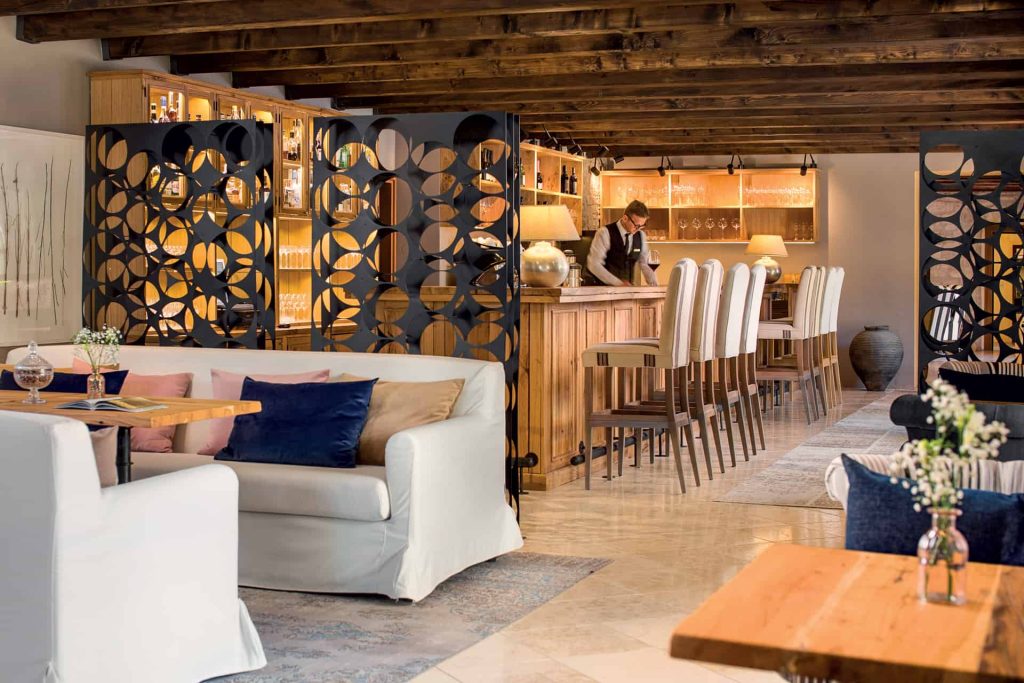 You can reach the beach by car, bike, hotel shuttle or on foot, wandering through vineyards, olive groves and woods on your way from the hotel, which is an ideal route for your morning jog. Meneghetti owes its fame to renowned wines and olive oils, winning award after award worldwide for several years now. It has been nearly 18 years since the first grape harvest, with a new winery complex in the works since last winter, set to be completed by the end of the year.
The new menu at Meneghetti brings together Istrian and Italian cuisine, finding inspiration in finest local and seasonal ingredients
The new complex will cover 15,000 square meters and have a number of facilities – a wine cellar with a private VIP tasting room, a space for archive wines from Meneghetti and other great winemakers, tasting room and a wine production building. The entrance to the winery can be found opposite the estate entrance. With 10 wine varieties and nearly 100,000 bottles, Meneghetti wines adorn all top wine lists at Croatian restaurants, while the winery's flagship wine, the Meneghetti Red, is a synonym of high quality and has a reputation of being one of the best red wines in Croatia.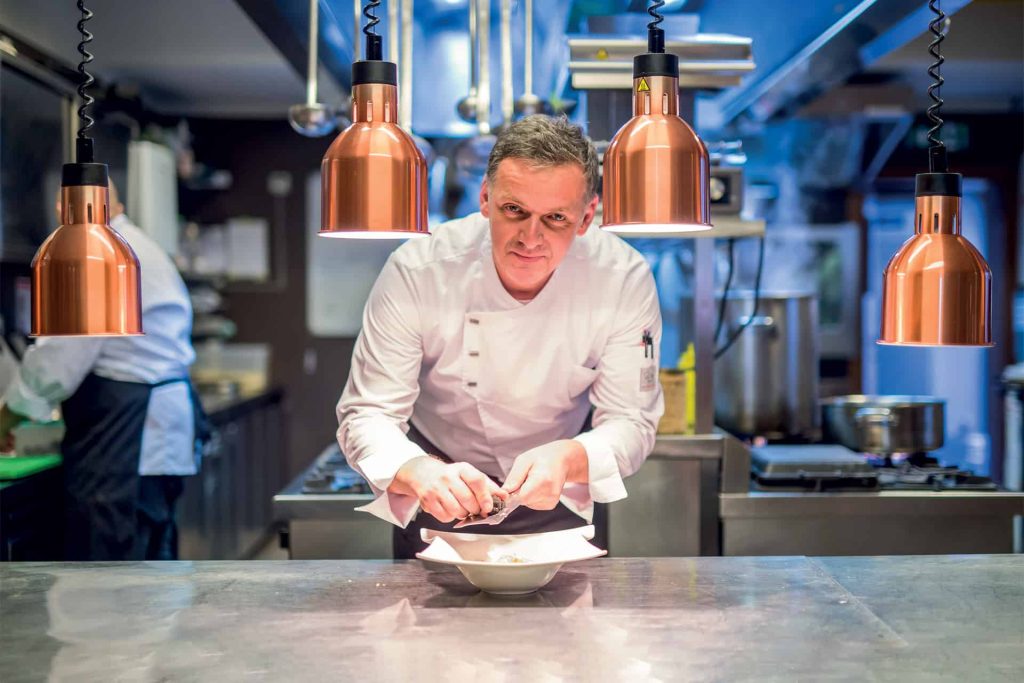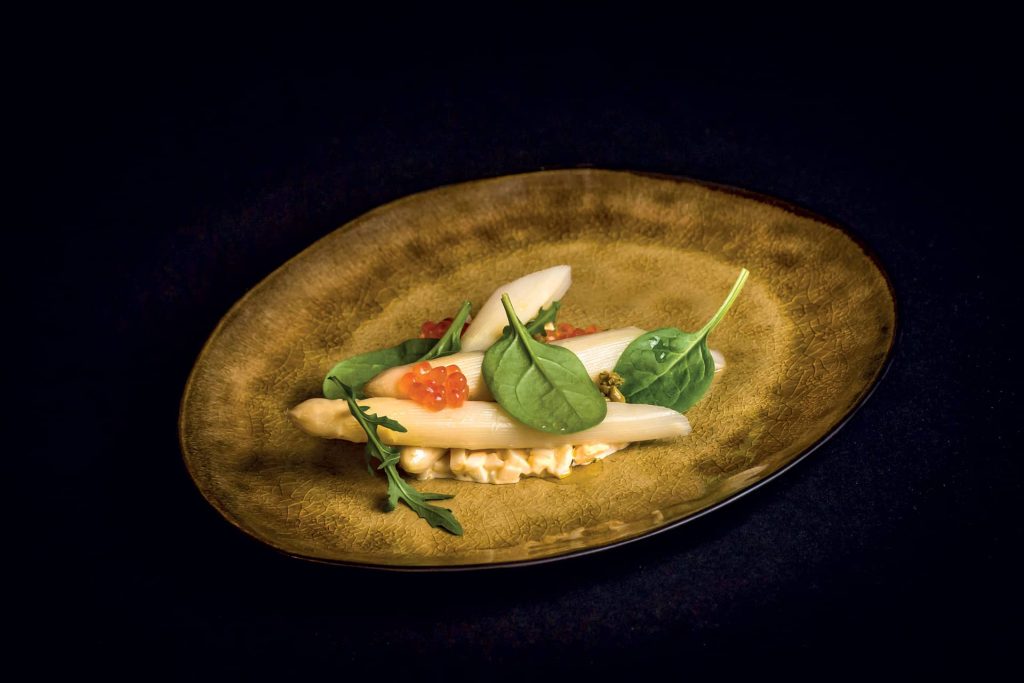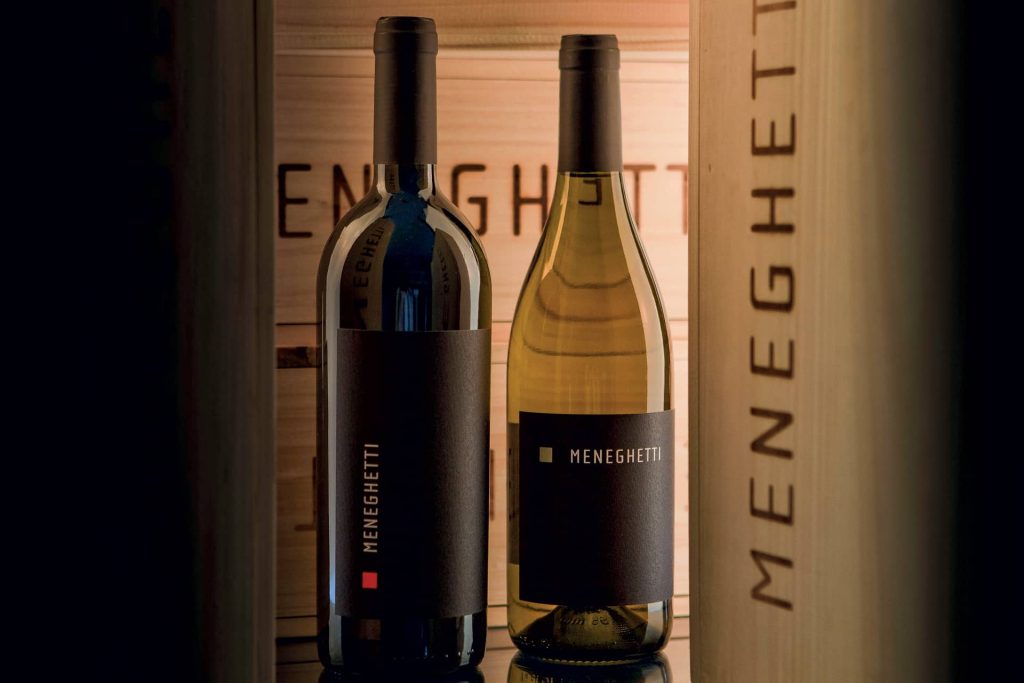 This spring, we had the privilege of tasting the 2017 Meneghetti Moni Emvasis, a Malvasia aged in stainless steel tanks for 18 months and then two more years in bottle. The Meneghetti estate vineyards Val Gambalera are located in Bale, while the Malvasia comes from the best part of Istria for the variety – the area of Motovun. We mustn't forget the award-winning olive oils that have been at the very top worldwide for 15 years now according to world-renowned olive oil guide Flos Olei.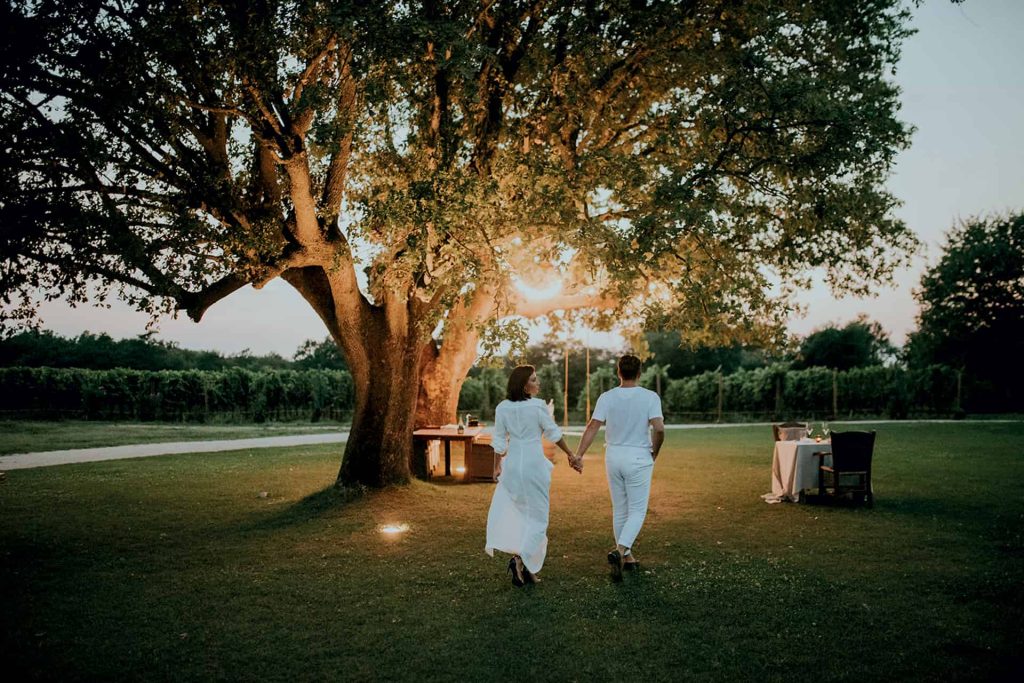 The Meneghetti 'Izbor', made from the indigenous Buža olive variety, was named the best olive oil in the world in the category of 'intensely fruity aroma', competing with over 6,000 olive oils from around the world in Rome in 2006. Named best olive oil region in the world by Flos Olei for six years in a row, Istria is perfect for growing olives. In addition to the Buža, you should also try the Bjelica, Rosulja and Leccino varieties when in Meneghetti.
We trust that we have managed to convey at least a fragment of the impression that the Meneghetti Wine Hotel & Winery has made on us. There are a myriad reasons to revisit and we can't wait to do so and experience a treat for all the senses.
Text Hrvoje Petrić
Photos Meneghetti Wine Hotel & Winery