Croatia is a highly tourism-oriented country, and this favors investing in luxury real estate. The main advantage is that you are buying a property whose price is constantly rising in a market that is not prone to significant fluctuations or value depreciation
Buying luxury real estate is not just an investment in comfort and refinement; it's an investment that brings you pleasure in the present and security in the future. As the great American writer Mark Twain once said, "Buy land, they're not making it anymore." Real estate in prestigious locations becomes valuable assets that not only hold their value but appreciate over time.
With over 20 years of experience, Sergio and Dina Serdarušić, owners of Eurovilla agency, have become an indispensable name in the luxury real estate market in Croatia. Whether you're seeking a haven on the Adriatic islands, a historic villa, or modern luxury in the heart of the city, Sergio and Dina know how to find a property that will become a new home or a secure investment for future buyers.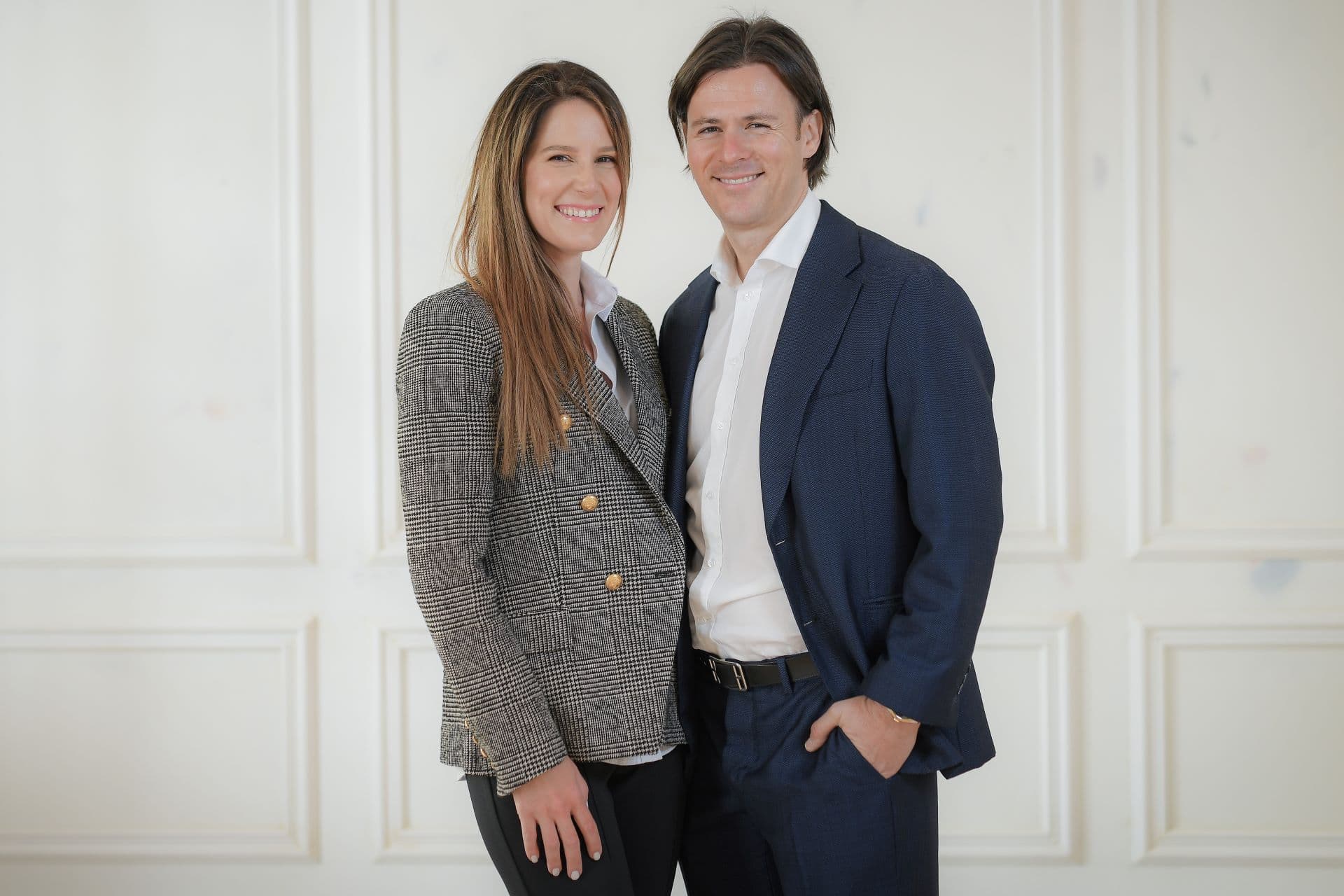 HOW WOULD YOU DESCRIBE THE CURRENT STATE OF THE LUXURY REAL ESTATE MARKET IN CROATIA? HAVE THE TRENDS CHANGED IN THE PAST FEW YEARS?
The market is extremely active, and demand exceeds supply. In Zagreb, the luxury real estate market has been stable for years, with most buyers being our own people or returnees. There is a very small percentage of foreign buyers. On the coast, the situation is completely different, where a significant portion of buyers comes from abroad.
Croatia is recognized as a beautiful tourist destination. Design trends and construction quality are in line with Western standards, and the country boasts a stunning Adriatic coastline, historic cities, and islands, making it increasingly attractive to many.
The demand has been growing year by year. Our country's diverse offerings cater to many property buyers, from the medieval charm of Dubrovnik to the sun-kissed beaches of the islands, the beautiful central Dalmatia, the charming old lady Opatija, to Istria with its rich gastronomy and additional amenities.
WHAT ARE THE MOST POPULAR DESTINATIONS IN CROATIA, AND WHY?
The entire Croatian coast is exceptionally interesting, and it's hard to single out any particular one. However, the most popular locations include Istria, Dubrovnik, and the Split-Dalmatia County. Certain categories of buyers are looking for specific properties, which often align with foreign habits.
For example, Slovenians are very fond of the Umag and Pula area, where they mostly seek apartments, while Germans prefer Pula, Rovinj, and the inland of Istria, where they look for houses with pools. Dubrovnik is a destination that attracts affluent clients because it's truly different from the rest of the offerings, and the airport facilitates the whole experience.
There's a strong trend of buying in the vicinity of popular cities that were neglected by buyers until a few years ago, and now there's huge interest. The always-interesting islands maintain a steady demand as their uniqueness, the sea, and the island lifestyle attract buyers. The challenge is the insufficiently regulated transportation to the islands and frequent unresolved property ownership issues.
CAN YOU TELL US MORE ABOUT THE KEY FEATURES OF LUXURY PROPERTIES THAT ATTRACT WEALTHY BUYERS IN CROATIA?
Luxury real estate can be characterized by location, size, construction quality, luxurious interior design, or a combination of all these factors. In Zagreb, luxury locations include areas north of Ilica and Vlaška, such as Pantovčak, Prekrižje, Tuškanac to Šalata, as well as certain micro-locations in the broader city center, properties with views of parks, near Maksimir, interpolations in the strict city center like Ban Center or Cvjetni. In Istria and on the Adriatic, luxury often means being on the first line to the sea, having open views, and beautiful villas with pools.
Properties on the first line to the sea often come with a high price due to their desirability and limited availability. Over time, however, these properties can significantly appreciate, offering the potential for financial gain if you decide to sell or rent them out in the future.
Home decor is an art form that allows property owners to express their personality and style while creating a comfortable and visually appealing living space. For those who appreciate finer things in life, luxury materials offer a unique opportunity to elevate interior design to a new level of luxury and sophistication.
Features like pools, garage spaces, yacht access, solar panels, smart home systems, high-quality modern construction and architectural expression, saunas, beautifully landscaped gardens, and security. Croatia is a very safe country, which potential buyers definitely take into consideration.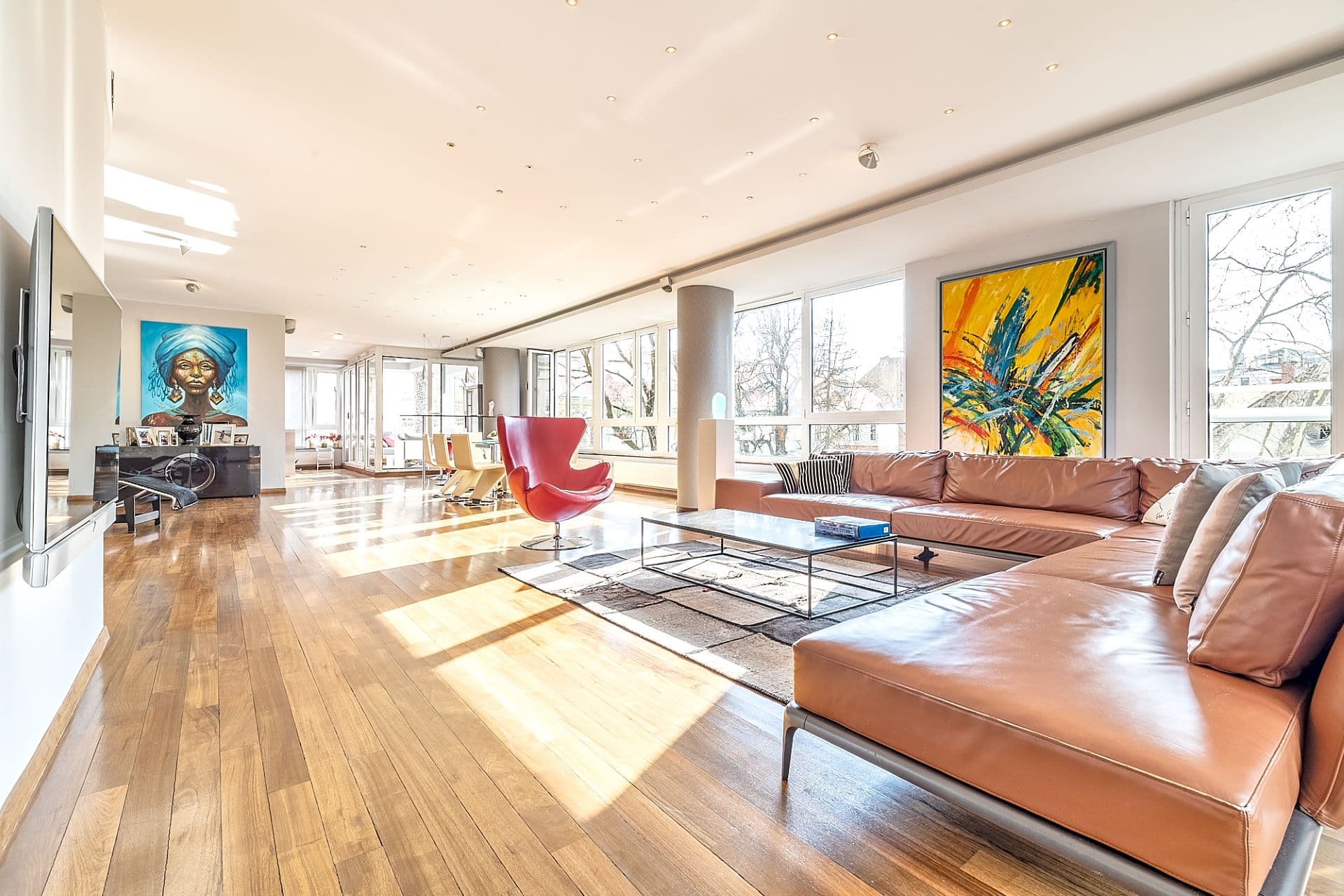 IS THERE A SPECIFIC PROFILE OF BUYERS INTERESTED IN PURCHASING LUXURY REAL ESTATE IN CROATIA?
Absolutely, the majority of clients are Germans, Austrians, Slovenians, Czechs, Slovaks, and Poles. Scandinavians follow, and then, to a much lesser extent, the British. Apart from the two major cities in Dalmatia, the most attractive area is between Trogir and Primošten due to its proximity to the airport, highways, several marinas, and well-connected islands like Brač and Hvar.
Clients are mostly highly educated entrepreneurs, doctors/owners of health clinics, and successful business people in the IT industry, as well as individuals from the show business. The profile is truly diverse, but middle-aged people mostly dominate when it comes to purchasing.
WHAT ARE THE CURRENT TRENDS IN THE DESIGN OF LUXURY PROPERTIES IN CROATIA?
Modern lines, flat roofs, lots of glass, an airy feel, and large, creatively connected spaces are in trend. Monochromatic interior design combined with natural materials, often stone, is prevalent. The interior has a vertical character with an emphasis on openness to the horizon and panorama. White and gray colors dominate. The architectural approach is somewhat monolithic.
Large surfaces contrasting with each other create a sense of dynamism, power, and physical separation of individual components as if they float in space. Houses generally exude the authentic spirit of the materials in their immediate vicinity but in a modern spirit.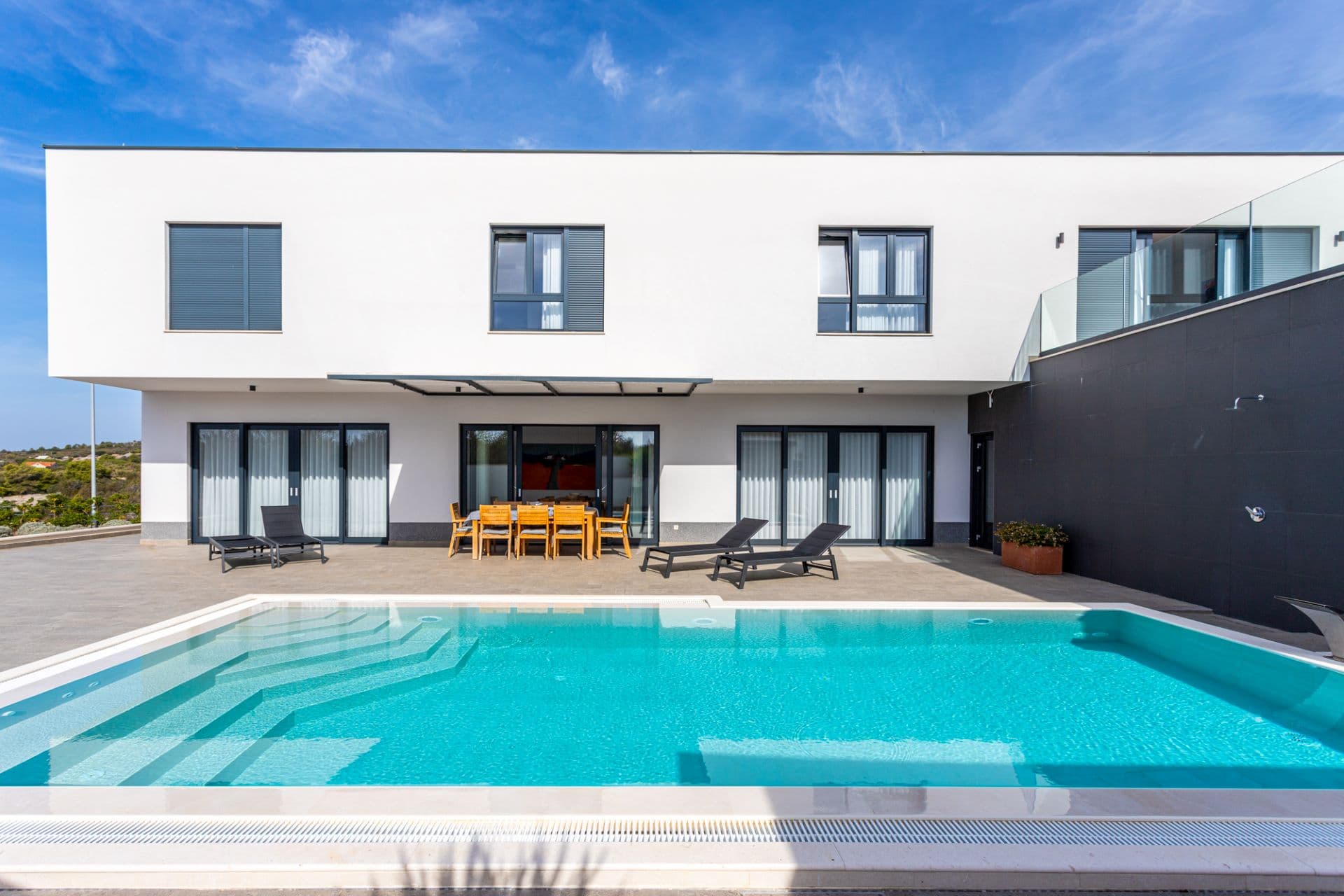 WHAT ARE THE INVESTMENT OPPORTUNITIES FOR LUXURY REAL ESTATE AS A FORM OF CAPITAL IN CROATIA?
Investing in real estate, in general, has several advantages. Investors can benefit from liquidity, good returns, and diversification with carefully selected assets, and real estate can also be used to increase wealth. When you can physically see and touch your investment, it's easier to understand.
Many people prefer to invest in physical property, and in Croatia, this is highly pronounced because people still believe and witness that investing in real estate is the safest and best option. For many years now, real estate in Croatia has preserved and increased the value of your money. In the last two years, we even had an exceptionally high growth rate in average prices, the highest in the European Union.
Croatia is very tourism-oriented, which favors real estate investment. Occasionally using the property you rent out as a vacation home is also popular among investors. You may enjoy owning an investment property as a tangible asset while receiving returns. If you hold it as short-term or long-term rental, investment real estate can generate cash flow along with an increase in value. You can earn money every month just by taking care of the property and communicating with visitors.
However, historically, real estate investments tended to outperform inflation, often moving in the opposite direction. As a result, investing in real estate will increase your chances of earning enough money to counteract currency depreciation.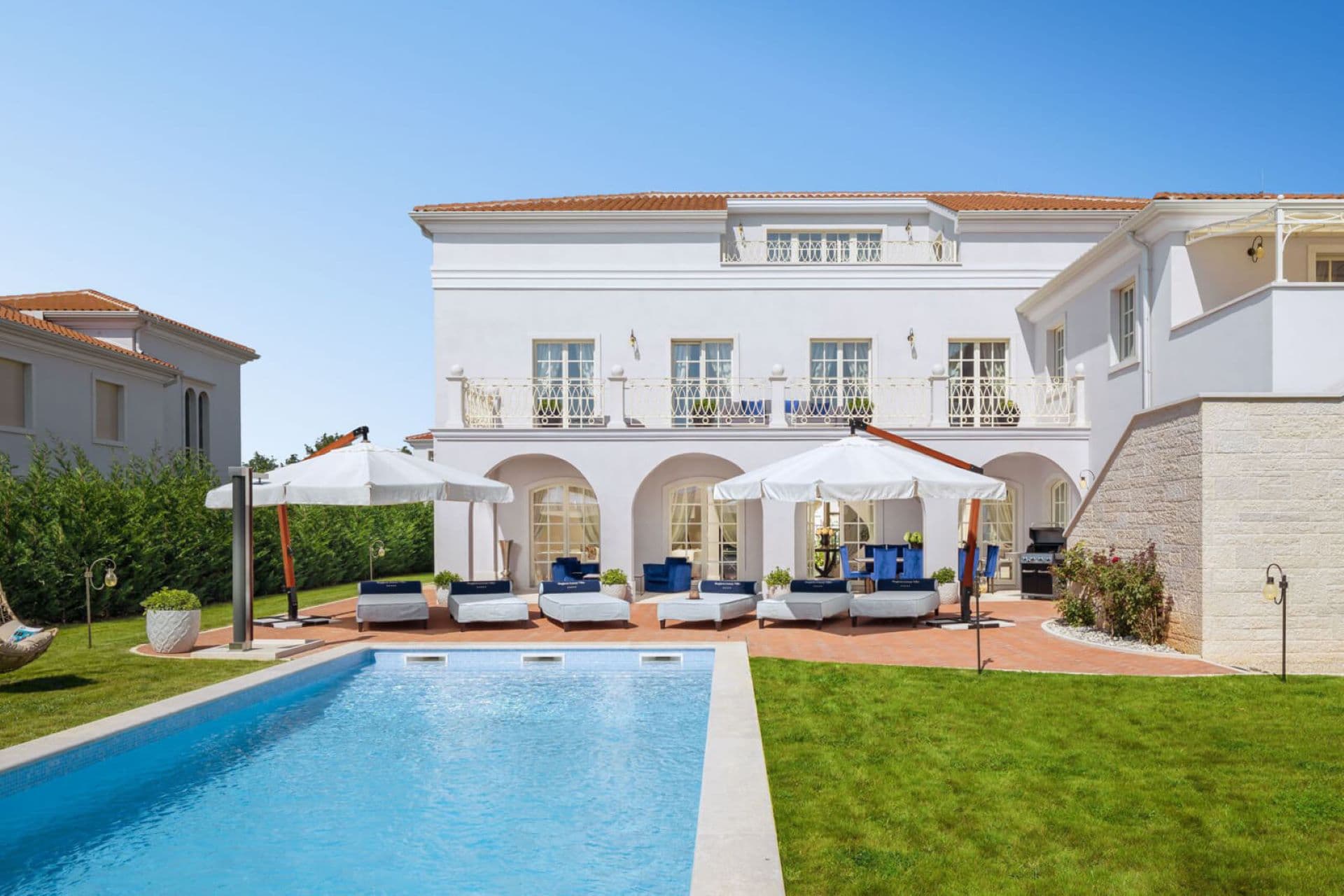 WHAT IS THE FUTURE OF THE LUXURY REAL ESTATE MARKET IN CROATIA? DO YOU EXPECT FURTHER DEMAND GROWTH?
The future looks excellent, primarily due to numerous unique advantages of our country. Croatia is located in the heart of the Mediterranean, which, with its excellent location, especially along the coast, provides absolutely all the opportunities for foreigners who have decided to seek a new or summer home here.
Since I assume the question is directed towards foreign nationals who decide to buy a house or villa by the sea, I believe that Croatia fully meets all their parameters as a country focused on relaxation and escape from the busy everyday life of a big city. The main advantage is that you are buying a property whose price is constantly rising in a market that is not prone to significant fluctuations or depreciation. So, your money is safe. Furthermore, Croatia is very well connected to the rest of the world, making frequent arrivals and departures easy.
The cost of living is lower than in other Mediterranean countries, nature is untouched because Croatia does not have a single branch of "dirty" industry, the sea is clean, and the crime rate is negligible. Croatia is one of the safest countries to live in in Europe and the world. It offers a rich gastronomic and cultural life and plenty of opportunities for sports activities. People are pleasant and helpful.
In line with your desires, Croatia, with its rich offer and abundance of possibilities, is ready to meet all your needs. Due to all of the above, I fully expect further demand growth.
Photos Eurovilla