In its 150 years of tourism celebrated this year, the city of Hvar has turned from health-oriented and elite tourism destination into one of many Adriatic typical party sites
Therefore, it is no wonder the port of Hvar, even though coloured with historical charm and rich architectural heritage, does not stand out as number one on the yachtsmen route. Yet the supreme gastro title, that used to count as the trade mark of the Hvar Aquatorium, alludes to only a few havens in the vast sea of restaurants oriented towards modern tourists. Perhaps the key point lies in the term 'in the sea', due to a simple fact the genuine gastro pearls are located by the sea, with focus on sea enthusiasts as prime clients, even though sometimes surrounded by the party-focused tourists. The Pakleni Islands (Hell Islands) still read as the favourite oasis of many local and foreign yachtsmen, the root of the modern nautical tourism, providing genuine gastro quality. The Vinogradišće Bay on the south side of the St. Clement Island, the Ždrilca Passage together with the Taršće and Soline Bays still belong to the central anchorage spots for yachtsmen. Since the Hvar maritime zone, with its high popularity rate and important historical meaning, plays a significant role in development of the nautical tourism, we wish to present you stories of some of the top restaurants in this region of the Adriatic.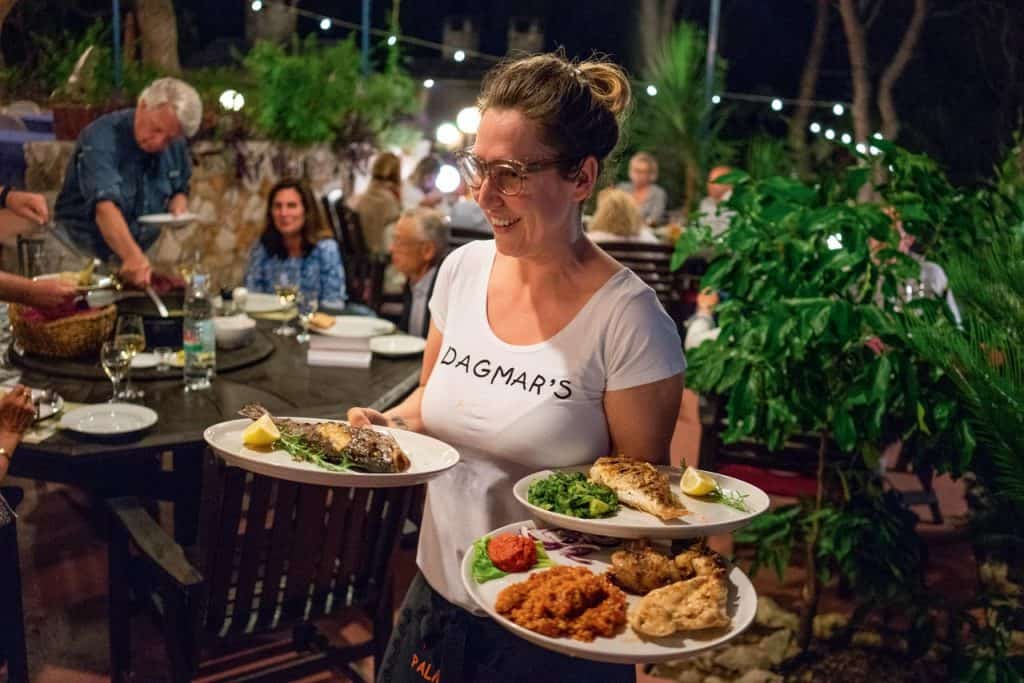 In the Vinogradišće Bay, modern tourists so wrongly label as the Palmižana Beach, the simplest way to say – is where everything started. A hundredth birthday of the Meneghello Restaurant, celebrated twelve years ago, testifies of its origin. People who used to spend time with the late Toto Meneghello, the person meritorious for development of the entire St. Clement Island, still sail across the Adriatic. The Meneghello family wears the title of the founders of tourism, they cultivated the entire land of their island estate and planted extremely rich flora. Each generation throughout more than one century has contributed to the superb and indigenous gastro name of the Meneghello Pamižana Art Resort Restaurant, providing one of a kind exceptional ambience enriched through valuable art collection of Mrs. Dagmar Meneghello. The town of Hvar has awarded this family with acknowledgment for exceptional contribution to the tourism development. Another acknowledgment fact – during our restaurant visit a gentleman sitting close by has been enjoying a historical connection with this restaurant ever since the 50s of the last century, meaning he has been around longer than Mrs. Dagmar. Amazing restaurant terrace is crowded with people enchanted with restaurant's appeal turning them into devoted clients for years.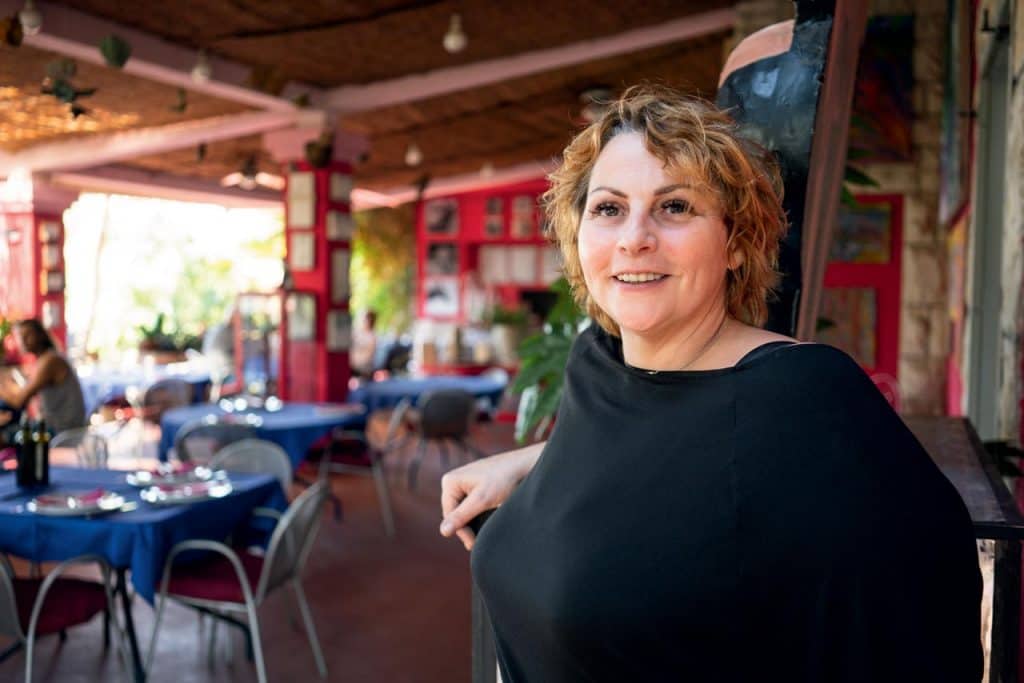 The daughter Romina has been improving impressive restaurant family tradition and Mrs. Dagmar, who was preparing new exhibitions, agreed to share her story with us: 'It all started in the beginning of the 20th century with a boarding house with no water and electricity, a haven for metropolitan souls seeking for a friendly care, good island food, walks in the nature, sailing and fishing. Since this was a wasteland, we started planting pine trees which grew into arboretum. As there was no electricity in this bay till the 21st century, they built a habit of cooking only fresh food at hand without any leftovers. The same cooking principle has been respected and pursued till today, for example dishes baked under the lid (peka) or fish dish 'gregada' are prepared à la carte. The most important is to have fresh ingredients and our cuisine follows the slow food cooking principle, because it takes time to prepare fresh fish. My late husband's wish was that we keep on pursuing family tourism and that our kids live and work in arboretum. So, Romina and Đenko, each attuned with her/his vision, follow the family tradition. We cherish the traditional cuisine based on fish and sea delicacies and I believe we are doing a good job and success is obvious from the number of clients that keep coming back. In my opinion a tourist that enters your house is your guest and as he soaks into the culture and tradition of your place, you turn him into your friend.' This restaurant has friends from all over the world, always coming back to its authentic tastes, exploring homemade ingredients and inhaling unique restaurant ambience. Romina Meneghello believes that restaurants oriented towards genuine traditional quality simply cannot be outran by modern trends and Meneghello Restaurant we perceive as homage to a unique lifestyle we warmly recommend you try out. Prepare your taste bulbs!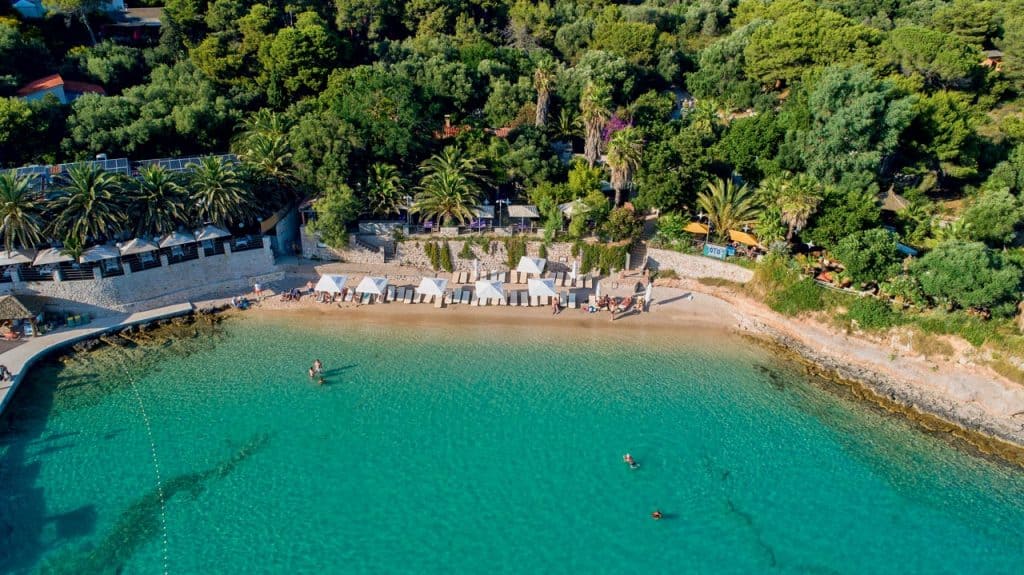 Named after the father of the nautical-gastro style and father of the restaurant owner Đenko Meneghella, this facility belongs to a must point of yachtspeople. It's nested on one of the most beautiful Adriatic terraces right above the beach in the Vinogradišće Bay, only a hundred meters away from the Meneghello Restaurant offering a unique ambience of a botanical garden with more than 60 palm tree species taken care of by the family for decades providing a breath-taking view across the bay and the open sea. Yet the restaurant menu based on sea delicacies out-tops the atmosphere since Đenko's know-how fisherman features promise a top ingredient on the Toto's menu. However, Đenko tends to be less involved, letting Pavo, his son, continue where he left off. 'Palmižana has become a famous destination, and you wouldn't believe, people come here just for the sake of instagrammable photo. Nevertheless, the mass of different visitors like yachtspeople, sailors, tourists, always draws the majority of the faithful and devoted clients that keep coming back,' emphasizes Pave Meneghello.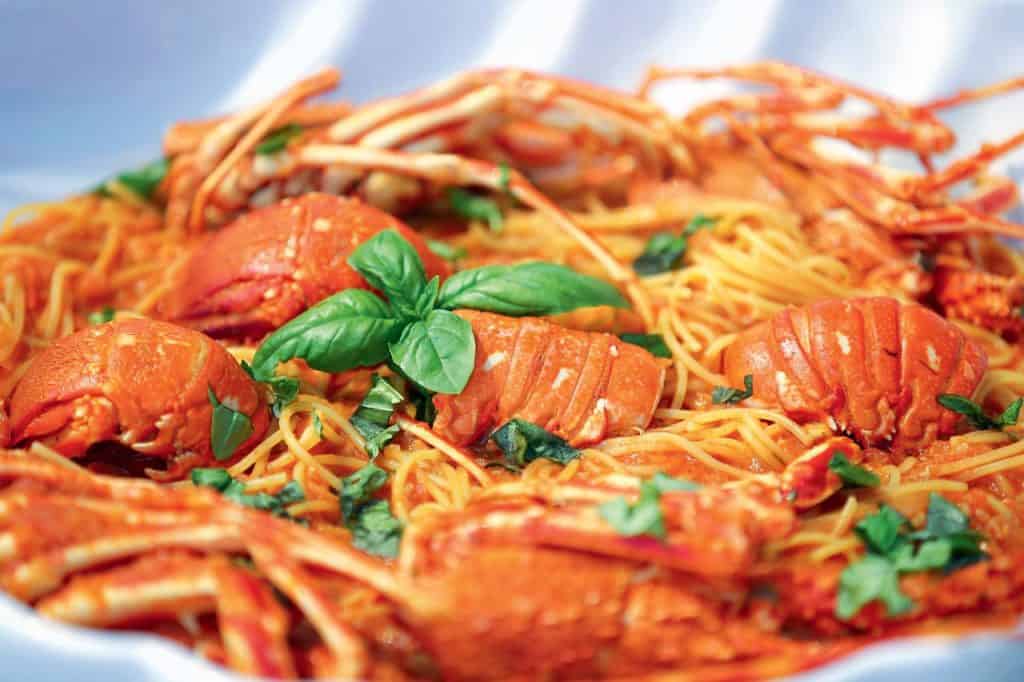 As in life, so is the story in work, one always searches for balance, so this winter they redecorated Toto's in two parts. One part offers light dishes while the other is devoted to the true gourmands 'fishing' for the fish dish 'gregada', fish stew 'brodet', grilled fish and lobster pursuing the spirit of the fisherman tradition. To the answer of the top three dishes, Pave smiles and replies: 'The top three dishes are all fish dishes. Starting from the appetizers like tuna tartar, ceviche or sashimi, all fresh fish dishes of minimum cooking process. One of our esteemed dishes is 'tuna and everything we can make out of it', a great mirror image of our gastro approach and attitude. My father's vision of a family tradition is pure hedonism, and I have nothing more to add – you either are or you are not.'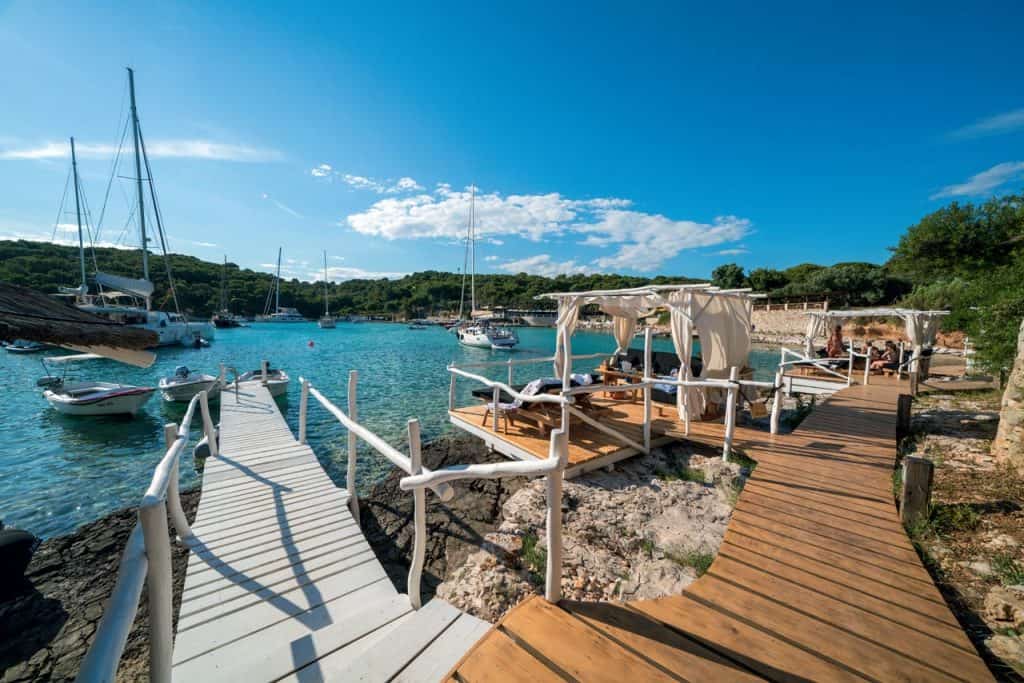 Even though the Laganini Lounge Bar seems like an ideal beach destination for young partiers yearning for all-day-fun, especially known for 'after beach party' events at dusk, the owner Ivan Novak extended his offer beyond cocktails and premium champagnes. He created a pleasant oasis in the backstage for selected clients, where Hrvoje Zirojević, the main chef, provides innovative cuisine worthy only the skills of an awarded chef on the Adriatic, tearing down rigid attitudes of what gastronomy should be. Even though in love with local ingredients, what makes Hrvoje different from other chefs is his ability to apply modern culinary principles on seemingly dull ingredients, yet always fresh, coming up with a new perspective, thus truly tempting your taste bulbs. They say some traditional meals shouldn't undergo changes, and tradition should be respected, but once one manages to add another dimension to the meal, then everything is allowed just like in rock'n roll.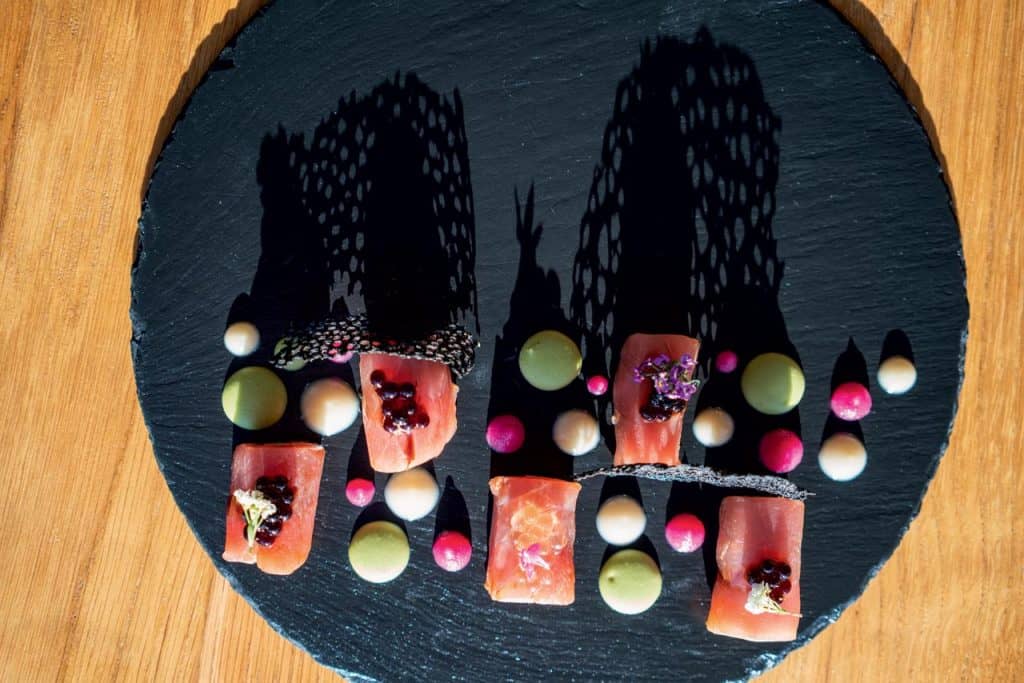 'In creating menu, I had a complete freedom. I use exclusively indigenous ingredients found within 50 m radius, because I bring into play everything sea offers, like snakelocks anemone, roe (fish eggs), sea urchin and other. For example, sea weed we put in homemade pasta, smoked shellfish risotto is topped up with piquant cheese ice cream or we make fish bones chips. My cuisine offers a whole array of these plays. All is original, tastes are intensive, robust, ancient, yet people's reactions are great', smiling shares Hrvoje with us, who participated last year in charity dinner at Rockefeller Center Plaza as one of 30 world chefs preparing exclusive dinner for 1.000 guests. If you go, like we did, for a tuna with foie gras compote, tuna tartar slightly smoked and served with onion and bitter Hvar orange jam, whole wheat crackers, sweet and sour capers and lemon jam or a plate with scampi and lard sausages on the side, squid baquette and oysters' chips, you will clearly understand this chef definitely doesn't lack creativity or originality. This is just the tip of the iceberg, because menu 'has to' embrace grilled tuna with pear and ginger chutney, 'dark' fish dish 'gregada', seashells, scampi, lobster and other dishes.
Photos by Mario Jelavić