Unique gastro experience
We have designed restaurant reviews based on their unique nautical gastro offer delivering high quality service today and over the years, earning them reputation of the favourite nautical destinations deriving from rich family traditions that can be traced back for two even three generations. Visiting all Croatian 'nautical' restaurants means also a chance to enjoy autochthonous meals not possible to taste in swank metropolitan restaurants, but here in Croatia. A true gastro pleasure of tasting authentic Hvar fish dish 'gregada' or high class grilled fish calls for special ambience. So, no matter how the new Hvar tourism image might seem unappealing to some, the experience of enjoyment in its delicacies still meets heavenly criteria.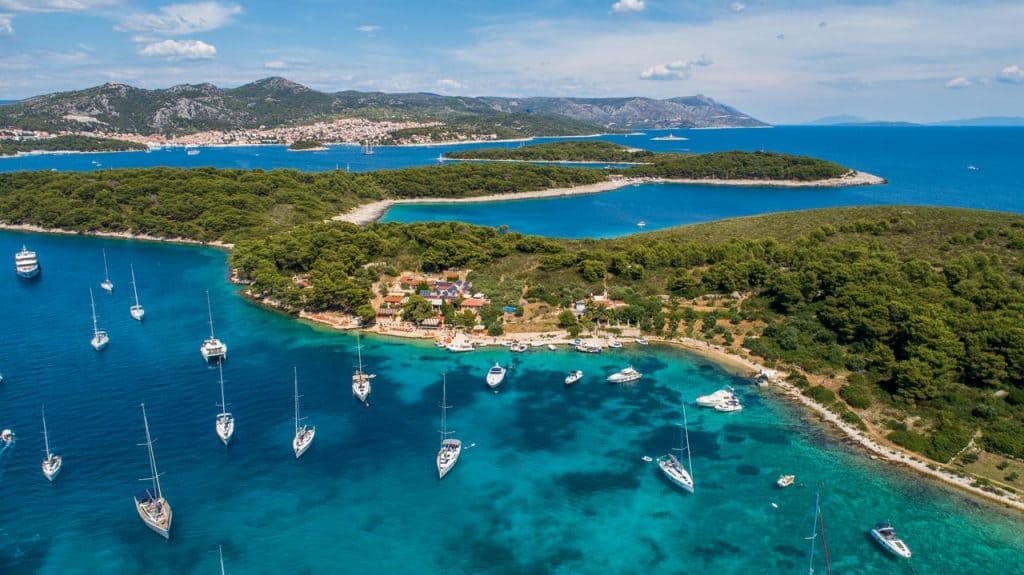 'Buckle up for fine food' reads slogan of the Antonio Patak Restaurant, portraying fabulous atmosphere that has been attracting generations of yachtspeople for four decades, choosing on their routs one of the most famous Pakleni Islands Bay – Ždrilca. Judging by the moored yachts in summertime, this sea passage resembles the most popular anchorage spot in the Mediterranean, and the main reason this bay buzzes with yachts is their favourite restaurant growing over the years into 120 seating places. This family facility ran by spouses Ante (the famous Patak) and Nada Dujmović with helping hands of their daughters, Marijana and Katarina, beams with that special charm and taste of the traditional kitchen and home atmosphere 'spicing up' the food served. With great pride, the hosts emphasize fresh fish delicacies caught within the local fishing zone, however Mrs. Nada's cooking technique of minimum food processing respects the indigenous taste of the ingredients, so octopus salad might be the best starter, since it stands as a fusion of all fresh foods blended by the homemade extra virgin oil, representing the fundamental backbone of all dishes. Unmistakeable choice for bigger crews would be fish dishes like brodet or 'gregada', keeping in mind that the strong sea currents in this passage represent a perfect sea-storage for preserving fresh shellfish and lobster.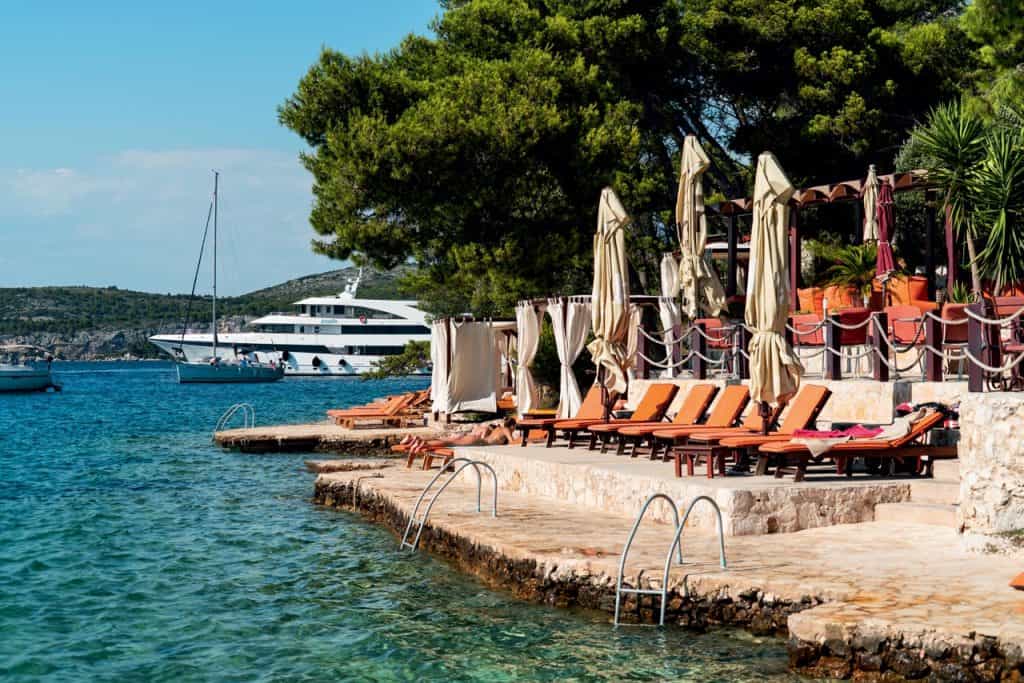 Their daughter Katarina Čajić, an inevitable member of this quartet, greeted us with 'thousands of information'. Her enthusiasm and desire to make their guests' stay a true pleasure at this trendy yachting gathering, is obvious from every word she said. 'This is a family restaurant that has not changed owner ever since 1981. My sister and me simply pursue our parent's business idea. We make mutual family-based decisions. We present genuine Mediterranean sea cuisine; our aspiration is to offer the same meals a guest can eat here ten days in a row under the special ambience with sea view. They both cook, my mum and dad, he is in charge of the grill and her territory is the kitchen zone, we all take part in supply tasks. We approach each guest with the same friendly attitude, as if this was our living room, home… Apart from following traditional traces, in the last few years we have opened up a bar providing guests fresh from swimming with invigorating cocktails. This year has brought a huge development for our bar area, we also have a trampoline and a fenced beach. We use only fresh ingredients for our cocktails. We have guests from all over the world and yachtspeople are the most frequent ones. Except the first-class sea dishes, we prepare sea broth on every day basis, fish soups and similar, we also have food for guests who follow alternative style dishes. I completed natural cuisine school, so we also offer gluten-free meals, rice and corn noodles and other dishes in this sense. For example, the other day we prepared a lobster brodet with gluten-free noodles. We have so much more, like raw cakes we sometimes have on the menu, but primarily our focus stays on the quality of our basic menu.' Which you simply have to try…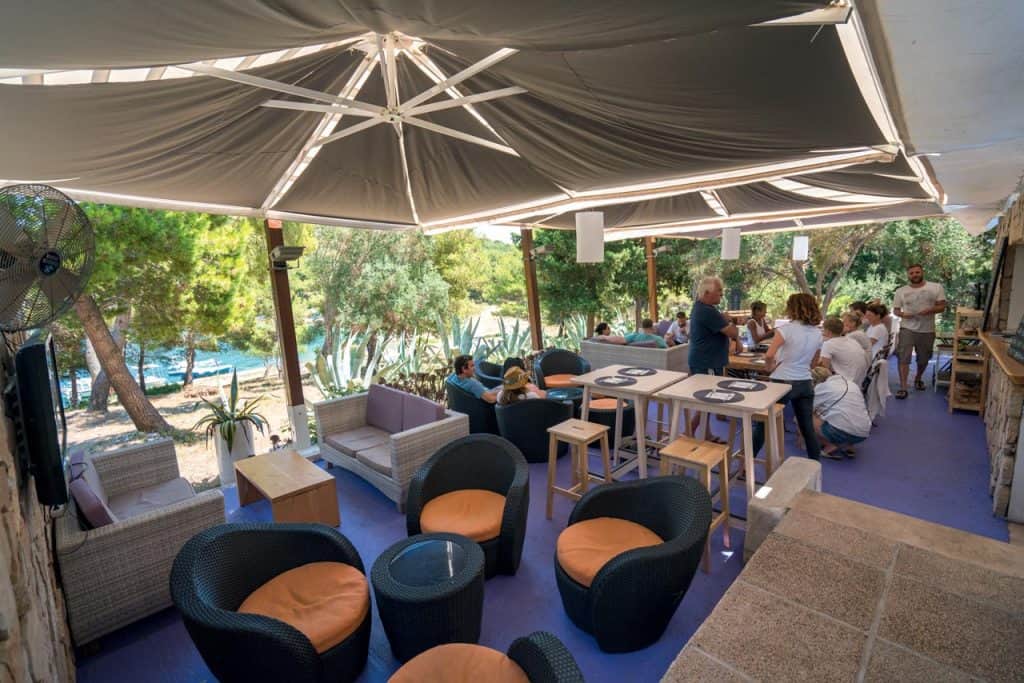 The Vlaka Bay, reachable by boat or on foot along a charming trail from the marina Palmižana, hosts the Colnago Winery. Looking from the west this is the first post where you will encounter that special feeling distinctive for the biggest islet in the archipelago – St. Clement. Nikola Colnago, the man in charge will greet you with selection of his own wine, plavac mali and white maraština from the local vineyards, treated under special conditions even science was involved in due to the fact Nikola graduated from the university defending Zinfandel (crljenak) thesis, now growing on St. Clement thanks to his effort. In the little winery with cellar still developing and prior appointment needed, three generations of the Colnago family will greet you at their unique summer terrace of exquisite ambience offering supreme wines Nikola Colnago has been growing for more than a decade. 'I opened this place because I produce wine, and this terrace is of wine tasting character, but you can also have a regular cup of coffee here. I only have my own wines, we are still building the winery, and now I work in the little adjacent tavern. We do everything on our own, there are no employees, what we produce and make with our bare hands, that's it. For ten years I have been producing plavac, I buy grapes in Sveta Nedilja, the best position to grow plavac mali. I am already where I want to be, two years in wooden barrels and I still play with barrels, trying to figure out which are the best. I have been producing maraština for the past three years, white wine that requires cooling down in the process of production, which will probably need another five, six years to be what I expect it to be. On St. Clement I have planted a thousand grapes of crljenak, and the plan is to make coupage from it and plavac', tells Colnago. So, we met a top wine producer on these islands furthermore helping archaeologists research the remaining of the Roman villa Soline, creating a fuse between rich historical heritage with today's moment plus supreme wine aromas.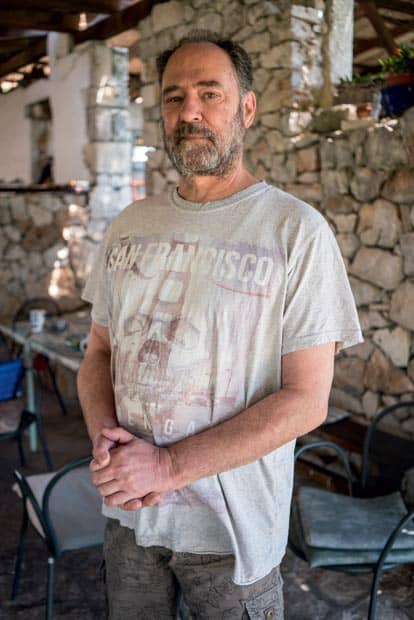 The Vlaka Bay has been for ages a synonym of a cult spot – the Dionis Restaurant, a destination that surpasses space and time frames, cherishing island attitude in life and gastronomy. The menu does not offer poached fillets, glazes, dehydrations and deconstructions, but genuine bites under a magical ambience taking you back through time when traditional fisherman dishes were first made. Simple, refined, flavoured with basic spices – a true heart & soul of these dishes. With every bite of their most famous appetizer – eggplant and tomato sauce cake, you slowly sink into atmosphere of this preserved archipelago, with the view on vineyards and olive groves bringing back the time when food was a source of earthly enjoyment. The next step after you finish with fresh grilled fish and a bottle of pedigreed homemade wine, will make you wish for laying back underneath a nearby olive tree where you can immerse in smells and sounds of the ancient spirit of the Mediterranean. When we asked the owner Pjerino Šimunović about the latest trends in his restaurants, the answer was simple – same old, same old; but looking at the cartwheel full of zucchini he added: 'We have from our garden zucchini, tomatoes, onion, herbs like sage, rosemary, homemade olive oil from the olives growing in front of the restaurant, and the wine grandpa produces for his personal needs from our land.' Pjerino is also an enthusiastic history researcher of this area exploring times before Greeks and Romans and with zest in his voice she showed us a copper fish-hook he has found recently in his field. The historical value of this area is undoubtful, and Pjerino counts as one of the most devoted guardians and gastro-hosts offering you a place on his porch, a spot that might help you understand the synergy between man, island and sea providing a simple living space of this Olivetan dweller of St. Clement.
Photos by Mario Jelavić