Croatian-Italian company Adriatic Wave is an Absolute must-stop for those looking for a 12 to 24-meter yacht. Especially if the yacht you're looking for is an Absolute
Adriatic Wave came to life five years ago, when two already experienced and established yachting experts decided to work for themselves. Mario Cakar and Gimmy Valente (from Rovinj and Venice, respectively), may be new to this business, but they definitely aren't new to the business – there aren't many yachting aficionados in the Adriatic region who don't know at least one of them. Cakar and Valente have given it their all with Adriatic Wave and it shows: their motivation is simple, their results exceptional, their enthusiasm and professionalism admirable. In short time, Adriatic Wave has risen to the top in their segment.
Part of their success definitely has to do with their chosen area of activity: Adriatic Wave is licensed dealer for Absolute, Italian yacht builder currently at peak popularity. Gimmy and Mario have been working closely with Absolute for a long time, and their co-operation has become fruitful at the right moment. Back in 2007, when Absolute launched their model 70 powered by then revolutionary IPS, we went to Cannes to test it – and Gimmy was the skipper that got us out of the crowded port of Cannes. We hadn't known each other at the time, and remembered that moment at a later introduction. Absolute started out as an open builder, but later swerved toward flybridge yachts and navettas – and changed both those market segments with their models. Adriatic Wave is largely responsible for the success of Absolute navettas and flybridge yachts in the region, and their loyalty and hard work have earlier this year been awarded with licenses for Poland, Czech Republic and Slovakia, where they now have offices and dealerships.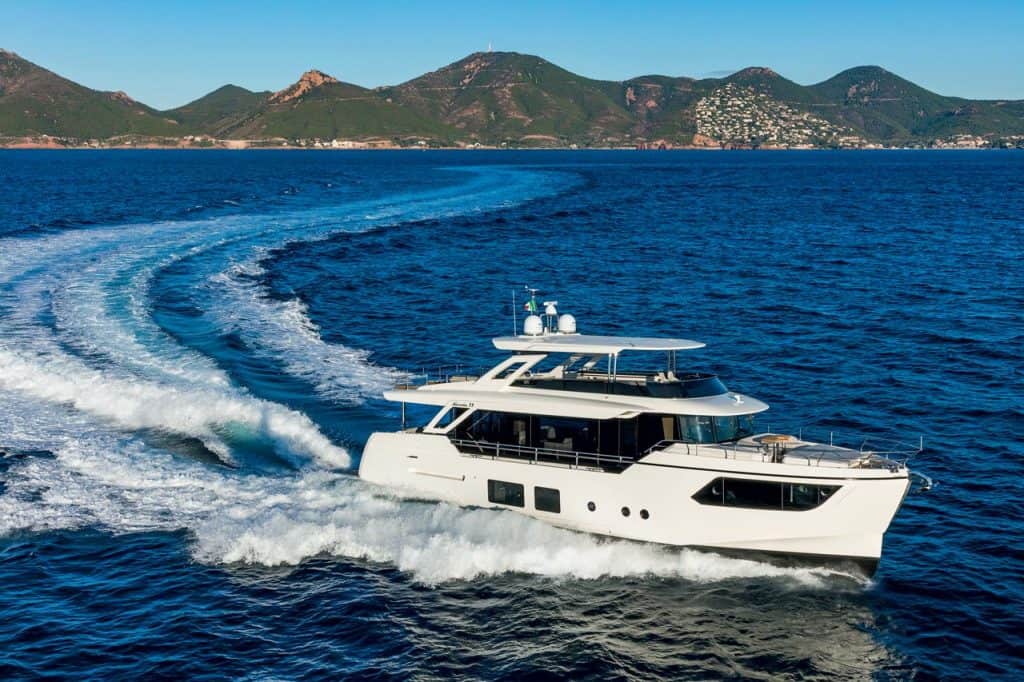 The moment his entire buildup has been leading to will happen later this season, when Adriatic Wave open their new headquarters in the new ACI marina Rovinj. Their next step? Branching into central Dalmatia, an undiscovered market according to their analysts. After delivering so many yachts to new owners in that part of the Mediterranean, they probably know what they're talking about… In Croatia, Mario is the big boss, but also the one who works the most. His enthusiasm, tenacity and level of engagement are impressive. He says Adriatic Wave has one big advantage to offer to clients in comparison to most other dealers: independence in financing.
That advantage is so popular that many Absolute models have their international debut on the Adriatic market – like the fabulous Absolute 58, that debuted last year in Portorož. The Adriatic first trend seems to be going strong, and although Mario refused to give us details just yet, something new might be coming this way. What he did want to talk about were plans for the future. 'Since 2012, Absolute has developed nineteen new models and redesigned five older models. They have consistently been launching five new models a year, which is something no one else seems to be capable of. All the hard work the professionals at Absolute put in translates into more work and more success for us.
The best example of their business philosophy is the new Navetta 48, a new model awaiting launch in Cannes, is September. Made to conquer, that model has roomy interiors, tall cabins, decoration and furnishing in wood with a glossy or natural finish, comfortable leather sofas. It's one giant step ahead in every aspect and we believe it'll knock everybody off their feet. After that, in 2019, Absolute will launch another navetta and another flybirdge yacht. They just never stop working.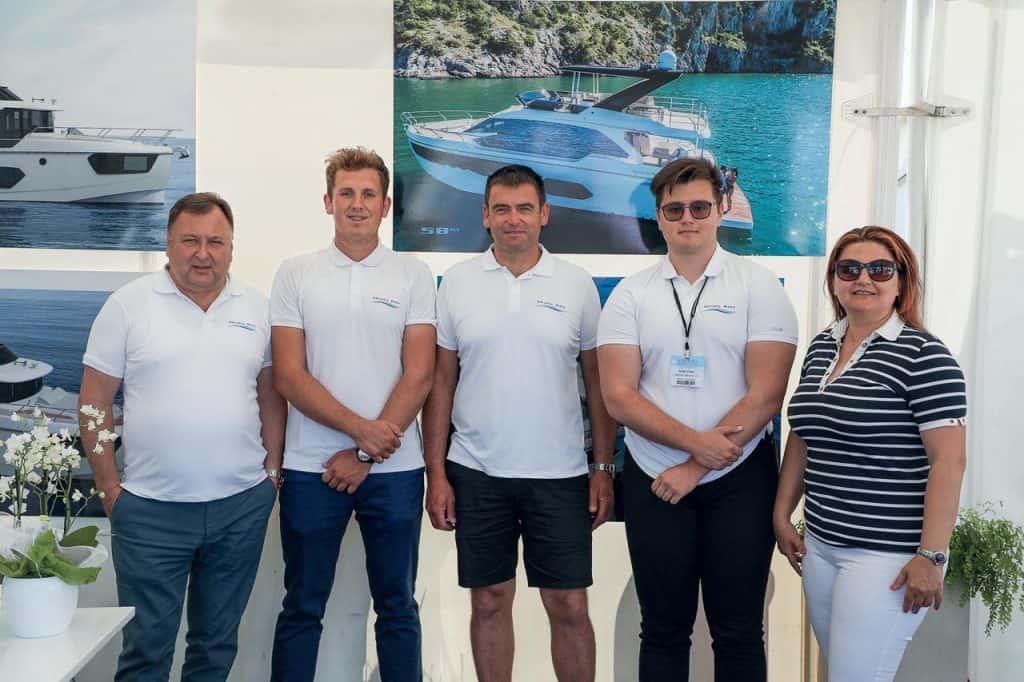 The next season will be very exciting', says Mario. Adriatic Wave operates without outside financing, which seems to be an extremely important detail. They always have units ready to deliver, without almost any waiting period, which something most dealers can't even dream about. That fine-tuning took some time developing, but at Adriatic Wave, they keep their ear on the market and rely on their experience to gauge it. That gutsy – and intelligent – approach to sales is the very basis of their success.
Gimmy Valente says consistency is key: 'I always like to point out we don't wander around. We have been selling new motor yachts ranging from 12 to 24 meters in length for years and we have no interest in doing anything else. We've never tried selling sailing yachts, or pre-owned yachts. Our co-operation with Absolute began 15 years ago when they opened for business. Since day one we have had complete faith in each other, and it shows. We have grown together; our success is theirs and vice versa. Absolute has rewarded allowing us to expand to new markets and they have every reason to. We have consistently been proving our worth to them all throughout our co-operation. Another core element of our success is our financial independence. We possess the capital needed to purchase units without any help from banks. Mario and I began our co-operation in Düsseldorf in 2013, and immediately focused on Croatia and Slovenia, later expanding onto the Italian market.' Today, Adriatic Wave is active on most of the Easter-European market, as well, and they might be – according to unofficial statements – looking to expand even farther. The enthusiasm, blood, sweat and tears Mario Cakar and Gimmy Valente have put into this business seem to be the guarantee that they will succeed in that, just as they have succeeded in everything else.
Photos Absolute and D. Šupuk